One of the reasons Call of Duty Warzone is famous and players are engaged in the game is the variety of weapons it offers. Different weapons have different stats.
For example, guns like Nail Gun are excellent for short-range battles, while Assault Rifles like BAR are for medium-range, and KAR98 Snipers are for long-range. 
If you want to play with Assault Rifle, FARA 83 is one of the best Assault Rifles for you in Warzone. FARA 83 is an automatic AR with very low recoil, good range, fast fire rate, and massive damage.
It is hailed as the best AR to play within Rebirth Island and Caldera. With every update, the stats of weapons changes for better or worse. Till now, there are no major nerfs in FARA 83.
With weapons comes loadout, where you can use many attachments and perks for different playstyles. The attachments further enhance the weapon and increase the stats of the gun.
We will discuss the best loadout for FARA 83 in Call of Duty Warzone so that you can get the best out of this weapon.
Best Loadout for FARA 83 in Warzone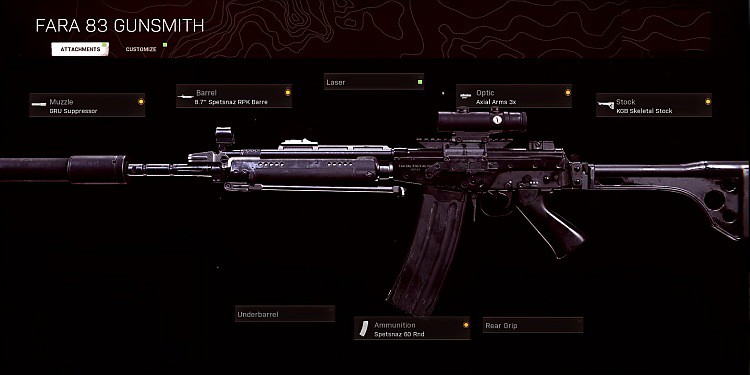 Before you can use the loadout for FARA 83, you must unlock it. To unlock FARA 83, you must reach level 45 first and then perform headshots in 15 different games using Assault Rifles. Then head out to the Loadouts menu.
First, let's talk about the attachments you need.
Muzzle: Gru Suppressor
Barrel: 18.7" Spetsnaz RPK Barrel
Optic: Axial Arms 3x
Underbarrel: Spetsnaz Grip
Ammunition: Spetsnaz 60 Round or 45 Round Magazine
Gru Suppressor is a must-have attachment for FARA 83. Along with noise suppression, it also gives you more control over vertical recoil. Also, it increases damage range and bullet velocity. To unlock Gru Suppressor, you must reach level 46.
18.7" Spetsnaz RPK Barrel also gives you bonus stats like Gru Suppressor, which you can unlock at level 48. However, it comes with more bonus stats. In addition to vertical recoil control, you get horizontal recoil control, improved ADS time, and hip-fire accuracy.
Although Assault Rifles are meant to have a medium-range, you can easily increase the range of AR. For this, Axial Arms 3x can be unlocked at level 22. There are more ranged optics, but there is no point in getting more zoom optics as you should watch the damage range of the FARA 83.
After you reach level 41, you will unlock Spetsnaz Grip Underbarrel. This Underbarrel also grants horizontal and vertical recoil control with improved ADS firing speed.
For Ammunition, choose Spetsnaz 60 Round for high ammo count or 45 Round Magazine for better reloading speed.
Perks and Secondary Weapons for FARA 83 Loadout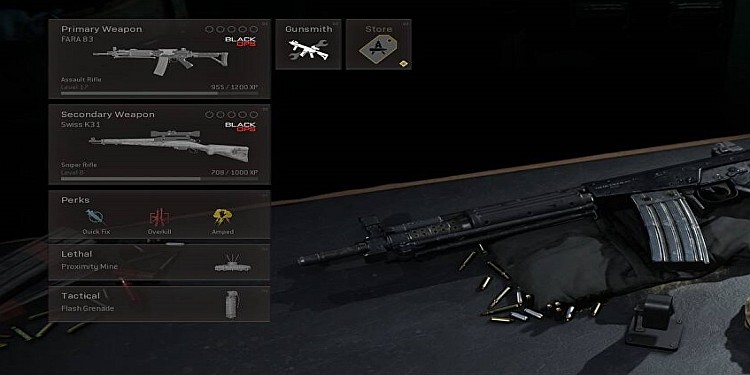 In Warzone, perks are some kinds of bonus you get after equipping them. You can equip up to three perks of different tiers. Players can have a secondary weapon with their primary weapon (FARA 83). In addition, you can also have some grenades and another tech to help you in the game. The list of these is:
Perk 1: EOD
Perk 2: Overkill
Perk 3: Amped
Secondary Weapon: KAR98k or Swiss K31
Lethal: Semtex
Tactical: Heartbeat Sensor
Perk 1 (EOD) minimizes the damage you get from explosives. Overkill allows players to have two primary weapons, and Amped increases the weapon swap speed.
For secondary weapons, you can choose KAR98k or Swiss K31 as snipers. Short Range SMGs are also useful, but snipers will make it easier with Assault rifles as a primary weapon. 
Semtex is explosive to damage enemies, and Heartbeat Sensor will help you track down opponents. If you want to know about the loadout of another great Assault Rifle, check out the guide on BAR loadout.
So, this is the best loadout for FARA 83 loadout.