There're millions of Minecraft worlds to explore, and each has a unique identity. Their identity is a coded number we call Seed—and the best Seeds often have the best spawn locations, such as villages, different biomes, temples, and Lush Caves.
Aside from the starting location, the best realism is often the most unique or, at least, beautiful enough to explore for hours.
Across a sea of nearly infinite options, finding a world where you could have fun is not easy. If you're playing on PS4, you're looking for Bedrock Seeds, and we've compiled a list with varying degrees of biomes, landscapes, and spawn points.
Badlands and Jungle Island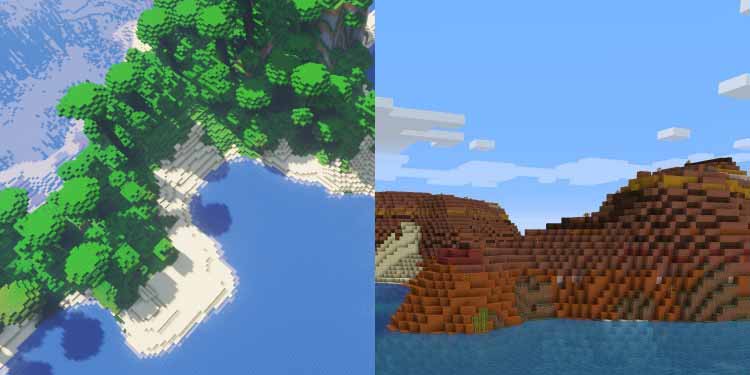 Seed code: 7850875
Main biome: Jungle/Badlands
This seed spawns you on Jungle Island. You'll see a Wooded Badlands island biome nearby as well. These islands have cliffs where you can see marvelous sights around you, like a Coral Reef beneath the Badlands plateau.
Additionally, the Jungle Island's cliffs hide a Lush Cave, which is perfect for building your first base. From there, you can get ready for a greater survival experience. That said, nearby locations include:
| | |
| --- | --- |
| Location | Coordinate |
| Jungle Temple | 120 152 |
| Wooded Badlands Plateau | -30 270 |
| Nether Portal | 168 360 |
| Shipwreck | 168 168 |
| Shipwreck | 72 456 |
| Shipwreck | 248 -216 |
| Village/Stronghold | -744 -424 |
| Wooded Badlands Plateau | -30 270 |
| Ocean Monument | -296 -200 |
Gorgeous Valley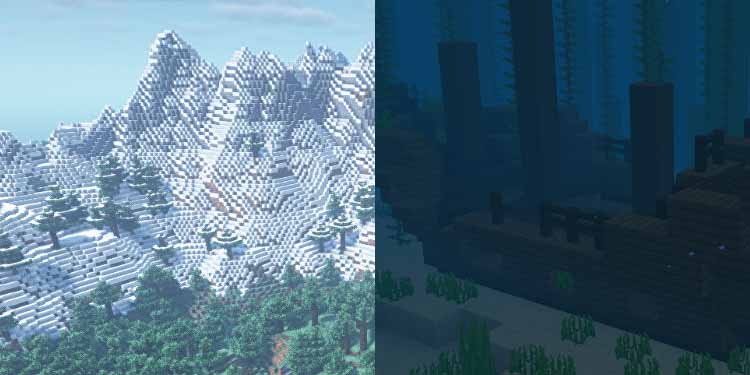 Seed code: 5147723731320877628
Main biome: Snowy peaks/Savanna
This Seed puts you in front of a large mountain valley. The valley looks like a heart, a gorgeous sight, and also a resource-rich area to explore. For example, the area has various wood types you can gather, a large area surrounded by peaks to build.
The peaks hide Ancient Temples as well, which means you can access these areas by digging through the rocks. Additionally, there's a large ocean biome nearby, a Ruined Portal, and a Cold Ruin near the starting location.
Treasures and Portals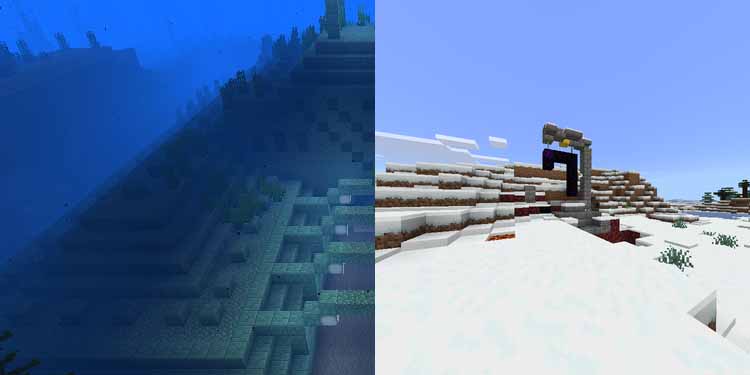 Seed Code: 1408425816
Main Biome: Plains/Savanna/Forest
For those looking for varied biomes, we picked one featuring different biomes after a short hike from the starting location. You'll find an ocean, plains, savanna, forest, and even a desert if you walk a little further.
Aside from the variety, you'll find the map is full of chests, hidden treasures, and shipwrecks. There's also an Ocean Monument nearby the spawn point (X: 184 Z: -312), plus many Ruined Nether portals. All in all, the Seed allows you to get rich quickly and proceed straight to Nether action.
Mines and Forests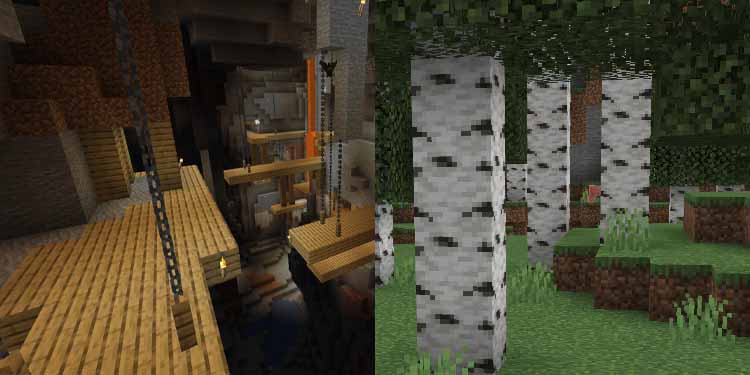 Seed Code: -126880078651571709
Main Biome: Plains/Forest
This Seed spawns you in a plain, nearby a forest and an ocean. There's also a large hole close to the starting location. The idea is to dig through the tunnels and explore the many mineshafts North, East, West, and South of the spawn point.
Additionally, the world is full of animals and chests. You'll also find a couple of Ruined Nether Portals and a handy village to the South-West.
Conquer the Mine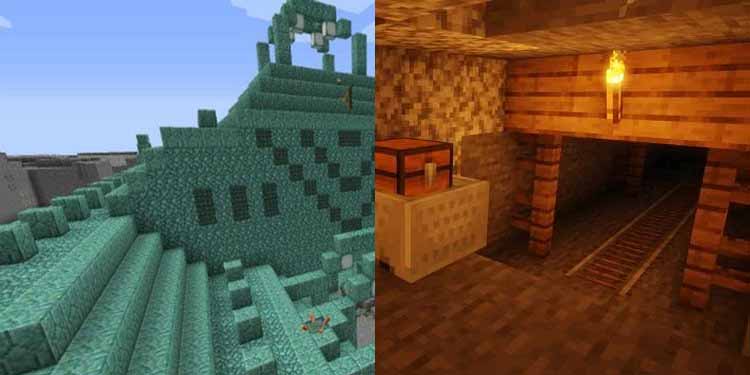 Seed Code: -126880078651571709
Main Biome: Cold Ocean
You spawn in the middle of an ocean, but if you swim North, you'll find an open hole to an abandoned mine. You can conquer it to claim diamonds, iron, and gold. Moreover, you can dig into the perilous underworld.
Additionally, you'll find an Ocean Monument nearby the spawn location. If you swim out of the ocean, you'll find yourself on snowy and plain biomes. Lastly, you can walk further North to find a village.
Village on Mountain Crater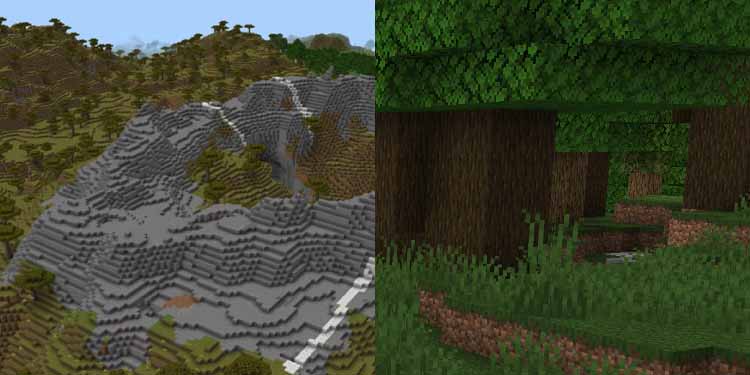 Seed Code: -1541124385142397106
Main Biome: Old Growth Birch Forest/Dark Forest
Another great Minecraft Seed for PS4 spawns you on an Old Growth Birch Forest. The location is near a village within a mountain valley. You'll notice how most of the map is forest, meadows, and peaks, while the common and perhaps boring Taiga biome is less common.
Take the starting point as a protected and near-perfect location to build your home or your farm. Aside from that, you'll see Large Caves, Lush Caves, Woodlands Mansions, Ancient Cities, Ruined Portals, and more by exploring the ocean and around the mountain.
Temple and Ravine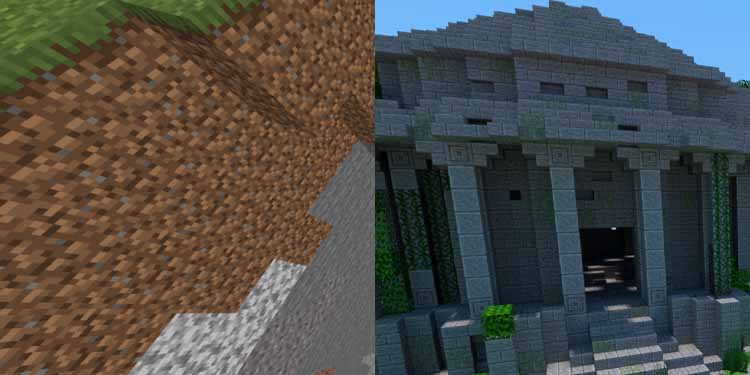 Seed Code: 194699705
Main Biome: Desert
Our next Seed spawns you next to a Temple with plenty of resources and valuable loot. Moving away from the temple will lead you to the desert biome and a Ravine.
The Ravine is dangerous, but it has ore blocks. There's also a desert village nearby the ravine with a few villagers, traders, animals, and resources.
Ancient Cities and Villages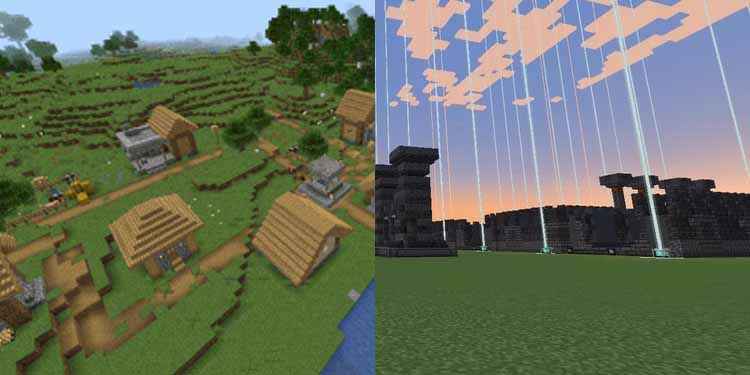 Seed Code: -6367239042471136353
Main Biome: Plains
You spawn in a rural area with 20th Century design. Around you, you'll find various villages, bandit Outposts, and Ancient Cities. These places hint at ancient civilizations lost in the realm. Also, Ancient Cities are a rare find, so use this seed to experience these exotic locations!
Additionally, there're long rivers and plentiful resources around the starting area. Overall, villagers and resources are easy to find, so you can gear up, take out the bandits, and explore further.
Rich Desert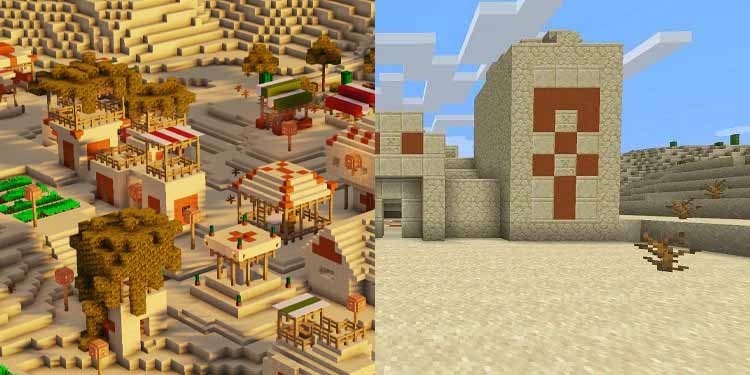 Seed Code: 8291939573464379173
Main Biome: Desert
This seed spawns you in the middle of a desert, but there're great resources and locations around you. For example, you can go West to find a Desert Temple and a village. The village has a couple of chests with tons of items.
Then, you can set a base near the temple. The area is full of resources, and you'll find all of the essentials close by to get started with the greater adventure as soon as possible.
Snowy Biome With a Witch's Hut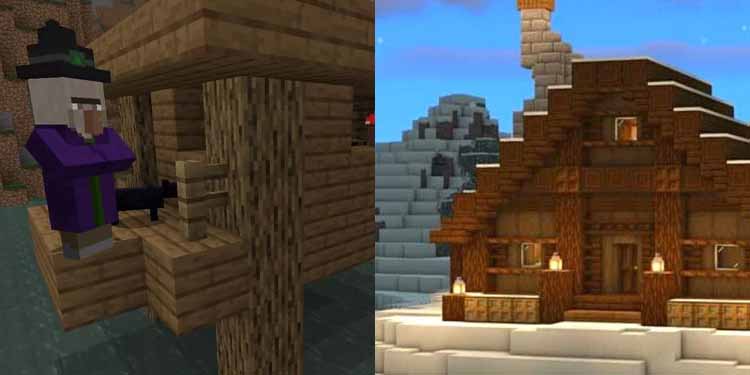 Seed Code: 2379729
Main Biome: Snowy taiga/Snowy plains
This particular Seed features a rich starting location. There's going to be a shipwreck, a Witch's hut, and two villages. Each village has three blacksmiths. Better yet, all of these locations are close.
If you explore a little further, you may find ruined portals and shipwrecks, additional villages, and a large snowy realm full of rivers.
Jungle and Desert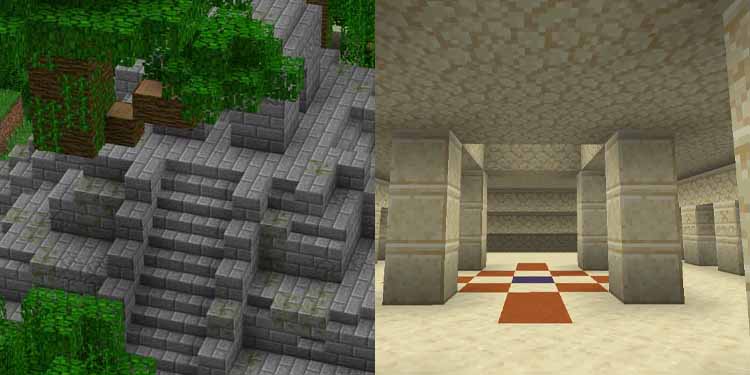 Seed Code: 1559701409609232210
Main Biome: Jungle/Desert
You spawn on a split between damp and arid climates. The realm gives you the ability to collect all of the resources easily to start a powerful base. The starting location is a jungle, but a short walk will lead you to a desert.
Nearby locations include a Desert Temple, a Jungle Temple, various villages, an Ancient City, and a couple of Shipwrecks in the ocean. All in all, this Seed offers great variety and many places to explore. That said, other key locations include:
| | |
| --- | --- |
| Locations | Coordinates |
| Jungle Temple | -168 216 |
| Village | 200 312 |
| Mushroom Island | -400 -400 |
| Pillager Outpost | 472 376 |
| 136 -51 856 | 392 504 |
Starter Taiga Island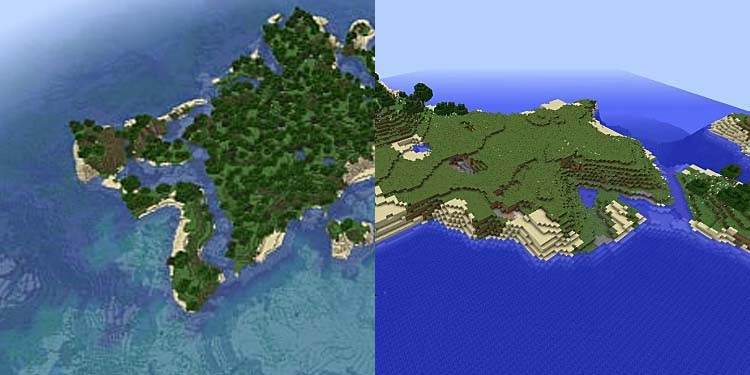 Seed Code: -2109231493
Main Biome: Taiga
You start on a little taiga island in a vast world. It will take time to load, and in fact, it will keep loading after you enter the realm. For example, a few minutes after spawning, the system will generate a monument on one of the island's edges, where you can find sugar cane.
If you get off the island, you'll discover a vast world full of taigas, savannas, and deserts. Consider it as a quest: conquer the island before conquering the rest of the world.
Village, Diamonds, and Mesa Biome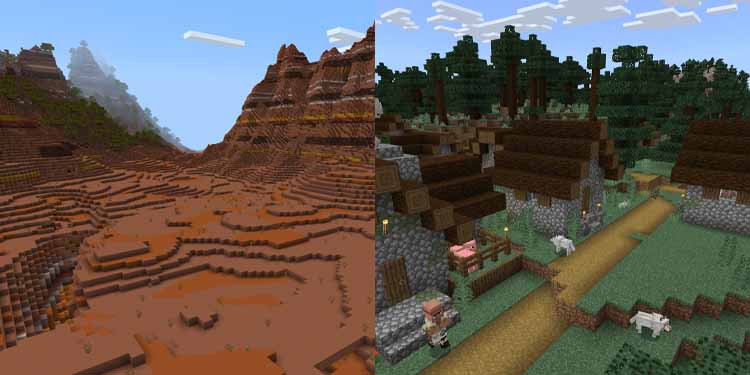 Seed Code: 2109369554
Main Biome: Mesa
This seed spawns you close to a village where you can get iron armor and weapons on the blacksmith. More importantly, digging right on the starting point will take you to a diamond cluster (the coordinates are 114,12,-463).
Traveling further will take you to the different biomes in the world. Notably, the realm has a mesa biome, a rare and unique setting full of terracotta and red sand.
Starting Stronghold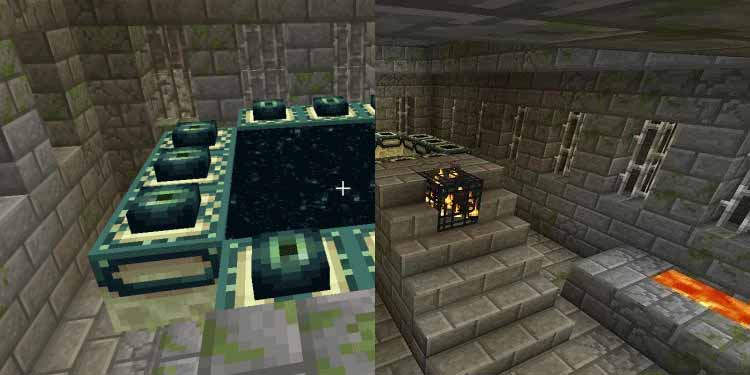 Seed Code: 284175251
Main Biome: Lukewarm Ocean
If you're looking for a more relaxed experience or perhaps a speedrun to end-game Nether and The End content, try this seed. It spawns you near a cave, which is the entrance to a stronghold (the coordinates are 149, 70, 1499). The stronghold is full of items and loot. It has two libraries with six enchanted books and five Eyes of Ender.
The spawn point is surrounded by treasures and key locations. You spawn in a desert, nearby a taiga area and a Lukewarm Ocean biome. Around you, you'll find various ruined portals, shipwrecks, warm ruins, and chests.