Patches, a familiar menace. Veterans of FromSoftware games know exactly what kind of man he is. Well, he isn't always a man. Patches is a memorable NPC character you might run into while playing FromSoft games. This guide discusses in detail, the Patches questline in Elden Ring.
If you don't know who Patches is yet, let me introduce him to you. He is a recurring character in multiple FromSoft games. He has changed his forms between different games.
A robot in Armored Core to a spider in Bloodborne, but he has always remained Patches. As a man, he has always looked out for himself. He will do anything to get his way. Trickery, lies or betrayal. All are in the day's work for Patches.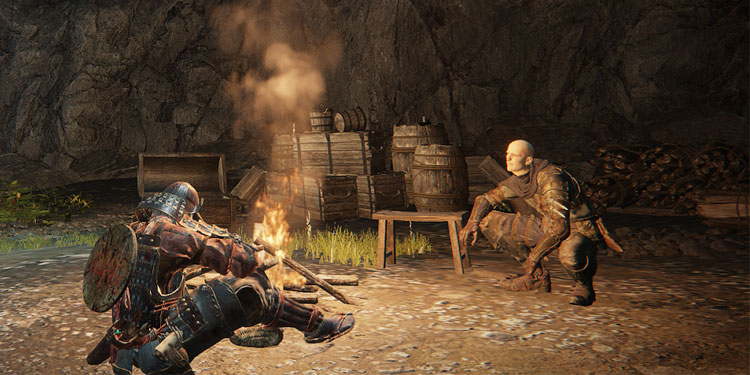 Patches will trick and trap you, if you are not wary of his schemes. That is why we are here to help. This questline is long and takes place in multiple locations. You also have to complete certain things for the next part to activate.
If you complete something too early, the quest line skips ahead to the next part. If that happens you can miss out on items only available through this questline. Below is a detailed guide on how to beat Patches at his own game and complete his quest line efficiently.
First Meeting With Patches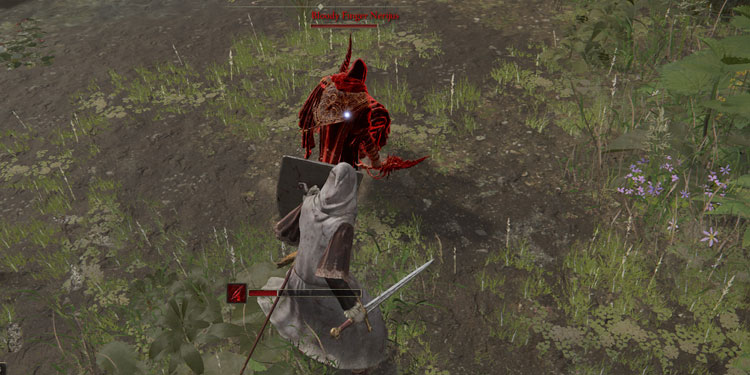 This takes place in Murkwater cave, a location in Limgrave. From the gateway ruins in Limgrave, head opposite of the huge gate where the giant attacks you. You will reach a bridge over a canyon.
Find the way down the canyon from around the Agheel lakeside area. You will run into some skeletons. You can escape them easily on Torrent. Once you reach the mouth of the cave, Bloody Finger Nerijus will invade you. You will get some help in defeating him if you survive his attacks long enough.
Once you defeat Nerijus, the cave gets unlocked. Go in, vanquish some bandits and navigate to a huge room in the cave. There you will find a chest. Opening the chest will trigger a fight with Patches.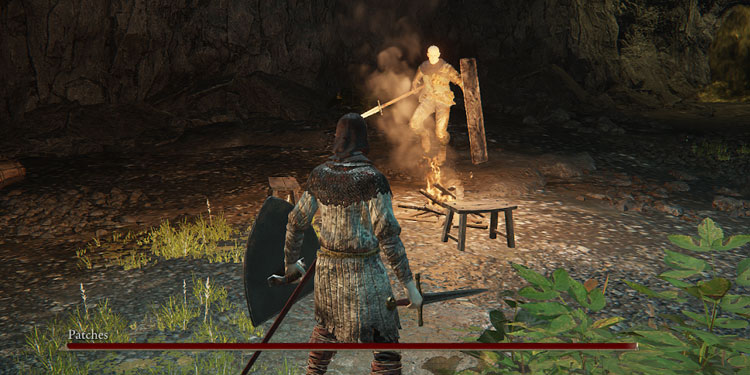 Get him to half health and he will beg for mercy. If you stop attacking him at this point, he will apologize and be friendly.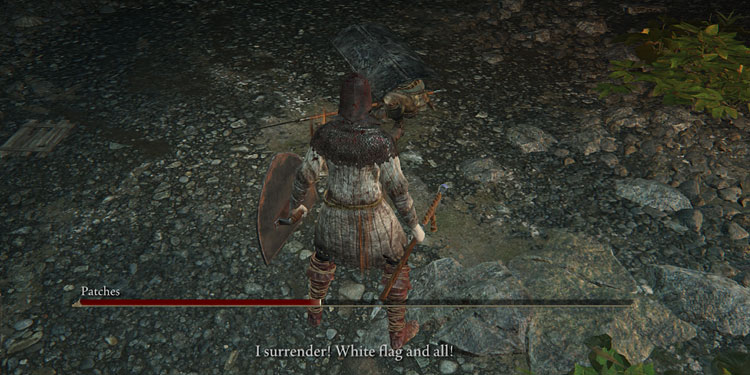 As long as Patches is hiding in the cave in Murkwater you can strike him three times to egg him on to combat. During combat use the "Grovel" gesture once your health is one quarter.
He might let you go and teach you the "Extreme Repentance" gesture. You can even let him kill you here. Once he kills you, he will be back to his smug friendly self.
Patches will stay in Murkwater for a while. You can purchase some wares from Patches as long as he is here. You can also interact with the chest in the cave again. It is a transport trap that will take you to Mistwood Ruins.
To escape the ruins find a site of grace and fast travel will unlock. Return to patches and to acquire the "Calm Down" gesture if he is not gone.
Second Meeting With Patches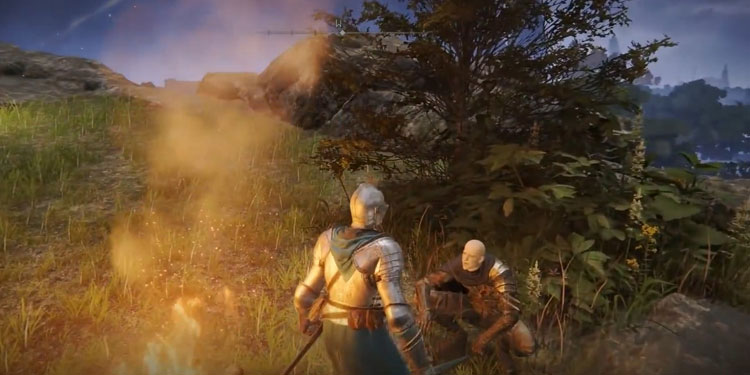 This meeting will take place in Liurina. Go to the Scenic Isle and talk to him. You will find him crouched in front of a fire. He will suggest that you get abducted by an Abductor Virgin in Raya Lucaria Academy.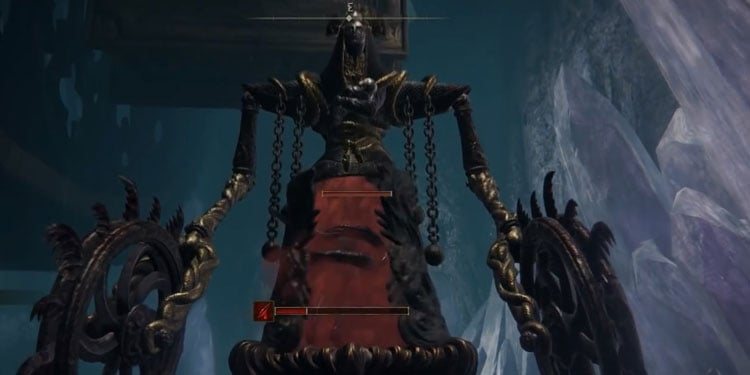 Head to the Academy and get held by the grab attack of Abductor. Not just any Abductor, you need to find one down the waterwheel from the Schoolhouse Classroom Site of Grace.
Once you die to her Grab attack and see the "You Died" notice, you will be transported to Volcano Manor Dungeon. This process will kill you so make sure you spend all your runes beforehand. To escape Volcano Manor, get to the first Ste of Grace. 
Third Meeting With Patches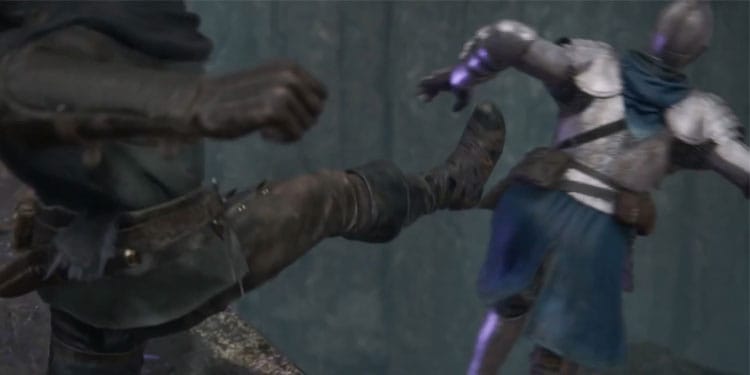 Patches will show his true colors when you meet him in Mt.Glemir. If you see a path of glimmering stones and follow it to the edge of a cliff. Good old Patches will Spartan kick you from behind and plunge you down the cliff. 
After you survive the fall, make your way to the Volcano Manor. You will see patches there. I know you must already hate him by now, but don't kill him yet. You can buy his wares yet again here.
Patches will also give you an assassination quest. You can only get this quest after you complete some of Tanlith's assassination quests. Tanlith is a NPC in Volcano Manor.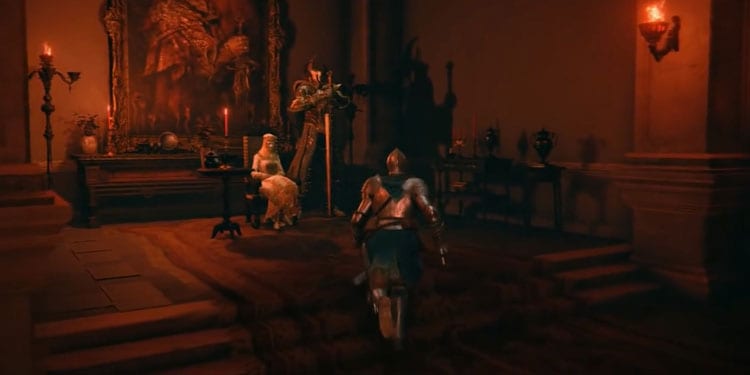 Patches will give you a letter, requesting to hunt Great Horned Tagroth. If you successfully do so and return to Patches, you will get a bunch of things. You can get the Bull-Goat armor which drops from the Tagroth, while Patches rewards you with Magma Whip Candlestick.
He is not particularly happy about having to give you prizes. Claim this before you defeat Rykard, or it will be lost.
After you defeat the big baddy Rykard, also known as God devouring Serpent, this questline will move forward.
Fourth Meeting With Patches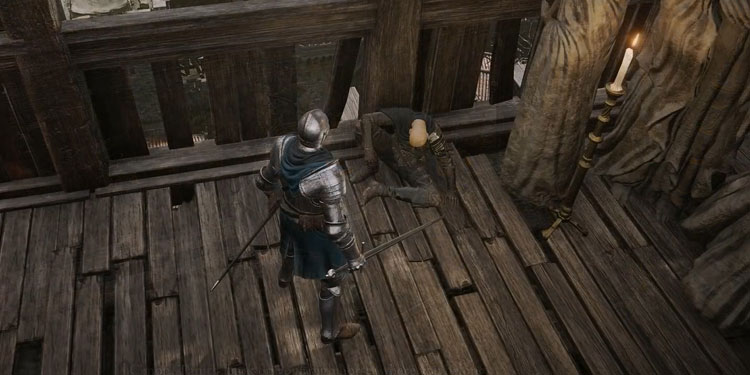 You will find him in the Shaded Castle, in front of the boss room behind one of the statues. He seems wounded and incapacitated. Talk to him and he will give you Dancer's Castanets to give to Tanlith.
You can keep it for yourself. You will get nothing from giving it to her. Don't kill him here. He will disappear from this area shortly till you meet him again.
Final Meeting With Patches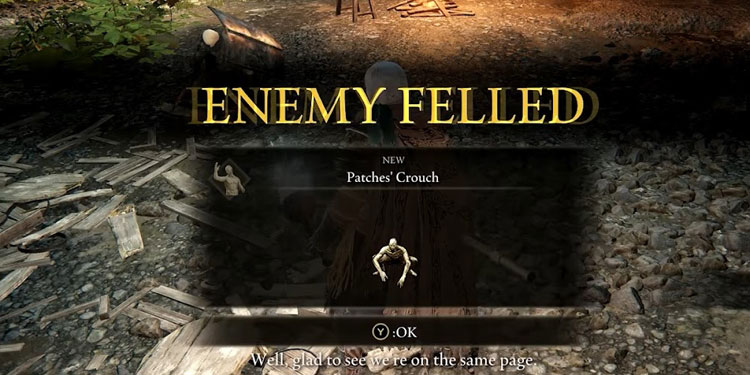 Head to the first place you found him at, In the Murkwater Cave. He will attack you. But do not attack him. After trying to hit you a couple of times, he recognizes you and becomes friendly.
You will see Enemy Felled notice but Patches is not dead. He will also reward you with the "Patches Crouch" gesture. Lastly, he will stay here and sell his wares till the end.
If you have bought everything from him, you can kill him here to get the stuff he drops. Which includes Patches Ball Bearing, whole leather armor set and his trusty spear. You can also let him live as FromSoftware might add new quests to his storyline in future updates.
This ends the Patches questline in the Elden Ring, for now.