Starsilver ores have been around in Genshin Impact for a while now. They are harvested by breaking down their shining nodes, and they can be collected throughout a specific region in Mondstadt. They are also especially useful when you're thinking of enhancing your weapons. 
So where can you find these ores? If you've played Genshin Impact, then you should have known that they aren't found anywhere on the map. In fact, they can only be found in one certain region of Teyvat, which makes it a very rare mineral. In this article, we will go through the locations to farm the Starsilver mineral ores as well as where you can use them.
What are Starsilver Ores?
Starsilver ores are rare materials that are only found in one specific region of Mondstadt. They are only found in Dragonspine, which is one of the deadliest regions of Teyvat.
They are used to craft some specific weapons and consumables by the blacksmith. In addition to weapons and consumables, they are also used for crafting Enhancement Ores. 
Starsilver ores aren't particularly essential crafting materials, but the fact that they can only be found in Dragonspine and take two whole days to restock makes them somewhat rare. Also, the Enhancement Ores are always useful for enhancing your weapons. 
What Are the Locations of Starsilver Ores?
Starsilver ores are exclusive to the Dragonspine region in Mondstadt, a cold frosty mountainous region that is very difficult to explore. Their locations are scattered around the Dragonspine region, and they are found in clusters, so you can collect plenty of Starsilver ores just from a single location.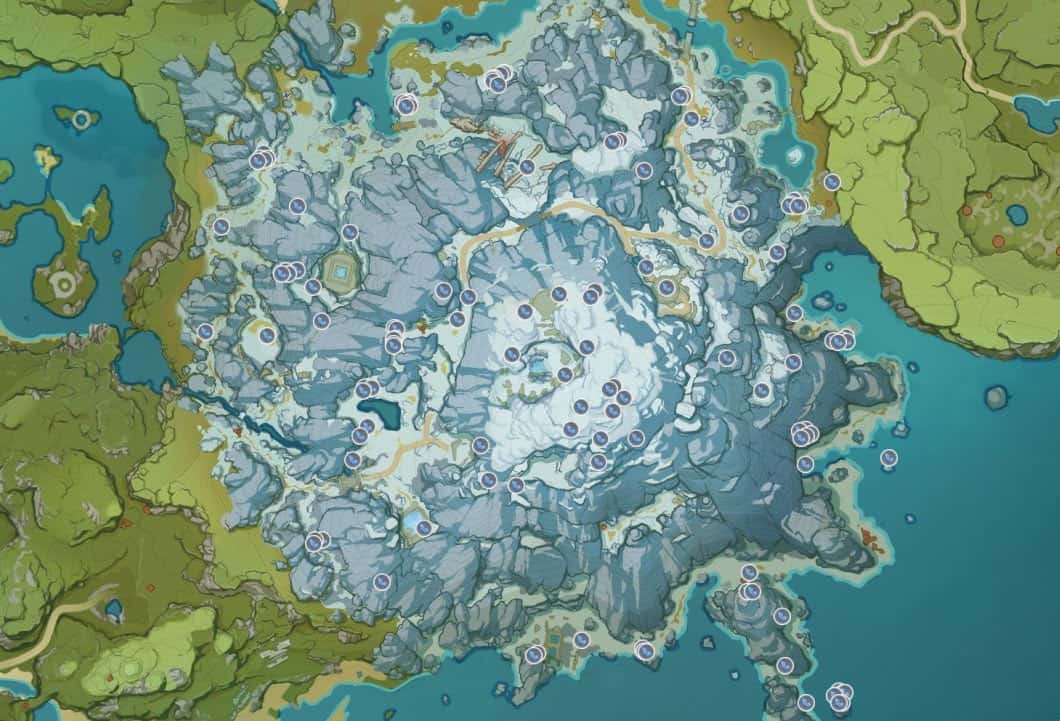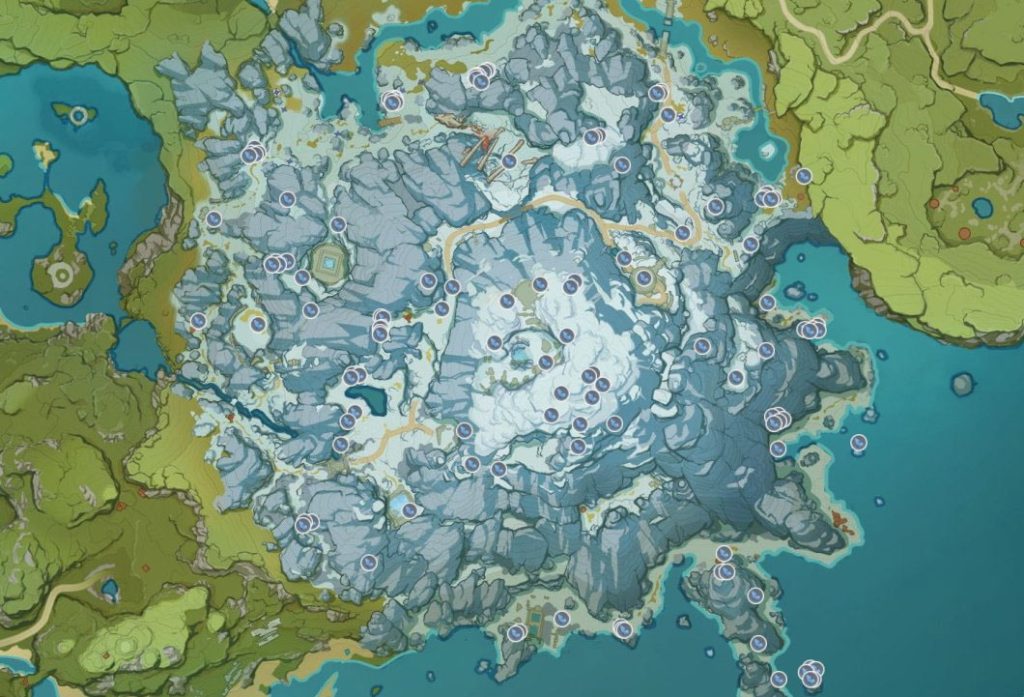 They also restock after 48 hours of collecting, so you don't have to worry about it running out. But you should be careful as the Dragonspine region is one of the hardest regions to explore and will quickly kill you if you're not careful. 
The reason why Dragonspine is so hard to explore is because of a status effect called Sheer Cold. This effect will slowly fill up a gauge the longer you stay away from a heat source, and once the gauge is full, it will slowly chip away all your HP. The only way to avoid this effect is to find the Heat Source scattered around the area or have a pyro character in your party.
Although Starsilver ores locations are scattered throughout the Dragonspine, some locations will have a higher density of ores than others. If you want to increase your chance of collecting more ores in a single run, then you'll need to find out regions that give the highest amount of Starsilver ores. Here is the map of Dragonspine that shows the areas with the highest concentration of Starsilver ores.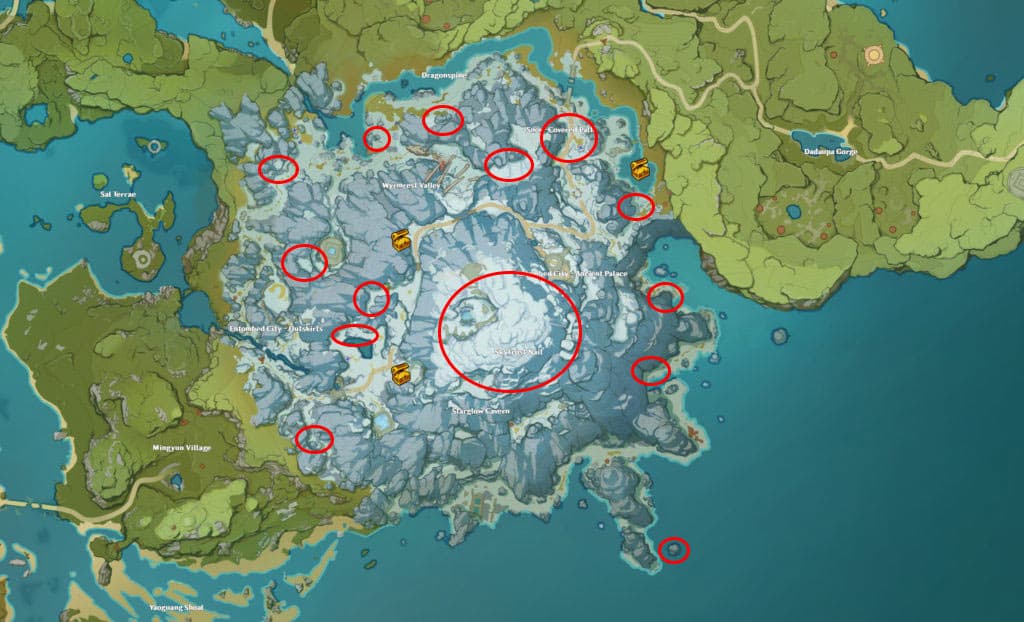 Knowing their location doesn't help much when you're on a quest to collect a large amount of these ores as soon as possible. Especially on a terrain where every little moment can be a life and death situation, wandering around cluelessly will only get you killed that much faster.
So a good farming pattern is essential when you're about to go on a Starsilver hunt. There are two main routes you can take to ensure you're collecting an efficient amount of Starsilver ores on your run. Here is a picture of the best routes you can take while collecting Starsilver ores.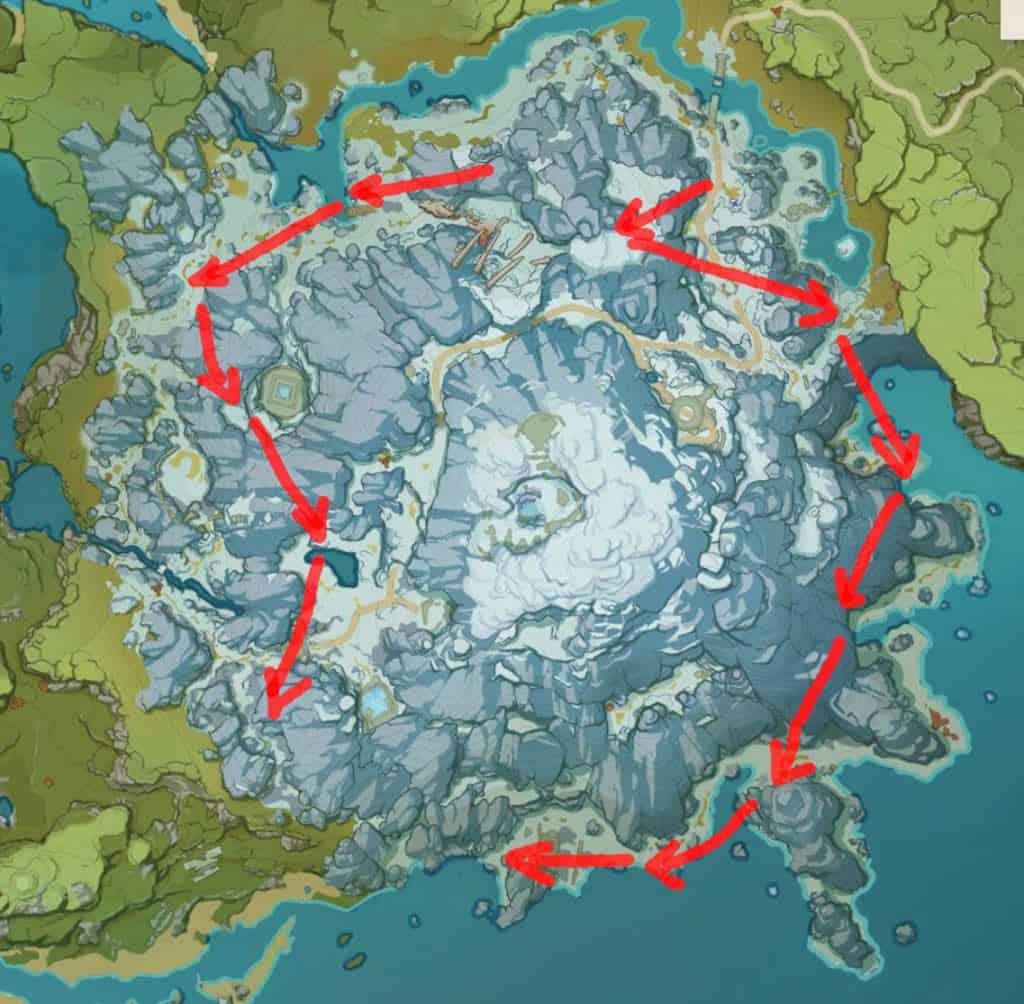 Starsilver Ores Usage
Starsilver ores are used to craft exclusive weapons of the Dragonspine series as well as consumables. These are all the weapons that can be crafted using Starsilver ores:
Dragonspine Spear
Type:
Crafting Materials:
1x Northlander Polearm Billet
50x Starsilver
8x Vitalized Dragontooth
500x Mora
Frostbearer
Type:
Crafting Materials:
1x Northlander Catalyst Billet
50x Starsilver
50x Crystal Chunk
500x Mora
Snow-Tombed Starsilver
Type:
Crafting Materials:
1x Northlander Claymore Billet
50x Starsilver
50x Crystal Chunk
500x Mora
Apart from these weapons, Starsilver ores are also used to craft Warming Bottle consumables. It requires 2x Starsilver, 2x Flaming Flower Stamen, and 500x Mora to craft one Warming Bottle. Consuming a Warming Bottle will completely negate the effect of Sheer Cold while exploring Dragonspine.
(All weapons and consumables require a blueprint before you can craft them.)
Starsilver ores are also used to craft Fine Enhancement Ores. Fine Enhancement Ores are used to enhance your weapons.
If you want to know more about Genshin Impact, we also have guides on Barbara and Beidou builds.