Call of Duty Warzone does not have many bugs and issues in the game. However, it has some small glitches in the game that can be frustrating. If you like playing at parties or squads, you must have lots of friends on your friend list.
Let's say you want to play with your friends in Warzone. But when you open your friend's list, there is no one there. Then you will not be able to invite your friends to your party or join theirs. You will not see if your friends are online and what they are doing in the game.
This problem has been in Warzone for a long time. But the causes of this problem are not clear. Sometimes it is a momentary glitch and is fixed automatically. However, it can persist for a long time.
This guide will discuss how to fix warzone friends not showing.
Fixes of Friends Not Showing in Warzone
As the cause of this problem is not that clear, there are very few fixes. The fixes are very simple, and here is how you try to fix the issue:
Check Your Internet Connection and Restart Your Router
If your internet connection is not good, then this problem can occur. If you are using Wi-Fi, try using an ethernet cable. Also, try Wi-Fi if you are using an ethernet cable. Sometimes, restarting your router can also do the trick.
Restart the Game
This is the first fix you must try before trying other fixes on this list. It is also the easiest method and has worked for many players. Sometimes, your game can cause this problem when the game disconnects from the server or the server gets crowded.
So, if you restart the game, the game can again connect with the server properly, and the friends' list can reset. Try restarting the game more than one time. Also, on PC, close the Battle Net launcher and start it again and open the game.
If this fix does not work, go for the next fix.
Try Sending Friend Request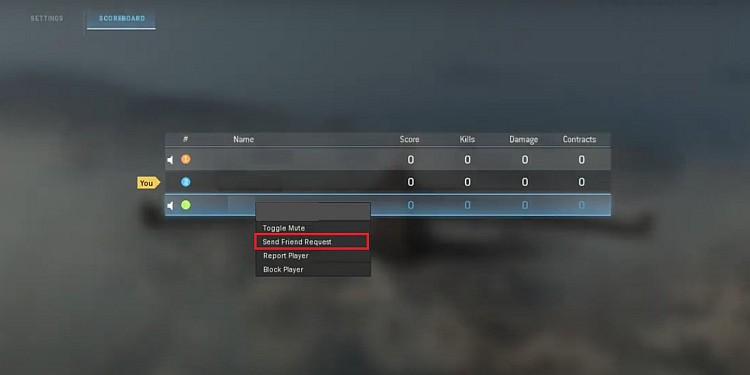 Even if you cannot see your friends on your friends' list, you can still send friend requests and check. In many cases, when your friend request is accepted, it can reset your friend list. You can send a friend request to one of your friends and tell them to accept the request.
Also, accepting others' friend requests can reset your friend list. This fix has worked for many but may not solve yours. If so, try the next fix on the list.
If only one of your friend is not showing on your friend list then you may have blocked him. We have a complete guide on how to unblock a friend in warzone.
Turn Crossplay On and Off
As already mentioned, the cause of this problem is not clear. But the fixes listed are tried and worked. Similarly, turning crossplay on and off in the game has worked for many players, and why and how is not clear.
Follow these steps to turn crossplay on and off:
Go to "Option" in the game.
Then navigate to the "Account" tab.
Search for "Crossplay."
After that, select the "Disabled" option.
Now, restart the game and again enable Crossplay. After enabling crossplay again, restart the game.
Clear Cache
A problem in cache files of the game can also be one of the reasons for this problem to arise. So, you need to delete the cache files. Here are the steps:
Before deleting the cache files, you need to close all the applications related to Warzone, like the Battle Net Launcher.
After that, open the Run command by pressing "Windows + R."
Type "%ProgramData%" in the command and click on "OK."
Delete the "Battle.net," "Battle.net_components", and "Blizzard Entertainment" folders. In this way, you can solve the problem in the cache.
So, these are the fixes for the "Warzone Friends Not Showing" problem.