If you're playing a mage character in Skyrim, getting new and powerful spells is essential for fighting tough enemies and progressing further into the game. But getting new spells can be difficult if you don't know where to look at.
Typically, to learn new spells, you have to read its Spell Tome. Spell Tome are books you can either purchase from spell merchants/court wizards or find it randomly as world loot.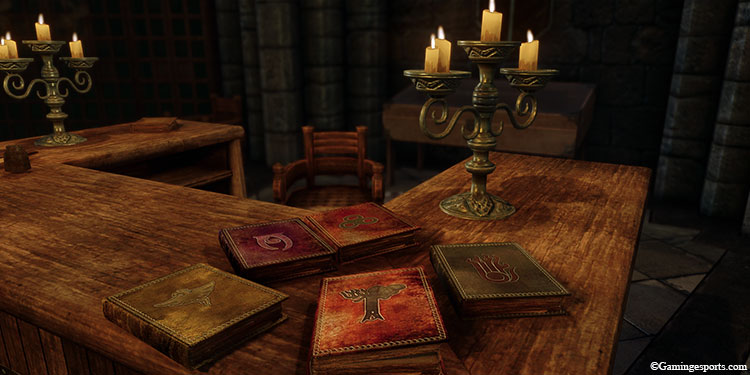 For this article, we'll be covering the wizard merchants and their locations where you can buy Spell Tomes from. So, let's start with the most convenient spell merchant in the game.
Farengar Secret-Fire
Farengar Secret-fire is your early go-to wizard merchant for all your wizardry needs ranging from Spell Tomes, Mage Robes, Magical Scrolls, Soul Gems, etc.
He's the court wizard of Whiterun, and you'll find him at his quarters inside Dragonsreach.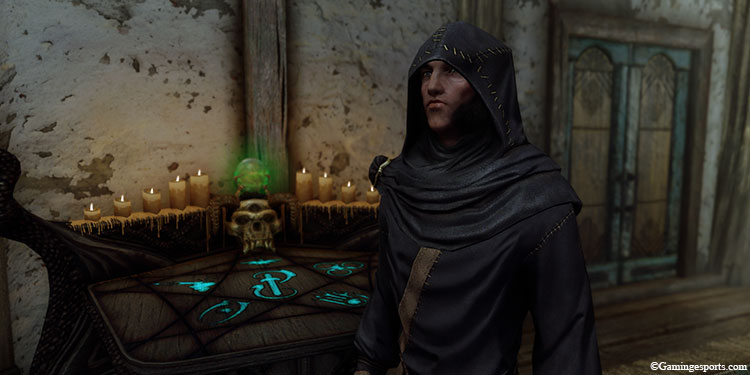 Falion
If you're traveling toward the Northwestern side of Whiterun, Falion is the spell merchant you should be looking out for buying Spell Tomes.
You can find him at his house in Morthal or the summoning circle outside the village.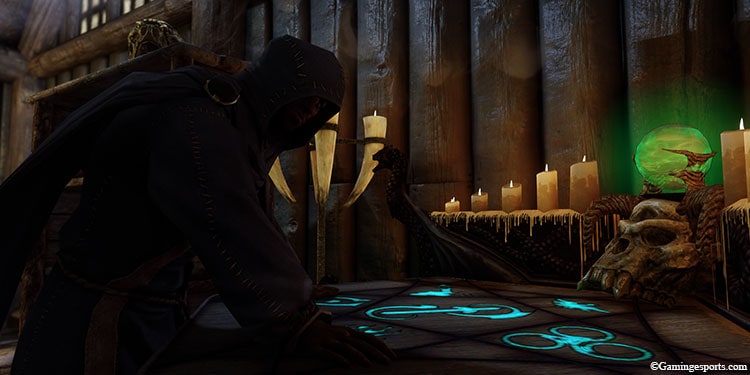 Calcelmo
If you're in the far-western part of Skyrim, then Calcelmo is your best bet for getting new Spell Tomes.
He's an old high elf who also happens to be the court wizard of Markarth. You'll find him in his laboratory at the Understone Keep.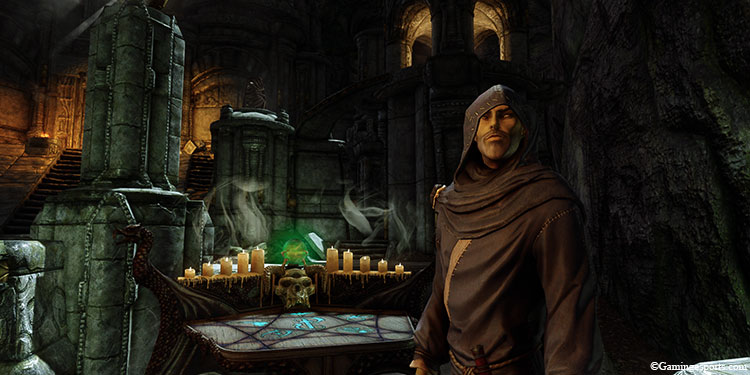 Wylandriah
On the opposite side of the map, you'll find the spell merchant, Wylandriah. She's the court wizard of Riften, and you'll usually find her at her shop inside Mistveil Keep.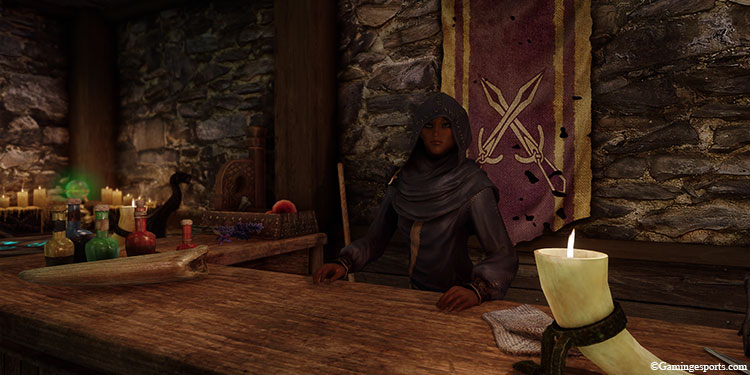 Merchants at the College of Winterhold
The one drawback of getting Spell Tomes from court wizards and the common wizard merchants as mentioned above is that they only sell Spell Tomes up to Adept level.
If you're looking for more advanced-level Spell Tomes, then you must seek out the specialist wizards in the College of Winterhold.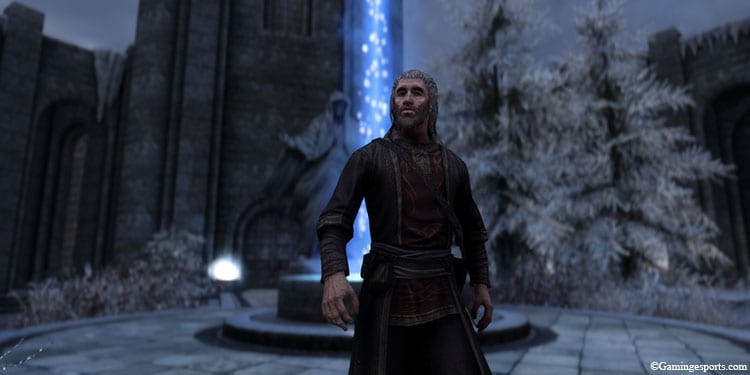 There are five specialist mages in the college, and initially, they sell school-specific Spells Tomes up to the Expert.
The specialist mages also sell the Master-level Spell Tomes, however, you cannot buy them conventionally. To unlock the Master-level Spell Tomes, you'll need to complete the Ritual Spell questline for specialist mages of the college.
For example, to unlock Master-level Spell Tome for the Alteration school, you'll need to complete the Alteration Ritual Spell quest for Tolfdir, the specialist mage of Alteration.
We've listed all the specialist mages along with the type of Spell Tome that they sell in the list below.
Colette Marence sells all Restoration Spell Tomes.
Drevis Neloren sells all Illusion Spell Tomes.
Phinis Gestor sells all Conjuration Spell Tomes.
Faralda sells all Destruction Spell Tomes.
Tolfdir sells all Alteration Spell Tomes.
Note: Although you can buy spell tomes from General Good merchants like Belethor, they don't usually have all the Spell Tomes. So, we recommend sticking to the wizard merchants instead.
How to Get Leveled Spells?
Oftentimes, you may find some spells unavailable in the spell merchant's inventory. This is because the availability of Spell Tomes depends on the level of your Skill.
For example, the Spell Tome: Ebonyflesh is an Expert level spell that you can only buy after reaching level 70 in Alteration school. So ensure you're at the required level before purchasing the Spell Tome.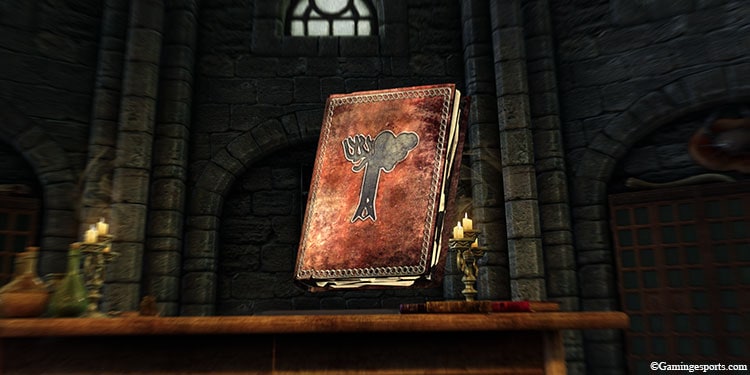 If you're unsure about the needed level, we've listed all the spells (excluding Custom Content spells) and the skill level that you'll need to be in order to purchase its Spell Tome in the table below.
| | | | | | |
| --- | --- | --- | --- | --- | --- |
| Spell Level | Conjuration | Alteration | Restoration | Illusion | Destruction |
| Novice (level 0+) | Bound Dagger, Bound Sword, Conjure Familiar, Raise Zombie, | Candlelight, Oakflesh, | Healing, Lesser Ward | Clairvoyance, Courage, Fury | Flames, Frostbite, Sparks, |
| Apprentice (level 25+) | Bound Battleaxe, Conjure Boneman, Conjure Flame Atronach, Flaming Familiar, Reanimate Corpse, Soul Trap, Summon Arvak | Magelight, Stoneflesh | Fast Healing, Healing Hands, Necromantic Healing, Steadfast Ward, Sun Fire, Turn Lesser Undead | Calm, Fear, Muffle | Fire Rune, Firebolt, Freeze, Frost Rune, Ice Spike, Ignite, Lightning Bolt, Lightning Rune, |
| Adept (level 50+) | Banish Daedra, Bound Bow, Conjure Ash Spawn, Conjure Frost Atronach, Conjure Seeker, Revenant | Ash Shell, Detect Life, Ironflesh, Telekinesis, Transmute, Waterbreathing | Close Wounds, Greater Ward Spell, Heal Other, Heal Undead, Poison Rune, Repel Lesser Undead, Stendarr's Aura, Turn Undead, Vampire's Bane | Frenzy, Frenzy Rune, Rally | Chain Lightning, Fireball, Flame Cloak, Frost Cloak, Ice Storm, Lightning Clock, |
| Expert (level 75+) | Conjure Ash Guardian, Command Daedra, Conjure Dragon Priest, Conjure Dremora Lord, Conjure Storm Atronach, Dread Zombie, Expel Daedra | Ash Rune, Detect Dead, Ebonyflesh, Paralyze | Grand Healing, Circle of Protection, Repel Undead, Turn Greater Undead | Invisibility, Pacify, Rout | Icy Spear, Incinerate, Thunderbolt, Wall of Flames, Wall of Frost, Wall of Storms, |
| Master (level 100+) | Flame Thrall, Dead Thrall, Frost Thrall, Storm Thrall | Dragonhide, Mass Paralysis | Bane of the Undead, Guardian Circle | Call to Arms, Harmony, Hysteria, Mayhem, Vision of the Tenth Eye | Blizzard, Fire Storm, Lightning Storm |