Every player has faced annoying errors and crashes while playing. The games developed by big developers with constant updates also have bugs. Bugs and errors are like a part of the game and we must accept and deal with them accordingly. That said, Call of Duty Warzone is no exception.
One of the bugs that Warzone players face is the frequent crashes. Fortunately, there are numerous solutions to this issue. This article will go over some of the causes and solutions to Warzone crashing.
All the solutions we listed have worked for many players and may benefit you, too.
Why Does Warzone Keep Crashing ?
Some causes of Call of Duty Warzone come from within the game, while some come from the gaming machine you are using. Here are some of the most common causes of Warzone crashing:
The PC you use may not fulfill the minimum requirement that Warzone needs to run properly.
The graphic card you have may not be up-to-date.
The version of the game and your Windows update version may not be compatible with each other.
While installing the game, the game may not have been downloaded or installed properly.
You may not have the applications the game needs, like DirectX and Visual Redistributable.
The game might be outdated.
How to Fix Call of Duty Warzone Crashing
Before trying any fixes listed below, ensure your PC meets the game's minimum requirement. Here is the minimum requirement of Call of Duty Warzone:
CPU: Intel Core i3-4340/AMD FX-6300
RAM: 8 GB
OS: Windows 7 64-Bit (SP1) or Windows 10 64-Bit (version1709 or later)
VIDEO CARD: NVIDIA GeForce GTX 670 or NVIDIA GeForce GTX 1650 or AMD Radeon HD 7950
PIXEL SHADER: 5.0
VERTEX SHADER: 5.0
If you have already checked and still have got problem, go for the fixes listed below.
Restart the Game and the PC
This is the first and easiest method you should try before going for other fixes. Restarting your PC will kill any minor glitch that is crashing your game. Close all the applications related to Call of Duty Warzone like Battle Net Launcher, and again open the game.
Restart your PC and open the game if this does not solve your problem. If it still does not work, try another fix.
Update Windows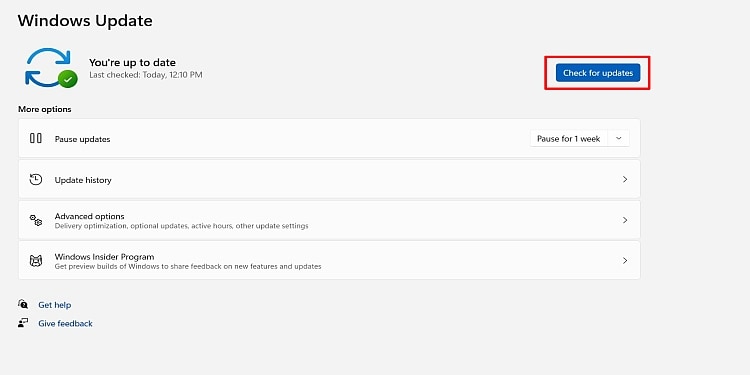 Check whether you have the required version of windows or not. If your Windows version is not compatible, update your windows. To update your windows, search for "Windows Update" on your search bar and check for new updates in the Windows update settings.
After updating your windows, check if everything is ok. If the game still crashes, try the next fix on the list.
Update Your Graphics Driver
Many players don't realize that even if the graphics card is powerful, without proper software or driver, it can cause the game to crash. So, updating the graphic card driver is very important. You can check if your graphic card is updated or not from the respective graphic card software like Nvidia and AMD.
For different graphic cards, the update procedure is different. If you have an Intel graphics card, generally, you can update it from the Windows Update. It also updates other graphics cards on your PC, but they are usually not that relevant or useful.
Another way is to update your graphics driver from an application like Geforce Experience for Nvidia and Radeon for AMD graphic cards. Here is an example of updating the Nvidia graphics card driver from Geforce Experience.
Open the Geforce Experience from your desktop or start menu.
Click on the "Drivers" tab on the top.
Click "Check For Updates," which will search for a new graphics driver.
If it finds a new driver, click "Download."
After that, wait for the driver to download and then click on "Express Installation."
After installing the driver, restart the game.
There is also another way to update your driver from the Device Manager. Here is how you can do it:
Open the Run command on your PC, type "devmgmt.msc," and press Enter.
Search for "Display adapters" and click the collapse button on the left side.
You will see the graphics driver you have on your PC. Right-click on each driver and click on "Update driver."
This will update your driver to the latest version.
Install Visual Redistributable and DirectX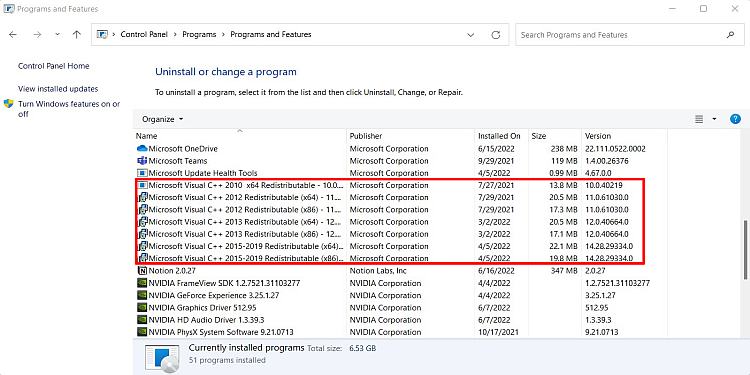 Visual Redistributable and DirectX are necessary for any game to run on your PC properly. Without these, your game may not open or crash after opening. You can check whether you have them or not from the Programs and Features in your Control Panel.
You can download DirectX and Visual Redistributable from their official websites if you don't have them.
Update Call of Duty Warzone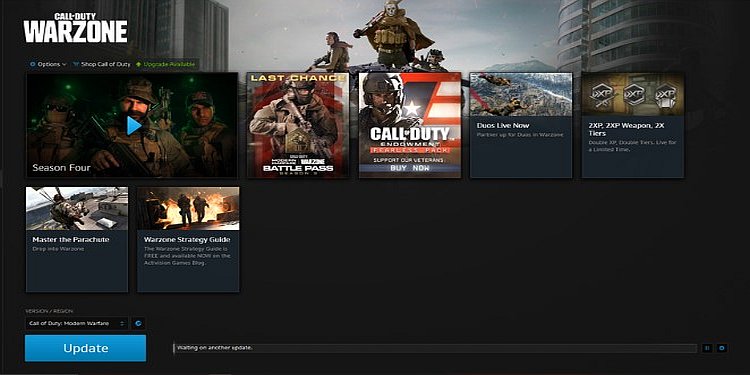 Warzone gives out continuous new game updates and bug fixes. If you don't update the game, your game may not open or crash between the game. To avoid this, you must update Warzone.
To update Warzone, open your Battle Net Launcher, navigate to Call of Duty Warzone, and then click on Update at the bottom of the window.
Repair Call of Duty Warzone
Sometimes the game files can get corrupted, leading to the game crashing. Luckily, the game has the option to scan for file corruption and repair the files. From Battle Net Launcher, you can Scan and Repair the game, and here is how to do it:
Open the Battle Net Launcher.
Navigate to Call of Duty Warzone.
On the bottom, you will find the Play button. On its side, you will see a gear icon.
Click on the gear icon and then on "Scan and Repair."
Now, the game will scan the game and repair it.
After doing this, restart your PC and start the game. If it still does not solve your problem, try the last fix on this list.
Reinstall Call of Duty Warzone
Even if after repairing the game, the game still crashes, try reinstalling the game. Sometimes, the game may not be properly installed or downloaded. This can be due to disrupted internet connection and interruptions during installation and downloading. In this case, uninstall the game first and install it again without any interruption.