As a gamer, you are always looking for the best gaming accessories. However, you may be flooded with options. In this article, we will talk about different mobile controllers and find the one that suits you the best.
In the meantime, playing COD on mobile can make your hand sweaty. There's a lot to do in the game. You must aim, shoot guns and explosions, drive vehicles/tanks, and maneuver through maps. For an FPS game, it will probably make it very difficult to do all those things. And hence getting a controller will be a whole different game altogether.
With a controller in your hand, you won't just be covering half of your screen but you can also make your reflexes and responses faster than ever. So what's the delay for? Let's move on with the article.
Best Controller for Call of Duty Mobile
Razer Kishi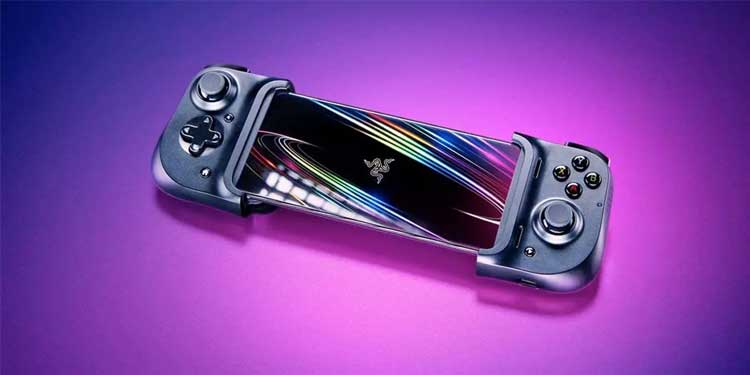 Razer Kishi is compatible with both iOS and Android. If you want a controller to feel like a Nintendo Switch, you must try Razer Kishi. It is one of the best controllers which does not require charging. A dead battery will ruin your gameplay for an intense game like COD. So, this can be perfect for COD players who play for long hours.
This controller does not have Bluetooth connectivity hence USB-C or Lighting connectivity is needed. Compared to a Bluetooth connection, a direct connection through USB-C or Lighting will boost your gameplay.
There won't be connection lag as you can have an immediate response in a game like COD. Likewise, it is small and comfortable as well.
Regarding drawbacks, this controller might not be for you if you have a universal USB port on your mobile. It only supports USB-C. But this is not a big issue as most of the phones we buy today comes with USB-C. Kishi is worth buying if you want an easy-to-carry controller with controls like that of Nintendo Switch.
Pros:
Easy to carry
It supports both iOS and Android
No charging required
Cons:
SteelSeries Stratus Duo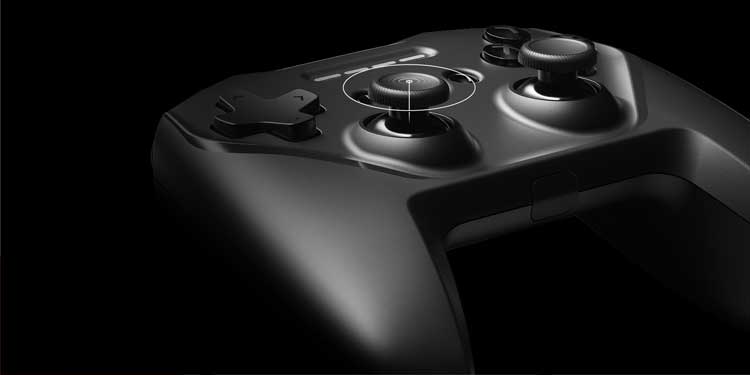 SteelSeries Stratus Duo is the best, if you need the best wireless controller. You can use this controller with your PC or your Android mobile. It is not only compatible but also budget-friendly. You do not need to spend a lot of cash to get the hands on experience of this controller.
With a battery that lasts up to 20 long hours, you can play COD and other games for a whole day. It also has its 2.4Ghz connection, which gives you very fast response and zero lag. This smoothness is must for a game like COD.
The main highlight of this controller is you can switch between your Android mobiles and PC immediately. If you do gaming on Android mobiles and your PC, this device can save you money.
Pros:
Budget-friendly
PC and Android compatibility
Long-lasting battery
Cons:
Old design
It does not work for Apple device users
No phone mount.
Razer Raiju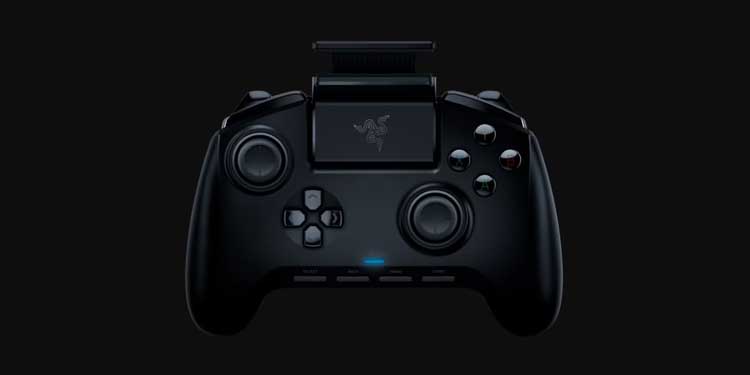 One of the expensive controllers on the list, Razer Raiju has many features like Razer Raiju software, adjustable phone mount etc.
It comes with both Bluetooth and USB-C variants. But the main drawback is iPhone users will not be able to use this controller as it does not support iOS devices. Considering the disadvantages, it has a lot of advantages for Android users. It has its phone mount, which can be adjusted as per your need. You can also adjust your headset without any problem. 
Razer Raiju software is very user friendly. It allows you to customize the buttons and game modes easily. You can also adjust the level of sensitivity of the analog stick which in turn can give you much satisfaction while playing games.
Pros:
Adjustable phone mount with no problem for headset
Customization of buttons, modes, and sensitivity through an app
Cons:
Does not have an iOS variant
Expensive
GameSir X2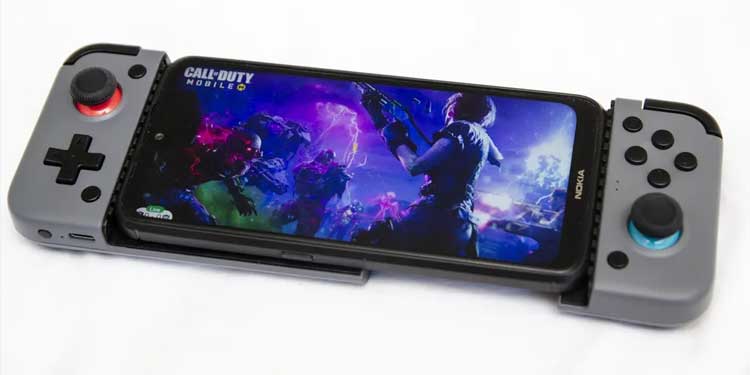 GameSir X2 works with any games which support control pads. You can play all the games like COD easily with this controller. It is designed keeping comfort in mind. So, if you are looking for a comfortable controller in budget, this is your best bet.
You can find GameSir X2 in two different variants. Choose from the USB-C or Lightning variant. Among them, I recommend you opt for a USB-C one because it offers impressive inbuilt cooling. It also has a faster response and zero lag compared to lightning variant. You can also be rest assured of its battery life.
It also has a mapping technology that offers you a game app. You can install the app on your smartphone and change the setting as per your convenience. However, you can also switch between Nintendo-style or Xbox layouts.
This controller offers everything a gamer requires including a RGB lighting system at the back.
Pros:
Comfortable
Inbuilt cooling system
Budget-friendly
You can customize the Buttons on the controller
Cons:
Only useful for USB-C mobiles
No inbuilt battery for the cooling system
Sony DualSense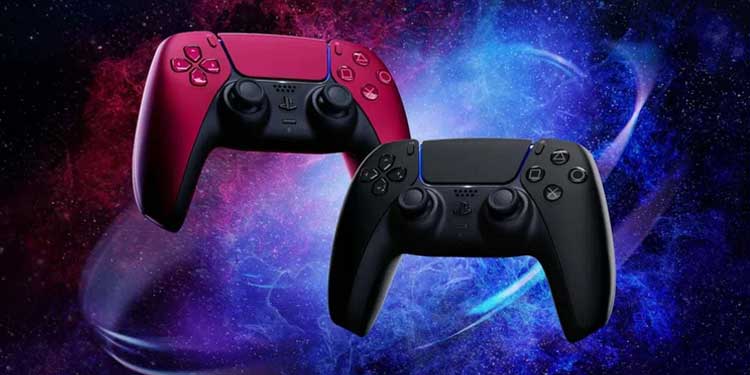 When it comes to controllers, Sony is unrivaled. If you've ever looked for a controller on the internet, you've probably come across Sony's Dual Sense. It is one of the most popular controllers. It is best known as the Playstation controller. Go for Dual Sense, if you are looking for a premium-looking product.
It is compatible with both Android, iOS, and of course PlayStation. You do not have to buy many controllers if you invest in Sony DualSense. It has the best haptic system attached to it and the haptic feedback is so good that you'll fall in love with every game you play with this controller.
Playing COD with Sony DualSense can be real fun as the device has haptic system and adaptive triggers. Your gameplay experience will never degrade playing with this controller.
Pros:
Compatible with iOS and Android
Extra features enhance the gameplay experience
Premium design
Cons:
No phone mount
Heavy controller
Backbone One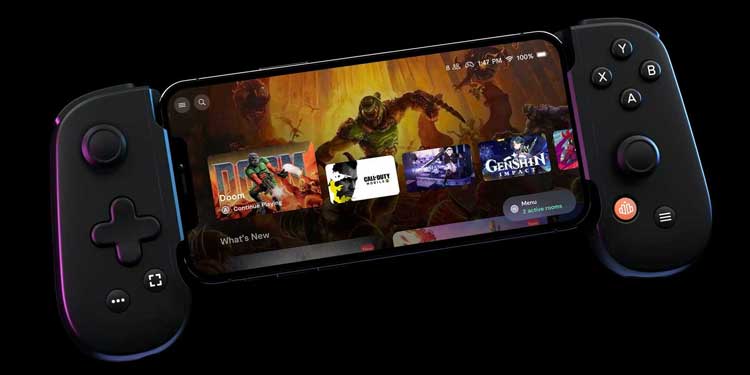 Backbone One is the best controller for you if you are an iPhone user. This lightning controller is designed keeping comfort in mind. Though it comes small, it can fit your device by simply extending it. So, if you are looking for a controller which can fit in your pocket easily, look no further.
There are many controllers which do not support iOS. But this is only designed for the Apple users. The main highlight of this controller is it has a lot of unique features. If your buddies also have the Backbone One, you can even chat with them. Likewise, you also have few buttons with which you can take screenshots.
Backbone One is a full package where you can enjoy your COD. You also get a dedicated headphone jack to get high quality audio. Thus, this is the best controller an iOS user can get. So, why not enhance your gaming ability using this controller.
Pros:
Small and Comfortable design
Feature loaded
iOS app support
Cons:
You cannot use it on an Android device.
Rotor Riot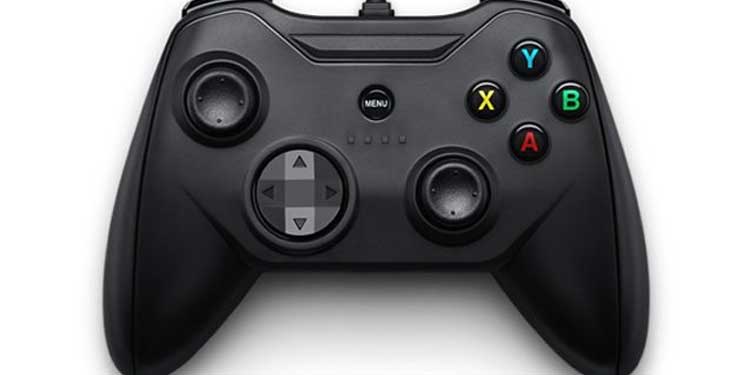 Wired controllers are always better in comparison to wireless. Since it has a physical connection, the response is faster than a wireless controller. Rotor riot is the best-wired controller. If you are just focused on the gaming performance, this can be a better option.
Rotor riot is available in both USB-C and lightning variants. It runs on both iPhone and Android devices. It can be troublesome to manage the long wires all the time but fast response and zero lag comes at a cost. Considering a game like COD, you need a faster response to aim and shoot.
It also has an inbuilt phone mount. You can adjust your viewing angle as per your need. No need to charge it as it directly takes power from your phone.
Pros:
Wired connectivity with a better response.
Traditional design
Cons:
BEBONCOOL Mobile Controller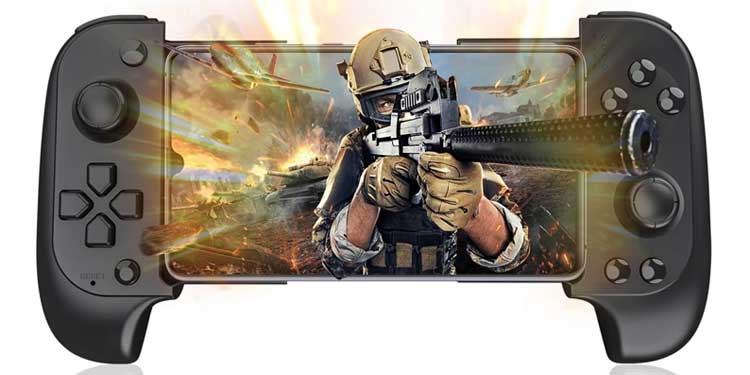 BEBONCOOL Mobile Controller is best for games like COD. This device is a must if you are a huge admirer of COD and want to improve your gameplay.
It can be used by both Android and iOS users. The main feature that is very useful is the dedicated button for toggling in-game maps. You do not need to touch your mobile phone frequently while using the controller. It is important to look at the mini-map all the time.
This device is pocket-friendly and a must-buy product if you are looking for the best COD controller.
Pros:
Budget-friendly
Long-lasting battery
you can use it on every phone
Easy control
Small and easy to carry
Cons:
Tesso COD Mobile Game Controller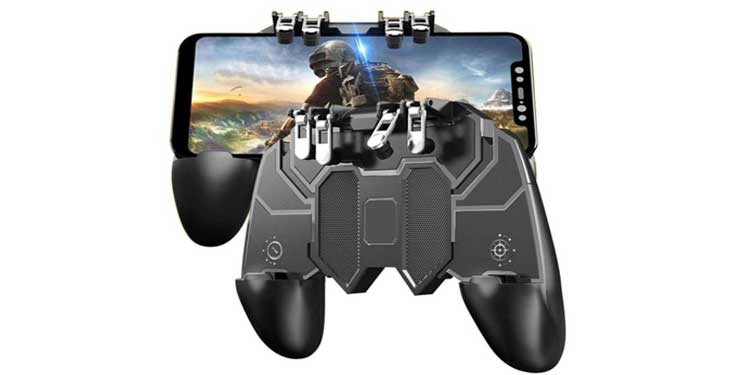 COD fans should be aware of this product. This controller is specially designed to play COD. I guess you will never stop playing if you use this product. Tesso controllers have everything to offer that you need while playing COD.
This device supports both iPhone and Android devices. More importantly, it has the best control you need for COD. It offers a six-finger panel in which you can do every major activity in COD. Aim , Fire, Seek or navigate using all your fingers . On top of that , you do not need to place your finger on your phone.
You can use this controller for other games too. But if you are a huge admirer of COD, the controller's name is enough to draw your attention. 
Pros:
Best control panel
Better gameplay
Cons:
Not much useful for simple gamers
Hard you get used to
GameSir G6 One-handed Wireless Game Controller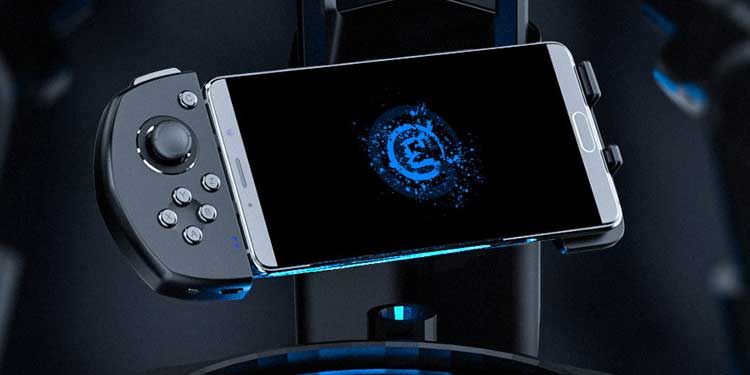 Some gamers prefer touch screen options. If you fall in that category, you should look for a Gamesir G6 controller. It is a unique type of controller that will give you a different gaming experience. I'm sure you will enjoy it after trying this.
This device has a 5.0 wireless connection which does not let your connection interrupt while playing a game. Playing COD in this will give a new experience. You can control movement with a joystick and fire your enemy by touching your mobile.
The good thing is you can customize the controls that are suitable to you. But the sad thing is you must own an iPhone to experience this masterpiece.
Looking at it, you might feel uncomfortable. It's never uncomfortable while playing. This device encourages you to play more.
Pros:
Greater battery life
More control buttons
Easy to carry
Cons:
Hard to adapt
Android is not supported