Ancano is the main protagonist of the College of Winterhold story arc. Defeating him is the final task to complete the storyline. However, many players deem him to be difficult because of his invulnerable phase. 
But one thing you should be aware of is that he is only invincible as long as he's channeling the power from the Eye of Magnus. So, if you cut off his source of power, he's vulnerable again.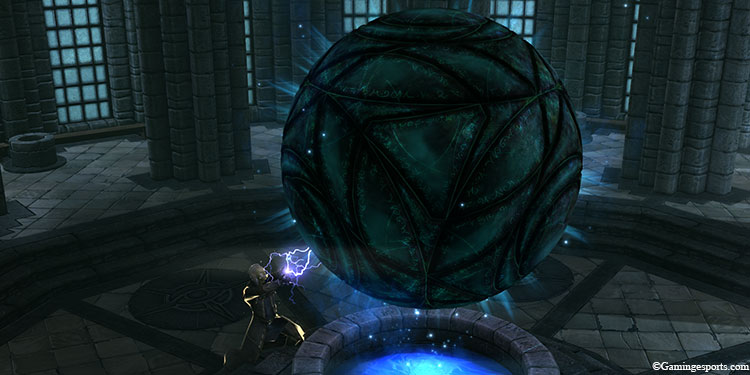 To defeat Ancano, the first thing that you'll need to do is get the Staff of Magnus and use it to close the Eye of Magnus. This will make Ancano open to normal attacks. You can then attack him with your best damage-dealing weapons to finish him off.
Let's start by getting the staff.
Get the Staff of Magnus
The Staff of Magnus is the key item you'll need to defeat Ancano. It's the only staff that can take down the barrier surrounding the College of Winterhold and also close the Eye of Magnus.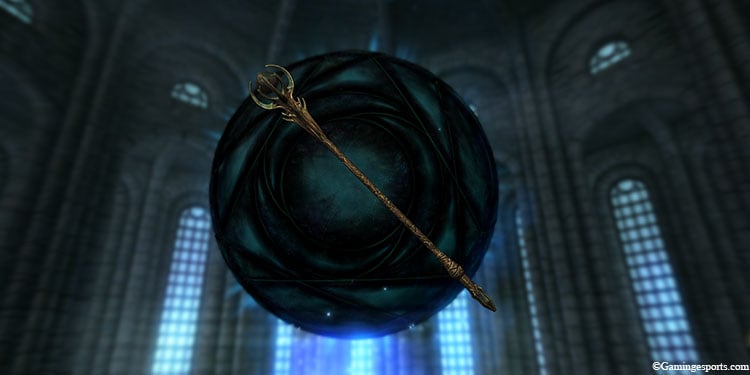 To get this staff, you'll need to complete the "The Staff of Magnus" quest, where you'll need to venture through the Labyrinthian and defeat the Dragon Priest Morokei.
Defeat Ancano
Upon returning to the College of Winterhold with the Staff of Magnus, you'll find the college is blocked off by a magical barrier. Use the staff to dissipate the barrier and head inside the Hall of the Elements to fight Ancano.
You'll see him powering the Eye of Magnus, and it is during this phase, he will be completely invincible. If you let him open the Orb completely, he will continue to grow invincible.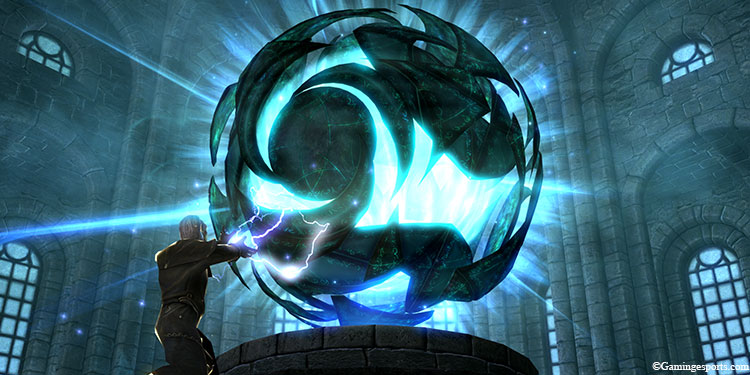 Now, to make Ancano mortal again, you must close the Orb using the Staff of Magnus. Simply aim at the orb with your staff and press the attack button.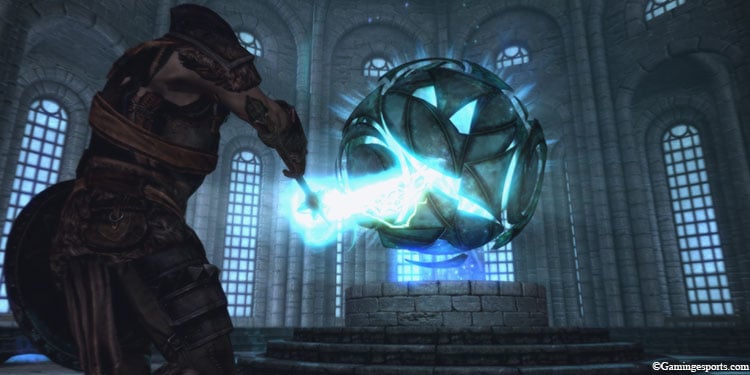 As you continue to use the staff, the Orb will start to shrink and close. After it closes completely, switch to your high-damaging weapons immediately and start attacking Ancano.
We recommend using two-handed weapons or dual-wielding one-handed weapons for maximum damage potential.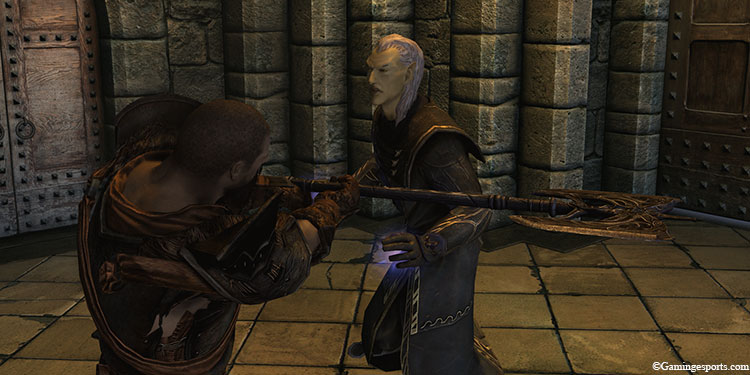 Here's a video guide showing you the entire process.
Tips for Defeating Ancano
Until now, you may already have defeated Ancano, but if you're playing the game at a greater difficulty or are severely under-leveled, then he can possibly one-shot you.
Combine his high offensive and defensive capability along with the invincibility phase, and this fight will start to get very tedious. So, it is always a good idea to prepare yourself before fighting Ancano.  
Follow these useful tips to make this fight much easier,
Use Magic Resist Gears
Let's start with equipping better gears. Since he mainly uses offensive spells like Augmented Flames and Augmented Shock, make sure that your armor pieces are enchanted with Resist Fire and Resist Shock enchantment.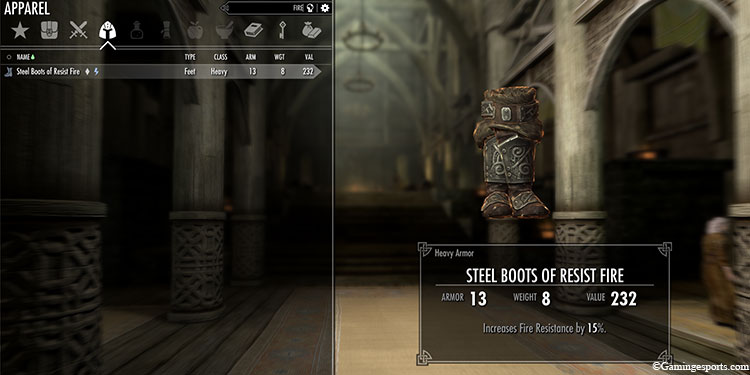 Furthermore, you can block with shields like the Spellbreaker, which inherently creates a Ward that protects you against spell damage.
Use High-Damage Weapon
Ancano uses Mage Armor that boosts Stoneflesh and is also resistant to magic, negating spell damage up to 30%. So, It is always better to use a weapon that deals maximum physical damage.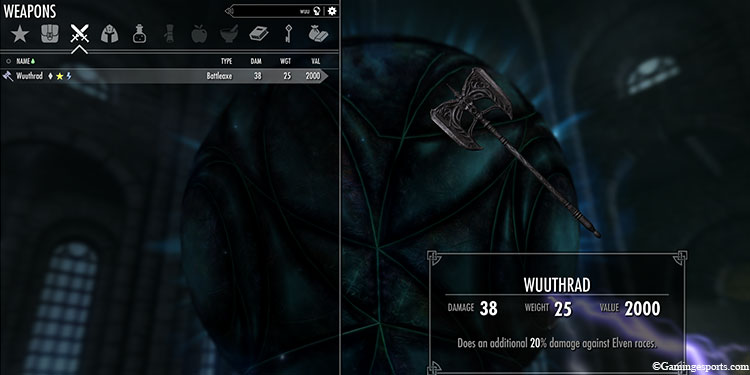 Use Dragon Shout
As soon as you close the Orb, Ancano will try to open it up again. This leaves you with a small time frame before he becomes invulnerable again. You must swiftly deal damage to prevent him from re-opening the Orb.
Here, you can use the Slow Time dragon shout after closing the orb to give you enough time re-adjust your gear and strike him with your highest damaging weapon.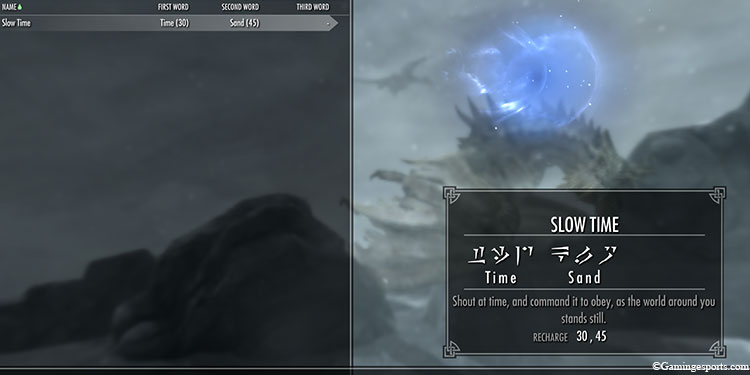 Bring More Help
This one's a no-brainer. If you're having trouble dealing enough damage to Ancano with the limited time window, make sure to bring a follower.
You can even use the Sanguine Rose artifact to conjure a powerful Dremora to help you in combat.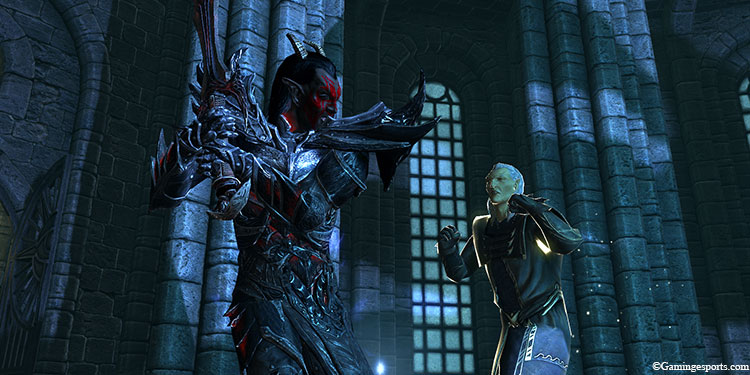 This way, you can focus on closing the Orb while your followers focus on dealing damage to Ancano.
Bring Soul Gems
This one's completely optional. Bringing extra soul gems is not a hard requirement while fighting Ancano, but it wouldn't hurt to bring a few. It can be handy if you ever run out of charge on the Staff of Magnus.
Even if you didn't pack some soul gems in your inventory, you could get some free soul gems by defeating the blue Magic Anomaly and looting their ashes.