COD mobile is one of the best shooting mobile games you can find. The game has garnered millions of players due to its different features, rank systems, many accessories, and trophies.  Nowadays, gamers are not only focused on gameplay but also on making their game profile attractive and better than others. 
So, players try to get high ranks, costumes, medals, and others that can make their profile look better than others. One of the ways to make your profile in COD mobile is to earn lots of medals. There are lots of medals in COD mobile. Some are easy to get while some are hard.
In this article, we will discuss about the Pacifist Medal that you can acquire on Call of Duty Mobile. This article will mainly cover how to earn Pacifist Medal in COD Mobile.
What are Medals in Call of Duty Mobile?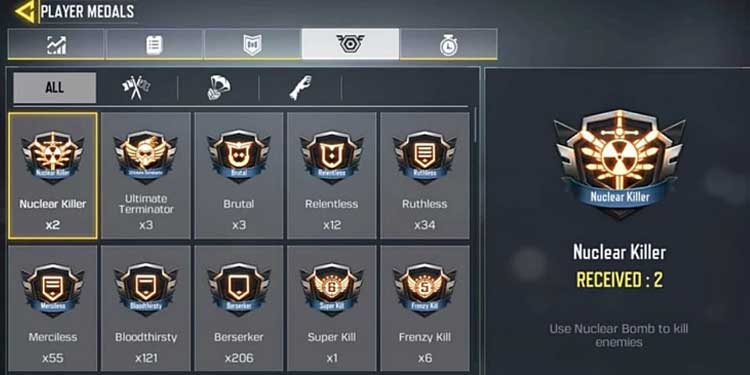 Who does not like to showcase their achievements to the world? In the case of online game players like Call of Duty mobile also, almost everyone wishes to get everything the game has to offer. One of the ways to show how good you are in the game is to rack up the medals in COD mobile as much as possible.
There are 85 medals in the game, among which 42 can be acquired from the multiplayer mode on COD mobile in different game modes. To get any of the 85 medals, you must complete the challenge that comes with the medal. Every medal has different challenges, so getting every unlockable medal will show how much of a skilled player you are.
After completing the challenge, the medal will automatically be added to your profile. To see how many medals you have earned, you can open your Profile in the game and navigate to the "Player Medals" section.
How to Earn Pacifist Medal in COD Mobile ?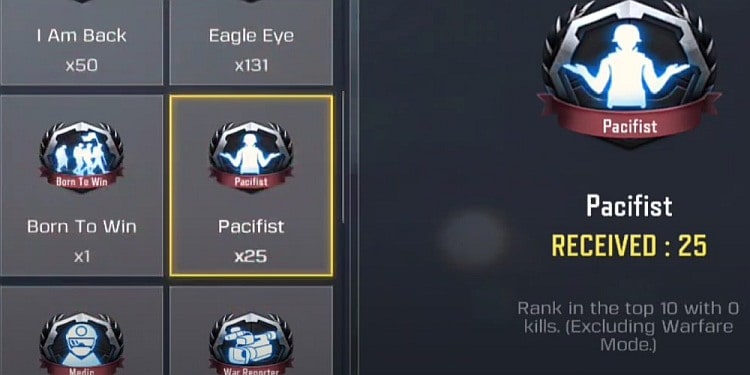 Like every other medal, you must complete a challenge to take the Pacifist Medal too. To get the pacifist medal one must complete the Pacifist Medal challenge. The challenge is to rank in the top 10 without killing any player.
This challenge must be completed in only Battle Royale mode. You will not get the medal if you complete the challenge in other modes like the Warfare mode.
The challenge seems easy, but it is one of the hardest medals to acquire. However, you can make your way to earn this medal easier by using some tips and tricks. First, there are lots of bots and unarmed players in the games, and you can get tempted to kill them. You must hold your temptation.
While jumping from the plane, drop to those places where there are few players and lots of hiding places. Carry all the health items like First-aid, Adrenaline, and Bandages. You can play solo, duo, or squad mode in Battle Royale.
In solo mode, getting Pacifist Medal can be very difficult. So, squad mode is recommended. Let your squad clear the players and you can play as a Pacifist.  In this way, you can earn Pacifist Medal.