Fingerslayer Blade is probably one of the more difficult-to-find items. You have to give Fingerslayer Blade to Ranni and in exchange, she will give you the Cairan Inverted Statue. The statue is essential to progress with her questline and obtain access to Ainsel River Main, an underground location in the Elden Ring. 
There are three main steps, and we will divide these into sub-steps. The most basic prerequisite to follow these steps is, you should have found the Three Sisters Region in Liurnia. You can get here once you defeat Royal Knight Loretta at the end of Carian Manor.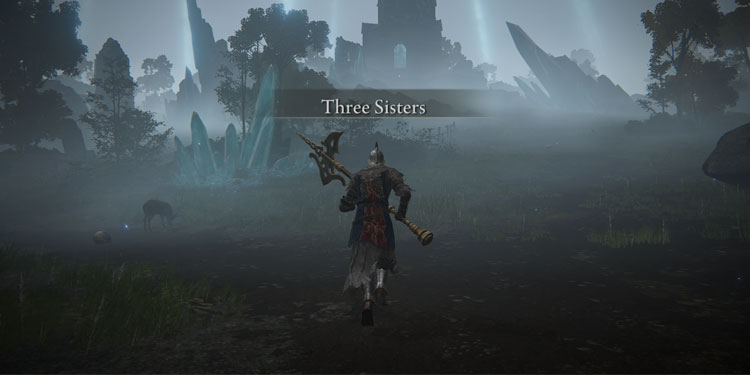 Activate the Redmane Castle Teleporter
Find Ranni in Ranni's Rise, her residential tower in the Three Sisters Region of Liurina of Lakes. Climb to the top of this tower.
You will find Ranni, talk to her. After a basic backstory and chit chat she will ask her to enter her service.
After entering her service you cannot exit the tower area till you talk with all 3 of her subjects. They will be present there in their spectral form. These 3 characters are Iji who is a Blacksmith, Blaidd who is a warrior, and Seluvis who is a sorcerer. 
Take an elevator to an underground region called the Siofra River. This is a region you can get to from an elevator inside a building called Siofra River Well in Mistwood Forest. 
Find Blaidd at a cliff's edge in Siofra River. Talk to him, he seems to be on a dead end without any idea on how to get to Nokron. He will ask you to learn about the secrets of Nokron from Seluvis. 
Reach Seluvis's Rise. Talk to Seluvis the sorcerer and get a letter from him titled Seluvis' Introduction. If this is your first time talking to Seluvis, talk to him a couple of times till you are prompted to ask him about Nokron. 
Head to Waypoint Ruins in Limgrave. If this is your first time here, find a hidden opening that will take you underground. Be careful, there are aggressive flowers ready to poison you.
First timers also have to fight a Mad Pumpkin Head Boss in the underground cellar. Defeat him in order to proceed.
Behind the door you will find Sorceress Sellen. Give her the letter of introduction. She will tell you about how Radahn has mastery over stars and locked the fates itself. She adds that killing him would help Ranni unlock her fate.
Find Blaidd at the same location as previous, at the cliff's edge in Siofra River. Fill him up on the info and he will talk about a festival of war being held in Redmane Castle.
Visit the Teleporter in Caelid, and it will already be activated. Interact with it and you will get access to Redmane Castle.
Get to Radahn, the Starscourage, and Defeat Him
Radahn the Starscourge is a demigod son of Elden Lord Radagon and Queen Rennala. He is a very powerful boss, and you need to be prepared yourself before you can even think of defeating him. Level up, and learn how to fight him. You can even summon NPC allies during this fight and ride horseback on torrent. Use everything at your disposal to beat him.
But first, you need to find him and Radahn can be found at Wailing Dunes. You can get there only when the Radahn festival begins in the Redmane castle.
Get to Redmane Castle through the Teleporter in the South Easternmost part of Caelid.
Don't forget to activate the Site of Grace, located in a chamber just right of where you first get teleported to the Redmane Castle. This will let you fast travel to this location.
If you go straight ahead you will reach a warmly lit area with other tarnished heroes. You will meet Alexander the Jar and Blaidd here. You can interact with some fighters here and get some information.
Navigate till you find Witch Hunter Jerren, a NPC who heralds the commencement of Radahn Festival.
Speak to him to activate the festival. He will show you a cutscene and give some backstory about Radahn.
Once you are done speaking with Jerren, head to a chapel right ahead of the area with Witch Hunter Jerren. Take the exit from the chapel.
Take the lift to the area below. Once outside the small chapel you will see a wooden lift platform. Activate this and go down. You will find yourself in an open area with a teleporter on the bank of a river.
Interact with a teleporter. This will take you to Wailing Dunes. It will also automatically start the fight with Radahn the Starscourge.
Alternatively, you can also activate the festival by getting to Grand Lift of Dectus, and resting on any Altus Plateau Site of Grace, without involving Ranni. Although, doing this makes you miss a bunch of interactions only experienced by properly following the questline. We advise you to follow the quest order given here for the first timers.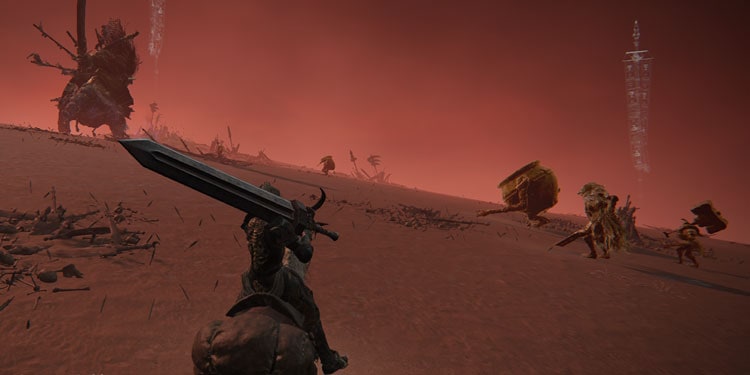 Get to Nokron, the Eternal City and Find the Hidden Treasure of Nokron
Once you beat Radahn, the stars start moving again. This causes a shower of falling stars and one of them falls on Lands Between causing a distant explosion. This opens up a new path which will take you to Nokron, the Eternal City. Follow the steps to get started on your quest to find Fingerslayer Blade.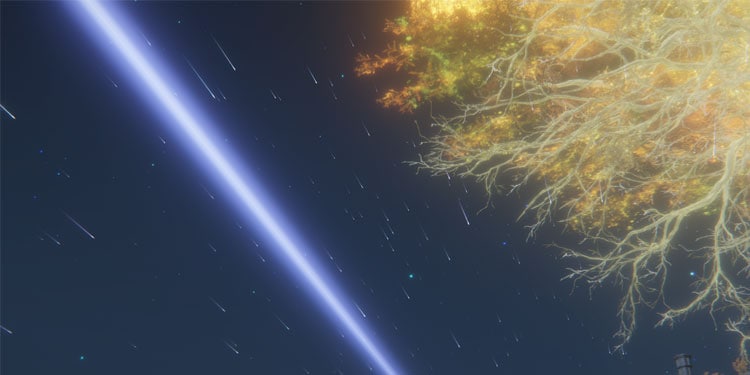 Travel to Mistwood Forest Outskirts or Fort Haight West Site of Grace.
Head South from Mistwood Forest Outskirts Site of Grace till you see floating shattered rocks. If you traveled to Fort Haight West Site of Grace the floating rocks are directly visible. This is where the star fell.
From the edge of the cliff carefully start going downhill, jumping over the floating rocks and navigating downwards along the cliffs. Be careful, one wrong jump and you will die.
You need to find a glowing cavern entrance. You will find this after you jump over a bunch of rocks each taking you further down.
Follow the cavern and you will reach an underground location. You will also be greeted with Nokron, Eternal City displayed on the screen. 
Once in Nokron you will need to find an enterable window. Be careful there are annoying enemies here that can push you off the ledge. Navigate, till you see a window you can enter from. It is past the tower area with Metallic Slimes. 
Jump down. It can look like a deathtrap but you can jump from the far side where you see the lighted lantern. Once you reach the room below, there are a few enemies. Take the exit door and head directly to find the Site of Grace.
From Nokron, the Eternal City Site of Grace just keep heading straight on. There are a lot of enemies and some nice loot in the open courtyard including a Larval Tear. 
Find a narrow opening with stairs from the courtyard. Follow the opening down the steps all the way to a huge gate to another Site of Grace called Mimic Tear.
Fighting yourself. If this is your first time here there will be a Golden Fog wall, enter the fog wall and you will reach an arena. Here, you can fight a boss called Mimic Tear who is exactly the same as you.
After beating the Mimic Tear, from the left of the arena get to a long bridge with Eagles. Follow the bridge till you see a ruined exit on the left.
You will reach a forested area with Bull Men. Avoid the battle with them if you are low levelled. There are strong enemy groups here which include Giant Red wolf led packs and singing Minotaur Clan.
Keep left in the forested area avoiding the main trail and you will see a narrow path opening between the rocks. This is where you need to head.
If you are in the right place, you will find a new Site of Grace called Ancestral Woods.
Jump towards the buildings from the Site of Grace and find a way behind one of the buildings. You will be greeted with Night's Sacred Ground displayed on the screen.
 Jump across to another building, and keep pressing forward. If you meet two crossbow-wielding Silver Tear enemies then you are heading toward the final prize. 
Take a narrow path from behind the roof where you fight the Silver Tears. You will see a broken bridge. Take this bridge across into the window of another building.
Once you enter the windows, below you will see a huge room with a metal ball in the center. Jump down to this room, take the exit, and head downstairs.
Once you are downstairs straight to the left is a Site of Grace called, Night's Sacred Ground. Activate it. This step is optional but if you die to the tough enemies ahead, this is a good place to respawn. It's also an important landmark where you can readily fast travel to later on.
From the Site of Grace head towards the huge statue seated on a throne. Head carefully because there are many enemies here. As you get closer, you will see a doorway under the statue. Head inside and you will find a chest.
Open this chest to find the Hidden Treasure of Nokron, which is the Fingerslayer Blade. You will also get a Great Ghost Glovewort as a bonus to upgrade your Spirit Ashes.  
We have marked the pathway on the map starting from Nokron, Eternal City Site of Grace to the final location. You can follow the map to avoid any confusion. Check the landmarks to see if you are going on the right path.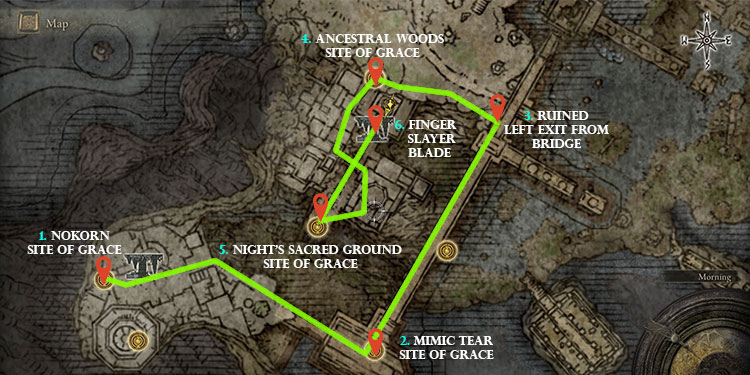 How to Use the Fingerslayer Blade?
Fingerslayer Blade is an unusable key item that you have to deliver to Ranni the Witch for her quest. This blade is later used by Ranni to sever her connection with the Two Fingers by killing them. The Two Fingers had seemingly tied Ranni to a predetermined fate. It is said that this blade can only be wielded by those who are tied to fate and can be used to kill gods and demigods.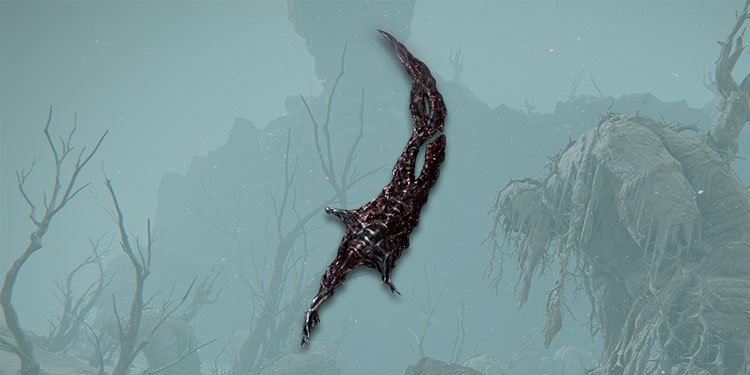 Is It Necessary to Get the Fingerslayer Blade?
Quest to find the fingerslayer blade is optional and only necessary if you want an alternate ending. New players find it very hard to decide when to attempt this quest. The tasks are quite vague and a bit difficult to navigate through. Only try your luck on this quest if you are at mid-level, around 60- 80.