The weapons in Elden Ring come with spectacular skills(Weapon Art). Additionally, you can even use Ashes of War to bestow your favorite weapons with the best skills in the game.
With all that, it would be quite unfortunate if your stylish skill's damage output was a bit underwhelming. But fortunately, the Shard of Alexander boosts the damage of your cherry-picked weapon skills by 15%.
You can get the Shard of Alexander as a drop at the end of the Jar NPC, Iron Fist Alexander's questline at Crumbling Farum Azula. You must defeat him in the battle to obtain the shard.
If you kill him in any of the previous meeting areas before finding him in Crumbling Farum Azula, he will drop Warrior Jar Shard instead. It raises the damage of skills only by 10%, compared to 15% by Shard of Alexander.
Follow this step-by-step guide and get your hands on this amazing talisman. Alternatively, the video guide above will also guide you through each step.
Help Alexander in Limgrave (Optional Step)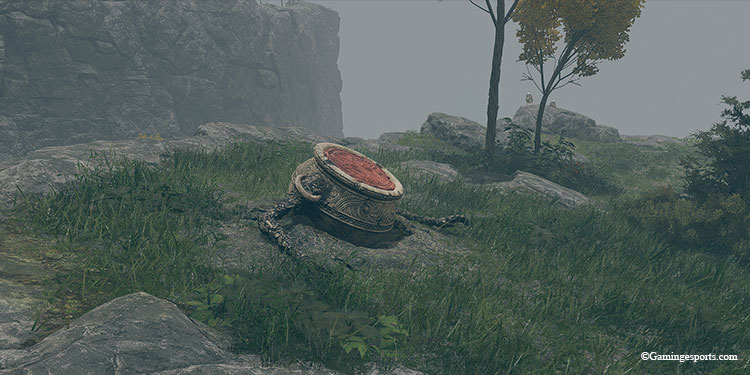 Do this before you go too far into Caelid, or else it will be skipped.
Head to the north of Limgrave, and keep following the road east from Stormhill Shack and Warmaster's Shack. After you pass a militia camp and before you reach the bridge with a mad Pumpkinhead, a voice will call you out.
Head towards this voice and find the Jar Warrior Alexander stuck in a hole. Assist him to get out by whacking his back a few times.
Once he is out, you will obtain the Triumphant Delight, a gesture. Talk to him, and he will reward you with a consumable item Exalted Flesh.
Meet Alexander in Gael Tunnels (Optional Step)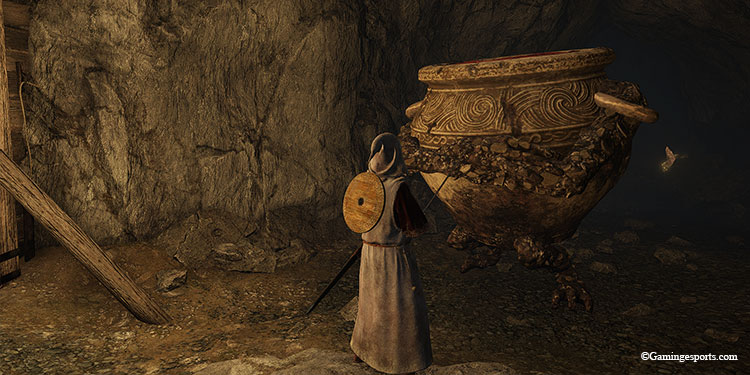 Venture into the Gael Tunnels, in the west of Caelid, and make your way till you find Alexander inside the tunnel area near the Magma Wyrm fight arena. He is near the tunnel exit that lets you get out to Limgrave.
Exhaust Alexander's dialogues there, and he will tell you about the festival that will be held in Caelid.
Meet Alexander in Redmane Castle During the Radhan Festival (Optional Step)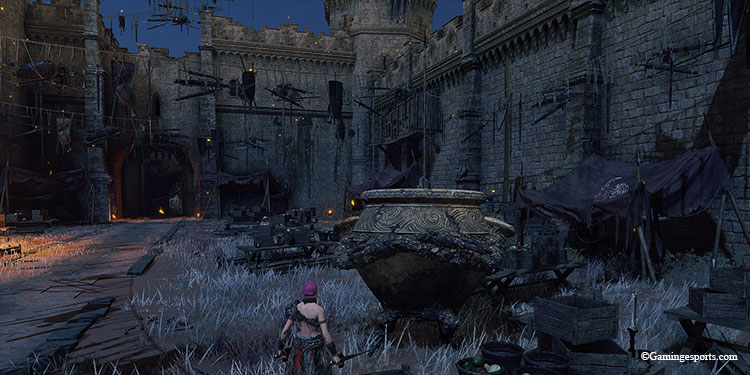 He will be at Radahn Festival whether you have talked to him before or not. Talk to him here for interactions.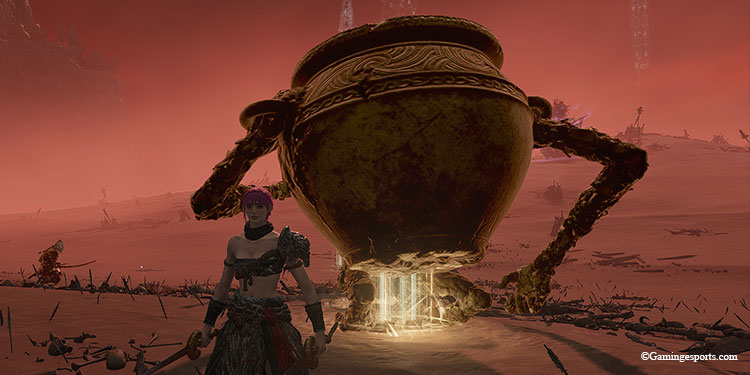 You can summon him later alongside other heroes to help you battle against Starscourge Radahn.
Meet Alexander after Defeating Radahn (Compulsory Step)
After helping you defeat Radahn, Alexander can be found in the Wailing Dunes gathering the remains of dead warriors.
You must talk to Alexander here to progress his questline.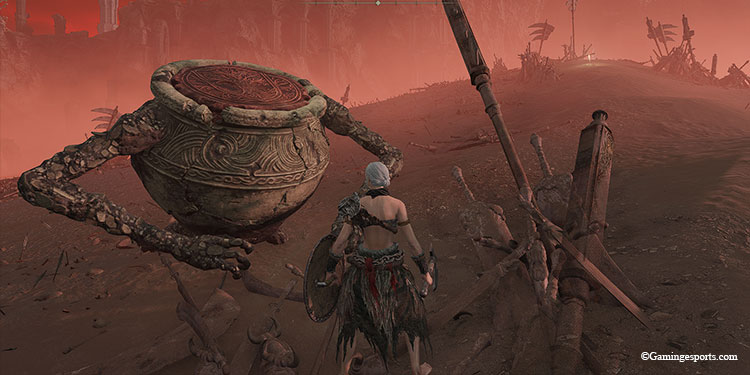 He says he is gathering the remains of the fallen warriors to repair himself. Moreover, it's customary for Jar Warriors to take in the remains of the brave warriors, which they believe makes them even stronger.
Help Alexander in Liurnia (Optional Step)
He can be found south of Artist's Shack, just past the swamp-encroached graveyard with the Tibia Mariner Boss. Once again, he has somehow managed to get stuck in a hole.
But this time, just beating him out of the hole won't work. You will need an Oil Pot (a craftable item unlocked after purchasing Nomadic Warrior Cookbook[17] from an Abandoned Merchant residing in Siofra River).
We'll explain this rescue operation with a few steps,
Find the merchant who sells the cookbook. This merchant is very well hidden. You must climb the wooden scaffolds near (southwest) the Worshipper's Woods Site of Grace and enter a cave from where you can jump down to a chamber. The merchant will be there playing his musical instrument. Check the map below for details.
Purchase the Nomadic Warrior Cookbook [17], the merchant has another cookbook as well for you to buy.
After you get the cookbook, don't forget to get a Melted Mushroom. They are abundant in the Siofra River area. Once you have the recipe and the Melted Mushroom, craft an Oil Pot.
Go to Alexander, and douse him with the Oil Pot by throwing it at him. Then, proceed to whack his back until he is out of the hole.
After you help him, he will reward you with an Exalted Flesh, a consumable item that boosts your attack power. You will also obtain the Triumphant Delight Gesture if you didn't obtain it earlier.
Meet Alexander in Mt.Glemir (Optional Step)
Although this is optional, you should complete it as the reward is the Jar, an infamous helmet.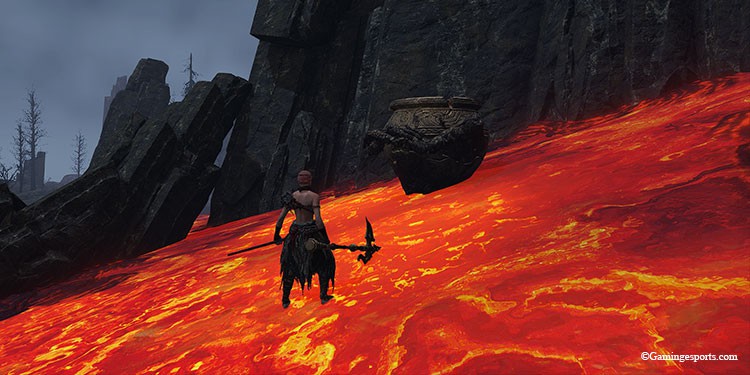 Navigate to Mt.Glemir. You can find him near the Magma Wyrm boss fight area, west of the lava-covered area near Fort Laiedd.
Talk to him to get the Jar helmet as a reward. He will also tell you he is heading next to the Mountaintops of the Giants.
Summon Alexander in Fire Giant Fight (Optional Step)
He can be summoned at the entrance of the Fire Giant Boss fight arena. You will find his golden summon sign at both gates of this arena.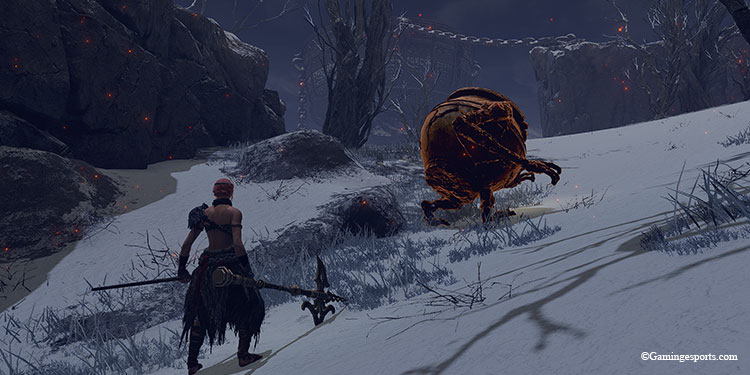 Summoning him will increase the health of Fire Giant, making the boss fight more difficult overall.
Defeat Alexander to Get the Shard of Alexander
The final meeting with Alexander occurs at Crumbling Farum Azula. He can be found near the Dragon Temple Lift Site of Grace. This Site of Grace needs to be unlocked by using a Stonesword Key.
To find Alexander, head out from the Dragon Temple Lift Site of Grace to the area with the undead. Turn right from this area and cross the broken arches that make square bridges.
You should see Alexander right away. He will be admiring the view of floating buildings and dragons.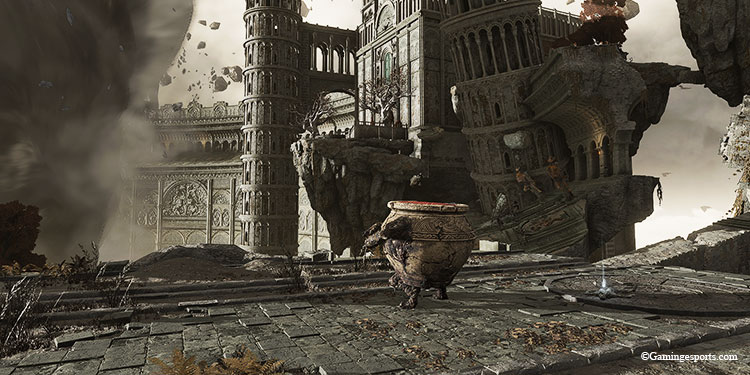 Talk to him, and he will challenge you to a one-on-one battle. Defeat him in combat, and you will obtain the Shard of Alexander and Alexander's Innards.
You can now equip a piece of your Jar-shaped friend as a talisman and take him with you into your future battles.
Note: You can take Alexander's Innards to Jarburg, Alexander's hometown, and give it to Jar Bairn. You will get a talisman called Companion Jar in exchange.