Similar to the Firelink Shrine in Dark Souls Games, Roundtable hold is a sanctuary for players in Elden Ring. Here, you can find many NPCs and merchants with whom you can interact to purchase items. As you progress through the game, the Roundtable hold will spawn characters from the storyline you completed, and they will help to strengthen your powers.
Roundtable hold is also a safe place for players to teleport, but many brave Tarnished might miss out on this fantastic place early in the game. Additionally, you can also upgrade your weapons, purchase incantations, tune spirits, meet the Hug lady Fia in the Roundtable hold. So without any further delay, lets get started.
How to Get to Roundtable Hold on Elden Ring
There are two ways you can get to the Roundtable Hold on Elden Ring. The first way is a very fast but equally difficult one whereas the second one is a bit lengthy but fairly easier. Let's discuss both.
The Quickest Way
To get to roundtable hold, you can choose to defeat Margit the Fell Omen, which is frustratingly difficult when you are just starting out and under level. We suggest you take an easier route that will get you to Lake-Facing Cliff's site of grace once you get the Spectral Steed Whistle from Melina. 
The Easiest Way
Any route to Roundtable Hold has to go through Melina. We can find Melina in two sites of grace. She will give you access to the lost site of grace only after meeting her for the second time. But to get that invitation, you need to first rest in the grace of site located outside of Limgrave.
Lake Facing Cliff Site of Grace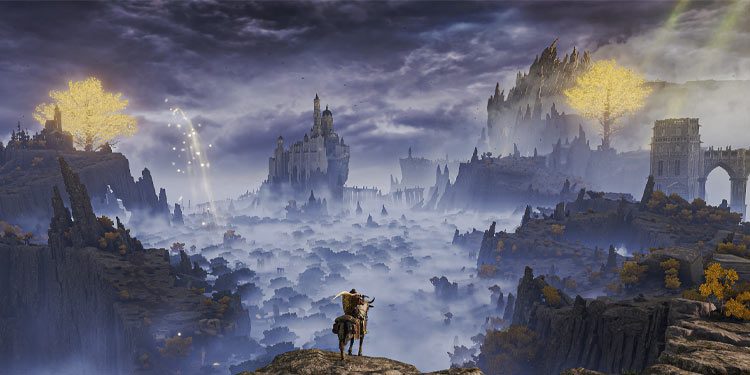 You can meet Melina for the first time at the Gate front Ruins, she will provide you with the Spectral Steed that will allow you to summon a horse anytime. The trick is to dash through every difficult place, passing through trolls, archers, and every enemy you encounter with your horse until you reach your destination.
Gallop through a bunch of enemies, including trolls, and reach Stromhill Shack site grace. Activate it just to avoid all the ambushes in the Gate front Ruins in case you die along your journey. You will also meet Roderika, but more about her later.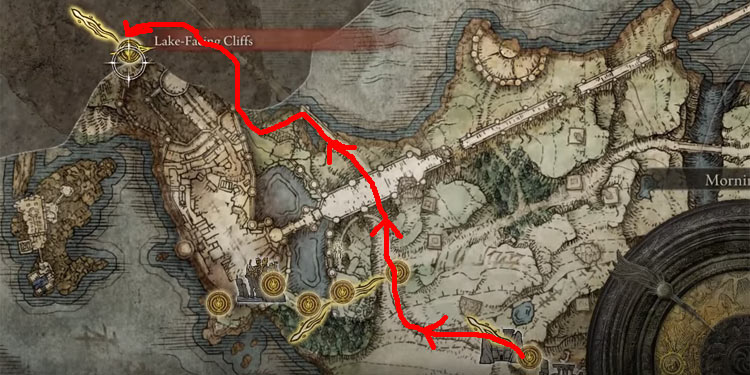 Instead of heading to the castle, you need to proceed straight forward and reach the broken bridge. Don't forget to pick up the Nomadic Warrior Cookbook lying with the corpse at the end of the bridge.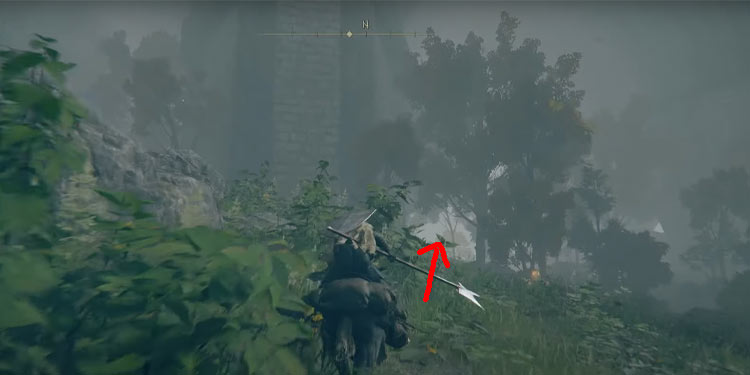 Take a left and jump down the bridge platform, and take a right towards the upper elevation of the terrain. If you encounter wolves while riding at the edge of the cliff, then you are going in the right direction.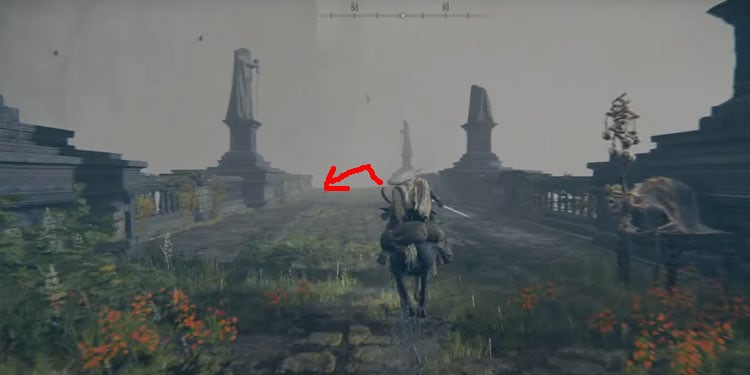 It's pretty straightforward from here, and you are now at the north side of the castle. You can have a nice view of the lake along with the Lake Facing Cliff Site of Grace.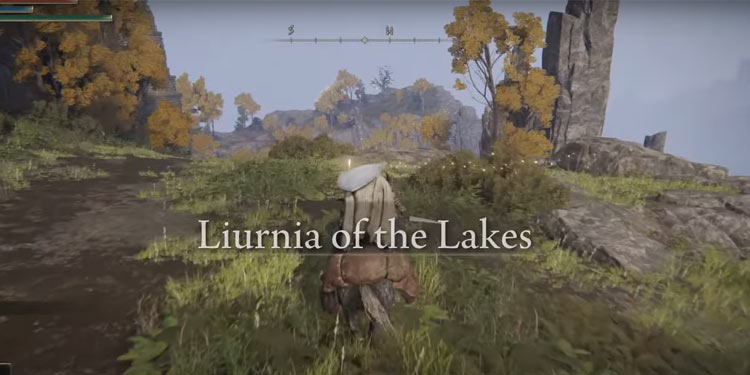 Rest at the grace site to activate the second encounter with Melina, and she will offer you to visit the Roundtable hold. Accepting her request will then teleport you to the Lost site of grace, which is the Round Table hold.
Bonus Tips 
Here are things you need to know after unlocking the Roundtable hold. Knowing these tips will make your game a little bit easier in this brutal and unforgiving world of Elden ring.
Get Your Runes Back
Players are more likely to jump from the balcony to the lower area, where a surprisingly brutal invader can take away your player's Rune. We got smashed countless times, and lost ten thousand Runes there. But there is a way to get back your Runes without defeating the Mad Tongue Alberich.  
As soon as you revive your Ruin, quit the game to go to the title screen. Go back to the game and now you are able to teleport back to the roundtable hold instead of the fighting arena. Make sure to open the map and teleport quickly before the invader spawns.
Kill Every Merchant to Receive the Ball Bearing
Fast traveling from one Grace site to another just to purchase a specific item from the Merchant is a tedious task. Instead, you can kill any merchant you encounter and offer their Bell Bearings to Twin Maiden Husks to make the central hub for buying and selling items.
Although it might seem unnecessary, it is the most effective way to find and purchase any item instead of roaming around the world finding the right Merchant who will sell you Larval Tears or Smithing stones. 
Spirit Tuning
Remember the helpless women named Roderika you met at Stromhill shack? Well, she is now at the Roundtable Hold and here to help you tune your spirit. Leveling up your spirit requires you to spend Grave Gloveworts or Ghost Gloveworths, which grow in different parts of the Catacombs.
To complete the quest of Spirit Tuning, you need to talk to Smiting Master Hewg. He will mention the Spirit twinning of Roderika. Talk to Roderika and back to Hewg until she agrees to use her ability. Tuning your spirit early in the game can help you defeat challenging enemies and even bosses.
There are various NPCs you will unlock along your way, so don't forget to fast-travel to Roundtable hold between your adventure to interact with new NPCs.