Volcano Manor is an enormous castle-estate located in Elden Ring. You will find this manor nestled among active volcanoes of the Altus Plateau. And if you are heading here, congratulations, you have already completed the first half of the Elden Ring.
Volcano Manor houses Praetor Rykard and his consort Lady Tanlith, along with their followers. They are the sworn enemies of Erdtree and are actively in war against them. The entire region of the Altus Plateau is overseen from Volcano Manor. This portion of Lands Between has much to explore with multiple quests, NPCs, new enemies and mighty bosses.
The manor has an enigmatic feel to it, with red drapes, dull reddish lighting and carpets that look blood-soaked. The exterior looks Gothic and quite similar to Batman's Mansion, just much larger. This majestic piece of in game architecture is literally located atop Volcanic cliffs. We regard it as a must visit location for touristic sightseeing of Lands Between.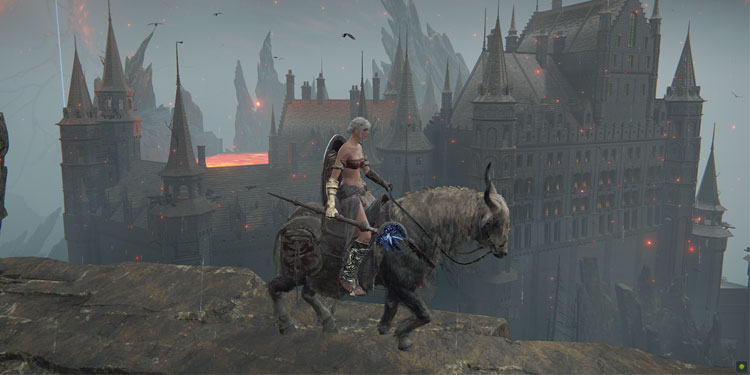 As Elden Ring is an open world game, which means different players can reach the same location in completely dissimilar ways, with different stories to tell. There are multiple ways to reach the Volcano Manor but here we will talk about the three most common ones.
The First Way, although fastest, will kill you and transport you to a dungeon underneath the Volcano Manor, from where you will need to escape. You will still have to travel all the way up or around to reach the main portion of Volcano Manor from the dungeons. Regardless, if you succeed, you can skip a lot of headaches.
The next one demands more progression than the first one, but it will take you directly to the main entrance of the Manor without much hassle. Depending on your progress, this way can either be easier or harder than the first.
And finally, the last one is the hardest, it demands the same progress as the second way and additionally, a lot of riding on torrent, scaling ladders in cliffs and encounters with tough enemies while traveling through a whole new area.
Now, let's discuss these 3 methods in detail,
Method 1: With the Help of Abductor Virgin and Zero Help from Patches
This method can be a bit of a hassle, you have to get killed and transported by an Abductor Virgin enemy in Raya Lucaria Academy. This particular way is a part of a Questline of an NPC called Patches. This takes you to the manor but, you will wake up in its unfriendly dungeon, which you will have to escape.
Using this method, you can land yourself into Volcano Manor very early. Though be warned, there is a boss you need to fight. If you are under-leveled make sure to be super sneaky if you want to reach the main entrance of the volcano manor.
Warning: If you follow this path and reach the manor without completing Rya's necklace retrieval quest, her quest line will move ahead and furthermore, you will be locked out of the Blackguard Big Boggart's storyline. Also, you will be trapped in this location until you find a Site of Grace.
Progress with Patches Questline till you meet him in Scenic Isle, Liurnia. He will be crouched in signature Patches fashion acting as snarky as always.
Talk to him till he exhausts his dialogues and select the talk option available on his interaction menu. He should tell you that you can get to the Erdtree by getting abducted by an Abductor Virgin. Of course, he is a filthy liar, but it is good information if you are trying to reach Volcano Manor.

Travel to the Schoolhouse Classroom Site of Grace and make your way downstairs to the rotating metal wheel lift.

Go to the far end and travel the wheel all the way downwards.

You will meet an Abductor Virgin in this area, you need to get killed with her grab attack, which transports you to the Volcano Manor. Remember doing this will also kill you in the process.

You will wake up in a dungeon underneath the Volcano Manor and will have to escape it. Regardless, you have reached the Volcano Manor.

There are multiple ways to escape once you are here. First, is by making a long jump and walking and sprinting across the lava, to get to a metal lift that will take you up the Volcano Manor.

The way ahead is blocked by a boss called Godskin Apostle, but if you can beat him, it is the quickest way to the heart of Volcano Manor. A Site of Grace called Temple of Eiglay will appear, once you defeat the Apostle.

Another way is by reaching a Site of Grace called the Subterranean Inquisition Chamber. From there you can make a longer way around through Altus Plateau.
You will need to fight an Abductor Virgin boss to make your way out the Altus Plateau. Defeat the boss and head outside, you will reach the area near Wyndham Ruins. Navigating to the main entrance of the Volcano Manor is still a long way around. You can follow the route from the third method starting from the step mentioning Wyndham ruins(ie Step 3).
Method 2: With the Help of Rya
Easiest way to get to the Manor is by getting an Invitation from Rya, an NPC you initially find in Liurnia. She will directly teleport you to the heart of Volcano Manor when you interact with her at Grand Lift of Dectus or at Erdtree Gazing Site near Lux Ruins. Although, getting to those locations can be a substantial amount of work.
She will only be present in those locations if you have completed a part of her questline. Rya's quest entails retrieving her necklace from Blackguard Big Boggart either by buying it from him or killing him.
First, find Rya. You can hear her calling out for help near the viewing telescope inside a pavilion. You can easily get there from the Scenic Isle Site of Grace, Luirnia. If you went to Patches earlier, he will also ask us if we can help Rya.
Talk to her and exhaust her dialogues till she asks you to retrieve her necklace.
Find Blackguard Big Boggart. He is found in Boilprawn Shack exactly north of Scenic Isle. He is sitting there, you guessed it, just boiling his prawns like any normal dude.
Buy the necklace from him or defeat him and he will drop the necklace. We advise you to buy it as he becomes a friendly NPC and a merchant if you do so.
Deliver the necklace to Rya and get Volcano Manor Invitation from her. Talk more to her and she will tell you to meet her either atop the Grand Lift of Dectus or above the Ruin-Strewn Precipice.
You need to unlock and use the Grand Lift of Dectus. You will find Rya at top when the Lift Platform stops at Altus Plateau, talk to her and she will directly teleport you to the Volcano Manor without any hassles.
On the other hand if you reach Altus Plateau through the Ruin-Strewn Precipice, find the Erdtree Gazing Site near Lux Ruins. Rya will be standing there. Interact with her here and she will again teleport you to Volcano Manor.
How to Unlock Grand Lift of Dectus?
To unlock and make the Grand Lift of Dectus work you will need a trinket called Dectus Medallion. Unfortunately for us, the Dectus Medallion is found in two pieces, both in separate locations. The two pieces are found separately in Fort Haight, Limgrave and Fort Farroth, Caelid. In the scale of the Elden Ring; those locations are situated in completely different regions. Find both pieces and you can use the lift.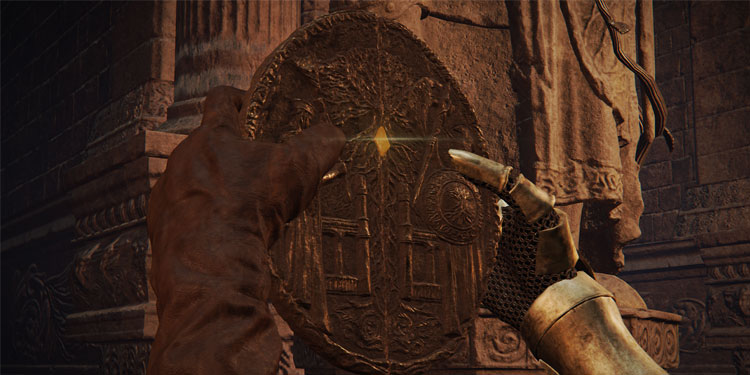 Alternatively, you can go through Ruin-Strewn Precipice to reach Altus Plateau. This does not require you to search for a medallion, instead you need to fight a boss to unlock this path. There is a huge dragon called Magma Wyrm Makar at the end of Ruin-Strewn Precipice. After defeating the dragon, you can take a lift from the boss-fight area to get to Altus Plateau.
Method 3: Traveling Solo to Volcano Manor
The toughest way to get to the Volcano Manor is by traveling from Altus Plateau and journeying to the location yourself. This is an ideal trip for those who want to inhale the sights of Lands Between without surprise teleportation.
The initial prerequisite for this is similar to Rya's requirements, you need to have access to Altus Plateau which can be done by beating a tough area with a dragon boss or by unlocking the Grand Lift of Dectus.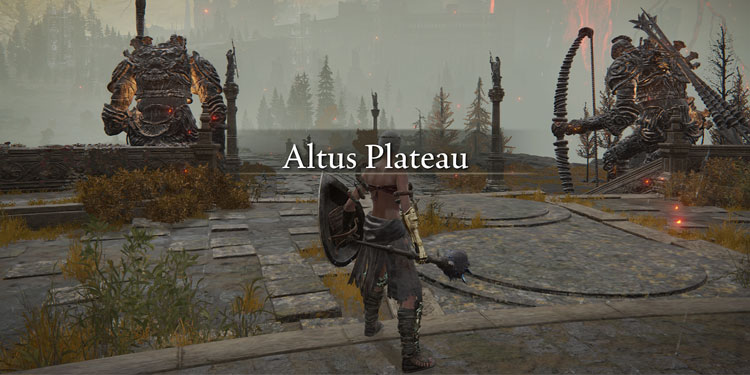 Once you are in Altus Plateau, follow the Map and or the steps in our guide to reach Volcano Manor. You can easily follow the map along the line we marked, with the mention of landmarks and guide yourself from Altus Plateau Site of Grace to Volcano Manor Site of Grace. The path is long and winding so make sure you understand it correctly before following it.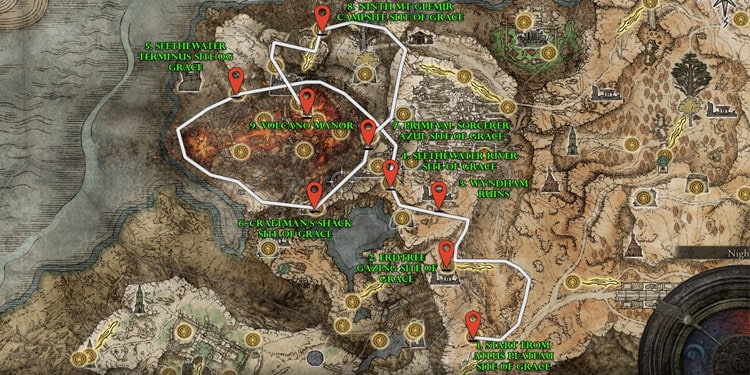 Additionally, we have added a video guide for those who want to follow the route with all of the action.
Below are the detailed steps you can follow to reach the Volcano Manor without losing any of your limbs.
Follow the path north, through the Militia Encampment and be wary of the Ballista shooting at you.
Ride Uphill, leftwards from the Millita Encampment to your first Site of Grace, Erdtree Gazing Site.
Climb uphill taking the mountain trail on the right till you reach the WyndHam Ruins. You will meet a Tibia Mariner Field Boss, if you are here for the first time.
Take the path through the Ravine from the Wyndham Ruins. This Ravine Path leads you to Mt.Glemir. There is a Site of Grace here called Seethewater River.
Keep straight through the Ravine avoiding the volcanic geysers that can shoot off from underneath you till you reach a fork in the canyon.
Take the left from the fork and keep riding, there will be bodies raining upon you, but as long as you hold torrent steady, nothing should faze you. Also, there are more volcanic geysers along the way, avoid them.
Follow this path till you see an opening, you will see a castle wall and a Site of Grace nearby. The Site of Grace is called Seethewater Terminus and the castle is Fort Laiedd.
Go through the outskirts of the castle, keeping at left, past the Stake of Marika and into the lava encroached land. A Magma Wyrm field boss will attack you. You can fight it or ride past it, and keep following another ravine that's behind the boss area.
You will be on a route along the edge of a cliff, keep following this cliff road ahead.
You will arrive in an area with wooden shacks. There is a Runebear that might jump at you, avoid him and keep following the path. On the right in one of the dilapidated houses you will reach another Site of Grace, Craftman's Shack.
The path with shacks will lead up to a fortified location with enemies called Hermit Village. It is covered with wooden shacks protected all around by pointed palisade fences and wooden stakes laid on the ground.
Cross the VIllage and follow the rocky path, you will encounter another field boss Demi Human Maggie and her sorcerer cronies. You can ignore or fight her as you wish. There is a Site of Grace here called Primeval Sorcerer Azul to the left just before the cliff.
Follow the narrow rock path past the field boss and jump to the land below it from its edge. This will land you in the front of the Glemir Hero Grave Building, it is surrounded by a forest of autumn clothed trees. There is a pack of wolves in this forest.
Get past the forest and you will see a wooden watchtower among the rocky outcrops. Keep left from there.
You will reach a narrow rock bridge, jump and cross it to come across a fortified area facing a cliff. You now need to climb up the cliff on a wooden ladder. While heading towards the ladder for the first time, a grafted scion enemy will jump at you from above, it can be fought or ignored. Once defeated it will not respawn.
Scale the wooden ladder all the way up. There are multiple of these ladders, keep scaling them till you reach the top of this cliff.
At the top there is an army encampment, past that, to the immediate left you will find a wooden bridge.
Cross the bridge, and you will come across a Site of Grace called Ninth Mt. Glemir Campsite and a Stream of Wind exactly in front of it. There is a very long ladder on the left too. You can rest and activate the Site of Grace for now.
Ride the wind stream on Torrent or climb the tall ladder and you will land on a platform above which has a crater in the center of it. There is a field boss here, called the Fallingstar beast. You can fight or ignore it.
Follow the edge of the bossfight arena towards right till you see an extended rock upon the cliff, take the turn there and jump away from the cliff to land beneath.
You will see the manor right ahead, it is downhill. There is a pissed off giant guarding its entrance. You can plainly ride torrent into the manor's main entrance and be welcomed into the Volcano Manor.
Rest at the Site of Grace inside, straight ahead from the entrance and you will be able to fast travel as you wish.