After the introduction of skins and cosmetics in Warzone, every player wants premium cosmetics in the game. And why shouldn't they? It adds a new flavor to the game and makes the beautiful game more colorful. You can show your new cosmetics to your friends and stand out among other players.
Those cosmetics can be obtained from the store using COD points or real-world money. But the best way to get some cosmetics which is also a value for money, is by purchasing Battle Pass. Every season new Battle Pass comes with new cosmetics and other rewards.
But do you know you can also gift a Battle Pass? You can help your friend in need by buying the Battle Pass or you can even wager with someone for the Battle Pass.
If you don't know-how, this guide will help you figure out how you can gift a Battle Pass to anyone.
Ways to Gift Battle Pass in COD Warzone
There are two ways you can gift the battle pass in Warzone. Both the steps are easy, but a Two-Factor Authentication process can be a hassle. But don't worry, we will discuss this step by step. The first method is via in-game, and the second one is using the mobile app of Call of Duty.
Gifting Battle Pass In-game
This is a longer method than the other one and is used in Call of Duty Black Ops and Vanguard too. This was the only possible method before the launch of Call of Duty Companion App.
Follow these steps to gift the Battle Pass:
First, open the game, and on the top of the home screen, you will see "Battle Pass." Click on it.
Now, the Battle Pass screen will open. On the bottom, you will see the "Gift Battle Pass." Select it.
A screen will then appear, a two-factor authentication check. If you have already activated the two-factor authentication, you can click on "2FA Already Active". If not, click on "Continue to 2FA Set-Up".
Then, a login screen will appear. Log in with your Call of Duty account credentials. 
After signing in, click on "Set up Two-Factor Authentication."
After that, a new small window will appear. Click on "Send Code." This will send a code to the email address you put in for the Call of Duty account.
Go to your email and get the code sent by Call of Duty. Then, type the code in the small window and click on "Submit."
After this, click on "Call of Duty" on the top left. Then, click on your ID as in the image below. 
Now, click on "Basic Info."
Navigate to "Privacy & Security." Then, find the "Two-Factor Authentication" menu and click on "Enable Two-factor Authentication." 
You need a "Microsoft Authenticator" app on your phone. You can download it from App Store or Google Play Store. Open the app and click on "Scan QR Code."
After clicking on "Enable Two-factor Authentication," you will get a QR code. Scan it with your Microsoft Authenticator app. 
You will be taken to the battle pass gifting screen. You will see the list of your friends. Then, select one of them and gift them the battle pass.
Gifting the Battle Pass Using the Call of Duty Companion App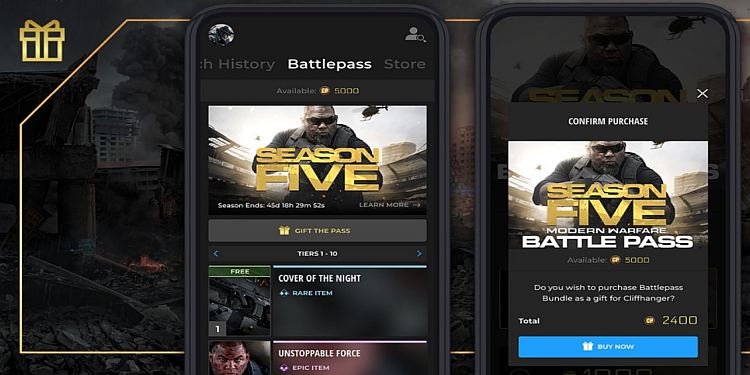 This is the shortest and easiest method to gift a battle pass to your friends. As many players do not know about the app, they have no idea about this method. You need to download the "Call of Duty Companion" app from the Play Store or App Store for this method.
After downloading the app, follow these steps:
Open the application and sign in with your Call of Duty Account credentials.
At the bottom of your screen, click on the "Player" tab.
On the top, you will see many tabs. Go to the "Battle Pass" tab.
Now, navigate to "Gift the Battle Pass" and select the battle pass you want to gift. There are two options. One is a normal battle pass, and another is a battle pass bundle with 20 tiers or levels already unlocked.
Then, select the friend you want to gift the battle pass.
These are the ways you can gift the battle pass in COD Warzone players.
FAQs
Can We Gift the Battle Pass in Cross Platforms?
The battle pass is gifted to a Call of Duty account. So, no matter which platform you are, you can gift to any player on any platform.
What Is the Cost of Battle Pass in Warzone?
The normal/standard battle pass costs you 1000 COD Points which can be purchased with real-world money, i.e., $10. The battle pass bundle costs 2400 COD Points, which equals 24 dollars.
Can I Send as Many Battle Passes as I Like?
In a day, you can send three battle passes or gifts. Also, you have to wait for a week to send another gift to the same friend.