The Illusion School of Magic is one of the underrated magic in Skyrim. Illusion magic contains spells that can complement stealth gameplay when used correctly.
There are spells that can make you invisible, make enemies fight each, or turn them non-hostile, allowing you to finish them off silently.
But in order to have access to all the high-level spells, your Illusion skills should be at a higher level. There are several ways to level up your Illusion skill, such as casting Illusion spells very often, buying levels from Skill Trainer, or even reading Skill Books.
I'll go over the details further below.
Cast Illusion Spells Frequently
Like any other skill, the most consistent way to level up your Illusion skill is to use Illusion magic more frequently. Casting a spell will grant you experience points depending on the level of the spell.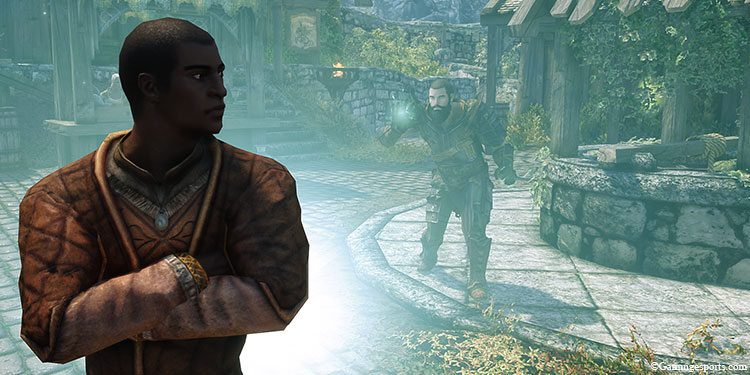 For example, casting an Expert level spell such as Pacify will generally yield more experience points compared to casting Calm—an Apprentice-level spell. I've listed some spells that yield the highest amount of experience points in every level
| | | |
| --- | --- | --- |
| Spell Level | Spell | Experience Points |
| Novice | Courage | 39 |
| Apprentice | Muffle | 144 |
| Adept | Frenzy | 104 per target affected |
| Expert | Pacify | 72 per target affected |
Via Skill Trainers
Skill trainers are special NPCs proficient at a specific skill and can offer you a +5 level in that particular skill. Every level will cost you gold coins, and the cost will scale according to the level of training level. Expert-level training will be more expensive than Adept level.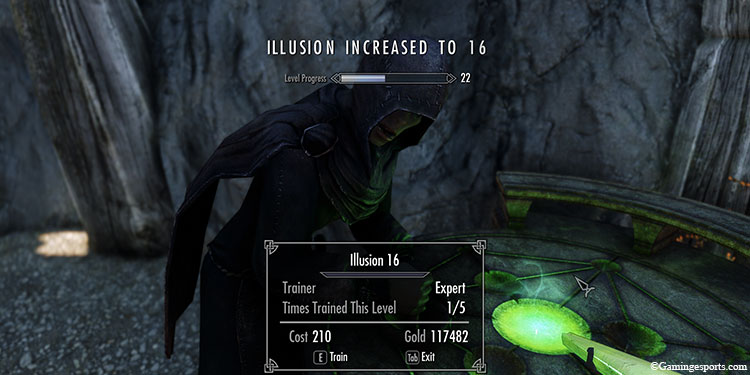 Like spells, there are different tiers of trainers. An Adept level trainer can level up your Illusion up to 50, an Expert level trainer can help you reach 75, whereas a Master level trainer can level up your Illusion skill up to 90.
There are only two skill trainers in Skyrim that focus on the Illusion school of magic.
Atub in Largashbur (Expert level trainer)
Drevis Neloren at the College of Winterhold (Master level trainer)
Note: You can only buy +5 Illusion level per your character's level. So you must level up your character before buying an additional +5 levels.
From Reading Skill Books
Skill books are a special type of book that grants you a +1 level up on a particular skill upon reading them. They do not cost any gold coin, but instead, you can find them scattered over Skyrim.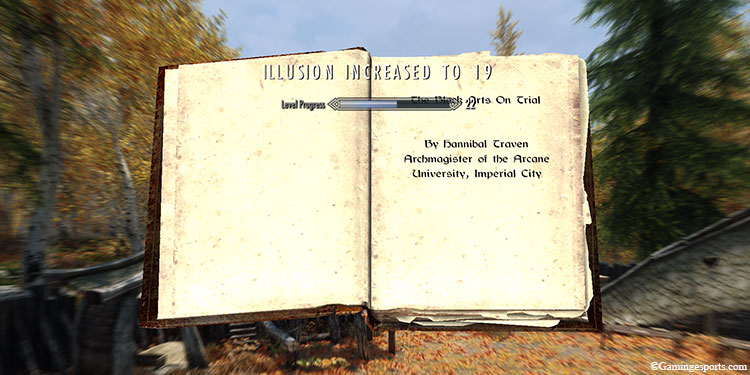 There are five different Illusion skill books in the game, and we've listed them below.
The Black Arts on Trial
Incident at Necrom
2920, Sun's Dawn, v2
Before the Ages of Man
Mystery of Talara, Part 4
You can also get a +5 level in Illusion by choosing The Path of Magic option while reading The Oghma Infinium book. You can obtain this book from the Discerning the Transmundane questline.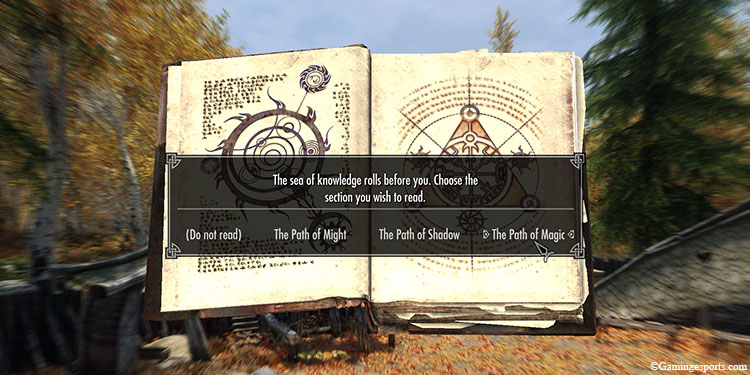 How to Level up Illusion Quickly?
Now that we've mentioned all the viable ways to increase your Illusion level, we'll move on to explaining a few things that can speed up the process.
As mentioned previously, every Illusion spells you cast will grant you some experience points. So to level up as quickly as possible, I will use the Illusion spell that grants the most amount of experience points as frequently as possible.
Step 1: Reduce Spell Casting Cost
The first thing that we need to do in order to spam Illusion spells is to reduce the casting cost of Illusion spells.
There are five perks in the Illusion skill tree that halves the spell-casting cost of respective tier Illusion spells.
For example, getting the Novice Illusion perk cuts down the Magicka cost Novice spell while the Apprentice Illusion perk works similarly for the Apprentice level spells.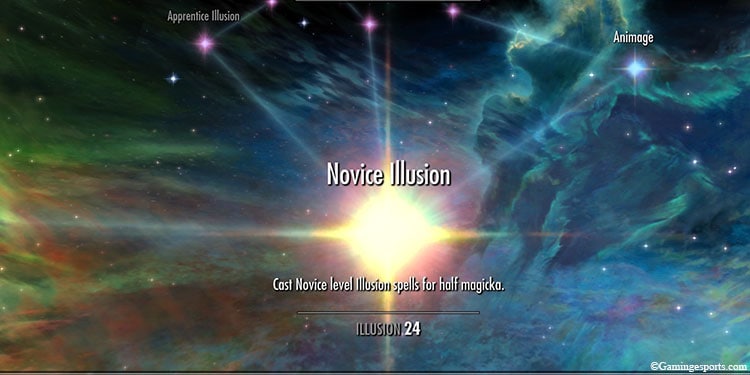 You can even go further and reduce the spell casting by equipping enchanted gears. Not just any enchanted gear, you should only look for gear that has the Fortify Illusion enchantment on it.
The gears we're looking for should have the following suffixes.
Of Minor Illusion
Of Major Illusion
Of Extreme Illusion
Of Eminent Illusion
Of Peerless Illusion
In general, we should aim to get gears enchanted with the Of Peerless Illusion enchantment as it reduces the casting cost by 25%. This means equipping three pieces of enchanted armor will bring the casting cost down ¼ of the initial cost.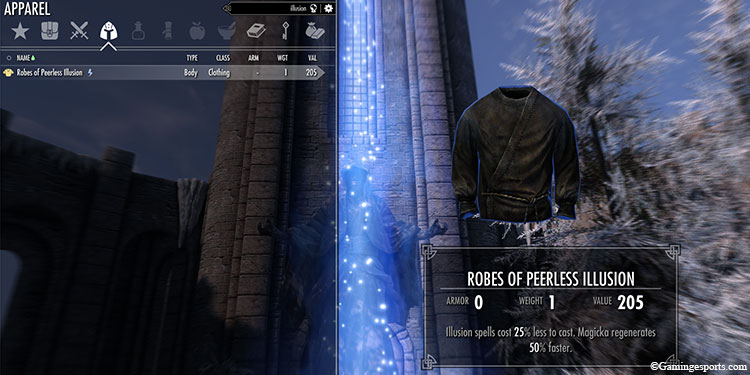 If you don't have the gear with Of Peerless Illusion enchanted gear, though, you can make one by yourself. But there are a few things that you'll need to complete in order to do so.
First, you must learn the Fortify Illusion enchantment by disenchanting any enchanted gears with the aforementioned suffixes.
Next, you must level up your Enchanting skills to 100.
Then finally, get the Enchanter (5/5) and the Insightful Enchanter perks from the Enchanting skill tree.
Having a high Enchanting level with the aforementioned perks allows you to enchant gears that reduce the Illusion spell casting cost by 25%, similar to the Of Peerless Illusion enchantment.
Furthermore, you can apply Fortify Illusion enchantment to four different pieces of armor, including Cuirass, Rings, Amulet, Circlet, or Helmet. Meaning you can equip four enchanted armor pieces and bring the casting cost down to 0%, making it practically free.
This allows you to spam the Illusion spells continuously and earn experience points, which brings us to our next point, the best Illusion spells to spam.
Step 2: Cast Efficient Spells
Now that we've lowered the casting cost of Illusion spells, we can focus on using the spells that yield the most amount of experience points.
Although using higher-tier Illusion spells gives more skill points, if you're at the early stages of the game, focus on using the Novice level spells.
A good Novice level spell is Courage. Casting this spell with one hand gives you 39 experience points, whereas dual casting will give you 78 exp points. You can cast it on any NPC as they will not become hostile by its effect, and you can get this spell pretty early from Farengar Secret–Fire at Dragonsreach.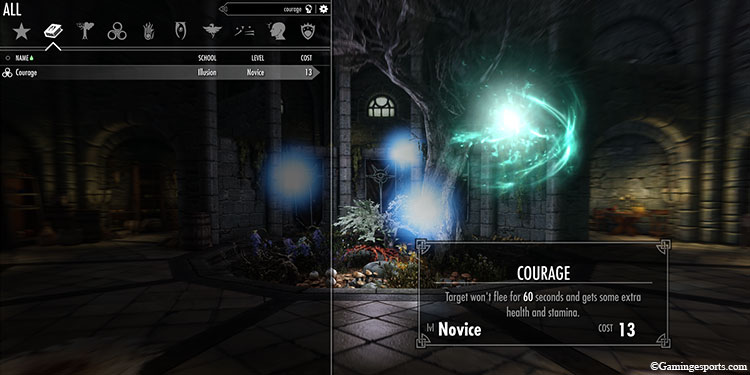 As you level up your Illusion skill gradually, you can move to use more advanced level spells. After leveling your illusion past 50+, you can switch to casting the Muffle spell, as it gives you 144 exp points on every cast.
For the late-game players who have reached level 100 in Illusion and made the skill, Legendary can level up again quickly by using the Harmony spell. It's a master-level spell you can get after completing the Illusion Ritual Spell questline from Drevis Neloren.
Casting this spell will send out a shock wave that makes creatures and NPCs non-hostile for 60 seconds. This spell also grants a whopping 841 experience points for every target affected by the spell.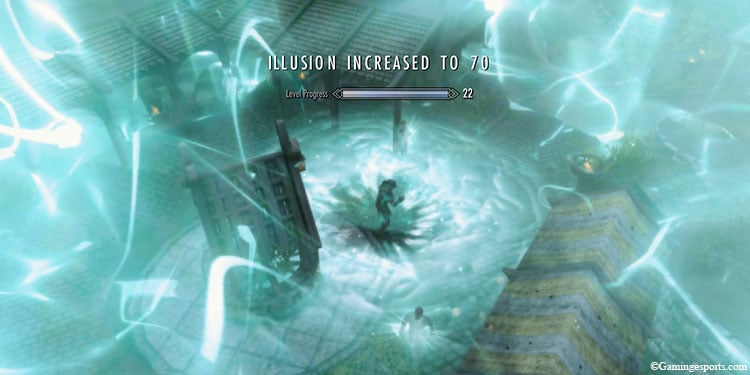 The spell has a wide reach of 250 ft radius, which can essentially cover the entire Whiterun. To utilize the maximum reach of the spell, head to the Whiterun market square before casting.
Here's a video guide.