A beacon in Minecraft does what its name suggests. It creates a skyward beam and a significant light source you can use to mark important locations. Additionally, it can give a status effect to your character.
It has some requisites, though, which can be tough to meet. So, aside from learning how to craft a beacon, you have to learn how to activate it, what it offers, and how to use its buffs.
Beacons are perhaps the most expensive structures in the game, but also one of the most powerful. So, let's start the blue beam journey by…
Crafting a Beacon
The ingredients you require for a beacon are:
5 Glass: You get glass by smelting sand or red sand blocks in the Furnace or the Blast Furnace
3 Obsidian: You can mine Obsidian in the Overworld's underworld. It spawns near lava sources, and it's common in places where water has flooded to lava pools. 
1 Nether Star: You can find Nether Stars by killing the Wither, the second most difficult boss in a Minecraft realm (after the Ender Dragon). 
If you have these ingredients, put them on the Crafting Table, and copy the pattern on the image below: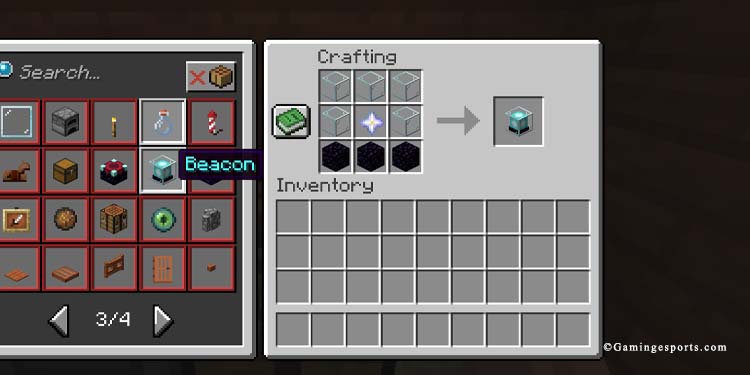 A Beacon is an end-game item, so I'm assuming we can skip past the tutorial for the Crafting Table and other essential tools. However, you might need info on finding the Wither.
You can spawn the Wither in the Overworld by placing 4 blocks of Soul Soil or Soul Sand in a T shape.  Additionally, you need to put 3 Wither Skeleton Skulls above the. It should look like this: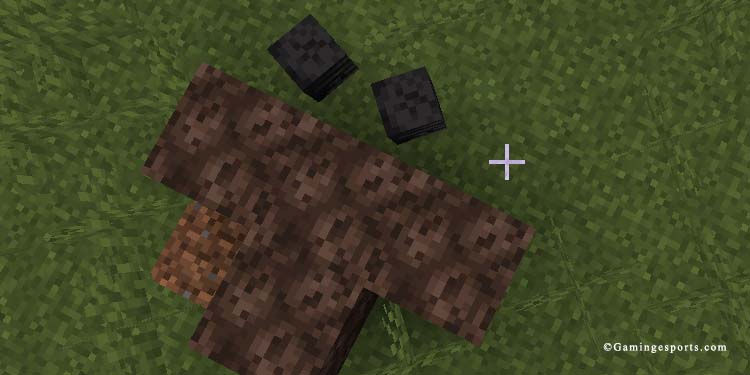 I'm missing one Wither Skeleton Skull where the arrow is pointing at it, because, the moment you complete the totem, the Wither spawns and destroys it.
The Witcher is very powerful and tanky, and it regenerates life. You will need a Netherite or Diamond sword with strong Enchantments, so be careful.
Also, he will attack all mobs, even your cows, cats, horses, and villager friends, so be careful of where you spawn it. Lastly, it will not despawn until it is dead unless you select "Peaceful" as your difficulty.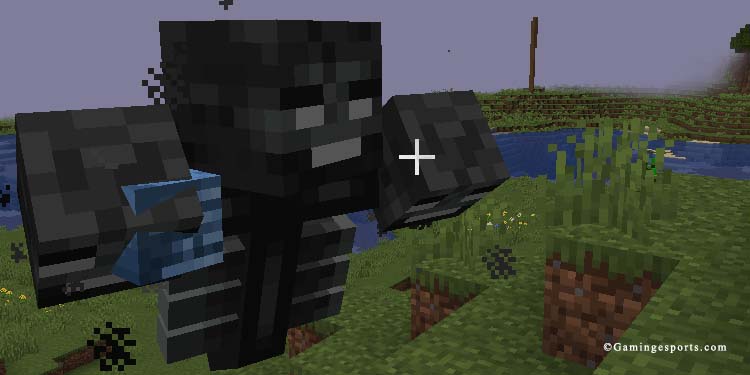 That said, you can find Wither Skeleton Skulls in the Nether by killing Wither skeletons.
Similarly, you can find Soul Sand in Nether Wastes biomes, and it's generally four blocks deep. It also spawns in Nether wart rooms on Nether fortresses, Hoglin stables, Bastion Remnants, and Soul Sand valleys. Finally, Soul Soil is abundant in Soul Sand Valley biomes in the Nether.
Activating a Beacon
To activate the beacon, you must place it upon a structure that fills these characteristics:
The structure is a pyramid made of blocks of emerald, blocks of diamond, blocks of netherite, blocks of gold, or blocks of iron. You can interchange the materials.
The structure has an unobstructed view of the sky. Transparent blocks such as glass, glass panes, and water can work. In the Bedrock Edition, the Nether Ceiling also works. 
The easiest pyramid you can build is a 3×3 grid, where you get to place the beacon in the middle position. Once you do it, it will start shining.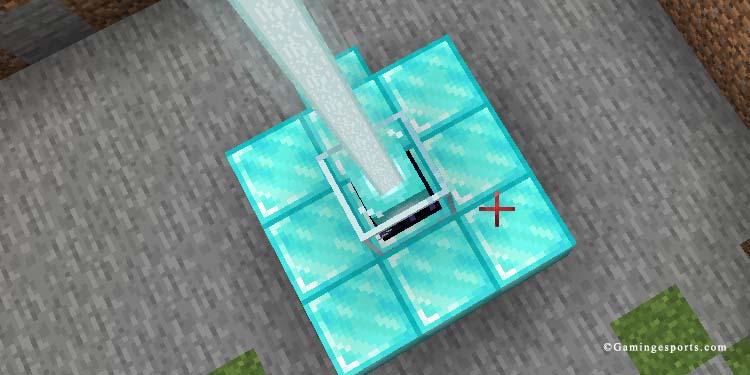 There're 4 pyramids that work to power up the beacon:
Single-floor: 3×3 pyramid (a total of 9 blocks)
2-floor pyramid: 5×5 base beneath a 3×3 base (a total of 34 blocks)
3-floor pyramid: 7×7 / 5×5 / 3×3 (a total of 83 blocks)
4-floor pyramid: 9×9 / 7×7 / 5×5/ 3×3 (a total of 164 blocks)
You should always place the beacon in the 3×3 grid, in the middle position. Here's another example: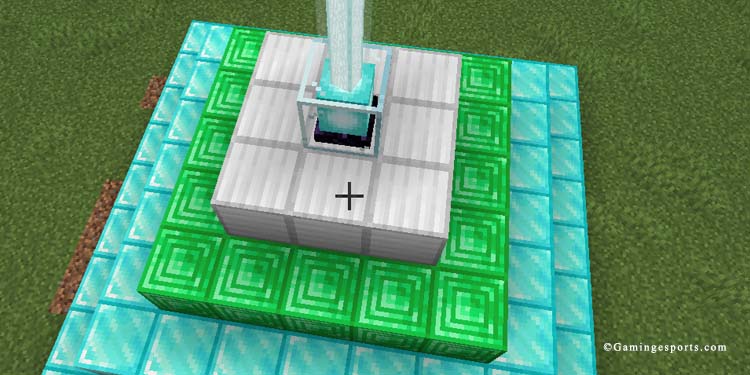 I made the biggest pyramid I described, and I changed the materials on some of the floors to prove that it works. That said, the beacon won't shine if it's not on a proper pyramid on Creative mode either.
Moreover, each of these blocks (iron, emerald, diamond, gold, or netherite) can be expensive. They are rather rare to find in the underworld, the Overworld. However, each block is the result of combining 9 of its lower-tier components on the Crafting Table:
9 Iron Ingots is a Block of Iron
9 Gold Ingots is a Block of Gold
9 diamonds is a Block of Diamond
9 emeralds is a Block of Emerald
9 Netherite Ingot is a Block of Netherite
It's up to you to decide how to handle these costs if you're in Survival mode. Just remember that the cheapest pyramid (3×3 structure) would require 81 materials.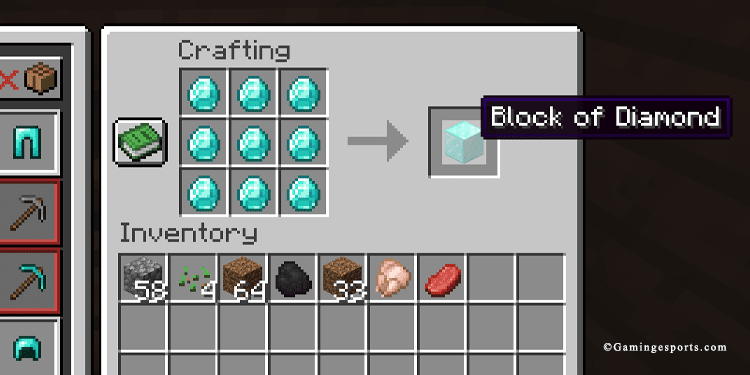 Remember that you can mix the materials on the pyramid, so you may use 9 diamonds and 72 Iron Ingots, or whatever you prefer.
Still, the size of the pyramid influences the strength of the buff.
Using a Beacon
The beacon stars work when its light begins shining. That indicates that you can use its buff.
To use its buff, go to the beacon, point it with your arrow, and press the "Use" button (right-click on PC). It will open an interface that may look new to you.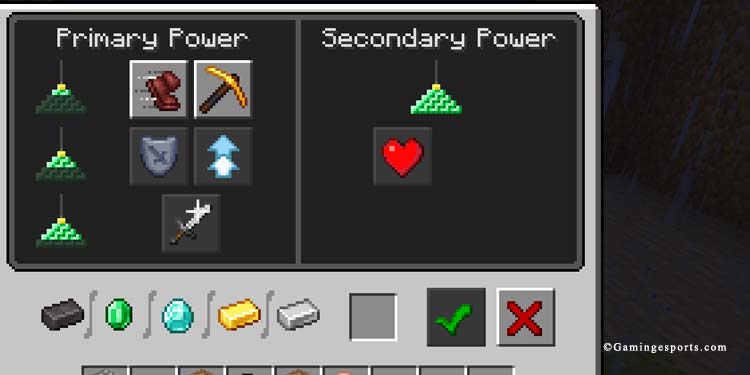 The "Primary Power" UI is on the left. A 3×3 pyramid only has access to the first level. A 2-floor pyramid has access to the second level while a 3-floor pyramid has access to the third level. Lastly, the biggest pyramid has access to Secondary Power as well.
You can place a Netherite Ingot, an Iron Ingot, a Gold Ingot, an emerald, or a diamond in the buff slot to "pay" for the buff. Then, you can select a Primary Power and the Secondary Power if it's available.
If you're on the 4-layer pyramid, you can select between Regeneration or upgrading the Primary Power on the Secondary Power section. And once you select your buffs, you can click the "Check" button to confirm.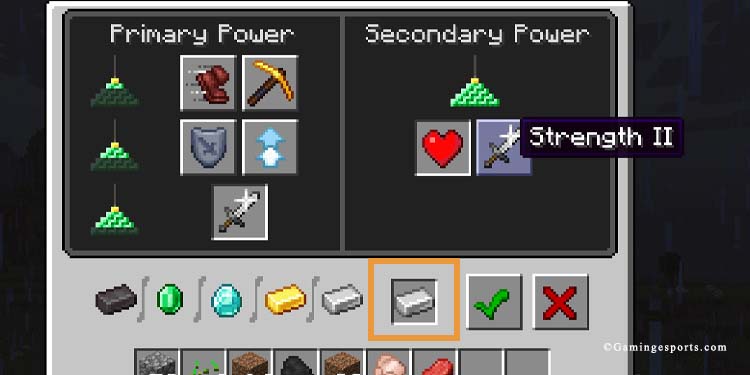 As for the buffs the Beacon offers:
Basic pyramid—Speed I: More movement speed / Haste I: More mining speed
2-floor pyramid: Resistance I: Decreases almost every damage / Jump Boost I: Increases the height and distance of jumps
3-floor pyramid—Strength I: More melee damage 
4-floor pyramid as Secondary power—Regeneration I: It regenerates your health / Increases the Primary Power to level II 
Notably, if you select to increase the Primary Power to level II, you'll be able to select a second Primary Power (although it doesn't seem so, you'll get to keep both!).
Finally, you need to understand that the beacon offers an aura, rather than a permanent buff. Similarly, the beacon will apply the buff to all players in range every four seconds, and the buff will last for 9 seconds.
Both the duration and range of the buff vary per pyramid level. Here's a chart:
| Pyramid | Buff range in blocks around the pyramid | Buff duration in seconds |
| --- | --- | --- |
| 1 layer | 20 | 11 |
| 2 layers | 30 | 13 |
| 3 layers | 40 | 15 |
| 4 layers | 50 | 17 |
The buff will become weaker or disappear if any aspect of the pyramid is destroyed. That said, the beacon is not flammable, but it's susceptible to explosions.