You have never played a Soulsborne game right if you have not equipped an additional weapon on your shield hand, while sacrificing your defense for an all-out offense. In a few games, when you equip two melee weapons of the same family on both left and right, you can gain a whole new move-set. This absolute commitment to an all-out offensive play style is what we call a Power Stance.
Elden Ring inherited the Power Stance from its predecessor, Dark Souls 2. Back in the day, it was Dark Souls 2's most troublesome and overpowered mechanic, which made FromSoftware think twice before adding this feature into any other games.
In Dark Souls 3, Power Stance was succeeded with a handful of paired weapons, kind of similar, but lacking the freedom to pair any two weapons you desire. Now finally in Elden Ring, they might just have perfected the Power Stance and brought it back to all its glory.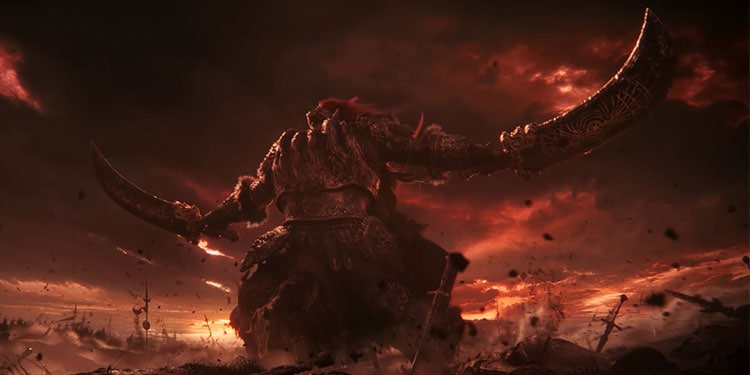 Players have a generous pool of melee weapons to select from in Elden Ring. You can equip two Katanas and rapidly shred your enemies, or even equip two giant swords and get one-up on heavyweights like Guts or Cloud. You can Power stance almost everything except shields, staffs, sacred seals and bows.
It is quite easy to Power Stance, but you need to be capable of handling both weapons by meeting the stat requirements and equip load of each. Additionally, both weapons need to be of the same category.
Once that is done you just need to equip them on both the left and right hand from the inventory. After that you are ready to Power Stance. Here are steps to make everything clear, in all the platforms Elden Ring is available to play in.
Go to the Equipment menu after you, 

Press Esc key on the PC.

Press the Option button on the PS. 
Press the Option button on the Xbox.


Equip weapons of the same family in both right and left hands. 
Make sure both the weapons are in your hand. You can do this by swapping out your weapons.

Press the Shift + Mouse Scroll UP to swap the right hand weapon and Shift + Mouse Scroll DOWN to swap the left hand weapon on the PC. 
Press the left(<) direction button to swap the left hand weapon and right (>) direction button to swap out one on the right on the PS.
Press the left(<) direction button to swap the left hand weapon and right (>) direction button to swap out one on the right on the Xbox.  
To perform a Power Stance attack after everything is set,

Press the RMB on the PC.
Press L1 on the PS joypad.
Press LB on the Xbox joypad. These are the buttons that usually raise your shield but when you have the same weapons equipped you will use Power Stance and both weapons will attack simultaneously.
How to Know Which Weapons Can Be Used in Power Stance?
If you want to know what weapons can be used together in a Power Stance, you need to recognize the family of weapons you have in both hands. To do that, again navigate to weapon inventory and check the description below the weapon's name.
That is the family a weapon belongs to. As long as the family is the same, apart from a few exceptions, the weapons can be dual wielded for power stance.
We have a video showing the difference when two different and two same family weapons are equipped.
Below the Keen Longsword and the Keen Short Sword, both fall under same category or family, they can be used in a Power Stance together.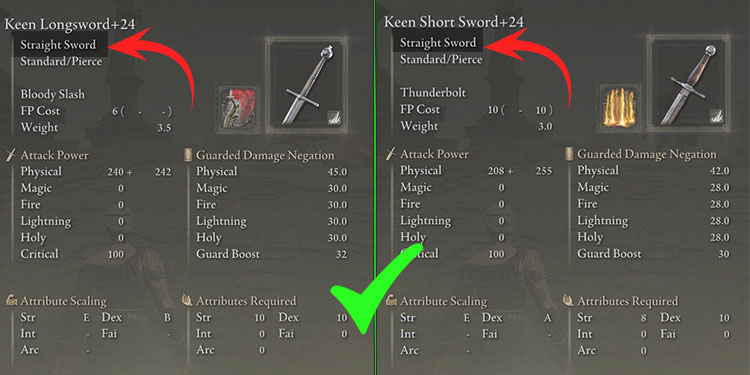 Unlike ones above, Keen Longsword and Uchigatana do not fall in the same family or category. Even though both are swords, one is a straight sword and another is a Katana. These cannot be used in a Power Stance together.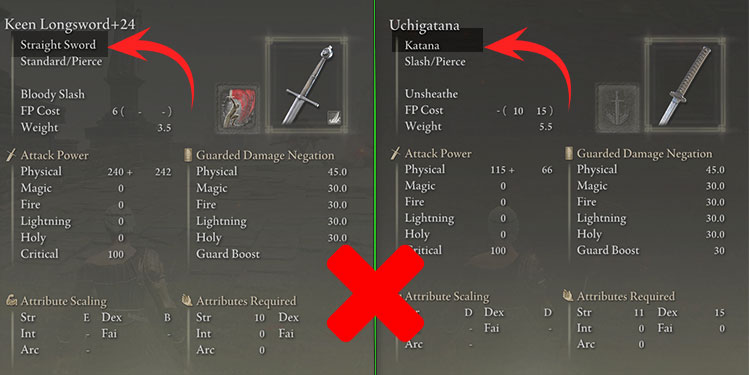 If you click on your currently equipped weapon in the menu, you will be taken to another menu that shows all the weapons you own. You can change another weapon into the weapon slot from inside this menu.
Here, weapons belonging to different families are sorted out in different sections that makes it easy to recognize what weapons can be dual wielded for a Power Stance together.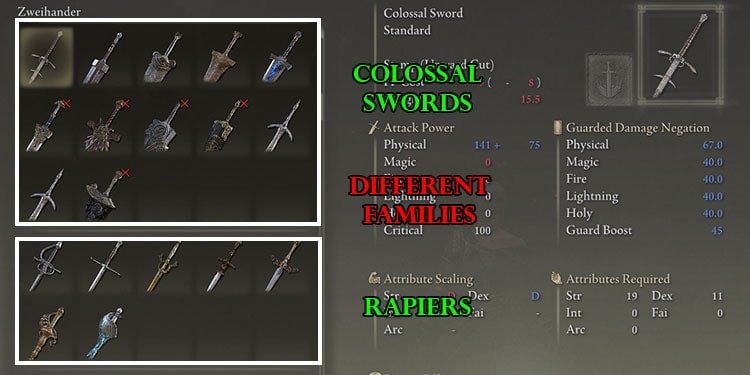 Once you have the same class weapons equipped on each hand, you can experience a brand-new move-set. We have created a video showing all the move-sets of Power Stances in Elden Ring, from giant swords, colossal hammers to flashy whips. Check everything and decide what suits you.
Best Weapons to Power Stance Together in Elden Ring
Elden Ring has more weapon choices than you'll get in a supermarket grocery section, and when you add Ashes of War that you can equip interchangeably in each weapon, the number of variables just multiplies.
This raises the possibilities of combinations someone might come up with into mind boggling proportions. That is why we advise you to just be informed about the top tier weapons people tend to pair together, but don't be surprised when someone pulls off an unexpected move using a relatively unpopular weapon.
Blasphemous Blade and a Greatsword of Your Choice
Equip a Blasphemous Blade on your right hand and equip another great sword on your left. This will let you use the special weapon art of the Blasphemous Blade which sends a barrage of fire towards your foes. At the same time you can use the Power Stance move-set of dual great swords when you run out of FP to use the weapon art.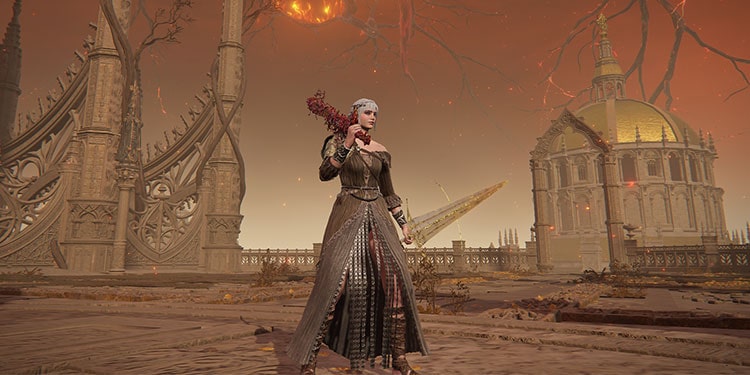 Two Curved Swords
You can dual wield Curved Swords and create a devastating combo. The flurry of quick slashes, powerful jump and dash attacks, with the special curved sword back-flip at your disposal makes these a beloved weapon quite ideal for a Power Stance.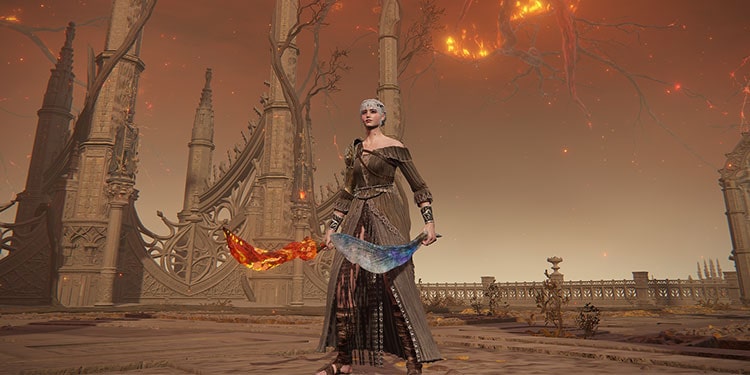 Dual Colossal Swords
Nothing screams big damage like carrying two colossal swords together and smashing your foes into the ground. Although slow, these weapons when dual wielded pack punches akin to a meteor shower.
It is not enough to go big just once, you have to go big twice and you will never want to go back to holding a single weapon ever again.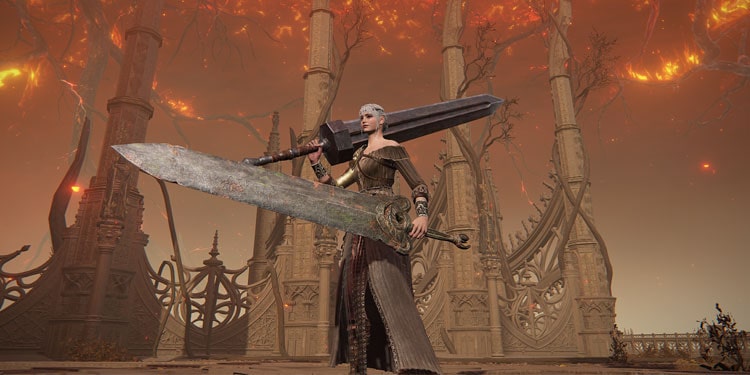 Rivers of Blood Or Moonveil with Uchigatana – Dual Katanas
If one Katana bleeds your foes and deals a huge blood loss damage, why not take two of these into battle. The bleed builds in a blink of an eye, lacerating your foes and dealing damage before they have any chance to recover.
One popular build is to put the bloodhound step on the Uchigatana while Power Stancing two Katanas, making the wielder exceptionally mobile and lethal, like an evolved samurai.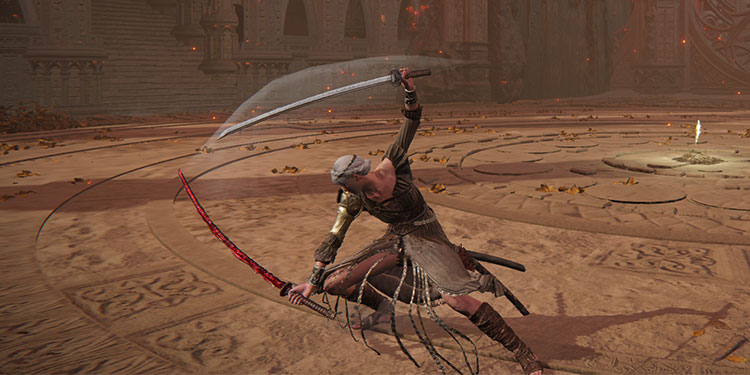 A Pair of Whips
Whips are among the very few weapons that cannot be parried. This advantage does have some downsides, as whips deal less damage and are unable to deal critical damage.
Despite that, I really like whips, their long reach and the satisfying sounds they make as you lash out on your enemies is something you cannot do with any other weapon. Equipping two whips deals almost double the damage thereby negating the low damage they innately deal.