Among many weapons in Diablo 4, the bow is exclusive to the Rogue class. It means if you want to use the bow as your primary weapon, then you must start the game with a Rogue class character.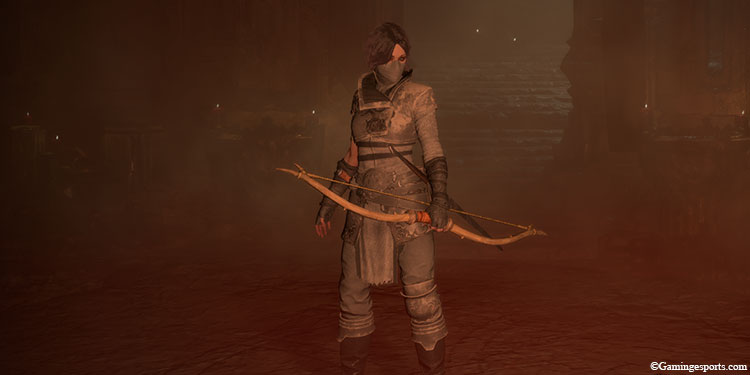 That being said, you won't be able to use the bow from the very beginning of the game. You must first unlock the Marksman skill and assign it to the hot bar. After then, you can use the skill to use the bow. Here's how,
First, you much reach level 2 on the Rogue class character to unlock the Hotbar slot.
After leveling up, open the skills menu by pressing the A key on your keyboard.
Then, unlock either the Heartseeker or the Forceful Arrow skill.
Next, open the Skill Assignment window by pressing the S key.
Click on the skill you've just unlocked and drag it into the Hotbar slot.
Now simply use the skill to use your bow.
Here's a video guide for those who got confused,
Skill That Uses the Bow
In the Rogue skill tree, there are five skills that use the bow. Two of them are basic skills that can be used indefinitely. The rest of the skills are core skills that are more powerful than basic skill but requires energy to cast. 
Basic Skills: Heartseeker, Forceful Arrow
Core skills: Barrage, Rapid Fire, Penetrating Shot
How to Upgrade Bows in Diablo 4?
You can upgrade your gears, including your weapons and armor, at the blacksmith. Every upgrade will cost you gold and some resources. The total cost will depend on the upgrade tier and the bow's rarity.
For example, upgrading a rare bow to level 3 will be much more expensive than upgrading a common bow.
To upgrade your bow, head to any blacksmith in the game.
Interact with the Blacksmith and switch to the Upgrade Weapons and Armor tab.
Drag the bow on the Item box.
Click the Upgrade button.