A massively open-world game with lots of winding paths and a labyrinth of dungeons, Lands Between is easily the best place to get lost.
But sometimes, tarnished gets stuck on a quest or inside a maze-like dungeon. This is where the Grace Mimic and its wisp of gold comes to work.
Mimic Grace is a consumable item mostly used in multiplayer mode and following its golden wisp will always lead you to something interesting, especially when you do not know where to go.
Let's discuss !
Use of Grace Mimic
Honestly, nobody knows if the Grace Mimic has any other purpose other than creating a fake Site of Grace that apparently guides your path. By studying the Grace Mimic description, we can speculate that this item guides those who are lost in the Lands Between.
Grace Mimic guides those who are lost in dungeons or stuck somewhere in a place full of enemies. Although it can't save tarnished from dying, it sure does guide them to where they are meant to go. You might also discover some hidden secrets when following the fake guiding grace it points toward.
How to Obtain Grace Mimic ?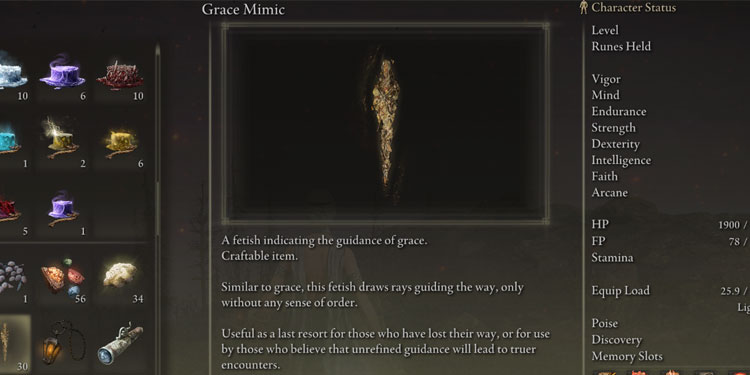 To obtain Grace Mimic's recipe , buy Missionary's Cookbook[2] from Patches in Murkwater Cave. It will cost you eight hundred Runes.
If you don't have enough money to buy a cookbook, you can simply buy Grace Mimics from him, each for a hundred Runes.
Additionally, killing Patches will drop Patches' Ball Bearings. Give the item to Twin Maiden Husks at Roundtable Hold to purchase Grace Mimic and Missionary's Cookbook[2] along with other items he sells.
Crafting Grace Mimic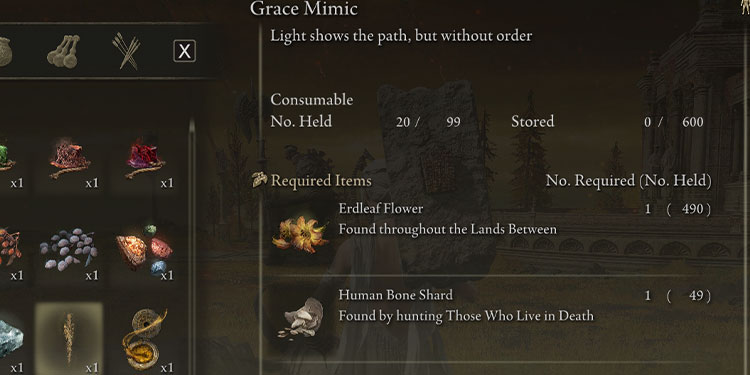 Crafting Grace Mimic requires one Erdleaf Flower and one Human Bone Shard.
We have made a short video guide to help you understand what Grace Mimic actually is and what it does,
Difference Between Site of Grace and Grace Mimic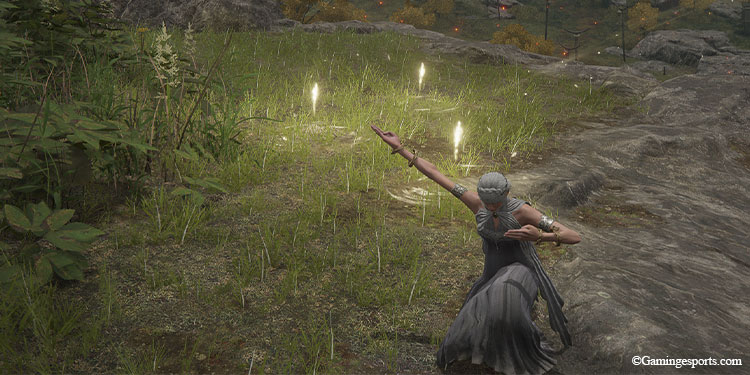 While the Site of Grace holds Guidance of Grace that guides Tarnished to its next destination, the Grace Mimic has the same wisp of the golden path pointing towards random directions.
Unlike Site of Grace, we cannot rest at Grace Mimic since it is a fake replication of Grace Sites. However, Tarnished can use Grace Mimic to take cool screenshots in a location where the Site of Grace is not available.
Some Additional Attributes of Grace Mimic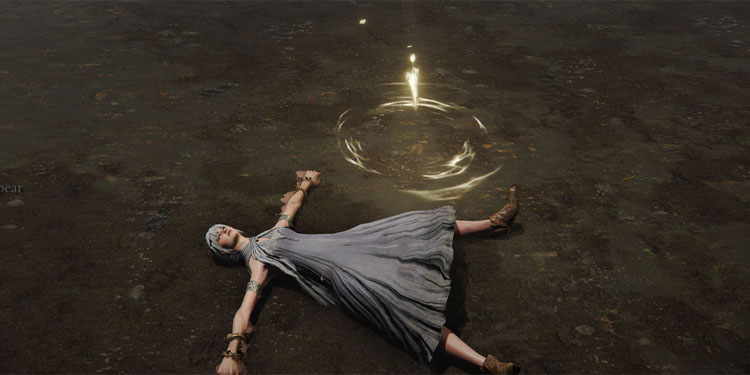 Here is some additional information you might want to know when using Grace Mimic,
Mimic Grace is generally used for deceiving enemies' hosts or creating an ambush in multiplayer sessions.
Last for thirty seconds.
Light shows the path but without order.
Can be stored up to six hundred.
You can hold ninety-nine of them.
You cannot place more than three Grace Mimic at once.