Iron Ore is the most basic ore that is relatively easy to gather compared to other resources like Quarried Stones or Clay. But like any other ores, you can mine Iron Ore from Iron Ore Veins.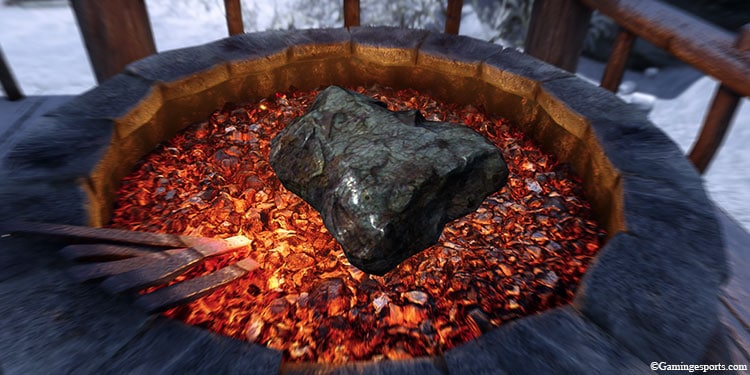 Every ore vein can give you up to three iron ores. After depletion, you'll need to wait an in-game month for the ore to be replenished.
There are over 668 Iron Ore Veins scattered over Skyrim, so instead of going through the location of every ore vein, I'm only going to mention the places where you can find multiple Iron Ore Veins in close proximity.
Halted Stream Camp
The location with the most Iron ore veins is undoubtedly the Halted Steam Camp. It is located north of Whiterun, next to the Silent Moon Camp. Here, you can find 16 Iron ore veins in total.
Embershard Mine
A more convenient location where you can mine Iron ore is the Embershard Mine. It's located near Riverwood, east of the Guardian Stones. There's a total of 8 Iron ore veins in the mine.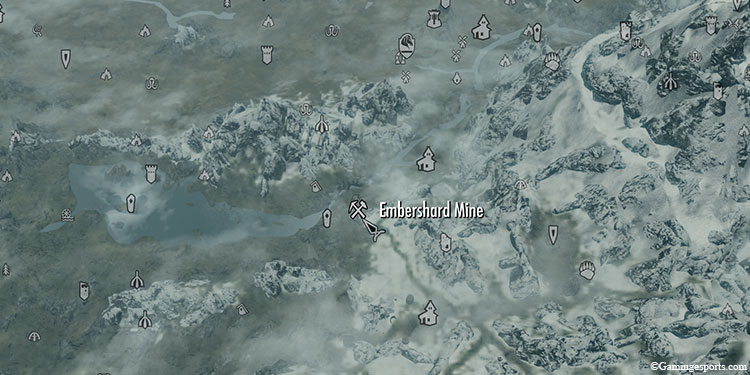 Fort Fellhammer Mine
On the northern part of Skyrim, just north of Duskglow Crevice, lies the Fort Fellhammer Mines. It's a relatively small mine filled with Iron ore veins. In fact, you can find 10 ore veins inside the mine.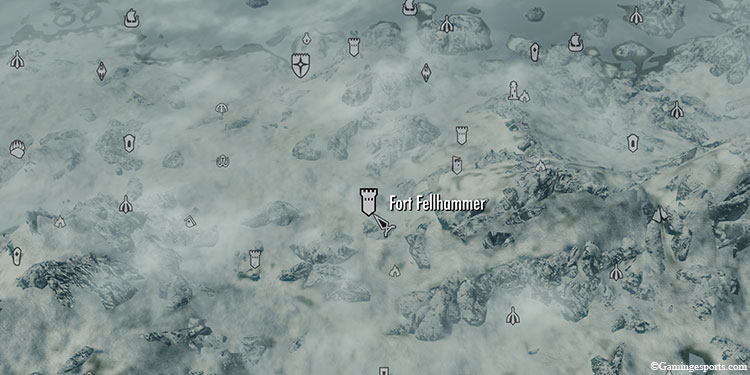 Given how small and narrow the mine is, you can easily locate all the ore veins.
Iron-Breaker Mine
Although the Iron-Breaker Mine does not have as many Iron Ore veins as the aforementioned locations, it is still a good option if you need an easily accessible location to gather Iron Ore.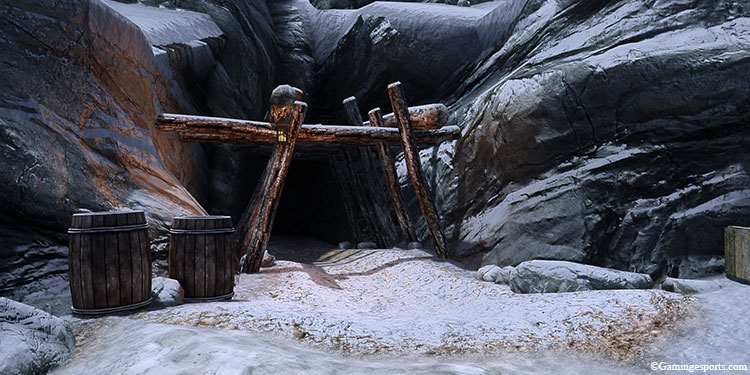 The mine is located at Dawnstar, right next to the White Hall. There are 6 Iron ore veins inside this mine.
How to Mine Iron Ores?
Before you go out to mine some Iron Ores, there are a few things that you should know that can help you make your journey much easier, like mining tools, abilities synergies, etc.
You will need to get yourself a pickaxe before mining any ore vein. The pickaxe is a common item that can be bought from blacksmiths or picked off from mines like the Embershard shard mine near Riverwood or the Cidhna Mine at Markath.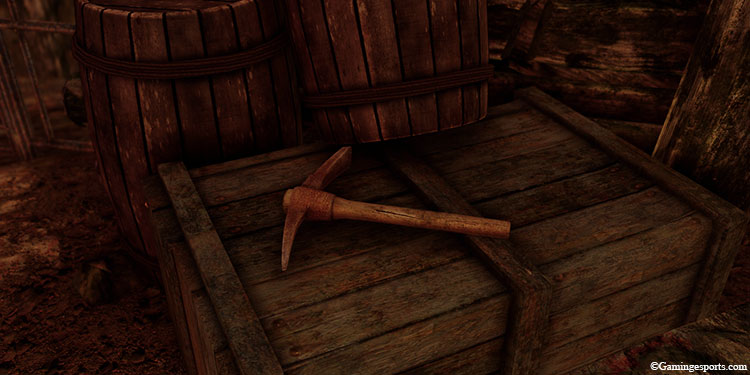 After getting the pickaxe, simply interact with the iron ore vein to start mining.
Mining Ores Efficiently?
While interacting with the ore vein will yield you Iron Ore consistently, the process, or more specifically, the animation, is a bit slow.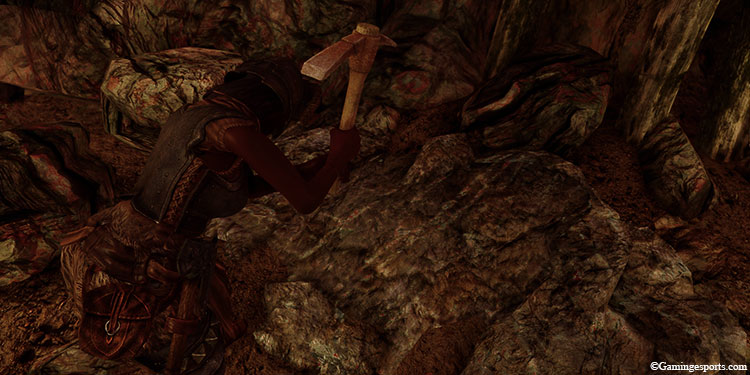 A much quicker way to extract the iron ore from the vein is by equipping the pickaxe as a weapon and then attacking the ore vein. You can even dual-wield pickaxes to land multiple consecutive hits. This way, you can still get the ore without having to sit through the mining animation.
You can go even further and increase the swing speed of one-handed weapons, including pickaxes, by getting the Dual Flurry perk and using the Elemental Fury Dragon Shout. You can learn more about these synergies from our other article.
Where Can I Use Iron Ores?
Since Iron Ores are the most basic and common type of ores in the game, don't expect it to use them to make any high-level gears. That being said, it still has its uses.
Iron Ore itself is far less useful compared to its refined state, the Iron Ingot. Not only can you make Iron Ingots from Iron Ore, but you can also combine Corundum Ore with Iron Ore to make Steel Ingots as well.
You can refer to my other article about crafting Ingots on Skyrim.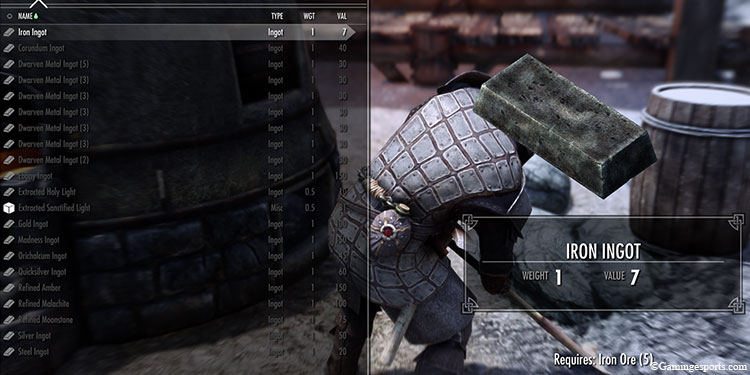 You can also use Iron Ingot to craft the basic Iron armor or weapons set. As Iron Ingot is relatively easy to gather, you can craft multiple copies of Iron weapons (like the Iron Dagger) to quickly level up your Smithing skills.
Iron Ingot is also necessary to build your home. The Heartfire DLC added the feature to craft your own home, which also includes a bunch of new structures and building materials requiring Iron Ingots. for example, Nails, Hinges, Locks, Iron Fittings, etc.