Tree Sentinel is a golden armored horseback knight you will come across in Elden Ring. All the Tree Sentinels are optional bosses, but they are found guarding your path to reach the Erdtree and will fight you as soon as they see you. 
You will meet the first Tree Sentinel as soon as you exit Limgrave. He wields a huge Halberd and a large round shield and is the enemy that gives most players their first taste of death in Elden Ring.
In the beginning, he has attacks that can one-shot you. If you are adamant, you can defeat him right then and there. However, it is easier to defeat him after you learn a bit more about the game.
Despite your many attempts, if you have a hard time fighting the Tree Sentinel, I have some vital information that might help you. 
Tree Sentinel—Limgrave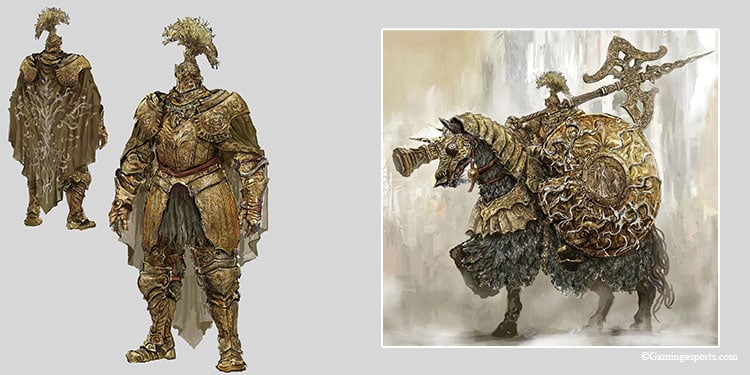 Here are some facts I have gathered about the First Tree sentinel boss you encounter. 
He comes with 2889 HP in New Game(NG). 
He drops 3200 Runes(NG) and a Golden Halberd if you kill him. 
His attacks can be parried in order to break his stance.
He can also be stance broken after depleting his 80 Stance health.
He is immune to critical hits.
He cannot be dismounted from his horse (despite the tip saying that you can dismount mounted enemies).
You can fight him horseback on Torrent.
Spirits can be summoned to fight against him.
This boss is weak to lightning damage.
You can summon your multiplayer allies to help defeat this boss, but you will only get 300 Runes(NG) as a reward, and the boss will have increased health. 
Tree Sentinel Movesets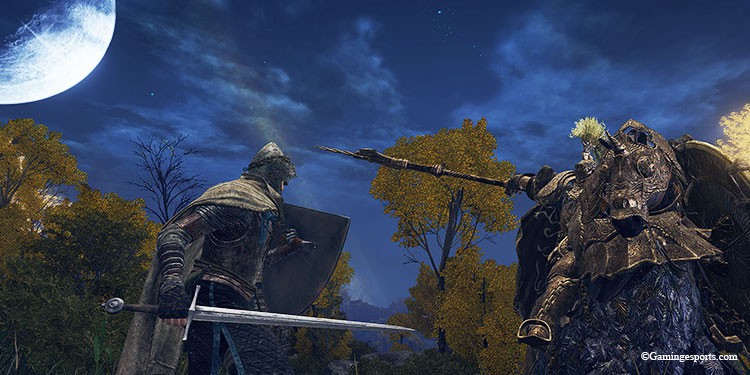 The boss has a large halberd and shield equipped while riding horseback. He also uses the horse's stomp to attack you. You can see all the attacks better in the video later.
HALBERD ATTACKS
He will swing around his halberd and use a single attack or even a three-move combo. Be careful—the swinging attacks have a large area. 
He will also charge at you while swinging the halberd into your position. He usually does this when you are away from him.  
He also uses a jumping ground smash attack using the halberd, dealing unbelievably huge damage. This attack has one-shot me one too many times. 
He sometimes uses a strange-looking attack if you are trying to get some distance from him and will swing at you while doing a bendy motion. This is usually performed after another attack if you are trying to get away from his initial attack. 
MAGIC COUNTER
If you use magic, then as a response, he will raise his large round shield, which has a magic retaliation counterattack. This blocks your spell as the shield glows golden and launches a fast glowing projectile toward you, dealing massive holy damage.
HORSE ATTACKS
If he rears back his horse, then he will either use the horse's front hooves to stomp at you or perform attacks using his halberd. The halberd attack is of two types, either a swing or a ground slam. The ground slam also creates a small shockwave that can damage you.
He also uses the horse to bash at you. This attack is very quick, and he often uses it when you are in between attack animations.
SECOND PHASE
Shield Smash: During the second phase, he gets a large AoE ground smash that can deal huge damage. He will start by rearing up his horse while holding up his shield.
He will use this attack as soon as he gets to the second phase, and it can one-hit kill some beginning classes even at full health. This attack cannot be parried.
Shield Bash: He starts using his shield to perform a driving bash at you during the second phase. This attack cannot be parried.
Tips and Tricks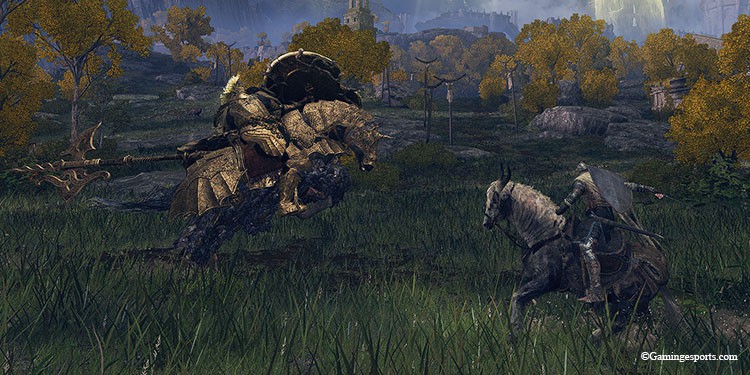 From our battles against this boss, I have a few tips and tricks for you.
If you are having a hard time, retreat and avoid him till you obtain Torrent. Once you have your own horse, try to fight him while on horseback on Torrent. (It is a bit easier to fight horseback, although I have better luck against him on foot.)
Once you get torrent, go back to the Church of Elleh at night and talk to Ranni, she will give you a spirit-summoning bell and also Lone Wolf Spirit Ashes that can be summoned to assist you during the battle. (Try summoning the Lone Wolves as soon as the battle begins, as the second phase AoE attacks can instakill all wolves if they get caught. )
When the battle starts, he will always raise his horse for a few seconds before starting to swing; make sure you quickly approach him and get in a couple of free hits. (Quick weapons like short swords can get in five hits, whereas slow weapons can get in two to three. Make sure not to get too greedy, or you will get hit)
Learn when to punish him. Dodging some of his attacks will leave him wide open. Take the opportunity to get in a couple of hits. 
Get stronger. If the boss is always outmaneuvering you, then get better armor, level up your character, and upgrade your weapon before you attempt. 
If you succeed in stance-breaking him, try to use your heavy attack as you deal more damage to him when he is stance broken. Remember, you cannot use a critical hit on him, so heavy attacks are your best option after you break stance. 
If you want to parry him and break his stance, the best attacks to parry against are his charging halberd attack or his jumping halberd attack, as it's easier to determine the timings of these attacks. You can also bait out these attacks by getting some distance from him.
On the other hand, his swinging attacks can be hard to parry as you might parry too early or late, depending on how he is positioned while performing the swing. 
During the First Phase, if you are a melee attacker, then stay close to the boss, and this will give you the most opportunities to attack the boss. But during the Second Phase, you will have to dodge away from him as soon he begins the large AOE Shield Smash attack. 
Get a shield that has 100% physical damage negation. The vagabond class starting shield, i.e., Heater Shield, is a good option. Keep your shield up if you have a hard time dodging his swings, as blocking them is an equally good option. 
Make sure you have control over your stamina. Don't panic, and don't commit to greedy attacks just to get punished later. You can find the Green Turtle Talisman (imp seal fog door in the Summonwater Village) pretty early in the game. This raises your stamina recovery, making it easier for your early battles. 
Our Experience with the Boss
This boss was a real headache when I first started the game. Even now, if I attempt to defeat him without leveling up my character as I did in the video, it takes numerous attempts to get used to him.
But at this point, I have defeated the boss more times than I can count. I have done it horseback, with magic, with arrows, with armor, without armor, and even one shot him with a specific build. Check out the video to see some of our attempts.
Tree Sentinels Duo Bosses—Altus Plateau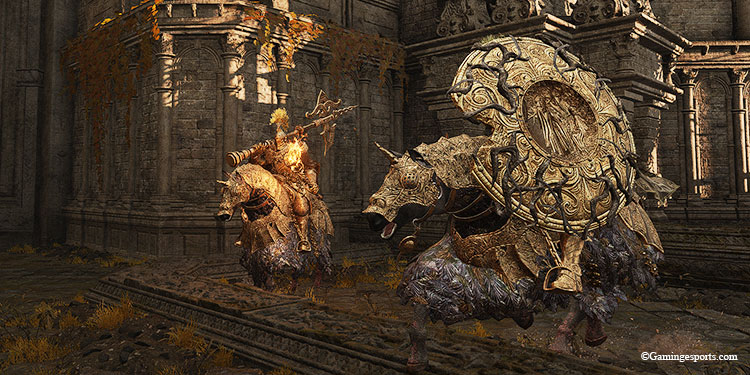 You will meet two Tree Sentinel Duo bosses guarding the gate entrance to the outskirts of Royal Capital Leyndell. One of them is the exact same as the previous Tree Sentinel you met but is beefed up with higher HP.
Another one is a slightly different variant that has a flaming torch instead of a shield. This different variant will use the torch to attack. Other than that, there is nothing new to the moveset. Here are some insights on these bosses.
The Shield Variant has 6461 HP(NG), and the Torch Variant has 5384 HP(NG).
They have a slightly higher defense stat than the Tree Sentinel you meet at Limgrave.
They drop 20000 Runes(NG), Erdtree Greatshield, and 1x Hero's Rune[1]
You can summon spirits to fight the duo.
You can fight against the duo with multiplayer allies.
You can fight them on horseback.
Just like the variant of Limgrave, they can be parried but cannot be hit with critical strikes and also cannot be dismounted from their horses.
The duo bosses are weaker to lightning damage.
The only issue is you have to defeat both Tree Sentinel to win the fight, if you defeat just one and rest on the Site of Grace, the dead one will respawn again.
Tips and Tricks to Defeat the Duo Tree Sentinel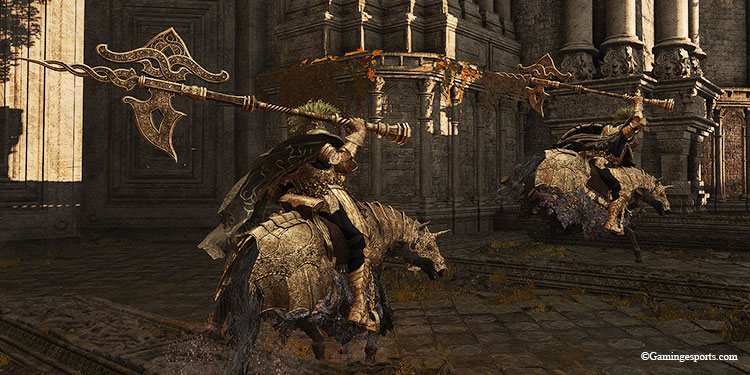 Try to de-aggro by running past them and entering the gate behind them. Then when one of them moves back, try to attack another and fight them one by one, which is a lot easier. 
You can apparently cheese them by climbing atop the platforms aside from the staircase and then using range attacks, as they won't be able to reach you there. This method works but can be slightly tedious.
Apart from these two tips, all the other tips are the same from the previous encounter. You will be considerably stronger and more versed in combat at this stage, so I trust you can handle the two of them.
Who Are the Tree Sentinels? (The Lore)
They are the highest order of knights who serve the Erdtree. The Tree Sentinels are heavy cavalry and are considered to be the living defenders of the Erdtree.
The knights of Leyndell admire the Tree Sentinels and also aspire to be like them.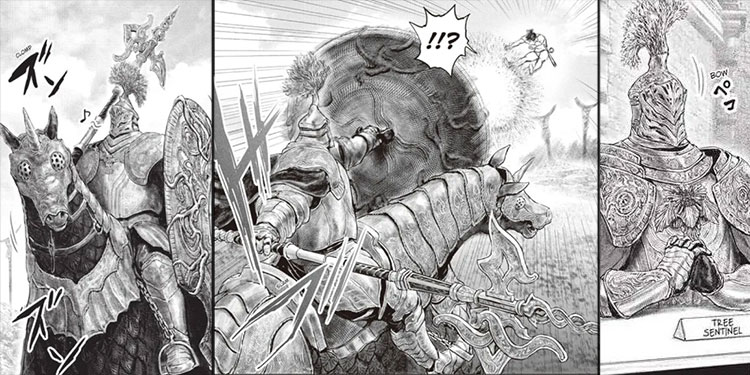 The Tree Sentinels have Golden Armor, and the exterior of the armor seemingly shows their connection to the Erdtree. Even their large round shield has roots over it and is said to have been enchanted by old magic, just like their Halberd that can cast the Golden Vow.
The torch-bearing variant of Tree Sentinel on Altus Plateau has a Sentry's Torch. This item is used to see invisible assassins. 
There is a Draconic Variant of Tree Sentinels that have altered armors and use red lightning attacks. These were said to be followers of dragons and protectors of Erdtree.