It sounds counterintuitive, but construction materials don't make a difference in Minecraft. Wood logs are as durable as stone blocks or any other block. There is no material decay or similar features in the game.
Will that deter you from using bricks? I don't think so, because the bricks look amazing. That's the point, though. In Minecraft, your choice of construction materials comes down to whether or not you like them, and how easy it is to find or craft the blocks of your choice.
Mainly, bricks are items you use to craft brick blocks, and you need the Furnace for the recipe. It's similar to how clay works to create Terracotta, but instead of using clay, you need Clay Balls to make bricks.
In any case, bricks create brick blocks and flower pots. Nevertheless, let's start by finding these "Clay Balls," and you may not have heard of them yet. Then, let's climb our way to bricks and, eventually, brick blocks.
Step 1: Find Clay Balls
Clay Balls are what you obtain from mining Clay with tools without the Silk Touch enchantment. Each block you break yields four Clay Balls—if you combine these balls on the Crafting Table, you get Clay.
Four Clay Balls on the Crafting Table create a Clay block. Similarly, a Clay Block won't create Clay Balls on the Crafting table. So, skip mining Clay with your Silk Touch tools.
Clay blocks are common in lush caves, shallow water, mud, Plains, Savannas, and Desert biomes. It's usually found underwater, though, so pack your shovel, find a water source, and start digging.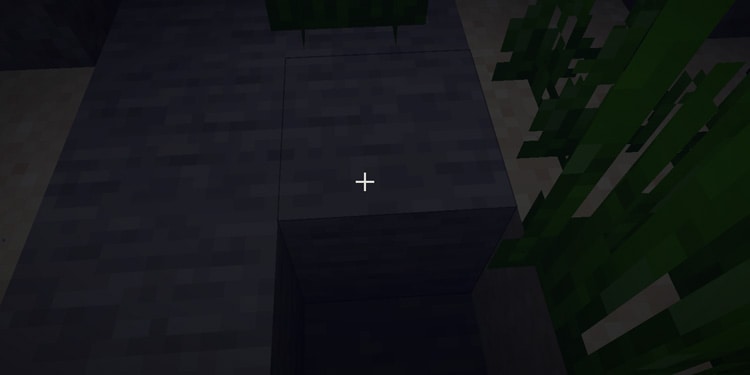 To dig with your shovel, you can press the Attack/mine button. On PC, it's the left click. On other consoles:
Tap on the Pocket Edition for smart devices
Press the RT button on Xbox One and Xbox 360
Press the R2 button on PS4 and PS3 consoles
Press the ZR button on Wii U and Nintendo Switch consoles
If you don't have a shovel, you can make:
A stone shovel with 2 sticks and one cobblestone
A wooden shovel with one wood log and two sticks
Speaking of underwater exploration, consider crafting a Turtle Shell for extra breathing time. If you're more advanced on your playthrough, consider the Depth Strider enchant for boots to swim and walk faster underwater.
Lastly, you may also loot Clay Balls on chests from houses in desert villages. Additionally, if you have the "Hero of the Village" status, a Mason Villager may throw a Clay Block to you as a gift.
Step 2: Craft a Furnace
The Furnace is a crafting block. It smelts food to cook it and smelts materials to create something else.
Its interface has two spots—one for the material you smelt and the other for a fuel source. The cheapest fuel source is a wood plank. You can create four wood planks with a single wood log and four wood planks will burn up to 6 items (different fuel sources burn at different times).
The best fuel sources are coal and charcoal, though. But if you don't have these, you can use wood.
Check out the image below. The spot at the bottom left is the fuel source. The one at the upper left is the material you want to "smelt." Finally, the spot on the left is the resulting material.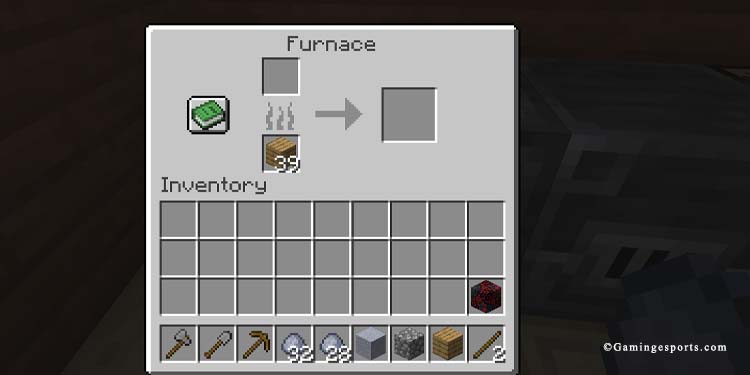 To craft the Furnace, you need eight cobblestones and a Crafting Table.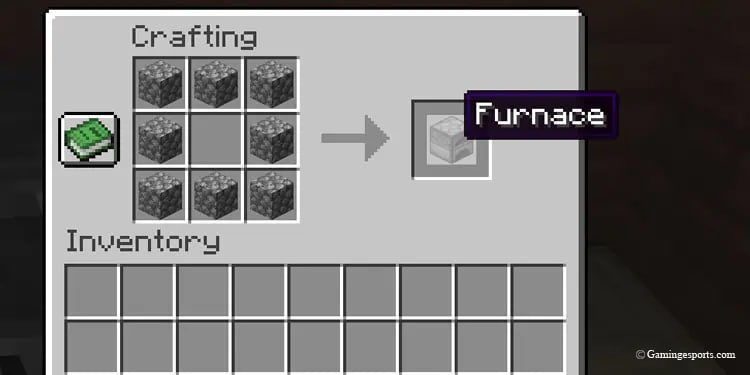 You can find cobblestones underwater, on caves, on mountains, and almost everywhere, as long as you have, at least, a wooden pickaxe.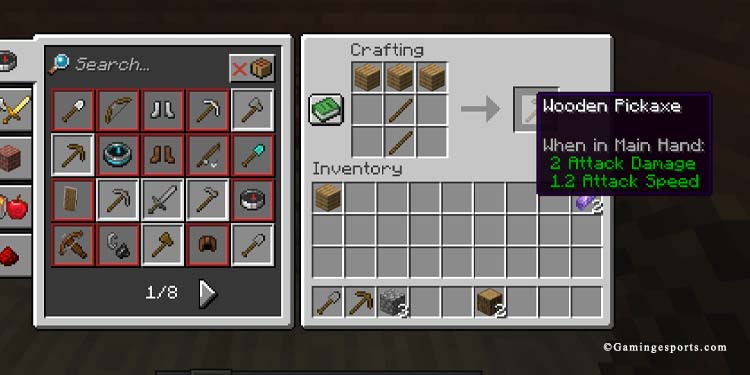 Once you craft the Furnace, drag it to your action bar, select it, and place it in the world with the Place/use button (right-click on PC).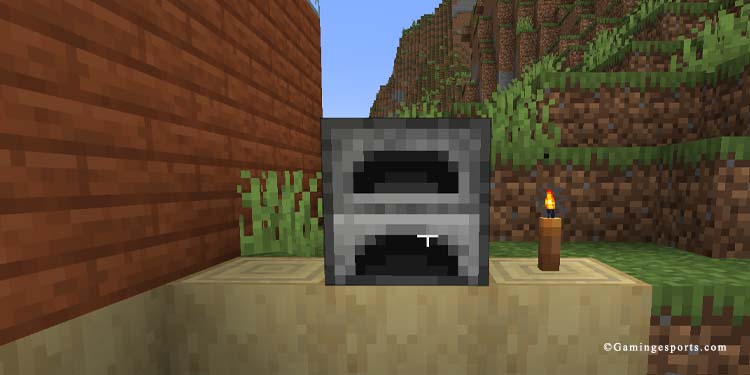 Step 3: Smelt Clay Balls in the Furnace
It's time to make bricks. Open the Furnace's interface with the Place/Use button, put a fuel source at the bottom like wood planks, and put Clay Balls at the top. Put all of the ingredients you've got and wait for the Furnace to finish. It takes about a minute for each brick it creates.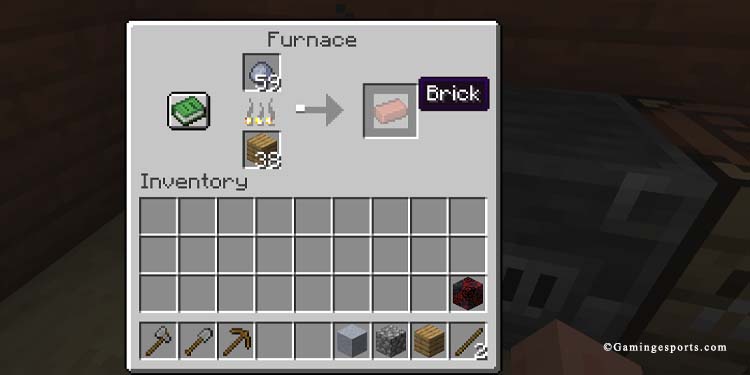 Once you gather the bricks from the Furnace, you'll realize you can't place them anywhere yet.
Step 4: Craft Brick Blocks and Flower Pots
Lastly, let's craft Brick Blocks and flower plots, which you can place in the world to build and decorate structures, respectively.
To craft a Brick Block, put four bricks on the Crafting Table in the following pattern: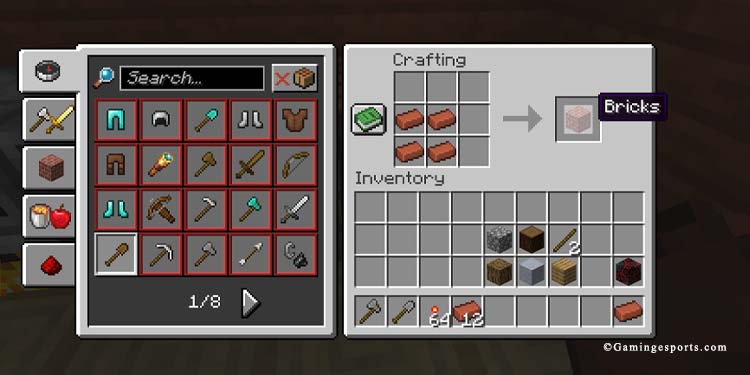 To craft a Flower Pot, put three bricks on the Crafting Table in the following pattern: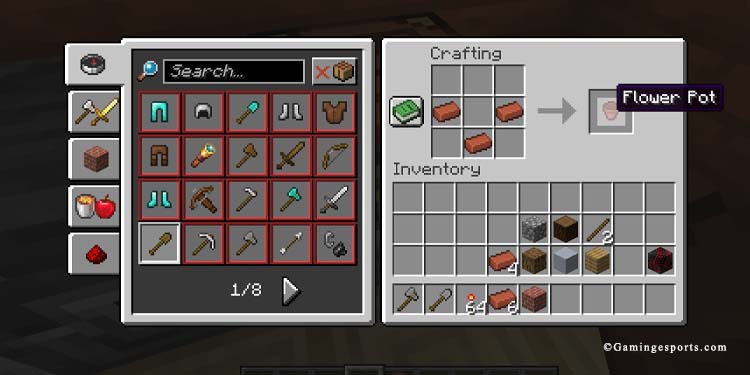 Finally, put these items on your action bar, select them, and place them on the world with the Place/Use button (right-click on PC). Use your imagination!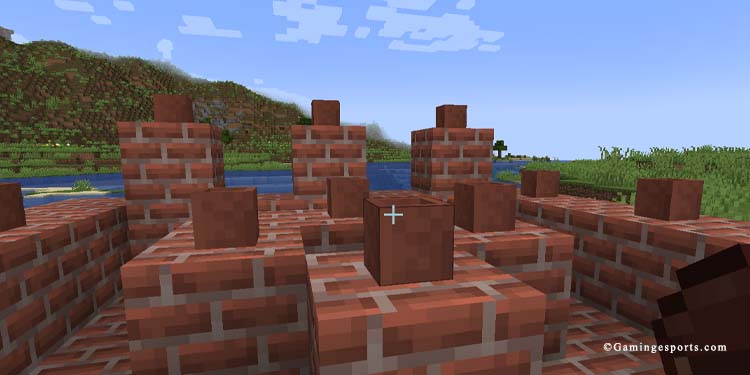 Remember that you can place a flower on the pot by equipping the flower, pointing at the pot, and pressing the use button (right-click on PC).
Is There Another Way to Get Bricks?
The alternative method of getting bricks is breaking decorative plots. If you do it with a tool without Silk Touch, you can get up to four bricks.
Another way of getting bricks is by brushing suspicious sand in desert wells. Each time you do it, you'll get a 1/7th chance of finding a brick.