Perhaps you have advanced significantly in your Minecraft journey. You're past the basics—your new goal is building pretty things and customizing your spaces.
We introduce Terracotta, a type of block you can use to build anything. The best thing about it is that you can customize it with the 16 available dyes, such as pink or green.
 It's also fairly easy to find—all you need to do is smelt clay in the Furnace, or search the areas where it naturally spawns. Nevertheless, it would be best to find clay and craft a Furnace first. Afterward, we'll craft and place Terracotta blocks on your walls and floors. 
Step 1: Find Clay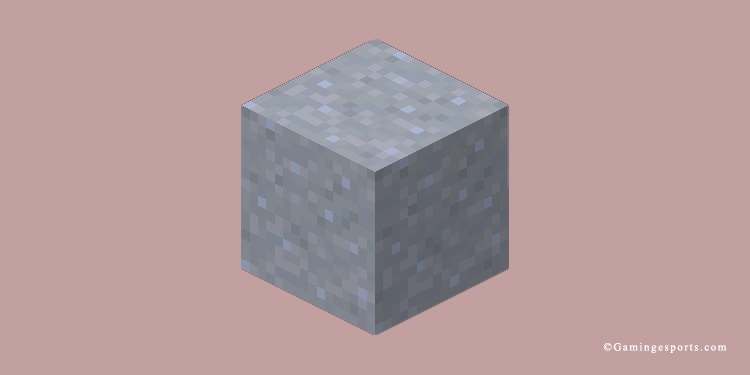 You can craft Terracotta with clay if you can't find it in the Minecraft realm where you're playing.
Clay is a natural block that's abundant in lush caves. It also grows in areas where there's shallow surface water or mud.
Most commonly, Clay spawns in Plains, Savannas, and Desert biomes. It also spawns in chests from Mason houses in villages, as well as under Fishermen's houses (the cottages) in Taiga villages.
Finding specific biomes can be tough, as Minecraft realms are expansive. If you haven't found any of these yet, or if you don't remember where they are, you can use the in-game coordinate system to help you.
Most commonly, Clay spawns in Plains, Savannas, and Desert biomes. It also spawns in chests from Mason houses in villages, as well as under Fishermen's houses (the cottages) in Taiga villages.
Let's start by checking your coordinates. On Java, press F3 on the keyboard, or FN+F3. Then, check the XYZ category.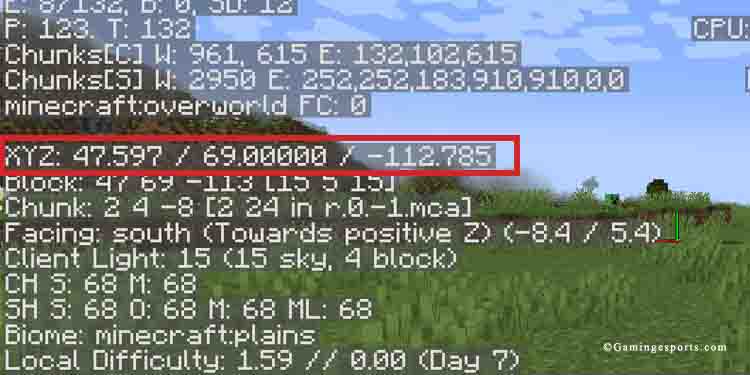 On the Bedrock Edition, pause the game, go to Settings – Game, and enable the coordinates. You'll see them on the screen from now on.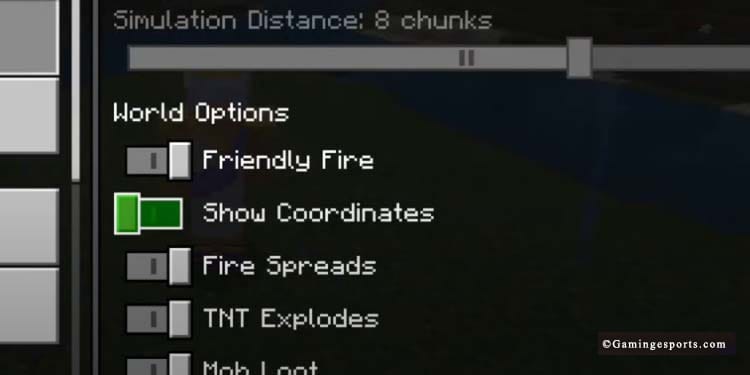 Now, check the "Seed," which is the number that identifies the Minecraft world where you're playing. On Java, press "T" on your keyboard and type /seed.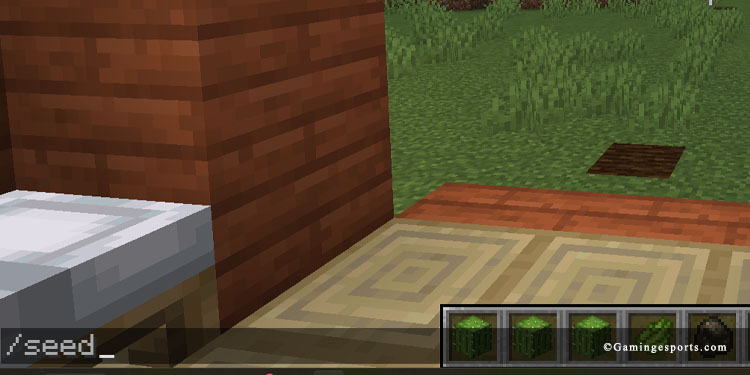 Write down the Seed number, or click on it to copy it automatically.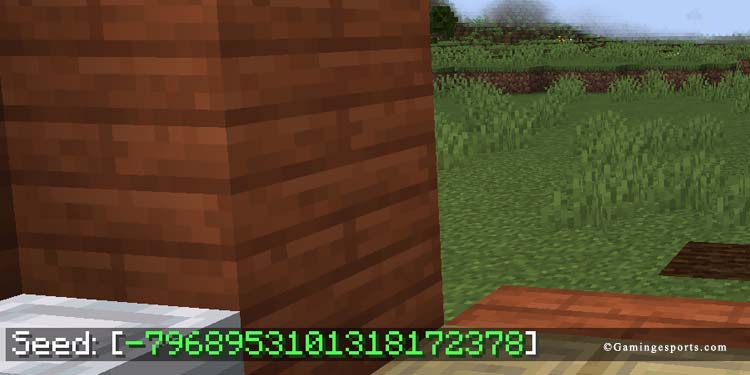 You have to enable cheats on Java for this to work.
Press "ESC"
Select "Open to LAN"
Turn "Allow cheats" ON
Click "Start LAN World"
On the Bedrock Edition, you can search for the Seed like so:
Pause
Go to "Worlds"
Select the "Pen" on the first world
Find the Seed code and write it down
Next, go to Chunkbase's Seed Map on your web browser or smart device, which allows you to check the biomes and key locations of every Minecraft realm through an interactive map.
So, use the map to find Desert, Badland, or Savanna biomes. You can hover the mouse over any biome to check the coordinates. Also, take note of the Compass icon, which represents the world's spawn location.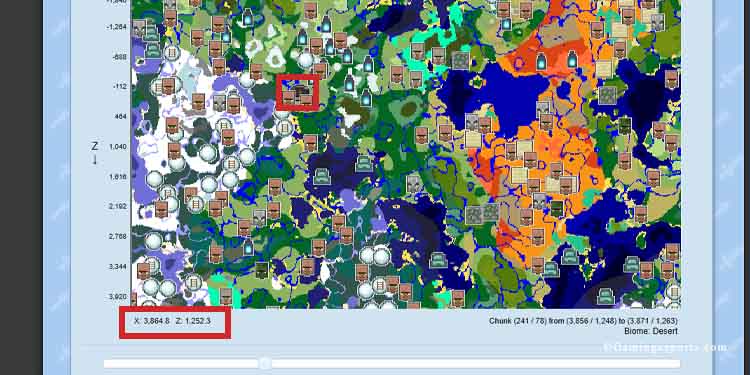 Note: I found a desert biome close to the spawn locations, which is where I built my main base. However, make sure that you find an area close to your current coordinates. 
Go back to the game and either travel or teleport to the coordinates. On Java, press "T" to open the chatbox; on Bedrock, go to "Chats & Commands." Then, just type the coordinates you found in X Y Z format—be careful with the teleport command, as you could spawn within a mountain, so you'd have to dig your way out.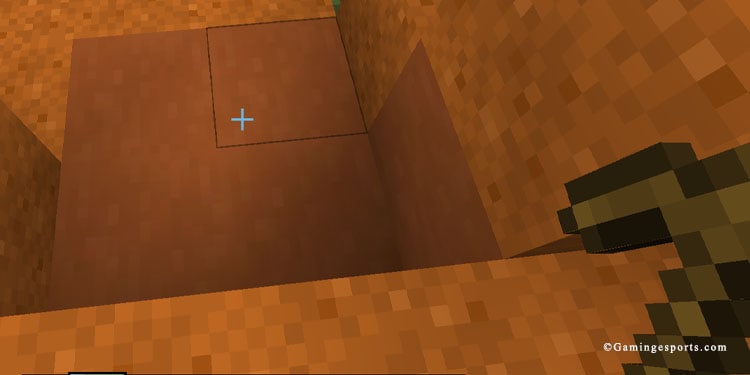 Finally, use a wooden pickaxe or shovel (or better) to mine Clay -Terracotta may also spawn in Badlands.
We recommend taking a stone pickaxe for the job. The recipe is three cobblestones and two sticks on the Crafting Table.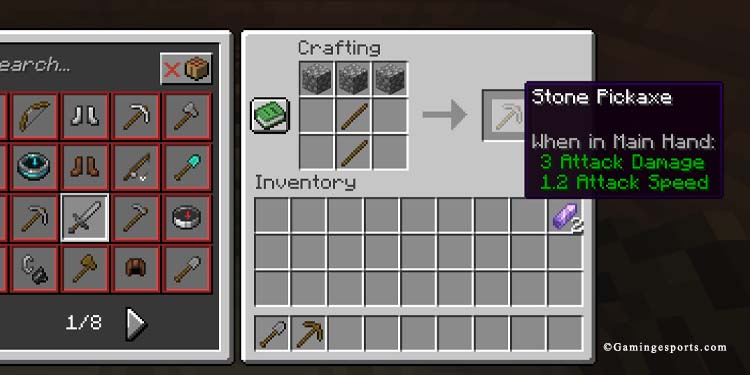 Clay is easy to find, you just need to dig a couple of layers beneath the surface. However, mining it without the Silk Touch enchantment on your tool gives you Clay Balls instead. You would then have to combine four Clay Balls in the Crafting Table to get a Clay Block, which is what you need.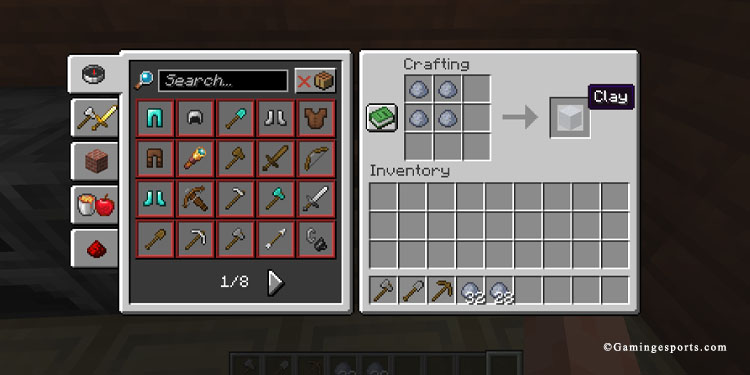 Step 2: Craft a Furnace
The Furnace is a crafting block that processes materials and food. It's quite essential and also very easy to craft.
The Furnace requires 8 Cobblestones, which you can find by digging into any mountain or digging almost anywhere. It's one of the most common materials in the game.
It would help if you had a wooden pickaxe to gather cobblestones. If you're unaware, the recipe for a wooden pickaxe is tree wood planks of any kind and two sticks on the Crafting Table.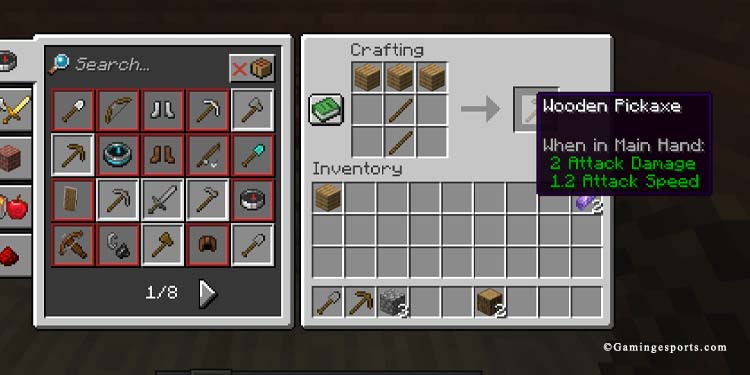 Anyhow, once you gather the stones, put them on the Crafting Table with the following pattern (leave the middle space empty):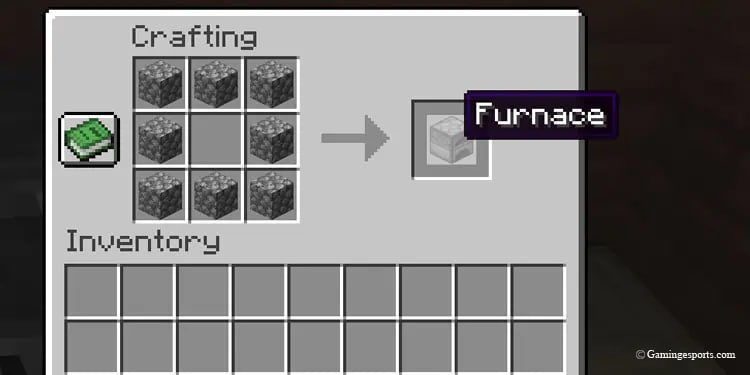 Finally, put the Furnace on your Inventory and your action bar, select it, and place it on the world with the Place/Use button (right-click on PC).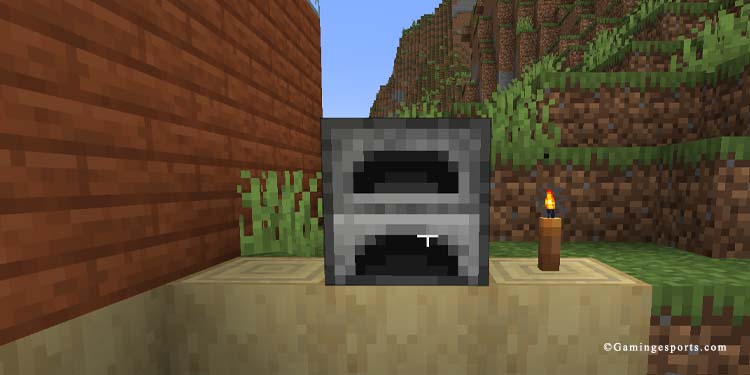 Step 3: Smelt Clay in the Furnace and Get Terracotta
The final step requires clay and the Furnace, which we already have, plus a fuel source. Different materials burn faster or longer, and coal is the best fuel material in that regard. It can last as long as burning 8 items.
However, the easiest fuel source is wood planks, as each wood plank can burn 1.5 items. Because each wood log creates four planks, it means each log can burn about 6 items on the furnace.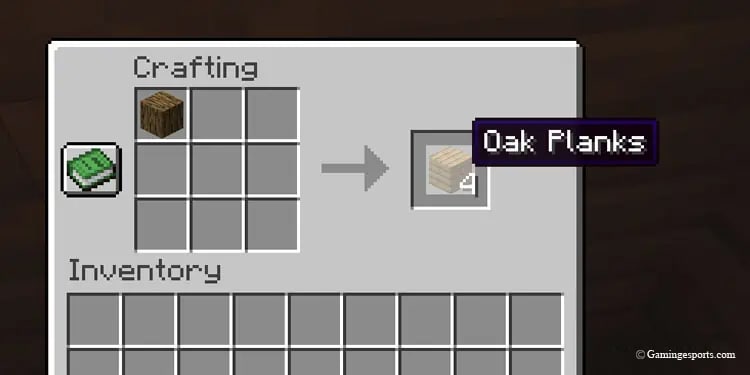 So, find some trees and chop wood, if you don't have any. You can also smelt wood on the Furnace to get charcoal, which is a slight improvement in terms of fuel source.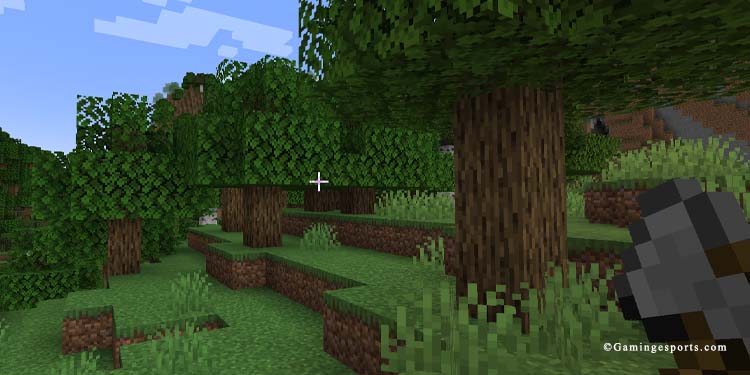 Once you have your fuel source, open the Furnace's interface with the Use button (right-click on PC). Then, put the fuel source at the bottom, and the clay at the top.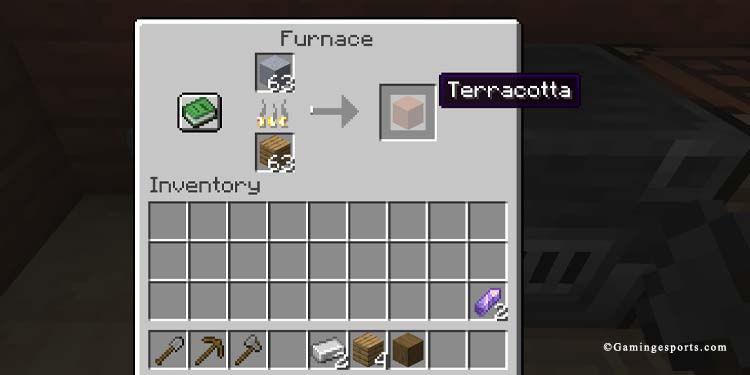 Each clay yields a single Terracotta. If you put many materials at the top and the bottom, the Furnace will keep working even if you close the interface. You will see it burning until it finishes.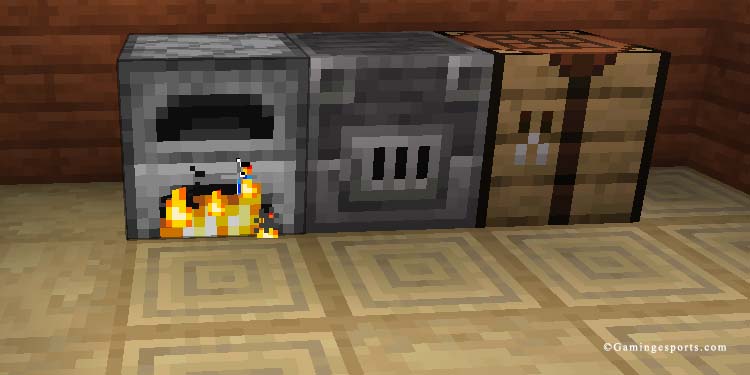 Wait for the process to finish, open the Furnace's interface, and drag the Terraccota to your inventory. Sadly, smelting dozens of clay in the Furnace can take a while. You can't speed up the process, even if you sleep on a bed.
However, the Blast Furnace can smelt materials twice as fast.
How to Use Terracotta in Minecraft?
Let's say that you crafted dozens of Terracotta blocks and that you're ready to use them. Well, the first thing to know is that you can paint these blocks with any dye:
White
Red
Orange
Pink
Yellow
Lime
Green
Light blue
Cyan
Blue
Magenta
Purple
Brown
Gray
Light Gay
Black
You can dye the Terracotta by putting 8 uncolored Teraccota on Crafting Table, and a single dye in the middle.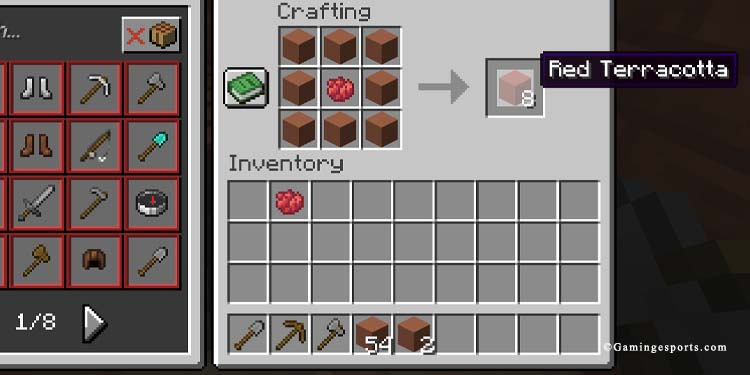 You can customize Terracotta with 16 additional patterns. These extra patterns are the result of smelting a colored Terracotta on the Furnace. For example, if we burn the Red Terracotta in the Furnace, we'll get the Red Glazed Terracotta.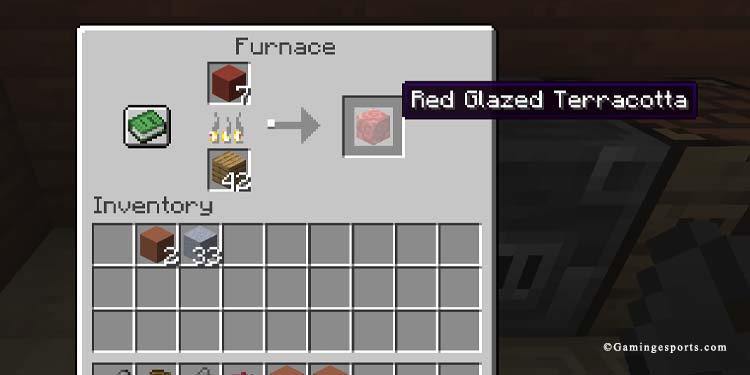 Like so, you can get a Glazed version of all of the colored Terracotta available, like Light Blue Glazed Terracotta, or Black Glazed Terracotta.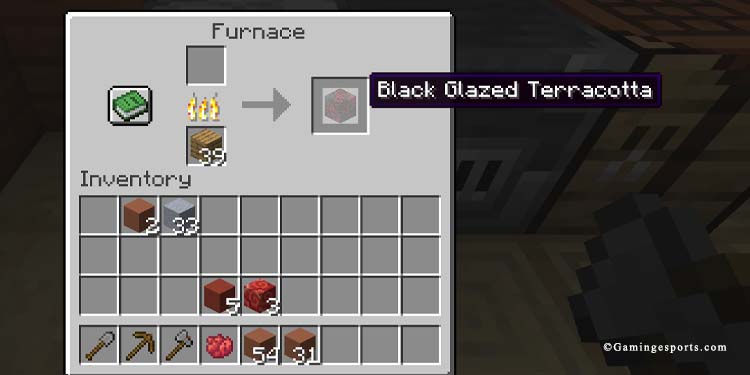 Each of the Glazed versions displays a distinctive pattern and additional color tones. It gives you amazing decorative blocks.
Finally, place the Terracotta blocks on your action bar to begin putting them on the world. Use your imagination!