The firing range on APEX is a great place to practice with new guns, legends you haven't used frequently, and advanced movements you aren't ready to bring into an actual match yet.
There's so much to focus on the firing range, from dummies to nearby targets to distant ones more suited for a sniper than an SMG. However, there's no clear way to make the dummies move – you can't animate them without knowing a little secret.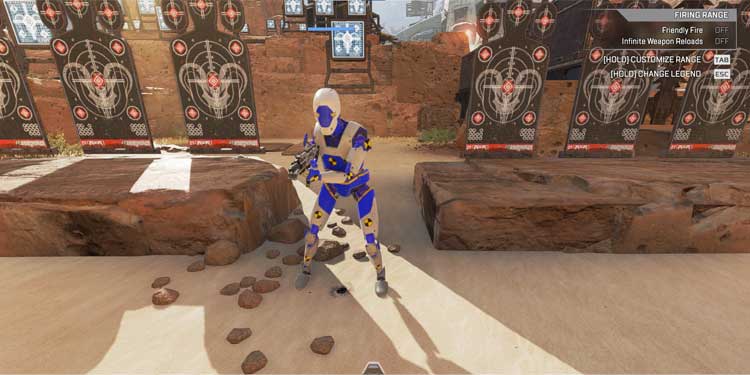 Bring the APEX Dummies to Life
To simplify this, don't enter the Firing Range on the legend you want to use to fight the dummies. Part of the trick to make the dummies active involves swapping legends to a different character.
Pathfinder is easiest because you must grapple to a ledge to activate the dummies.
Move to the cave on the left side. If you're facing up from the range itself, it's the cave on the far right.

Take everything out of your inventory and leave it on the ground.
Move to the upper ledge above the spawn point and stand in the middle of it.

Toggle crouch.
Move your character until you're looking straight down toward the ground.
Press Escape.
Choose Legend Select.

Choose the legend you want to use to fight the dummies.

Confirm your selection.
There's an audible cue once the dummies are active. Once the dummies are active, they will be angry that you brought them to life. They will attack you. Take them down or suffer the consequences.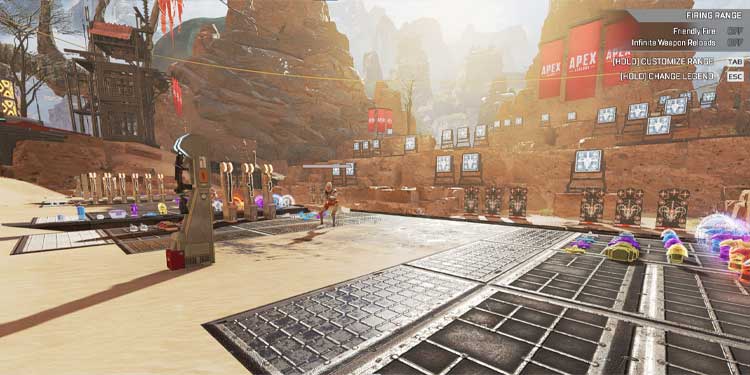 Using the APEX Dummies for Practice
While the targets on the range are an excellent way to get practice with a new gun or legend, the dummies offer something different because they'll fight back.
There are a few situations where this is particularly useful for honing your gameplay.
Use the dummies to practice your aim against moving targets instead of stationary targets that won't fight back. You're not going to be facing AFK players in matches. Combining different guns with moving targets gives you the experience of facing things that move in ways that aren't predictable to you. That's a skill that can help you advance to the final circle. 
You can also use the dummies to practice different movement types. If you're trying to strafe, bunnyhop, or tap strafe, there's no better way to practice than with enemies attacking you head-on. Use the scenery and barriers to practice hiding, healing, and returning fire while you use advanced movement techniques.
You can also get experience with your tactical skills and ults while the dummies attack you. It can take time to build ult, but you can also play in such a way that it matters to you. For example, consider practicing Wraith. You can take cover and bait the dummies while you wait for them to move toward you. Let your ult build while you heal and defend. Then pop your ult, move to a completely different part of the map, and use your reposition to take them down. 
Try putting limitations on yourself to simulate in-game combat situations you're likely to face. For example, try killing the dummies with limited ammo. Try doing it without high-end body armor or attachments to practice hot drops. The less you can win with, the better. 
Making the dummies move on APEX isn't too hard, and it's well worth the time it takes to face AI enemies. Try it out whenever you want to practice without dropping into a match.