Wraith uses her stealth, movement, and versatility to help protect the team, set up ambushes, and move to where they'll have a better chance to get a win.
Don't think her stealth and ghostly abilities mean you must stay passive. Wraith also excels in heated combat, especially if you're comfortable engaging, withdrawing, moving, and engaging again.
It's a great way to keep enemies on their toes and counter other champions who set up defenses around the map. You just need to know how to use her effectively.
Wraith Skills Overview
Mastering Wraith's skills can take you from a new player with a negative kill/death ratio to someone who controls the entire battlefield. Don't get discouraged if they don't seem to click right away. It can take a lot of matches before you start to feel like a pro.
Wraith has an active, passive, and ultimate ability like all other champions. Understanding these abilities will give you a boost during competitive play.
Ultimately, APEX is based on how well you use your champion rather than what guns you get or shields you have. Knowing how to make the absolute best use of Wraith's skills will help you see why so many people main Wraith.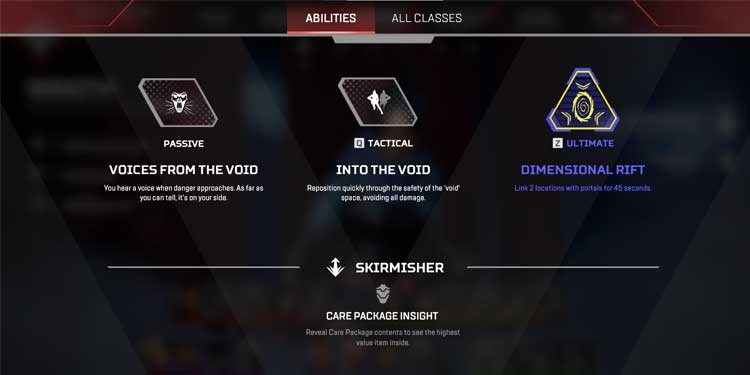 Into the Void
Wraith's tactical ability can turn a no-win scenario into total domination for your team. Into the Void lets you temporarily move faster and take no damage while you move like a shadowy ghost from one location to the next.
It doesn't last long, and you can't attack while you're in the void – but no one else can attack you either. After four seconds, you're back in the ordinary world and can't use the skill again until the cooldown ends.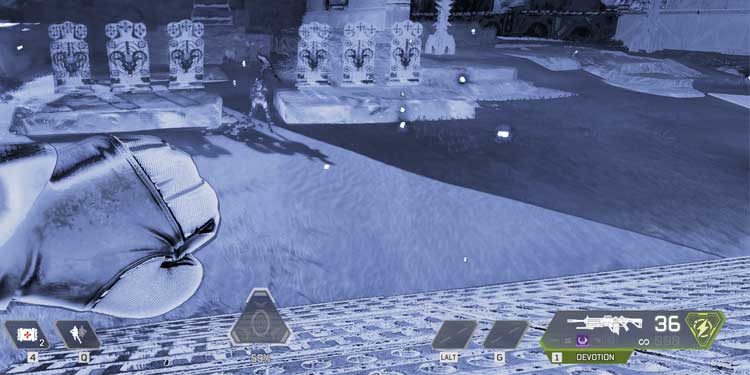 You can't see most of what's happening around you, reload, or engage with the world. You won't see loot, and you'll see the shadowy outlines of other players.
But you can get where you need to be to relax and recover. When you pop Into the Void, plan where you want to end up so that you don't waste it in a panic just trying to get away from an engagement gone wrong. 
One mistake many inexperienced Wraith players make is not using Into the Void or Dimensional Rift until they're severely damaged. You don't want to wait until you need to use it to escape with a few hitpoints left.
Instead, when you notice you don't have the upper hand in the situation, pop one of your skills and get out of there.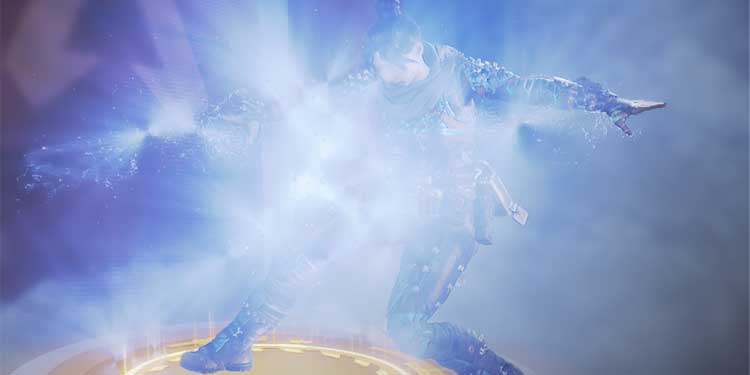 Voices from the Void
Voices from the Void is Wraith's passive ability that warns you if someone is scouting you. It also activates if you're near many enemies, in a location where many people have died, surrounded by traps, or in someone's gun's scope. 
When you hear the whispers start, you must be ready to alert your team and move quickly – but not without looking around for a second.
Remember that it doesn't mean a player is right there and charging out of an area without taking a look for traps or other signs that the problem isn't being sighted.
The best way to use Voices from the Void is to speak up and engage with your team.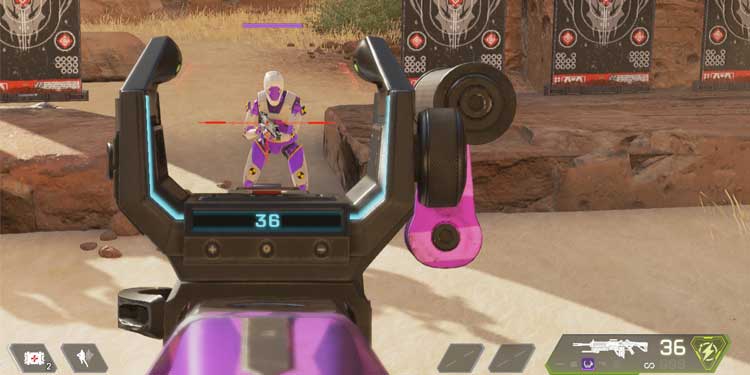 Passive abilities are always active. You don't have to do anything to trigger it. Just keep your volume high enough that you notice when the whispers start so you can reposition yourself and warn your teammates.
Dimensional Rift
Dimensional Rift is Wraith's ultimate ability, and it's excellent for helping your team move from one place to another.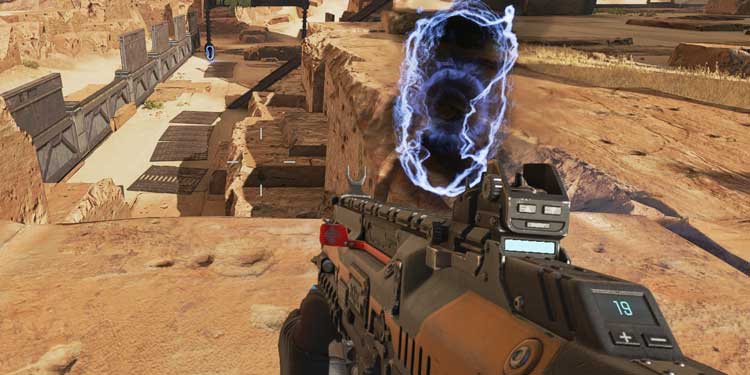 When you activate Dimensional Rift, you can open a portal into the void. Your speed increases as you run through, then place a second portal on the other end.
Anyone can use the portal you set down to move through time and space to reach a secondary location – even enemies. That might seem like a drawback, but Wraith pros can use it for some advanced strats. 
Before you pop Dimensional Rift, look around and consider where to place the portal. You want to be able to get yourself and your team into it – unless you're setting up a trap for your enemies – which means it needs to be accessible and end somewhere safe enough to prepare for the next engagement.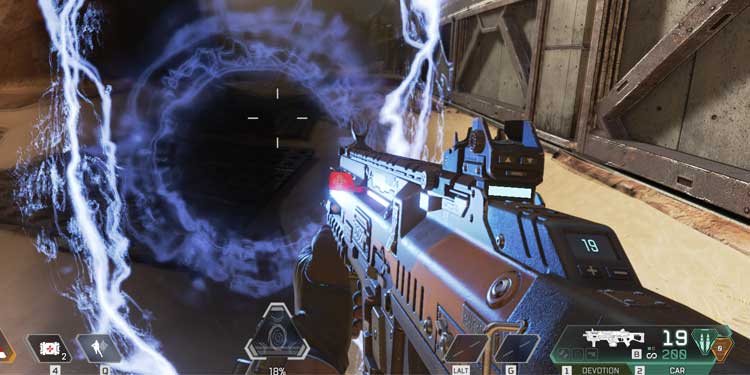 Tips for Playing Wraith
Knowing all the pro tips for playing Wraith will help you effectively use her to win your APEX matches. Here are a few things that might work for both newer Wraiths and experienced players.
Wraith is a surprisingly good character for solo play if you're willing to hang back and not engage for the first part of the game. You can use her ultimate and tactical abilities to move through the storm or use them in the final circle to ensure you get the drop on enemies who don't expect you to appear out of the storm. 
Consider using Wraith to scout and start fights – then phase back to your team and let them charge into the trouble you caused while you heal, regroup, and then provide backup. If you can get an explosive or a few shots off on an enemy team and scatter them, it might make it easier for your partners to take them down. 
Try using Into the Void to scout from high locations. Sometimes changing the way the scenery looks will make other players appear more visibly in their shadowed forms.
Don't hesitate to use portals to trap or lure opponents. If you can get someone to chase you to the exit of your portal and be met by your team, you may be able to take them by surprise. When the entire group bursts your enemy with damage, they may not have enough time to return to their friends.
Try using Wraith as a scout. She can use the void to enter areas with groups of enemies and sneak back out without taking damage. If you're looking for positioning information, Wraith might be the character who can give it to your team.
Don't think of the trail you leave as you move through the void as a weakness. You can turn it into a strength by using it to lure enemies into traps. They think you're weak and fleeing – and may not realize your friends are waiting around the corner. 
Many players believe that Wraith has a smaller hitbox than many other legends. If you struggle to stay out of the enemy's view, consider practicing with Wraith. You'll be able to move more quickly, escape danger, and maybe get a little boost by not being quite as easy to hit. 
Don't commit to fights you can't win. Since Wraith lets you move out of the action, you can void your way toward the time to heal up and take a deep breath. 
Into the Void doesn't activate right away. It takes just over a second to kick in while Wraith looks forward, points, and then the screen changes. Try using the skill a few times outside of high-pressure situations to get used to the cast time if you aren't familiar with it. 
Into the Void also doesn't last very long. If you're using it to escape danger, look for places where you can use buildings or large objects to create a hiding place and break the line of sight between you and your pursuers. 
Characters to Beware
Every character in APEX Legends is designed to be robust against other characters, which means some champions have skills to counter Wraith's skills. Here are some characters to look out for and how to mitigate their best strats against Wraith.
Revenant and Seer can stop Wraith from using her ultimate because they can stop other characters from using their skills. If there's a Revenant or Seer nearby, you may want to wait to pop the ult or make sure they don't have their tactical skill up and ready to use before you do. 
Characters like Wattson, Caustic, and Nox can make the spaces where Wraith enters and exits her portals dangerous or toxic traps. These inhibit her use of the skills that give her so much utility in the group.
You can also use these characters to help support Wraith if she's the linchpin of your arena strat. For example, use Caustic to set up noxious gas right in front of the portal so any enemies who try to use it take damage and come out worse for the wear.