If you wish to lay back and watch your summoned spirits destroy the enemies, you will definitely need to make them stronger, and that strength can only come from upgrades.
Just like how you upgrade your weapon or armaments in Elden Ring, you can level up your Spirit Ashes too. Upgrading Ashes uses different materials, and instead of a blacksmith, you will need to find yourself a Spirit Tuner who can upgrade your Spirits.
In this case, the Spirit Tuner who will help upgrade your summons is Roderica, an NPC who is also a fellow Tarnished.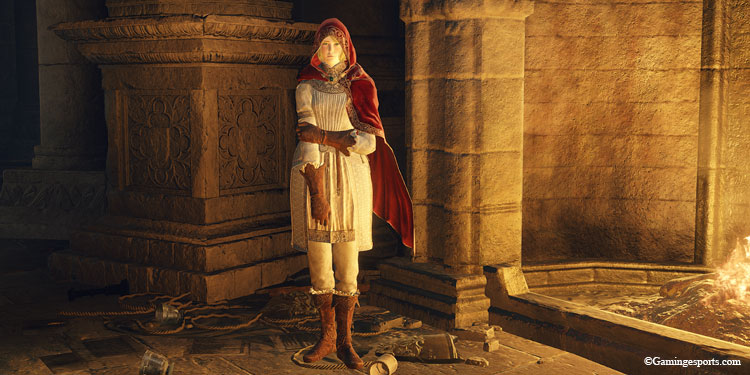 This guide will teach you all about how to upgrade the summons, where to find the materials to upgrade them, and who will upgrade them for you. Let's get on with it.
Where to Upgrade your Spirit Ashes?
Roderica will upgrade your Spirit Ashes at the Roundtable Hold in exchange for Gloveworts and Runes after she becomes a Spirit Tuner.
If you have seen a girl who resembles a grown-up version of Little Red Riding Hood in your journeys, then yes, that is her.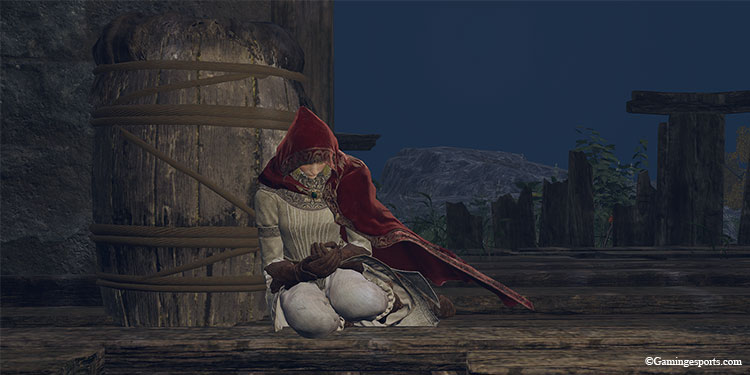 How to Upgrade the Spirit Ashes?
You will first find Roderica in the Stormhill Shack just before you reach Stormveil Castle, where she is unaware of her fate. Later on, after moving to the Roundtable hold, she realizes her purpose i.e. tuning the spirits.
When she becomes a Spirit Tuner, she will be in the hallway, sitting opposite Blacksmith Hewg, and will start upgrading the spirits for you.
Note: If you kill Godrick and progress to Liurnia without completing Roderica's quest at Stormhill Shack. You will miss out on the Golden Seed reward she gives to you.
We will guide you step by step on how to turn Roderica into a Spirit Tuner and upgrade your Spirit Ashes without missing out on anything. 
Find Roderica in Stormhill Shack, and exhaust all her dialogues. Even though she is grieving, she will give you a Spirit Summon, called Spirit Jellyfish Ashes, and asks you to take the spirit along with you on your journey.
Head to the Stormveil Castle, you will need to navigate to a large room where you will meet a Grafted Scion enemy. Nearby, there is a small open-to-sky area where there are two dogs, you will find an item atop the heap of dead bodies called Chrysalids' Memento.
Take the item back to Roderica, and she will go to the Roundtable Hold. Later, when you meet her at the Roundtable Hold, she introduces herself and gives you a Golden Seed as thanks for giving her the Memento.
If you missed all the steps above or made it to one of the Sites of Grace located in Liurnia without talking to Roderica in the Stormhill Shack, Roderica will automatically move to Roundtable hold.
You'll see Roderica in Roundtable hold, nearby the fireplace, and converse with her. Here, finally, she will tell you her name.
There, you will meet Smithing Master Hewg, Talk to him and ask him about Roderica, he will tell you how Roderica might have an affinity with spirits.
Now tell Roderica about what Hewg said. She then wishes to become a Spirit Tuner and finally find a purpose in her life.
Go back to Hewg and tell how Roderica wishes to learn about tuning spirits and exhaust all their dialogues. Tell Hewg to watch over Roderica and convince him that she wants to learn more about spirits by choosing all the first dialogue options.
Finally, reload the area by traveling away and coming back. Head to the Blacksmith, and you will see that both Roderica and Hewg are in the same hallway. Roderica will be seated opposite Hewg, up the short staircase, and she will now upgrade Spirit Ashes for you.
Now, Talk to Roderica, and you will find options in the dialogues, select Spirit Tuning, which takes you to the Upgrade Menu.
After entering the upgrade menu, if you have the spirit Ash and the ingredients, they will be displayed there. Select the one you want to upgrade.
Give Roderica some Runes and Ingredients(Glovewort or Ghost Glovewort) required to upgrade and level up your spirits.
Note: Once Roderica becomes Spirit Tuner, you can return to the place where you found Chrysalids' Memento atop the heap of dead bodies in Stormveil Castle. You will find a stylish armor called the Crimson Hood, one that Roderica was wearing before she became a Spirit Tuner.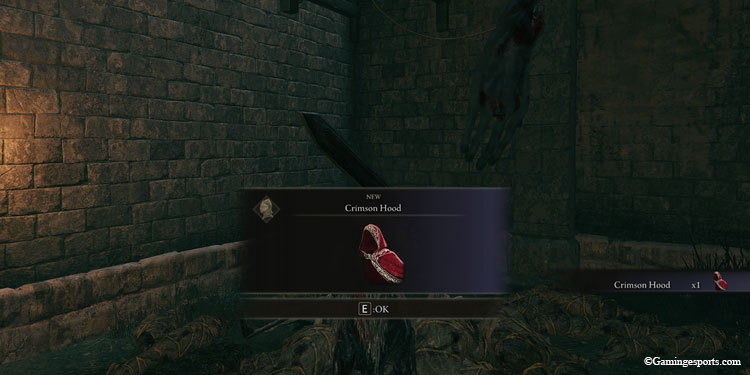 Materials Required to Upgrade Spirit Ashes
There are two types of Spirits you can summon to aid you. The first category is common Spirit Ashes, and the second is the legendary, renowned, or elite Spirit Ashes.
The terminology differs even within the community itself. Anyways, both types use different upgrade materials. Common Spirits use Grave Gloveworts to upgrade, while Elite Spirits use Ghost Gloveworts.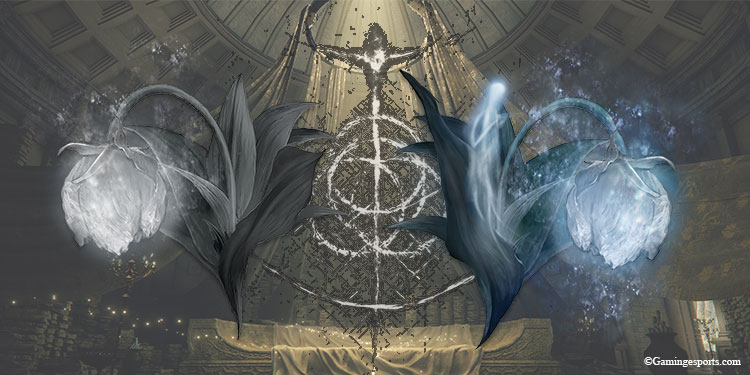 You can upgrade Spirit Summons to +10 level. A +10 spirit summon is ridiculously strong, but you only find a very limited amount to upgrade material that lets your Spirit Ash be +10 per playthrough.
Note: Only make your absolute favorite +10, and keep others at +9, as you can buy the upgrade materials limitlessly to make spirits +9.
To upgrade your Spirit to +1 level, you will need Grave or Ghost Glovewort [1], similarly to make them +9 level, you will need Ghost Gloveworth [9].
For the final level, which is the +10 level, you need a Great Grave or Great Ghost Glovewort. Here is a table to make it clear.
| | | |
| --- | --- | --- |
| Upgrade Level | Common Spirit Ashes | Legendary Spirit Ashes |
| +1 | Grave Glovewort [1] | Ghost Glovewort [1] |
| +2 | Grave Glovewort [2] | Ghost Glovewort [2] |
| +3 | Grave Glovewort [3] | Ghost Glovewort [3] |
| +4 | Grave Glovewort [4] | Ghost Glovewort [4] |
| +5 | Grave Glovewort [5] | Ghost Glovewort [5] |
| +6 | Grave Glovewort [6] | Ghost Glovewort [6] |
| +7 | Grave Glovewort [7] | Ghost Glovewort [7] |
| +8 | Grave Glovewort [8] | Ghost Glovewort [8] |
| +9 | Grave Glovewort [9] | Ghost Glovewort [9] |
| +10 | Great Grave Glovewort (Total 6 found per playthrough) | Great Ghost Glovewort (Total 4 found per playthrough) |
Location of all 6 Great Grave Gloveworts
You can get two at once after you defeat Putrid Grave Warden boss found in Consecrated Snowfield Catacombs.
You can find one in a room inside the Giant Conquering Hero's Grave, a dungeon you can fight through in the Mountaintops of the Giant Region.
You can find two in the Crumbling Farum Azula region. One is in the upper area of the Crumbling Beast Grave Site of Grace, and another is in a tomb you can navigate to from the Dragon Temple Site of Grace.
You can find one in the Elphael, Brace of the Haligtree, in a pond of Rot where you reach the end of Millicent's questline. There is a rotten Ulcerated Tree Spirit boss in this same area.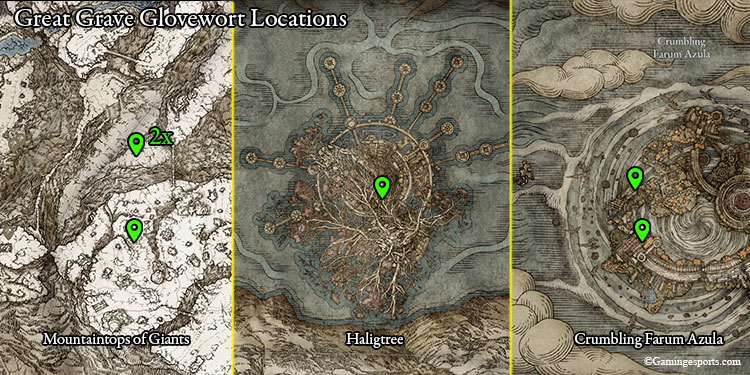 Location of all 4 Great Ghost Gloveworts
You can find one inside a chest you can reach from the Dragonkin Soldier of Nokstella Site of Grace. The chest is under a giant skeleton statue sitting upon an enormous throne.
You can find one inside a chest at the end of Night's Sacred Ground area. The chest is again under a giant skeleton statue sitting on an enormous throne just opposite the Night's Sacred Ground Site of Grace.
You can find one up the buildings from the Nokstella Eternal City Site of Grace. Head upstairs to the buildings and find a narrow chamber, the Glovewort is there inside a chest at the end of the slender room, protected by a Silver Tear enemy.
You can find one in the Moghwyn Palace Area. Head to Dynasty Mausoleum Midpoint Site of Grace, find a grotto and reach its lower section. The Great Ghost Glovewort will be there.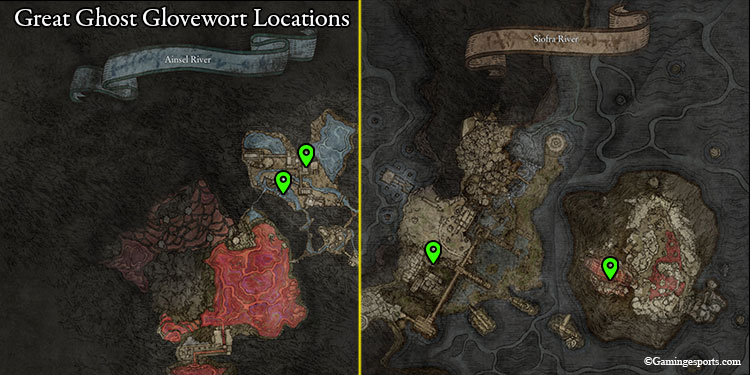 Materials Required to Buy the Upgrade Materials
Once you get a Glovewort picker's ball bearing, you can give it to Twin Maiden's Husk Merchant. She will then let you buy the corresponding Gloveworts till your bag is full, as long as you have the runes to pay in exchange.
There are 6 Ball bearings, each letting you purchase 3 specific types of Gloveworts.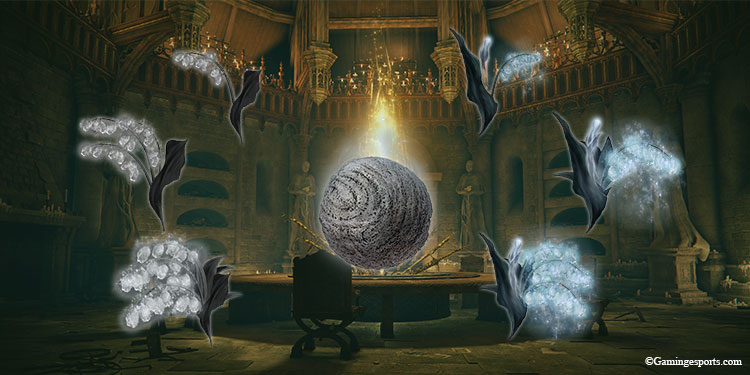 | | | |
| --- | --- | --- |
| Ball Bearing | Unlocks Purchase | Found in |
| Glovewort Picker's Ball Bearing [1] | Grave Glovewort [1] Grave Glovewort [2] Grave Glovewort [3] | Go to Wyndham Catacombs in Altus Plateau and defeat a boss called Erdtree Burial Watchdog. |
| Glovewort Picker's Ball Bearing [2] | Grave Glovewort [4] Grave Glovewort [5] Grave Glovewort [6] | Go to Giant's Mountaintops Catacombs and defeat the boss, Ulcerated Tree Spirit |
| Glovewort Picker's Ball Bearing [3] | Grave Glovewort [7] Grave Glovewort [8] Grave Glovewort [9] | Go to Crumbling Farum Azula and find a lake nearby the Tempest Facing Balcony Site of Grace. You can find it in a small pavilion near the lake. |
| Ghost Glovewort Picker's Ball Bearing [1] | Ghost Glovewort [1] Ghost Glovewort [2] Ghost Glovewort [3] | Go to Nokron, Eternal City Site of Grace, and head outside into the courtyard. You will find the Ball bearing from a corpse in a pavilion. |
| Ghost Glovewort Picker's Ball Bearing [2] | Ghost Glovewort [4] Ghost Glovewort [5] Ghost Glovewort [6] | Go to Nokstella, Eterna City Site of Grace, and go upstairs to one of the buildings. You can find it in a chest, in one of the chambers where Silver Tear enemies will be guarding it. |
| Ghost Glovewort Picker's Ball Bearing [3] | Ghost Glovewort [7] Ghost Glovewort [8] Ghost Glovewort [9] | Go to Haligtree Roots, Site of Grace in Elphael, the Brace of Haligtree. Go up the lift, and find a graveyard full of enemies, the Ball Bearing should be near one of the gravesites. |