So you have finally decided to embark on Millicent's quest. Rest assured, she has a long quest line, with easy-to-miss items and story interactions.
Millicent is an unforgettable NPC you will meet at the Church of the Plague, in Caelid. She has crimson hair and a stoic demeanor. Apart from that, she is missing her right arm.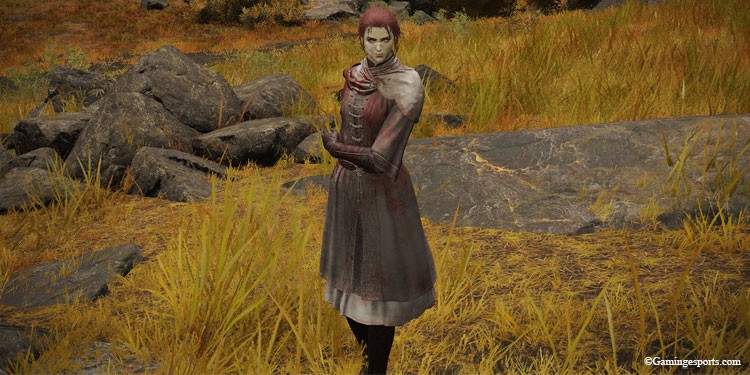 You will notice her inability to move and her hazy state of mind as soon as you meet her for the first time. This is due to a condition called Scarlet Rot, which has altered her entire life. Millicent now spends her life bearing the pain of the curse in the corner of the church, where she is worshiped by the creatures of rot.
To begin Millicent's questline, start by helping her fight the curse. Once she gets your help, she gets back her ability to move and think. Then eventually, she starts remembering who she is and leaves on a quest to find out more about herself. 
Her journey as she explores her own origin, tracing the path her mother took, takes Millicent all the way to where her mother, the infamous Malenia resides, bewildered by her own curse in the deep roots of Haligtree.
Now if that's all cleared up, let's start the guide from the very beginning.
Meet Gowry
Before you meet Millicent, you have to find the man who claims to be her adoptive father, Gowry. He is found in a shack, south of the Sellia, the town of Sorcery, eastwards along the road before you reach the main Gate of Sellia. 
Go into his shack and hear him out. He will ask you for a request, with a reward as a promised payment. He asks you to help a girl called Millicent by finding an Unalloyed Gold Needle, hidden somewhere deep within the Swamps of Aeonia.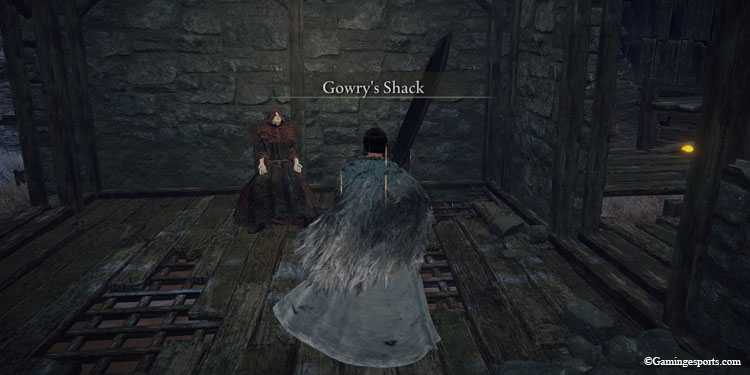 Find Unalloyed Gold Needle
Once you hear Gowry out, you have to head toward the Swamp of Aeonia. Go south from the Shack, exit the main gate of Sellia, then make your way west. Soon you will find yourself ankle-deep amidst a rotting swamp.
A bit southeast of the Inner Aeonia Site of Grace and exactly west of Gowry's shack, you will see a Lone Warrior standing in the middle of what suspiciously looks like a boss-fight arena. The Warrior is Commander O'Neil and getting close to him starts the battle.
Once you defeat the Commander, he drops the broken Unalloyed Gold Needle.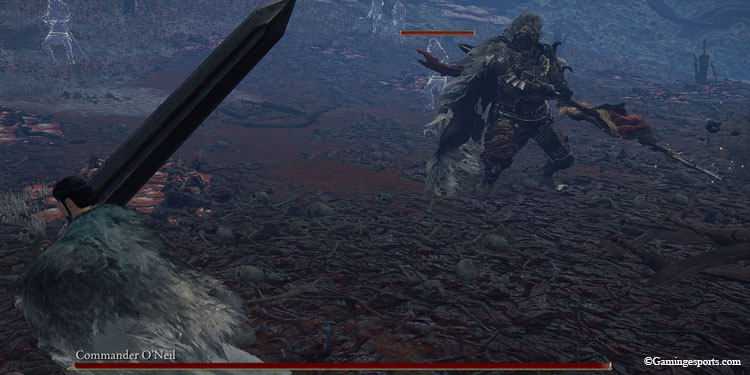 Take the Unalloyed Gold Needle Back to Gowry
Now head back to Gowry's rundown shack. Talk to Gowry, who as initially promised, rewards you with a papyrus containing the secrets of the town of Sellia.
Then, he will demand some time so he can fix the Unalloyed Gold Needle. All you have to do is rest at a Site of Grace after giving him the needle and return back to him.
Once he gives you the fixed needle, he asks that you deliver it to Millicent.
Find Millicent
After you are done with Gowry, you need to find the Church of the Plague. Essentially, there are two ways to get to the Church.
One is by getting past the town of Sellia and solving its puzzle. Another is taking the long route across Greyoll's Dragonbarrow.
Once you find the Church, Millicent will be there, resting along the walls.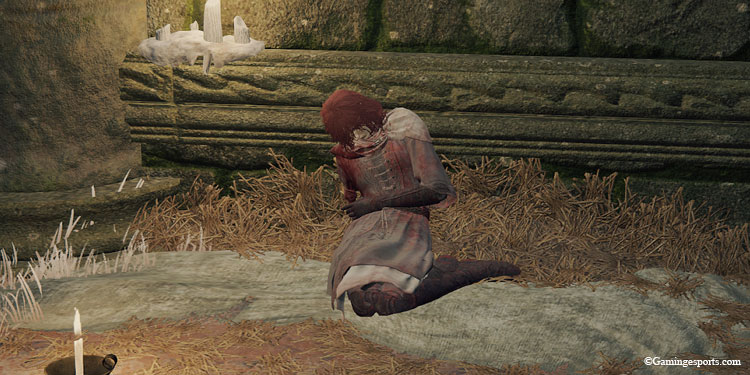 Help Millicent Heal
Once you make it to the Church of the Plague, deliver the repaired Unalloyed Gold Needle to Millicent. To heal herself, she will insert it inside her arm and become unconscious.  
Now, rest at the Site of Grace to reload the area. Once it reloads, you will see that Millicent is up on her feet, healed, and ready to head out on a journey.
She will reward you with a Prosthetic-Wearer's Heirloom for your help and will leave the Church once you reload the area.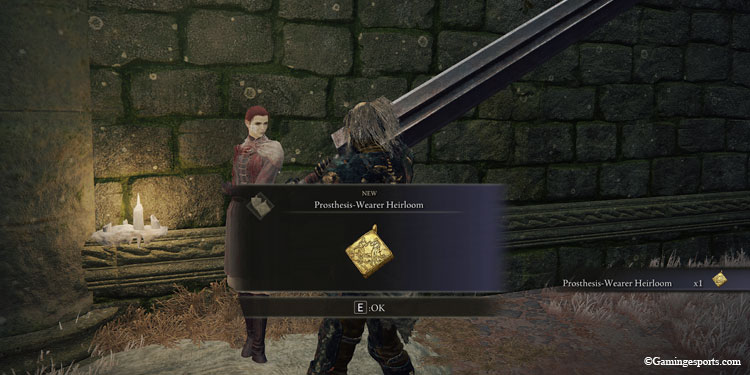 Meet Millicent at Gowry's Shack
You can find Millicent visiting Gowry's Shack, but at that time Gowry will be absent. Millicent thought that she had to say goodbye to someone before leaving but she only found emptiness.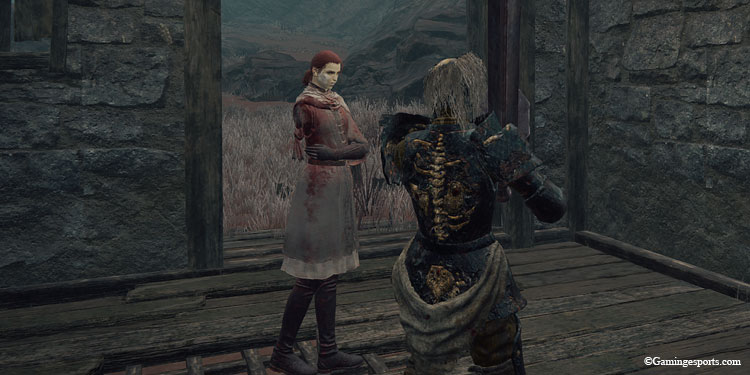 After reloading the area, you will see Millicent has already left and Gowry has returned. He will start to teach you sorceries for helping Millicent. 
Meet Millicent at Erdtree Gazing Hill in Atlus Plateau
You will find her standing north of the Site of Grace located near the Lux Ruins. Talk to her and she will mention that she could have aided you in battle if she still had her sword arm. She also talks a little about her desire to retrace the journey Malenia took.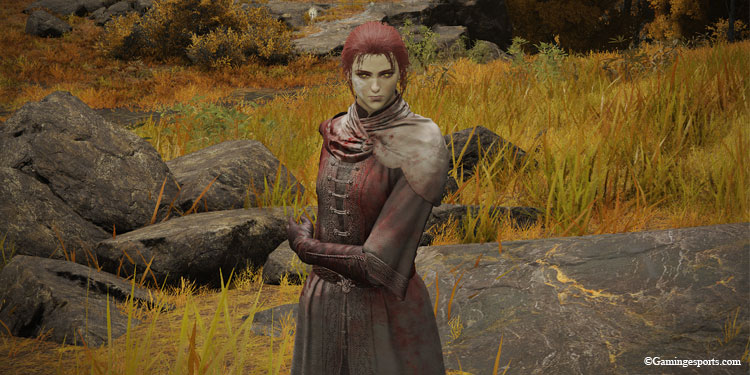 Find Valkyrie's Prosthesis
You can help Millicent by giving her a prosthetic Arm. You can find it up north of the Altus Plateau region in the Shaded Castle. Just follow the ravine north from the Altus Plateau Site of Grace to reach the Shaded Castle.
Explore the castle till you find a tall ladder leading to the ramparts. Once on the ramparts, find a Cleanrot Knight guarding an entrance leading towards a chamber. Inside the chamber, you can find Valkyrie's Prosthesis. 
Note: Before you deliver Millicent the Valkyrie's Prosthesis, she can be summoned to fight the final boss of the Ruin Strewn Precipice, Magma Wyrm Makar. Once you deliver the prosthesis, the summon sign will disappear.
Give Millicent Valkyrie's Prosthesis
Once again, visit the Erdtree Gazing Site above the Ruin Strewn Precipice, the same place where you met Millicent earlier.
Interact with her and deliver the Valkyrie's Prosthesis to her. She assures to help you in future battles if the arm works well.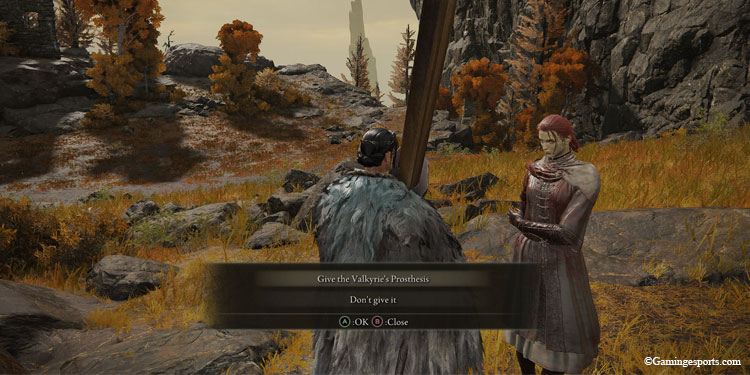 Note: After you deliver Millicent the Valkyrie's Prosthesis you can visit Gowry. He will add the incantation Pest Threads to his shop for you to buy.
Defeat Godskin Apostle at Windmill Heights
Reach Dominula, Windmill Village to fight a Godskin Apostle boss. This village is north of the Royal Capital Layndell. Cross through the large gate from the battlefield leading away from the city.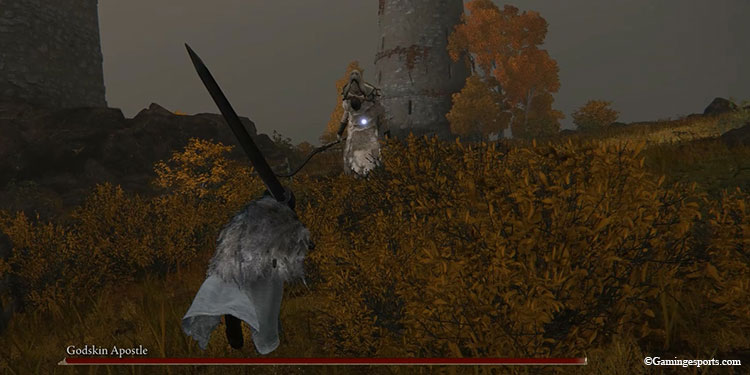 You can summon Millicent to aid you during this boss fight if you have given her the prosthesis.
After the boss fight, a Site of Grace will spawn where you killed the boss. Rest and reload the area, once you do that Millicent will be waiting for you there. She will have the Prosthesis equipped and will thank you making it possible for her to wield a sword again. Exhaust all her dialogues.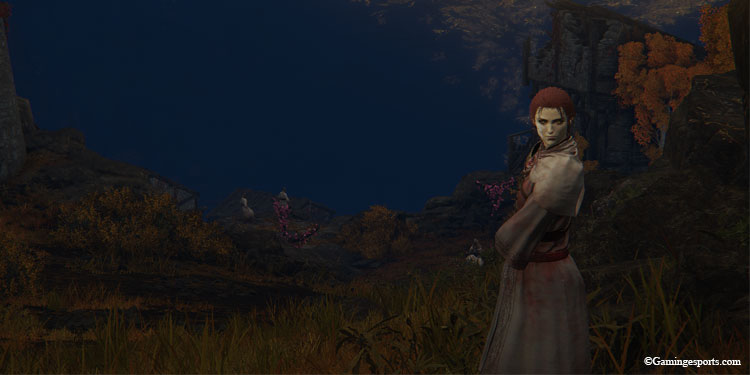 Meet Millicent at the Mountaintops of Giants
Reach the Ancient Snow Valley Ruins Site of Grace. You can find Millicent there. Exhaust all her dialogues before moving on.
She tells you she is searching for a fort in the north, that contains the key to reach Haligtree before she moves on to the next area.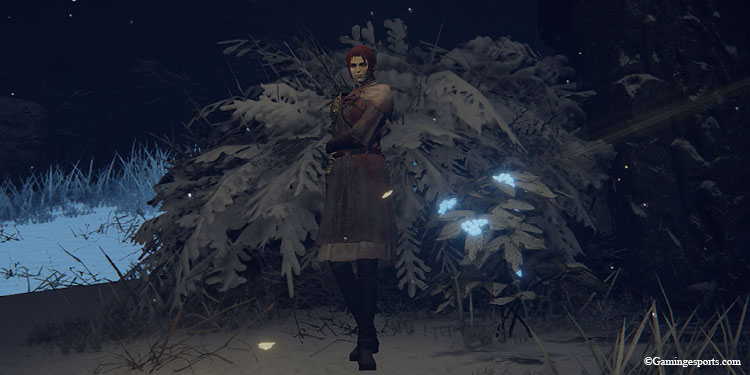 Reach Haligtree
To reach the Haligtree, you'll have to find the Haligtree Secret Medallion. Then take the Grand Lift of Rold to a secret area, and navigate your path to Haligtree. Let's get through this, step-by-step.
This Haligtree Secret Medallion is found in two pieces. The Right piece is found in the Village of the Albinauriacs, Liurnia. At the corner of the Graveyard, you will see a big round pot. Hit the pot and reveal it to an NPC called Albus. Talk to him and he will give you the Right Piece of the Haligtree Medallion before dying and disappearing.
The left piece of the Haligtree Medallion is atop Castle Sol, at the Mountaintops of the Giants. Fight the boss called Commander Niall, and get to the highest tower to get the Left Piece of the Haligtree Secret Medallion.
Take the pieces and use them at the Grand Lift of Rold. Change the hoisting option from the Medallion of Rold to the secret Medallion, the Medallion of Haligree. Doing this makes the lift take you to a secret path that can be used to reach the Haligtree.
Navigate out of the building to the snowy area. This place is the Consecrated Snowfield. Now just follow the path North through the snowy fog. There will be glowing lights guiding your path through the fog, but be careful as there will be enemies along the way.
Once clear of the foggy field you will see a frozen river across your path, cross the frozen river and travel further North. Pick up the map fragment of the area as you follow this path.
Travel further North to Reach Ordina, Liturgical Town. You have to solve a puzzle in this town to reach Miquella's Haligtree.
The puzzle involves going to an alternate version of this town and lighting four candles atop four statues. Once all the candles are lit you can take the teleporter that takes you to Miquella's Haligtree.
Make your way down the branches of Haligtree, past two Sites of Graces, and reach a Bossfight Arena to fight Loretta, the Knight of Haligtree.
Defeat Loretta, Knight of Haligtree, proceed further from her arena to a lift chamber and take the lift down to Elphael the Brace of Haligtree.
As soon as you get out of the lift chamber, you will find a bridge leading to a building guarded by a Cleanrot Knight. The building contains the Prayer Room Site of Grace and Millicent. Kill the Cleanrot Knight before you go into the room as he might attack and damage Millicent. 
Meet Millicent at Prayer Room, Elphael
Once you are in the Prayer Room Site of Grace in Elphael you should see Millicent here if you have progressed enough with her story.
Talk to Millicent and exhaust all her dialogues. She will stay here till you get her summoning sign by defeating a mini-boss that awaits up ahead.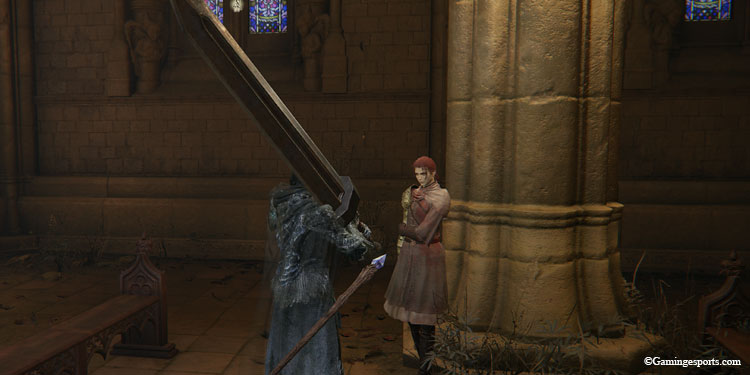 In the Prayer Room, Millicent tells that she is Malenia's kin and wants to help Malenia regain her pride, in my guess, by returning to her the Needle.
Without the Unalloyed Gold Needle, Malenia must be terribly affected by the Scarlet Rot with no sense of who she is just like how Millicent was before we got the Unalloyed Gold Needle for her.
Find and Defeat Ulcerated Tree Spirit
To find the Ulcerated Tree Spirit enemy, start from the Prayer room Site of Grace and make your way to the Drainage Channel Site of Grace.
Descend multiple staircases all of which lead to a guarded gate full of enemies, arrow ballistas, and a Putrid Avatar. Enter the gate to reach the Elphael Inner Wall Site of Grace.
Once at Inner Elphael, descend the staircase and climb out of a root that has poked out and made a hole in one of the walls.
Follow the root and traverse a rot pond filled with enemies, then again jump to another winding root that takes you to land.
Once you make it to land from the roots, enter the doorway on the left and take the ladder down to reach the Drainage Channel Site of Grace.
Follow the ladder up again out of the doorway, and go a bit uphill past a Kindred of Rot enemy. You will see an extended root leading you to another rot pond with shiny items.
If you try to get into the rot pond to retrieve the items, an Ulcerated Tree Spirit will jump down to attack you. Fight and defeat it in combat.
Help Millicent or Kill Millicent
Once the Ulcerated Tree Spirit is defeated, there will be two summon signs nearby the place where you defeated the mini-boss. 
The golden summon sign will take you to a world where you will help Millicent fight the Sisters of Rot, the red summon sign will take you to Millicent's world where you fight and kill Millicent. Each choice has its own consequences.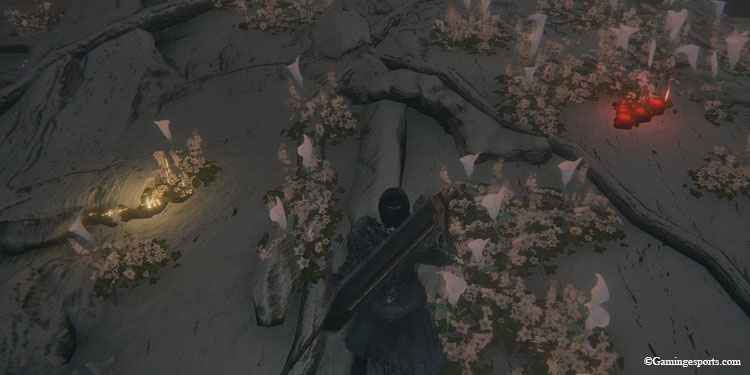 Note: You can visit Gowry before you make your decision. He who initially asked you to help Millicent will now ask you to kill her.
What Happens if You Help Millicent?
If you choose to help Millicent, you will fight and kill her four sisters. The four Sisters of Rot are a tough bunch, but with the help of Millicent, you can defeat them. You will receive a talisman called Rotten Winged Sword Insignia once it is done. 
After you help Millicent, you will find her dying in a pool of rot. Exhaust all her dialogues and reload the area by resting on a Site of Grace. Make your way back to her and she will be dead. You will find the Unalloyed Gold Needle where her body is laying. 
After you defeat Malenia, use the Unalloyed Gold Needle in the Scarlet Aeonia she leaves behind. This will change the Unalloyed Gold Needle into Miquella's Needle. You will also get an Ancient Dragon Somber Smithing Stone.
Take Miquella's Needle all the way to the arena where you fight Dragonlord Placidusax, right at the center of Crumbling Farum Azula. If you are afflicted with the Flame of Frenzy, you can use Miquella's Needle to heal the Frenized Flame condition there. 
At last, you can return to Gowry, who initially set you towards this quest. You will find him dead and his Ball Bearing, along with Flock's Canvas Talisman will be there for you to pick up.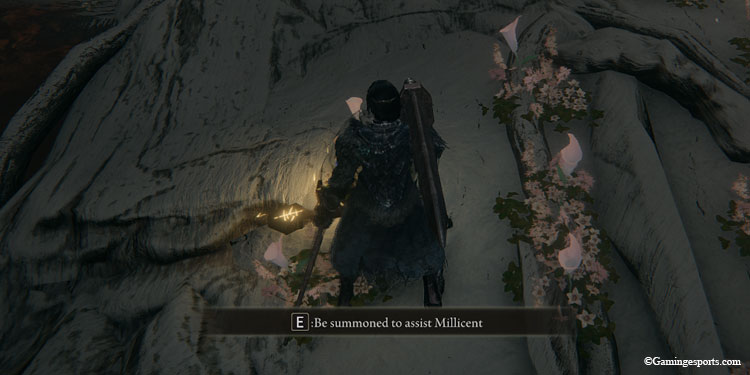 What Happens if You Kill Millicent?
If you choose to fight and kill Milicent, she will drop Millicent's Prosthesis. She will also leave a blooming Scarlet Aeonia nearby where her summon sign was located previously. 
After that, you can return to Gowry, and he will be in his shack struck with sadness, and will barely respond to you.
You can choose to kill Gowry here to get Flock's Canvas Talisman and his Ball Bearing as loot. Do this at your own risk.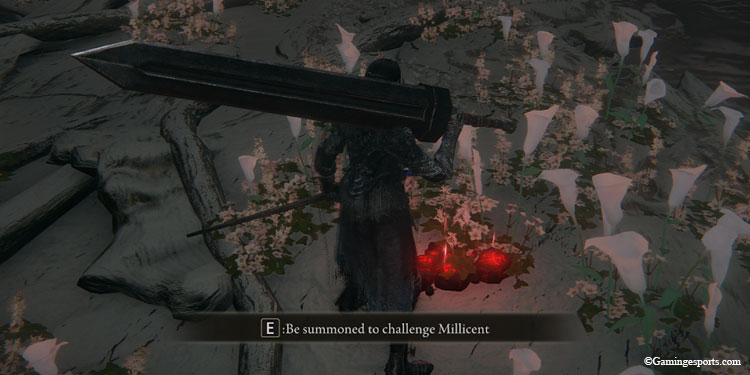 Millicent's Lore
Before concluding, lets discuss her lore. As a character, we found Millicent to be extremely likable. She, unlike most other characters in Elden Ring, does not seem to have any ulterior motives but becomes a victim of someone else's motives. 
Playing as the Player Tarnished, we can relate to her, as even we get manipulated in every Souls game to do questionable things. She wanted to follow the path of her kindred, Malenia, which she does till the very end.
In her journey, it seems Millicent discovers an insidious fate that was being forced upon her.  That fate was to replace Malenia and become the new Goddess of Rot. 
Just before finding Malenia, Millicent ends up removing the Unalloyed Gold Needle from her arm by herself. The reason she tells us is that she does not want to become someone's pawn and live under a delusion. She would rather embrace her rot and fade into nothingness than be manipulated by Gowry and the Outer God of Rot.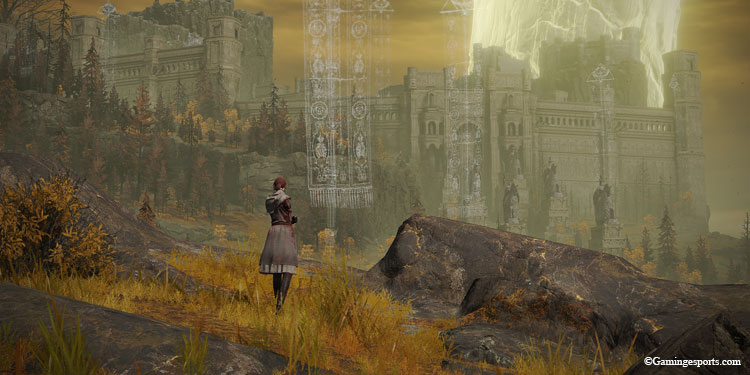 It is sad to see Millicent pass away at the end of her story, and additionally, if you kill her yourself she will turn into a Scarlet Aeonia flower. The same fate befalls her mother Malenia as well, once we defeat her.
Both mother and daughter, who could not share memories and moments in life, bloom as Scarlet Flowers in death at the roots of Haligtree.