Gowry is an NPC found in the Elden Ring's rotting region of Caelid . You meet this NPC in a rundown location known as Gowry's Shack. His first impressions may be that of a sickly old man, but he is a mysterious character with an intriguing lore. Gowry is also important in another story, which involves a questline involving an even more interesting NPC named Millicent.
Most NPCs can be killed in the Elden Ring. A few swings of your weapon will cause them to aggro. And when aggroed they will fight you till they die. But, Gowry is built different. You can't kill him permanently at first as he will respawn back in the same place as soon as you reload your game.
He will even leave you with a few snarky remarks if you attempt to kill him and disappear leaving a corpse of Lesser Kindred of Rot, the corpse of a very common enemy you will encounter all over in the rot infested parts of Lands Between.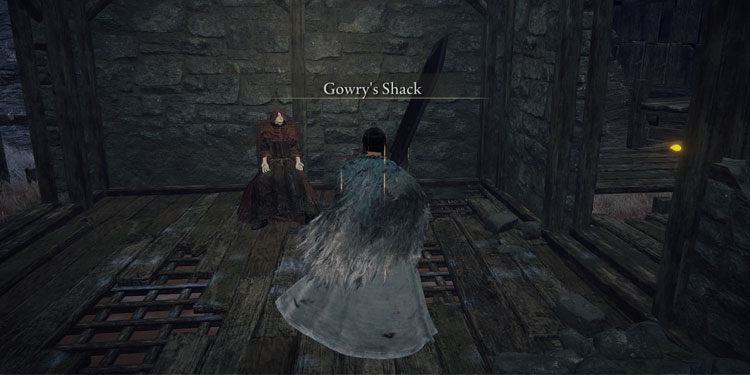 To kill Gowry you need to complete both his and Millicent's questline. Millicent has a lengthy questline that can alter the ending of your game if done right. Now let's Follow the steps to permanently kill Gowry and get his loot,
Find Gowry in his shack and talk to him. This location is marked on the map. If you haven't found it yet, you can locate it slightly east in between the direct path from Sellia gateway to the town of Sellia.
Head to the Inner Aeonia Site of Grace, a bit west from Sellia Gateway. Here, you need to fight a field boss, Commander O'Neil. This is a tough bossfight as he additionally summons spirits twice to help him during the bossfight.
Defeat Commander O'Neil and get the Unalloyed Gold Needle in its broken form. You will also get his weapon, the halberd called Commander's Standard as an additional drop.
Deliver the Needle to Gowry and he will offer you a parchment containing Sellia's Secrets as a reward. He will also demand some time to fix the broken Needle. Meanwhile, you can reload the game or return from the Site of Grace.  
Now you need to go find Millicent at Church of Plague. To get to this location you need to light the braziers at the Sellia, the town of sorcery, most importantly one that leads us to Sellia Backstreets. We have a video guide revealing everything about Sellia.
Take the uphill route from Sellia Backstreets Site of Grace. Beware of the magical metal balls; they will roll down at you while going uphill.
Go past a little graveyard and you'll see a location called the Church of Plague. It will be guarded by 2 Lesser Kindred of Rot, it is best if you kill them before entering.
Enter the church and you will find Millicent sickly and sitting against the wall. Give the needle to her, then proceed to rest at the Site of Grace.
After the area reloads, Millicent will be on her feet. Interact with her and she will mention about a journey she wants to leave on. This will now start Millicent's questline. You will also be rewarded with a talisman called Prosthetic Bearer's Hairloom by Millicent.
After Millicent's quest line starts, you can return to Gowry. There is a brief moment when Gowry is absent while Millicent is present there. After Millicent leaves, you can interact with Gowry and buy some sorceries from him.
Complete Millicent's Questline till you are asked to choose whether to help her in the battle or to kill her. This occurs in the Haligtree and requires meeting Millicent in various locations throughout the game. She will also aid you in some boss battles.
If you kill her, you will find Gowry dead as well with his loot left in the shack. If you choose to assist Millicent, you'll see Gowry alive, but he will be mourning. At this point you can kill him permanently and finally get his loot.
There were reports of a bug in the game in which players were unable to kill Gowry even after completing all questlines. He kept on turning into the Lesser Kindred of Rot and respawned again and again. If this happens to you too, all you can do is start a New Game. We have not encountered this bug yet, so it is most probably fixed without a fuss in one of the updates.
What Does Gowry Drop After Getting Killed?
Gowry drops a nice talisman when he is permanently killed. Flock's Canvas Talisman raises the power of incantations. This is a useful item if you are using a faith build.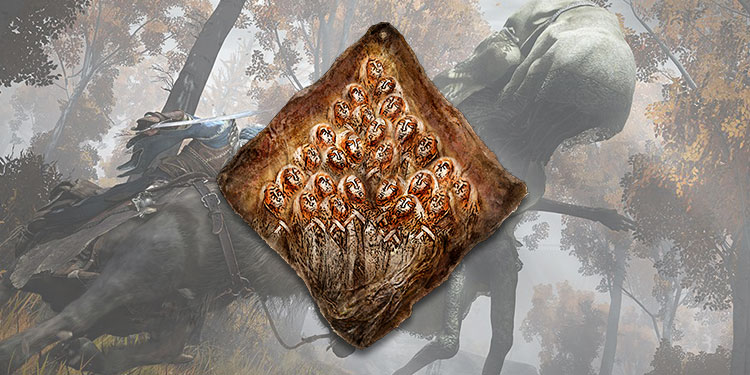 He also drops Gowry's Ball Bearing. You can give it to the Twin maiden's husk in Roundtable Hold. This will enable you to buy the items you could have bought from Gowry.
What Does Gowry Sell?
You can buy 3 Sorceries from Gowry. You can additionally buy 1 incantation from him later on.
Glintstone Stars, one of the basic Glintstone Sorceries.
Night Shard, a basic Night Sorcery of Sellia, town of Sorcery.
Night Maiden's Mist, an advanced Night Sorcery from Sellia but with origins tied to Eternal City of Nokorn deep underground below Sellia.
Pest Threads is a Servants of Rot Incantations. This becomes available after further progress in Millicent's Questline.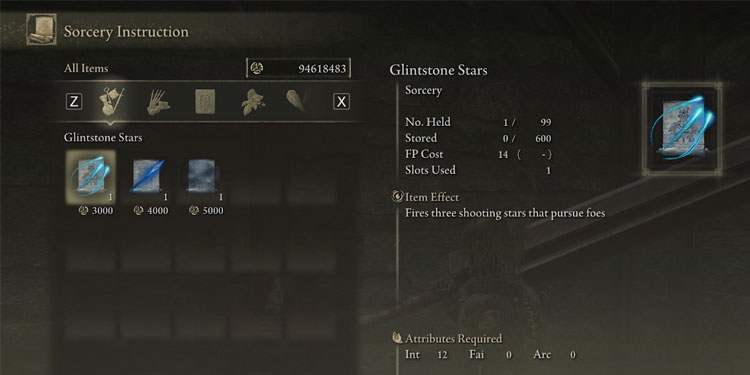 The things he sells have different origins, which could show how Gowry's life itself transpired. He seems to have changed his set of beliefs during his lifetime.
He started as a scholar of Glintstone Spells, then found his way into Night Sorceries which were taught in secret, in the town of Sellia. After that from a follower of sorceries he changed to someone who now has faith in Outer God of Rot.
It takes intelligence to cast sorceries on the other hand it takes faith to cast incantations. It shows how a man in his lifetime can change his beliefs and turn from a curious seeker of truth to a follower of faith and higher power.
Lore of Gowry
The first look at Gowry doesnt give away much, apart from him being an NPC and a merchant. But if you get to know more about him, he claims to be the father of Millicent and that he knows Malenia, Millicent's mother. He says that he found Millicent abandoned as an Infant and raised her alongside his other daughters.
The theory floating around on the Internet suggests that the Gowry we meet on the shack is most likely a manifestation of the Outer God of Rot. This is further supported by him turning into a Rotten Kindred whenever he is killed by us, and he somehow keeps on finding another Rotten Kindred replacement and comes back to sit on the same spot again and again.
The game tells us that Gowry once was a Great Saint. He also mentions he knows the secrets of the town of Sellia. This sorcery town in Caelid, purportedly has delved into sorceries of Night, and is the home of sorcery wielding assassins. The items he sells talks about his past as a sorcerer. Apart from that and his paternal relation with Millicent, much else about his past is unknown.
Gowry now dedicates his life to beckon a new age of Rot in Lands Between. He seems to be the figurehead of the agents of Rot and is working with all his wits to bring forth a new Age, where Rot reigns supreme.
One of his motives that are clearly shown in the game is that he wants to influence the fate of Millicent. He wishes Millicent to replace Malenia as the new goddess of Rot. He initially wants us to save her but later wants us to kill her. That change means that Millicent probably did not meet his expectations or somehow rejected the fate of the Outer God of Rot.