Enter The Gungeon is a wild and intense bullet hell roguelike video game where players can choose a character of their choice and crawl deep in the dungeon looting, shooting, and doing everything they can to reach the treasure without dying.
The game is all about bullets. You shoot bullets and your enemies shoot back at you. It really sets in fast-paced gameplay. The enemies of the game are very robust and they are really hard to beat.
It's not only about enemies but the floors and levels themselves are a labyrinth. A simple mistake can make you start all over again from the beginning.
Surely, bringing a friend might sound like a good idea to help you in the gungeons but is it really possible to play multiplayer?
Many of you must wonder if enter the gungeon is a multiplayer game or not.
So without further ado, let's take a quick walk over it.
Does Enter The Gungeon Support Multiplayer?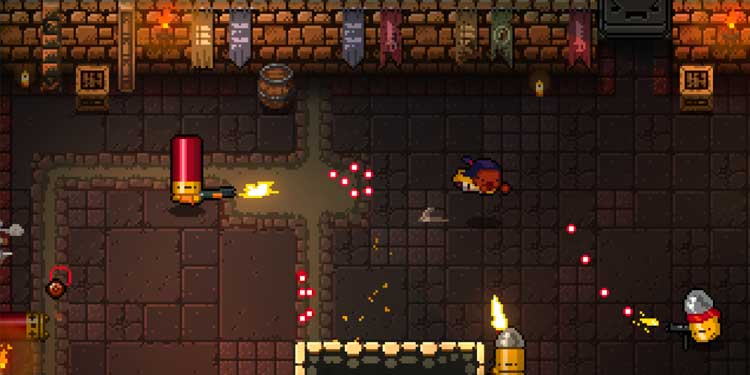 Fortunately, the answer is yes. You should be relieved that Enter The Gungeon does support multiplayer but there's a catch. You can play with your friend together in local co-op mode only. Meaning, you and the other player have to be together next to each other when playing in co-op mode. You cannot play it over online.
Also, the joining player has a limitation you need to know of. They can not choose a character from one of the main characters. They only have the option to be the character called The Cultist.
The host player can choose any one from 4 leading characters so it might be disheartening for the joining player.
How To Play Co-Op Mode Enter The Gungeon?
Enter The Gungeon Co-op mode might be tricky for new players or even for some familiar players. But, you don't have to worry if you have stumbled here. You are just at the right place. We have a detailed step-by-step process tailored for you. So, let's get started.
First, launch Enter The Gungeon.
Connect second Controller to the device you are playing on.
Then from the controller of the host player , select your character and move to the hub of all the characters.
Once you reach next to the purple character also known as The Cultist, Enter Co-Op option will pop up.
Then you have to select Yes.
In this way, you and your friend can control two characters and enjoy the game in co-op mode.