Call of duty: Warzone is a battle royale game in which you battle it out with various opponents to win the game. There is no denying that it is very difficult to battle against the perfect precision of the mouse and keyboard. So, it is very essential to be equipped with the best controller and controller settings to dominate the game.
Controller settings dictate the movement, gunplay, and overall gameplay. So, playing with the best controller that compliments your playing style is very important. 
Best Controller Settings for Warzone
It is very important to understand all the possible options in the setting and then implement the best setting that enhances your gameplay. With the plethora of options and customization available in the game, it is very hard to pin down the best one for you. So, this article helps you to clear your doubts and helps you to find the best controller settings.
General Settings
I believe the Tactical option works best in the game. Call of the duty warzone is a very fast-paced game with a lot of movement. You need to crouch, slide, prone, and sometimes, you need to cancel the slide. So, when you put the setting on Tactical, the game understands your movement and gets accustomed to your playing style.
Considering all the factors, I have listed the most generic and effective general settings for beginners and active players. 
The full general settings should be set this way:
BR Button Layout: Tactical
Stick Layout Preset: Default
Invert Vertical Look: Disabled
Left Stick Min Input Deadzone: 0.20
Right Stick Min Input Deadzone: 0.20
Left Stick Max Input Deadzone: 0.99
Left Stick Max Input Deadzone: 0.99
Horizontal Stick Sensitivity: 5
Vertical Stick Sensitivity: 5
ADS Sensitivity Multiplier (Low Zoom): 1.00
Aim Response Curve Type: Standard
Controller Vibration: Enabled
Weapons Settings
Aim assist is a smart way of assisting players with a better aim and gaming experience. There are four aim-assist modes in COD:
Disabled: In this mode, your pure aiming ability shines on. No aim assisting is found in this mode. 
Focusing: If you are missing the target by a narrow margin, then this aim assisting mode is great for you.
Precision: This mode shines when you are in close proximity to an enemy. Use this setting for aim assist when you are confident or skilled enough in the game.
Standard: Standard aim assist is the most effective and rewarding mode. It balances out all aspects of the aim and provides a smooth gaming experience. 
Among these, Standard is the best one for both beginners and active players.
Set your weapon settings this way to get the best out of your controller:
Aim Assist: Standard
Scale Aim Assist with POV: Disabled
Weapon Mount Shared Input: ADS + Melee
Weapon Mount Movement Exit: Enabled
Aim Down Sight Behavior: Hold
Steady Aim Behavior: Hold
Equipment Behavior: Hold
Use/Reload Behavior: Tap to reload
Depleted Ammo Weapon Switch: Enabled
Armor Plate Behavior: Apply One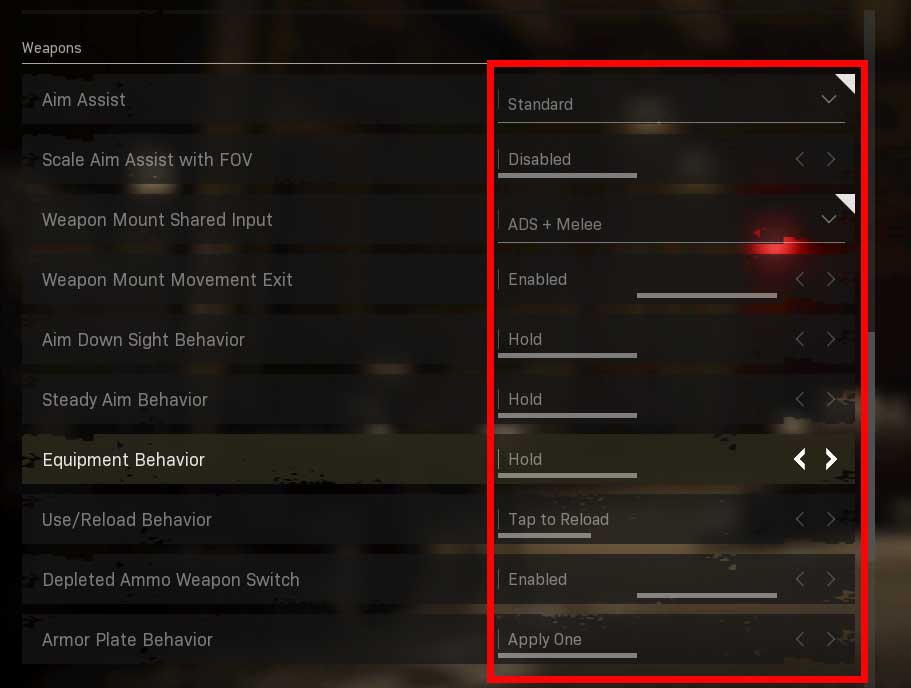 Aim Response Curve Settings
The aim response curve is a bit technical, so you need adequate information to tweak some changes. Aim Response Curve is done to balance the analog stick and response of the game. There are three Aim Response Curves that you can choose from:
Linear Aim Response Curve: If your gaming style is more aggressive and fast, this option will help you play better. This option deletes the initial response time. Basically, it aligns the aim-stick with movement.
Standard Aim Response Curve: In this option, there is a slight delay in action when you press any button on the controller. This option deletes the forced or tough input to make the movement more stable. 
Dynamic Aim Response Curve: This option balances the linear and Standard Aim Response Curve. You will get slightly accelerated movement in this option.
I prefer to set my settings to Standard Aim Response Curve. Here's the remainder of my settings:
Aim Response Curve Type: Standard
Controller Vibration: Enabled
Gas Mask is Toggle Only: Disabled

Movement Settings
Movement is one of the most important factors in any tactical shooter. Your movement should be precise and smooth to have an edge against your opponents. With movement, sliding mechanics is one of the most used mechanics in the game. 
Use these settings to get the best out of your movement:
Slide Behavior: Hold
Auto Move Forward: Disabled
Automatic Sprint: Auto Tactical Sprint
Vehicle Camera Recenter: Enabled
Parachute Auto-Deploy: Disabled
Tactical Sprint: Double-tap