Venturing through the lands of Skyrim with a fellow ally or follower is much more fun than adventuring alone. They fight alongside you in the toughest of battles and even help you carry out all your evil deeds.
In fact, your followers can become your stewards, spouse, skill trainers, or even your personal pack mule. They will follow you to death or dismissal.
There are different types of followers in the game, each having their own set of skills, strength, weakness, and their level caps. Some followers have a low-level cap of 20, whereas others don't have a level cap, and can level up indefinitely along with your player character.
We've gone through all the available followers in the game, analyzed their usefulness and uniqueness, and only included the best ones in the list below.
Faendal
We've put Faendal on our list, not because of his stats or his performance in combat but solely because of his accessibility. He's a Wood Elf who can become your follower at the beginning of your playthrough.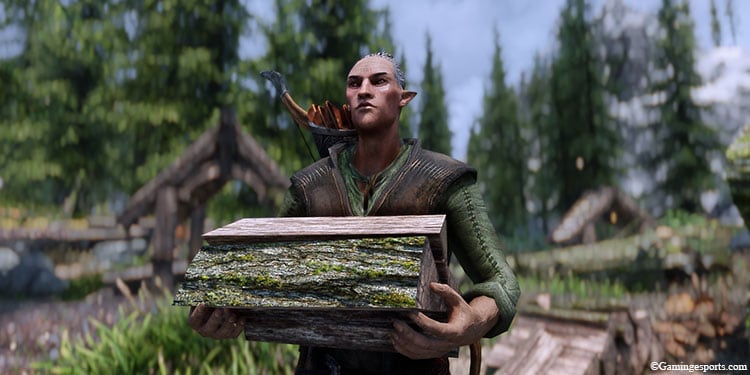 Combat-wise, he favors archery but won't hesitate to switch to daggers or one-handed weapons if the enemies manage to get too close to him.
He's also an Adept-level trainer in Archery, which means you can level up your Archery up to level 50 from him.
During the day, you'll find Faedal working at the Mill in Riverwood. At night, he will be at his home. To make him your follower, you'll have to take his side during the A Lovely Letter quest.
He has a level cap of 30, so he's best suited for the early game or if your character is below level 30.
Jenessa
Like Faendal, Jenessa is also a follower best suited for early to mid-game. She's a Dark Elf mercenary who specializes in stealth combat style.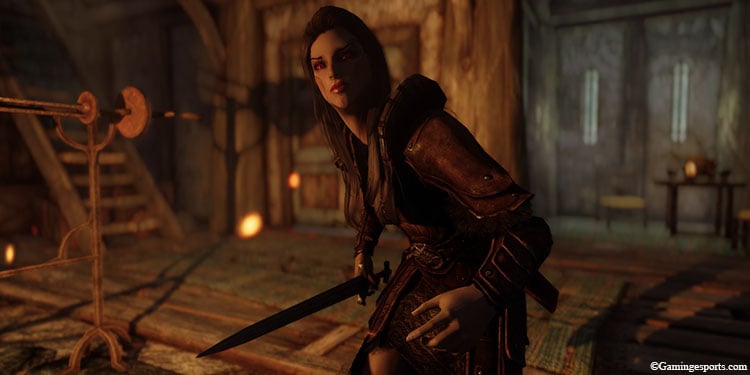 Jenessa favors light armor, one-handed weapons, and the bow. She's also among the few followers who can dual-wield one-handed weapons.
As she's a mercenary, you'll have to hire her for 500 gold coins to make her your follower. You can find her either in the Drunken Hunstman or the Town square at Whiterun.
Although she has a level cap of 40, her stats are much higher than other followers with a similar level cap.
Aela the Huntress
Aela the Huntress is one of the most beloved characters in Skyrim. She's a proud Nord warrior and also a member of the Companions guild.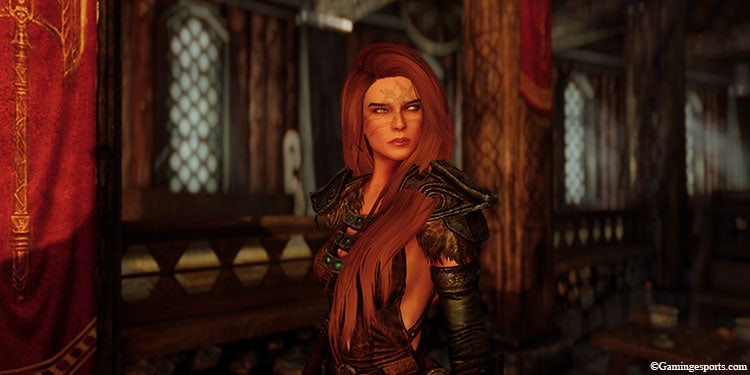 She plays a major role in the Companion storyline and is the only member who can grant you the power of a werewolf even after being cured.
She mostly specializes in archery and stealth. In fact, she's also an Expert level trainer in Archery who can help level up your Archery skills up to level 75 for a moderate fee. If you prefer to level up Archery for free, you must make her your follower.
You can make Aela, the huntress, your follower after completing the entire Companion questline. You can also marry her for added bonuses like Lover's Comfort, free Gold coins, and Home-cooked meals every day.
She has a level cap of 50, making her the perfect companion for mid-game.
Lydia
Lydia, the infamous NPC for blocking off doorways and narrow corridors, does make up for an excellent early-game follower.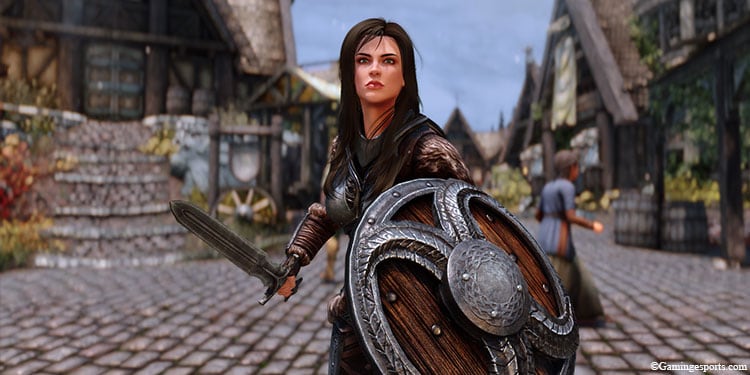 She's got good overall stats across the board and has a warrior-like playstyle. She favors using weapons like swords, bows, and shields rather than using spells. This makes her quite good in close combat and in charging at the enemies.
You can make her your follower after completing the Dragon Rising quest line. After completing the quest, Jarl Balgruuf will promote you to the rank of Thane and will assign Lydia as your housecarl.
Ingjard
If you're looking for a follower who can withstand a group of enemies while face-tanking their attacks and dealing damage back at them, then Ingjard is your best bet. She is a member of the vampire-hunting faction, the Dawnguard.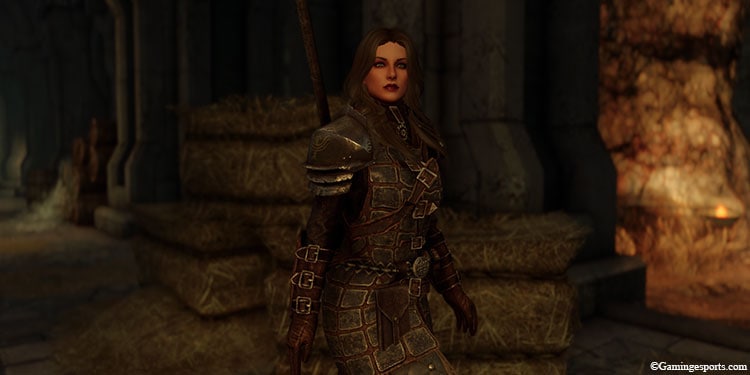 Her combat style mainly focuses on Heavy Armor, Two-Handed weapons, Archery, and Blocking.
She's also among the few followers whose level scales according to the level of your player character. At level 81, her health pool will increase to 983 points, which is among the highest in the game.
You'll find her living at Fort Dawnguard, and you can make her your follower after completing the Prophet questline in the Dawnguard campaign.
J'zargo
On the opposite spectrum of melee-based characters, we have J'zargo. He's an apprentice mage who is also a student at the College of Winterhold. He's also among the two Khajit characters that can be your follower.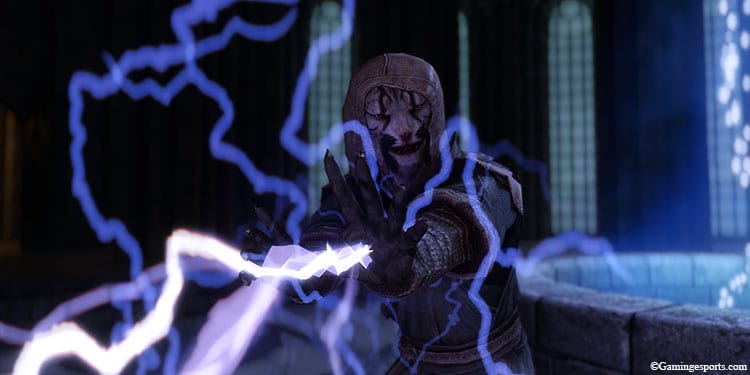 During combat, he specializes mostly in using Destruction spells and Restoration spells.
Furthermore, J'zargo does not have a level cap but instead will level indefinitely like the Dragonborn.
To recruit J'zarog as your ally, you'll have to complete the J'zargo's Experiment quest from him.
Cicero
One of the most interesting followers on our list is Cicero. He's a member of the Dark Brotherhood guild having an interesting personality and questline.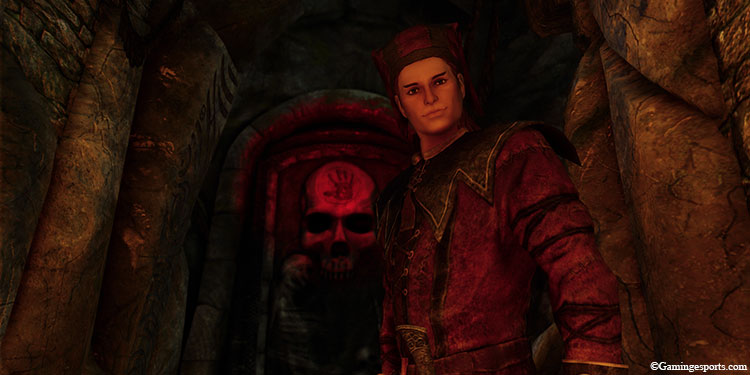 He's the only follower with unique dialogue options and interaction that can come off as rather strange and weird.
Combat-wise, he's an assassin who favors using one-handed weapons, archery, and sneaking.
To recruit Cicero as your follower, you'll first need to join the Dark Brotherhood and progress far into the main storyline. Then, during the Cure for Madness mission, you must spare his life in order to make him available as your follower.
Although he has a level cap of 50, he's an essential NPC before and after sparring his life during the Cure for Madness questline.
Dark Brotherhood Initiates
The Dark Brotherhood Initiates are a couple of assassins who will be your followers after completing the guild's campaign.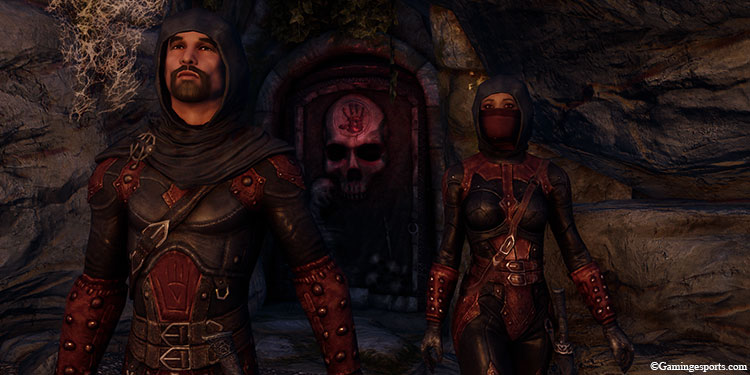 Although they lack any sort of background story and character development, they make up for it with their excellent combat skills. They're equipped with the shrouded armor set and wield the Ebony dagger as their primary weapon.
They can level up to 100 and are also marked as essential. This makes them excellent during the late game, as you won't need to worry about them getting killed.
Teldryn Sero
Teldryn Sero is a Dunmer mercenary who has great stats and combat skills. In combat, he's essentially a jack of all trades who can use spells from multiple schools, such as Conjuration, Restoration, Destruction, or even weapons like swords, maces, and bows.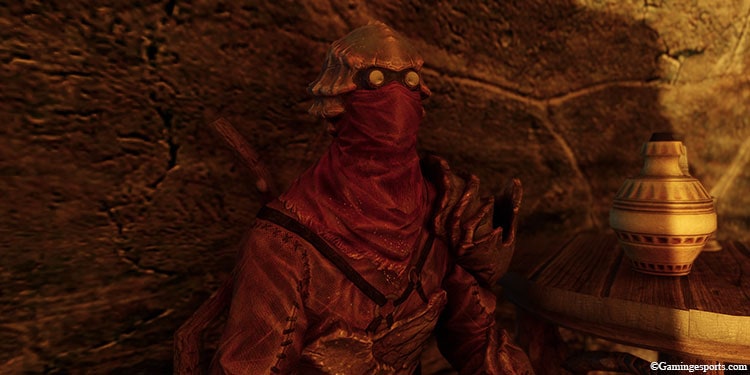 He wears a full set of Chitin armor and wields the Elven sword and dagger. He's also the only follower with the Armsman perk, which makes him very strong with a one-handed weapon.
You can find Teldryn in the Retching Netch in Solstheim. There is no additional questline that you need to complete to make him your follower. You just need to hire him for 500 gold coins to make him your ally.
Freaa
Daughter of the Storn Crag-Stride, Frea is a proud Nord warrior introduced in the Dragonborn DLC. She plays a major role in the main campaign and is also one of the strongest followers in the game.
There are quite a few reasons why she makes for a good follower.
She's marked as an essential NPC, which means she will not die in battle.
She doesn't have a level cap so that she can level up indefinitely.
She's among the few followers that can dual-wield weapons. This allows her to deal more damage to the enemies.
She also has the Dual Flury perk that increases the swing speed of dual-wield weapons.
Frea's playstyle is centered more toward defense and healing. She wears a full set of Nordic Carved Armor which is among the best armor sets in the game.
As for the weapons, she dual-wields the Stalhrim war axe and the Nordic war axe.
She often utilizes defensive Alteration spells like Ebonyflesh, which increases her armor rating, and Restoration spells like Close Wounds and Heal Others, which help restore her health point and her allies as well.
You can find Frea at Skaal village in Solstheim. To make her your follower, you'll have to complete the Dragonborn DLC campaign and also level up your Speech skills up to level 25.
Ralis Sedrys
Right off the bat, Ralis Sedrys is the most powerful and expensive follower in the entire game. He's a Dark Elf, and you can meet him at the Kolbjorn Barrow in Solstheim.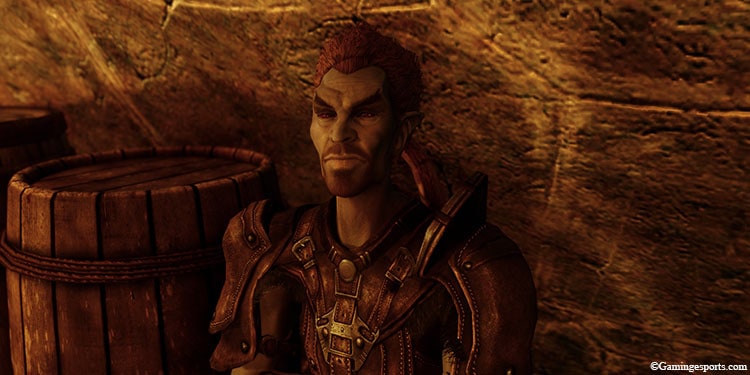 The reason why he's so powerful is that he has two of the strongest perks in the game, i.e., Dual Flurry and Extra Damage. The Dual Flurry increases the swing speed of dual-wielding weapons, whereas the Extra Damage perk doubles the damage output of all the weapons.
To make him your follower, you'll need to complete the Unearthed questline, where you'll essentially be funding his excavation project. The whole project will end up costing you a total of 11,000 gold coins.
After completing the excavation, you'll have access to the Kolbjorn Barrow, where you'll also find the Black Book: Filament and Filigree.
Serana
Serana, the vampire princess, is the fan-favorite character in the Skyrim community. She was introduced in the Dawnguard DLC expansion, where she played a major role in the campaign.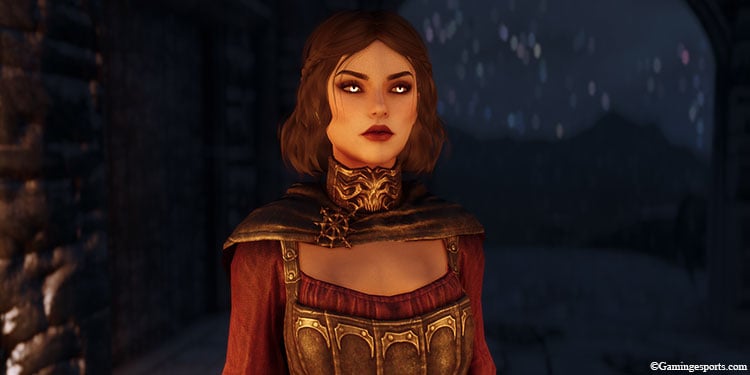 Serana is not like other generic followers. Her character is well-fleshed out with a good storyline, distinctive appearance, great voice acting and dialogue options, and the ability to interact with the world makes her the most unique and interesting NPC in the entire game.
She's also the only follower in the game that can grant you the power of the Vampire Lord.
As for gameplay, she emphasizes heavily on magic. She often uses spells such as the Reanimation spell, Chain Lightning, and Ice Storms.
Her gear isn't very impressive as she wears the Vampire Royal Armor and wields an Elven Dagger.
Since she's a vampire, she is immune to all frost elemental attacks but weak against fire and sunlight. But you don't have to worry about the weakness as
She has the highest health pool among other followers.
She can heal herself using the Vampiric Drain spell.
She is marked as an essential NPC.
Unlike Frea, you dont have to complete the entire campaign in order to recruit her as a follower. She will follow you during the entirety of the Dawnguard campaign and even after completing her storyline.