Whether you're at a party or in a night out with your friends, drinking is an essential part of it. Drinking games can be a great way to know everyone around you and get comfortable with each other. Normally, these drinking games require some accessories to play, but with mobile phones, you can skip this part completely and get straight to playing.
When it comes to drinking games, there are plenty of them in Play Store and App Store. However, to make things easier for you, we've done quite a research and listed out some of the best in this article. 
Best Drinking Games on Your Phone
There are all sorts of drinking games in the Play Store and App Store. From classic 'Never have I ever' and 'Truth or Dare' to modern games like Dirty Potato and Seven, here are all the best drinking games to make your party lit.
Houseparty Kings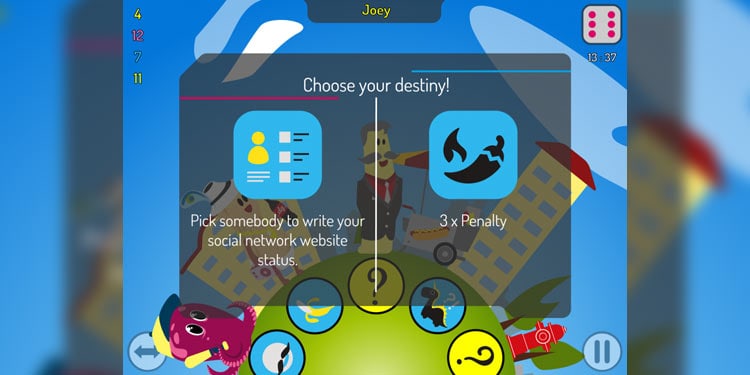 Houseparty Kings is the first drinking game on our list. If things are awkward at your party and nobody is willing to start a conversation, this game can be a perfect icebreaker. This fun little game will light up even the most boring parties and is sure to make your party memorable.
Sadly, this game is only available for iPhones and iPads, but as long as someone in your party has it, there should be no problem. The game has over 220 challenges ranging from simple silly tasks to extremely embarrassing ones. And you can also create your own custom challenges if you're feeling like it.
It is like an improvised version of Truth or Dare, but instead of telling truths or doing dares, participants have to either take a challenge or accept punishment in this game. Before starting the game, each participant has to make an avatar for themselves and will be asked to choose from either a challenge or a punishment. This is where things get interesting.
If a participant can't complete their challenge, then they must accept the corresponding punishment along with the penalty drink. You can get very creative and put all sorts of challenges and punishments at the start of the game.
Heads Up!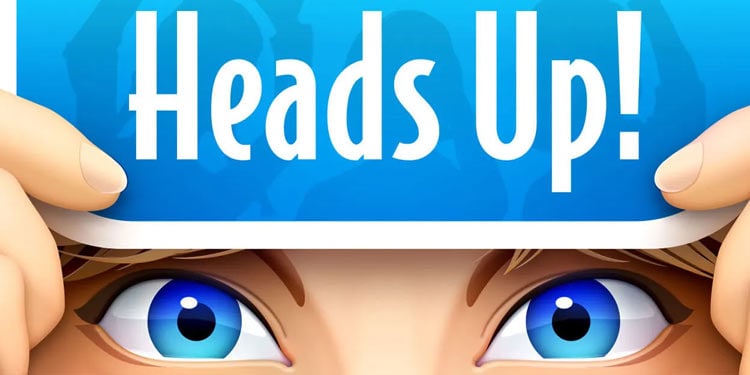 Heads Up! is another popular drinking game for both Android and iOS devices. It is a very fun and challenging game that you can play at any party. The rules are simple and easy to understand, so anyone can play it even if they don't have any prior experience.
It is a turn-based game where each participant will choose a card deck from different categories and put the phone above their head. The categories are all different, ranging from celebrities and movies to more absurd ones like accents or even characters from movies. After you choose a deck, a word will appear on the screen after three seconds which the participant has to guess correctly.
All the other remaining people are allowed to give clues about the answer, and the participant has to answer based on the clues. If the participant is able to guess correctly, they can take a celebratory shot and move on to the next challenge.
Or if they aren't able to guess correctly, they can also be asked to drink as a punishment. No matter what kind of rules you come up with, you're sure to have a memorable party with this game.
Party Roulette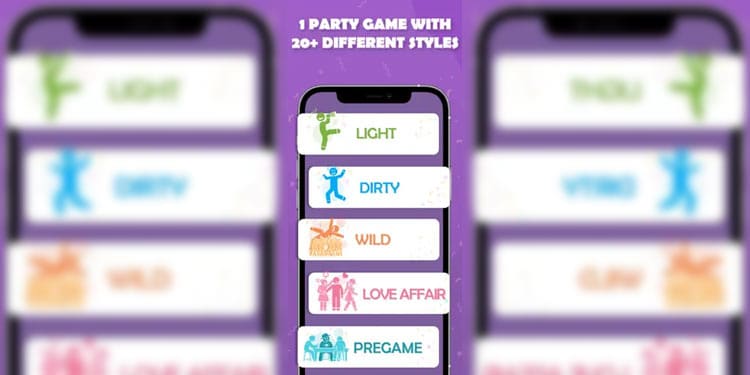 If you're talking about drinking, then you cannot miss this fun and hilarious party game. It has all the stuff you need to get your party rolling. Whether it is totally original rules or some truth-or-dare challenges, this game is sure to give all of your buddies a good time.
To play this game, you need to enter every participant's name at the beginning of the game. Then, you have to choose one genre from the given list and spin the wheel. Whichever person the wheel lands on they have to complete the challenge.
The challenges may include certain tasks or voting, and if the person loses, they have to take drinks as punishment.
The game is sadly only available for iOS devices and has some in-app features that can only be unlocked after purchasing it. However, if you're just looking to have some fun, even the free version is good enough.
Never Have I Ever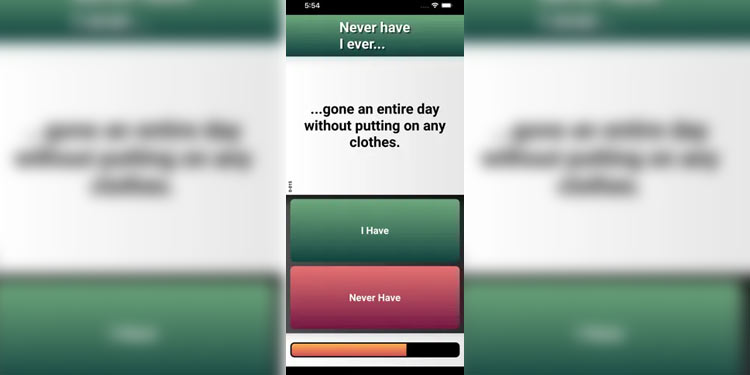 This game is the perfect icebreaker for a boring party. Not only is it extremely fun and hilarious, but it also exposes the true nature of your friends. A social gathering among friends can't be complete without playing this game. It is surprisingly easy to play this game as well.
Needless to say, this game also has different modes to choose from. There are also plenty of questions to answer, and new ones are added frequently. At the start of the game, you put in the name of the participants that are going to participate then start the game. One person then holds the phone and asks a question shown on the screen, and other participants answer it.
The questions start with the "Never I have ever" phrase and then the question itself. The questions can be as simple as Never have I ever cooked food by myself to more absurd or embarrassing ones.
When all the participants have answered the question, the phone gets passed to the next person, who then proceeds to ask the question. You can decide on a penalty drink as a punishment for people who have failed to answer.
Drink or Doom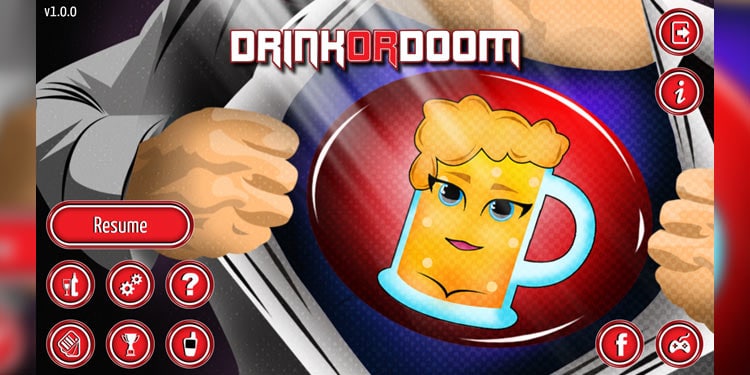 In Drink or Doom, players choose their character from the given options and play the game from their character's perspective. The game itself has interactive comic-style gameplay where players have to perform different tasks at certain stages of the story. Up to 12 players can play this game together at a time.
The tasks can include drinking and some mild violence, and optional nudity. Some of the challenges can be a little overboard as well. You can also add your own custom challenges in the game to make things interesting and surprising. It is an entertaining party game that you can play on both Android and iOS devices.
Picolo: Drinking Game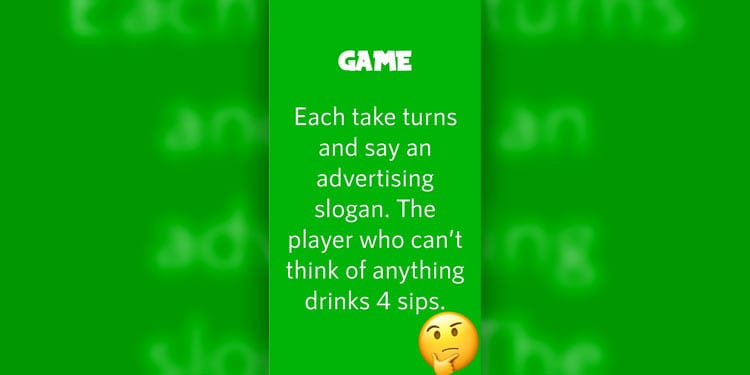 Are you tired of playing Truth or Dare, or Never have I ever games at every party? If so, then Picolo is a new game that offers the same thrill and excitement as them but is also completely different from them. It can be played in groups or one-by-one basis, where the game presents each party with challenges that they must complete.
There are all sorts of challenges in the game, from really simple and basic to dirty and embarrassing ones. But one thing is certain; once you get a challenge, you cannot back away from it. If you fail to complete the challenge, then you must take a drink.
It can be a perfect game if you're at a party full of strangers. Everyone gets to drink when playing this game because there is no one who is willing to do every challenge this game presents.
Seven: Drinking Game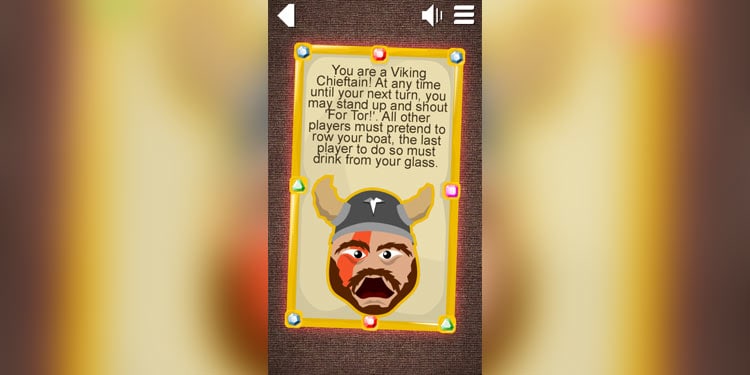 If you are tired of playing simple boring drinking games and are in search of something interesting, Seven can be the perfect alternative. As its description says, this game is for people who love to laugh and drink lots of booze. It has good graphics as well.
You could say this game is a Truth or Dare, but there are only dares and crazy ones at that. It has three different modes to choose from, and each of the modes has different dares.
The most interesting thing about this app is that even the spectators get to drink in it. Everyone gets to drink in this game as long as you're part of the game, making it a perfect opportunity to explore your drinking fantasies.
Dirty Potato: Party Game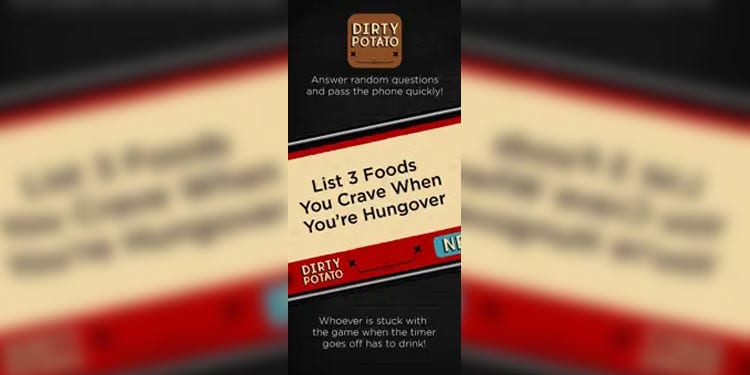 Dirty Potato is another fun game if you're looking to liven up your party. It can be played by both groups or individuals. The most noteworthy thing about this game is how simple it is to play. Even people who have never heard of this game can play it by watching others.
The game will ask each player a question or task them with a challenge that they must complete within the given time frame.
If the person who is currently holding the phone fails to complete the challenge or answer the question, then they have to take the punishment drink. You can also play this game in groups where all the party members can have a drink if you complete the task.
Drink and Tell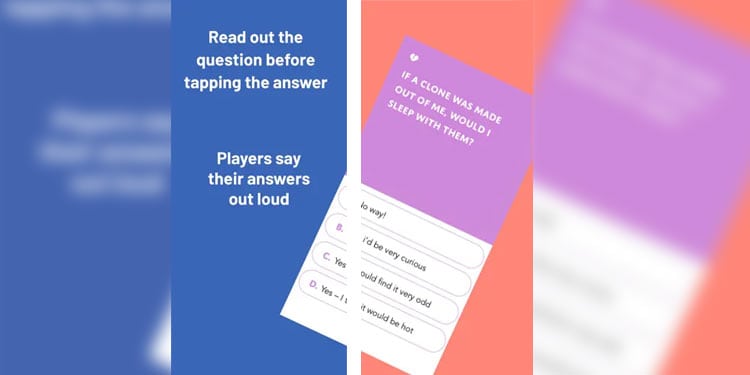 This is another bold yet exciting drinking game that is available on both Android and iOS devices. You can play this game with any number of people, making it a perfect game for large parties and gatherings. All you need is enough alcohol for everyone.
So, how do you play this game? It's very simple, really. All you need to do is choose one from among various categories and read out the question on your screen.
There are multiple-choice answers for each question, and once all the people have guessed their answers, you reveal the correct answer by swiping the screen. Then, the people who have guessed incorrectly get to drink. 
You can take turns in asking the questions, or if you wish, one person can sit out to ask the questions.
Truth or Dare: Party Game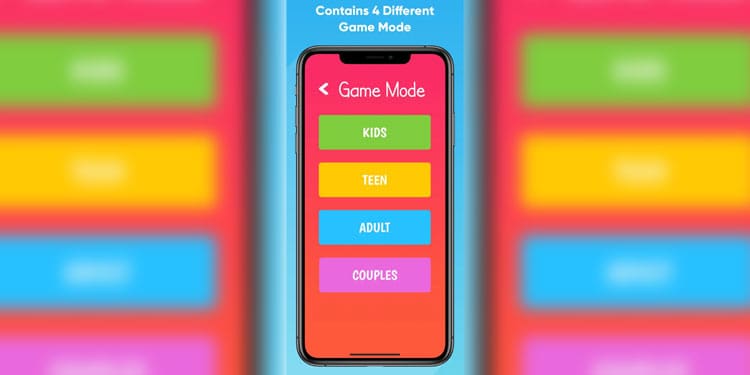 This one is a no-brainer. Everyone who loves gathering or going to parties knows about this game. It is the game that has found its way to millions of parties and has exposed secrets of people that they would never share otherwise. The mobile app is even simpler and better.
All you need is people who are willing to put their secrets on the line or people who are willing to do anything. It has different modes to choose from. Although, if you're planning on drinking, choosing Adult mode might be the best idea. It has its own predefined truths and dares, but if you're feeling creative, you can add some of your own as well.
If a person fails to complete the given task, then they have to drink as a punishment. It is a fun game that never gets old.
iPuke: The Drinking Game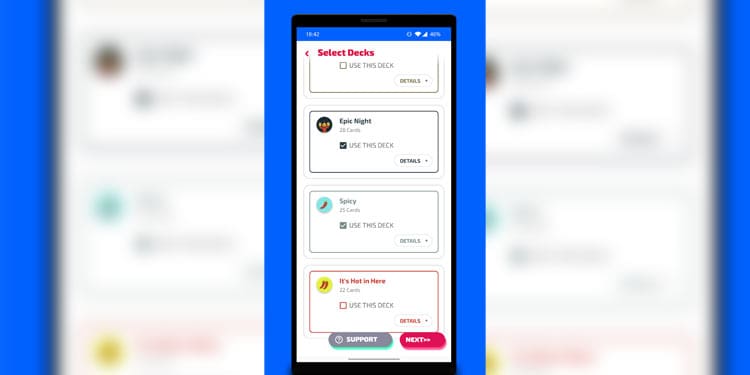 If you love drinking, then there is no better game than iPuke. Think of it as a game that is designed to make people drink. And it is very entertaining as well.
It is just like a game of dares where if you fail to complete your given dare, then you need to drink the shots as punishment. Every player gets to choose from two different options; either complete a dare or take the specified shots. When the player completes one of the two given options, they get a certain amount of points.
The first person to reach 260 points wins the game. It is an interesting game that involves courage as well as the ability to handle drinks.
Circle of Death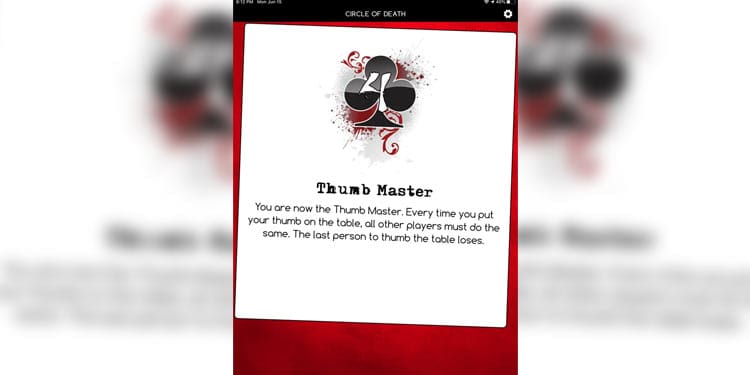 Circle of Death is another interesting app that involves a lot of laughter and drinking. It is usually played among friends who are all as crazy as yourself. It consists of a number of modes you can choose from and each mode has a different set of rules. But the end goal of every mode is the same, i.e., to drink and have fun.
Each mode presents you with a different task to complete, and the person who fails to complete their task has to drink as a punishment. You can play this game until one of your friends (or all of them) pass out and the person to last till the end is the winner.
Drinkie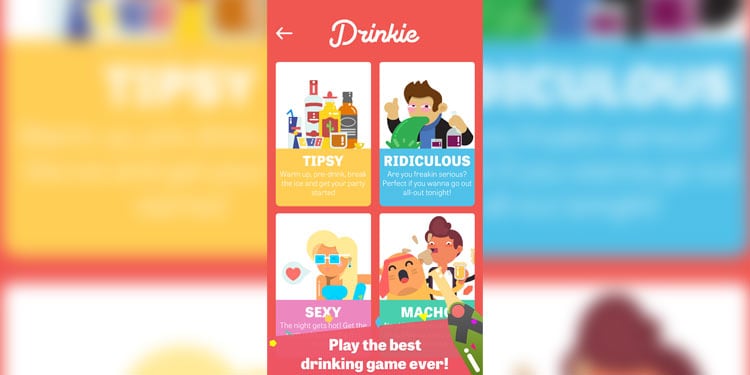 If you are searching for a drinking game that is perfect for every situation, then Drinkie is a game that you just need to try. It is a simple yet extremely entertaining game. This game has modes that are perfect for every situation.
Do you enjoy drinking but don't like heavy drinking? Tipsy is the perfect mode for you. Do you want to know more about the ladies at your party? Sexy is just the mode you've been searching for.
Do you want to spend some quality time with your buddies? The Macho mode has your cover. Or do you just want to spend a night with your ladies? Girly is just the right mode for you.
It has all the modes for every kind of party. It also has hundreds of tasks, so you'll never run out of tasks even if you play all night long.