Astel NaturalBorn of the Void and his tougher lookalike Astel Stars of Darkness are massive insectoid endgame bosses you can fight in Elden Ring.
Astel Naturalborn of the Void is a mandatory boss if you are trying to get Ranni's Age of Stars ending. However, Astel – Stars of Darkness variant, is a final boss of an optional dungeon.
Both the variants look the exact same and also have the same move sets. Even the arena we fight them looks similar. The only difference is in their stats and that the Stars of Darkness has one additional grab attack. The Stars of Darkness variant also has more HP, defense, and resistance stats than the NaturalBorn variant.
Note: When this article says Astel, it means both variants. The full name will be used to indicate something specific about a single variant.
Astel Bossfight Information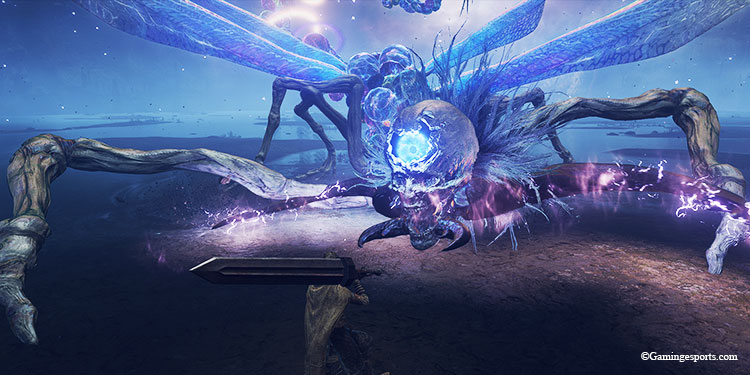 Astel Naturalborn of the Void: It has 11170 HP and 114 def stat.
Astel Stars of Darkness: It has 18671 HP and 120 def stat.
Astel Naturalborn of Void: It drops 80000 Runes and the Remembrance of the Naturalborn when defeated.
Astel Stars of Darkness: It drops 120000 Runes and a sorcery called Meteorite of Astel upon defeat.
Astel Naturalborn of the Void: It is located at the bottom of the Lake of Rot underground area.
Astel Stars of Darkness: It is located at the end of Yelough Anix Tunnel, a dungeon.
None of Astel's attacks can be parried.
Astel has a stance health of 120; once that is depleted, you can perform a critical hit on it.
Astel deals Standard physical damage and Magic damage.
Astel is strong against all elemental damage and has low resistance to all physical damage.
Astel is immune to Frostbite and has a high resistance to Poison, Scarlet Rot, and Bleed.
Astel is a Gravity-type enemy and is weak to Gravity-type weapons like Starscourge Greatsword, Meteoric Ore Blade, etc.
Astel has a weak spot which is on its head.
Multiplayer and Summons: You can summon multiplayer allies to fight against this boss. Spirit Summons can be called upon to fight this boss. There are no NPCs that can be summoned for this fight.
Movesets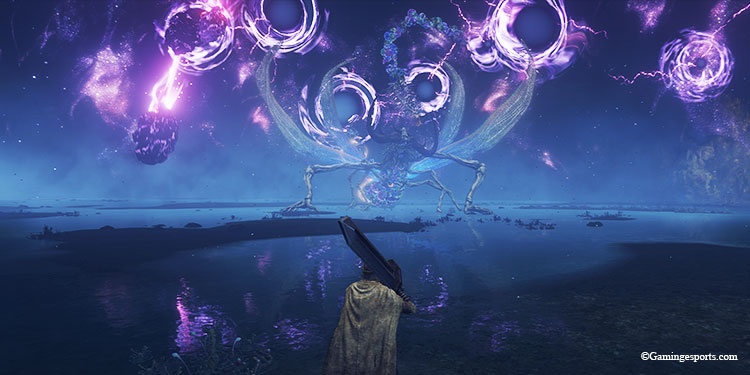 This boss doesn't have two well-defined phases, but it will add a few new lethal moves once it has less than half HP.
Cosmic Beam: As soon as you enter the arena, Astel will welcome you with a fast damaging beam that is fired at you.
Mandible Bite: It uses the mandibles on its skull face to take a bite out of you.
Mega Mandible Bite: Astel makes its mandibles glow before biting you and dealing massive damage.
Tail Stinger Stab: Astel uses the pointy end of the tail to stab at you swiftly.
Tail Whip: It uses the tail like a whip to damage you.
Manipulate Gravity: Changes the Gravity around it for a while, lifting up the player and then slamming us back to the ground.
Waves of Darkness: Summons three spheres that create three damaging waves. Each successive wave has a larger radius.
Massive Waves of Darkness: Flies up and summons six spheres and slams them on the ground. This attack creates four waves. Each successive wave has a larger radius.
Nebulous Cloud: Swipes its arm to create a cloud of stardust in a large arc that does damage and is hard to avoid.
Teleportation: Suddenly teleports away from the battlefield to either appear above the player or at a faraway distance. You will be damaged if you get caught during the teleportation.
Meteorites of Astel: Summons large Meteors from portals to rain upon the battlefield. Teleports away and uses this attack once the HP is around 50%.
Skydive Grab: After teleporting, it appears above you and dives to grab you with its mandibles. This attack deals massive damage if you get caught.
Astel's Illusory Clone Attacks: When its HP falls to around 50%, it teleports away and summons its clones that try to grab at you from the sides. (Only for Astel Stars of Darkness)
Tips and Tricks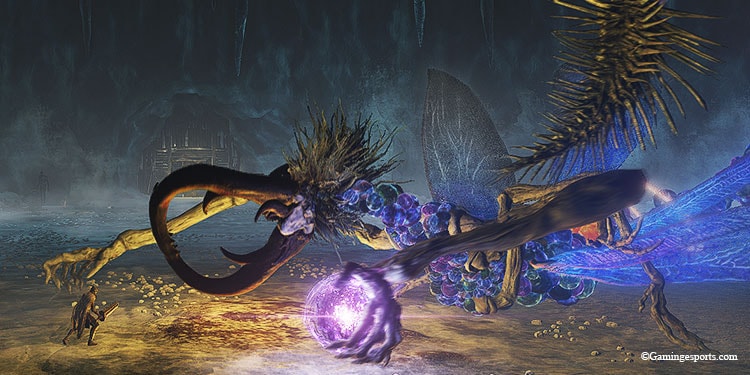 Watch out for the beam fired at you as soon as you enter the arena. You can roll forwards to avoid this beam.
Buff before you start the fight, even before entering the arena or after you dodge the laser beam. Once you dodge the first beam, you can start summoning your Spirit Ashes or buffing yourself.
Aim for the head. There are Spirit Ashes that do a good job of performing headshots. Latenna the Albinauric Ashes and Ancestral Followers Ashes are two very good choices. They will usually aim their arrows toward the head of Astel.
Distract and Attack. This is the usual strategy, distract the boss using a tanky Spirit Ash like Mimic Tear, Omenkiller Rollo, Crystalian, etc., and pummel it to death easily.
Be careful of deceptively long-ranged attacks. Most of Astel's attacks will hit you when you are far. Especially be careful of the Tail Stinger Attacks and Tail Whip attacks. You can be struck even when you are far from these attacks.
Rock Sling onto the head. Use the Rock Sling ability to strike down Astel by hitting the soft spot on the head. Astel usually faces you with its head, so Rock Sling onto it can be a good option.
Comet Azur builds always work wonders. Dodge the first beam and cast Terra Magica on the ground, then use the Physick combo with Cerulean Hidden Tear + Magic Shrouding Cracked Tear. Then cast the Comet Azur to destroy the boss.
If you can keep Astel in one spot for a while, Night Maiden's Mist is a good choice to damage it passively while you use other spells to damage it additionally.
Shard Spiral is another good option against large bosses as it cuts through dealing multiple instances of damage.
Incantations-wise, Bestial Claw, Pest Threads, and Ancient Dragon's Lightning, even though Astel is resistant to elements, are all good options.
When Astel Teleports, and if you don't see it, check above you as it might be preparing to smother you to death with its grab guillotine attack.
The Stars of Darkness variant will use a shadow clone version of the grab attack. Instead of grabbing you itself, it will summon and send its clones at you from the sides. To avoid this, stand still in the middle of the arena.
The best thing you can do with Melee attacks is to Jump attack it's head. Keep moving around, though, as if you stay under Astel for too long, prepare to get launched into the sky as Astel can reverse the gravity.
For Ranged attacks, status effects are also a good choice. Use poison or rot arrows to deal more damage over time. Enchanted Shot Ash of War and Arrow's Reach Talisman will help with your ranged attacks.
Watch the video below to see some of the above-mentioned strategies applied for the bossfight against Astel.