Godskin Apostles are white-robed, tall, lanky-looking boss enemies you encounter multiple times in Elden Ring. With the exception of the Godskin Duo boss—which has a Godskin Apostle accompanied by a Godskin Noble, every other Godskin Apostle boss is optional.
These enemies use a twin blade and invoke black flame Incantations if you challenge them to a fight.
In this article, I'm going to talk about the solitary Godskin Apostle variant, which can be met at two locations, atop Dominula Windmill Village and in the basement of the Divine Tower of Caelid.
As these bosses can pose a considerable threat and can be hard to deal with if you meet them at an early level, I have everything you need in this guide.
Godskin Apostle—Dominula Windmill Village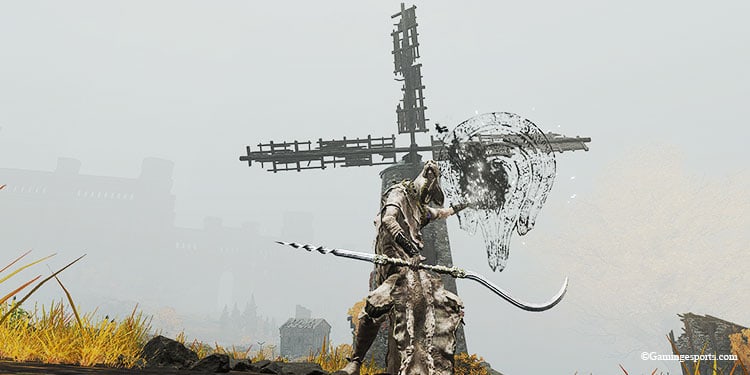 This is the weakest Godskin Apostle in the game and can be beaten in a few attempts if you aren't visiting the area at super low levels. He is also a field boss of the Windmill Village area. His stats are as follows.
This boss has 7528 HP in total and a defense stat of 113.
Upon death, this boss with drop 14000 Runes, Scouring Black Flame (Incantation), and a twin-blade called Godskin Peeler.
You can summon NPC Millicent to assist you during this boss fight after you have given her Valkyrie's Prosthesis. Her summon sign can be found before the boss fight arena along the narrow path.
You can use Spirit Summons during the battle.
You can summon multiplayer allies during this battle for assistance.
You can fight this boss horseback on Torrent.
The boss inflicts physical damage with the twin-blade attacks and fire damage with black flame attacks.
The boss is weak to physical damage, especially slash damage. The boss is highly susceptible to sleep and bleeding status effects.
The boss has 80 stance health which can be broken by attacking him. You can perform a critical hit once the boss is stance broken.
The melee attacks of this boss can be parried. You have to parry twice to break his posture and perform a critical hit.
The boss has two phases—the second phase triggers after you reduce his health to 60% or below.
Godskin Apostle's Movesets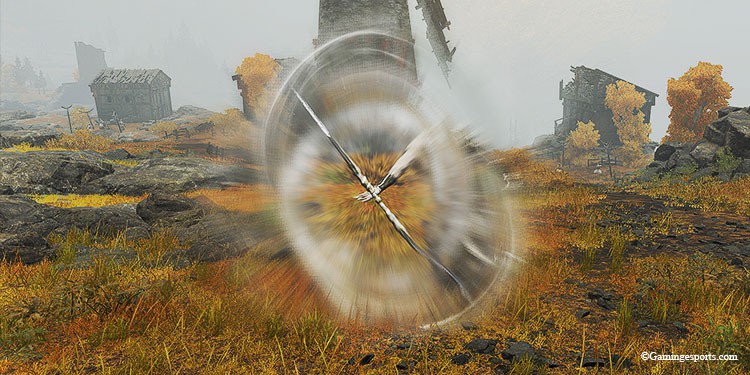 PHASE 1
He uses a twin blade with a sickle in one end and a twisted blade in another end. He also uses black flame incantations. He can be very erratic with his blade attacks, something stopping after one attack and sometimes relentlessly swinging five-six times.
Twin Blade Attacks
Spinning Twin Blades: The apostle will use his twin blade and spin it rapidly in front of him. Getting caught will lead you to take multiple instances of damage.
Blade Combo: A two to five-hit combo where he uses the following moves without giving the players much space to do anything but dodge.
Blade Stab and Screw: Two-hit combo. Thursts the blade forward and does a gut-wrenching screw motion before pulling the blade back.
Blade Stab and Cleave: Two-hit combo. Begins with a stab from the pointy end of the twin blade followed by a slicing horizontal cleave.
Leaping Blade Chop: A powerful horizontal chop with the twin blade performed while leaping up in the air and slamming down on the ground.
360 Slicer: Spins at a 360-degree angle, slicing horizontally around him. He can quickly reposition himself after the attack and Can follow up with a black fireball after this maneuver.
Black Flame Attacks
Black Fire Ball: If you are at a certain distance from a boss or are about to use a flask to heal up, the apostle is most likely to throw the Black Fireball at your spot. This can be easily dodged unless you are caught in the animation, which can happen often.
PHASE 2
The second phase activates once he drops below 60% health, and usually, it doesn't get activated right away. Sometimes he will take a bit of time before going into phase 2. The activation is signaled by him floating up in the air and creating a blast of black flame around him that will damage you if you get caught.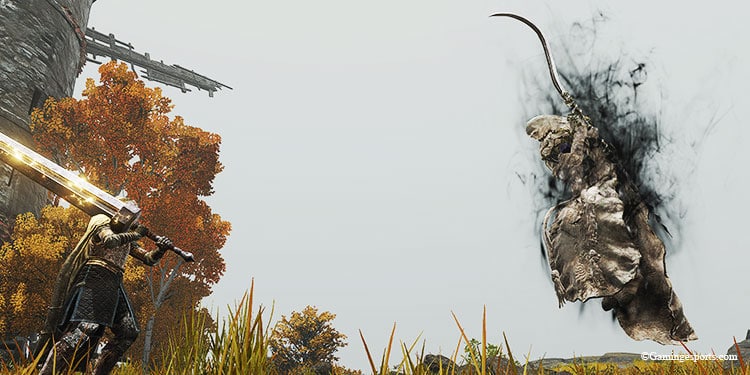 During the second phase, his upper half can fling out from his lower body as his torso becomes long and elastic. In addition to using all his previous attacks, he will elongate his body to modify most of his attacks.
Twin Blade Attacks
Chasing Spinning Twin Blades: His elongated upper body chases you while spinning the twin blade like the blades of a helicopter.
Chasing Stab and Slicing Follow up: His elongated upper body chases you and stabs at your location, plunging the blade into the ground, then his lower body flings itself at the location. This is then followed up by a spinning slice with the blade.
Blade and Flame
Black Flame Tornado Explosion: Spins the twin blade around while whipping up a tornado of black flames. The radius of the flames keeps increasing till he slams down the blade on the ground, causing an explosion.
Black Flame Blade 360 Spin Combo: Elongates his body while enveloping his blade in black flame and then performing two spinning degree horizontal slices.
Tips and Tricks to Defeat Godskin Apostle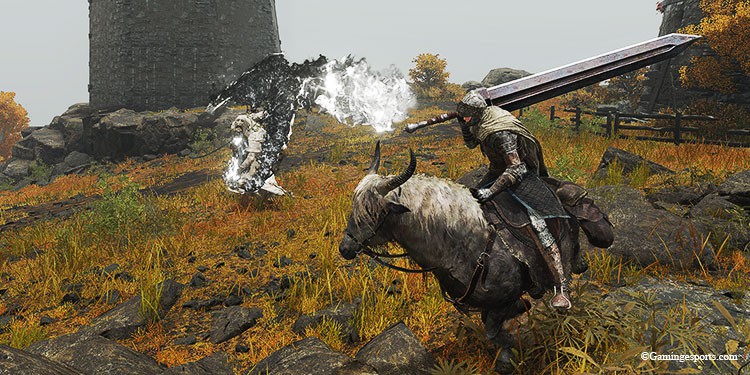 His moves are easily readable, especially in the first phase, so dodge and attack him as soon as you get an opening. But we advise you not to stay close to him, and not too far.
Maintain a mid-distance. This way, his more difficult-to-dodge sweeping attacks can be avoided, and you only have to dodge the more telegraphed attacks, after which you can get the perfect opening to attack. 
Make sure to go far away from him before drinking your flask as his AI will spam fire attack at you as soon as you commence to drink your flask. The further you are, the more distance the projectile has to travel to reach you making it a lot easier to dodge or run away from.
If you are closer to him, dodge into him as soon as he throws the fireball to get in a quick hit. 
When he spins the blades like a helicopter towards you, dodge into him and go behind him if possible, this will let you even land hits while he keeps spinning the weapon. If you can't seem to do that, keep running away as he follows you while spinning the weapon, as getting caught can be devastating. 
During the second phase helicopter spin attack, directing your dodge toward him is always better than running away, as he chases you more quickly with his elongated torso. 
If the fight is overwhelming you, then Spirit Summons can always be of help. Mimic Tear, Lhutel the Headless, etc., can work wonders against him. Even Crystalian is a good choice, as he will take all the aggro away from you. 
During the second phase, he elongates his torso to attack you with his upper body and, in the process, leaves his lower body vulnerable. If possible, dodge into him during the chasing helicopter attack and the chasing black flame two-hit combo, then attack his lower body during that time. 
He is vulnerable to sleep and bleeds, so using sleep-inducing weapons like sleep pots or sleep-inducing arrows is a good idea. Although beware, if he senses you are using a projectile, his AI will try to dodge, so try to catch him in between attack animations to use your sleep pots or use them while you are using your spirit summons. Once he is asleep, shred him till he bleeds. 
He can be stance broken easily, so use attacks that can easily do stance damage. Breaking his stance will enable you to use critical hits. 
If you use magic, dont use one-hit spells, as he can dodge them. Try to use multi-hit spells. These not only work better but will also deplete his low stance health quickly, causing him to stagger. Once staggered, you can use your powerful one-hit spells if you want without him dodging them. 
If you want to use any buffs, use them before you initiate the battle.
Godskin Apostle—Basement of Divine Tower of Caelid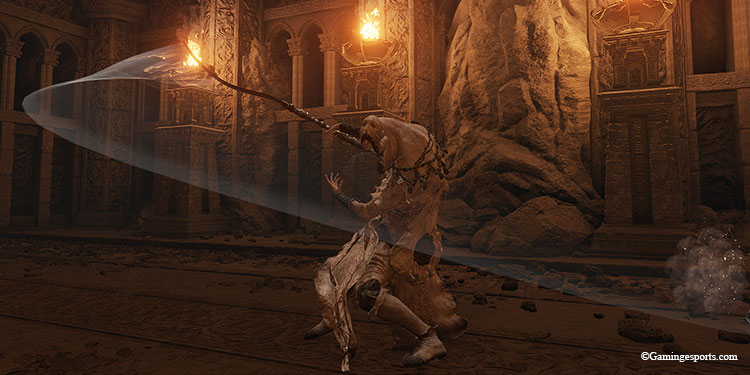 This is a stronger version of the two solitary Godskin Apostles and is the dungeon of the Divine Tower of Caelid. He isn't much different from his counterpart. Everything different about him, his stats, and facts will be mentioned below.
This boss has 13596 HP in total and a defense stat of 120.
Upon death, this boss with drop 94000 Runes and an armor set he wears called Godskin Apostle Set
No NPCs can be summoned during this fight, but you can summon multiplayer allies and spirit summons.
Every other of his stats and facts are the same as the previous variant of Godskin Apostle.
He cannot be fought horseback on Torrent as you will be inside a dungeon, unlike the previous Godskin Apostle on Windmill Village.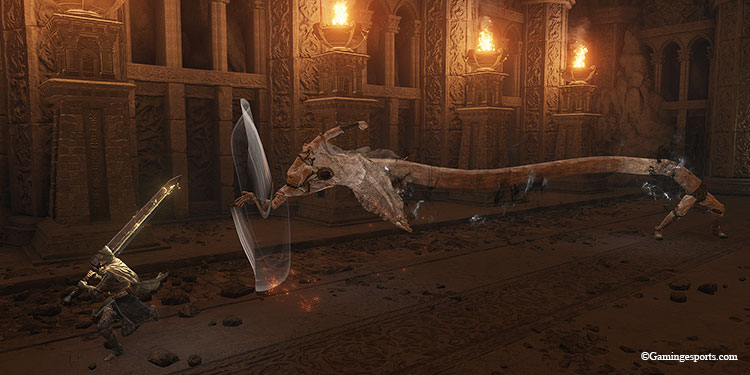 The move set of this Godskin Apostle and the tips and tricks to beat him is the same as the previous Apostle. Keep in mind he is twice as strong as the previous one, so be prepared similarly.
I'm going to wrap up this article with a detailed video guide.