Fire Giant, just as the name says, uses fire and is humongous. While he may be slow and lumbering, if he hits you, he will most probably kill you.
He is as tough as any bosses get and is among the bosses with the most HP in Elden Ring. Despite his size, he will quickly roll around the battlefield, and if that isn't enough to squash you, he will smash you with the huge lid he carries.
If you think that is all, wait till Phase 2 to see how extreme this boss can get. Although there are other bosses that are even more difficult, many players have disliked this boss fight due to the heavy-hitting one-shot attacks and the issue with the camera positioning.
Defeating this boss is crucial in order to complete the story of Elden Ring. So, let's learn all the facts and strategies to finish off this boss.
Fire Giant—Boss Information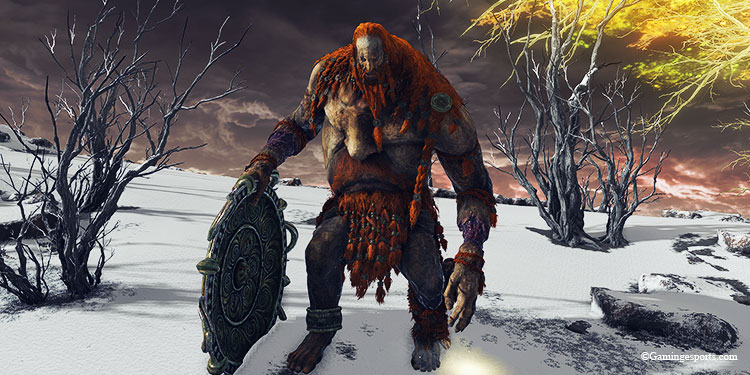 This massive boss has 42363 HP and a defense stat of 118.
He drops the Remembrance of the Fire Giant and 180000 Runes upon defeat.
He has a stance health of 120, and during Phase 2, you can hit him with a critical attack when his stance is broken. He cannot be stance broken in Phase 1.
None of his attacks can be parried.
He has two phases, and the phase changes once you take Giant below 47% health.

During Phase 1, his weak spot is on his injured left leg (it is bandaged by some hair).
During Phase 2, his weak spot is on his left forearm and the huge eye in his chest.

He also has another transition, which occurs if you attack and destroy the hair that is bandaging his left leg, exposing his weakness during phase 1. He will start using some new attacks once his weakness is exposed.
His attacks inflict physical (Standard and Strike) damage and fire damage.
He is highly resistant to Fire and Holy damage. He is also highly resistant to the Frostbite status effect.
He has no resistance to Magic and Lightning damage. He is weak to slash-type physical damage and has no resistance against other types of physical damage.
You can inflict the giant with poison, scarlet rot, bleed and sleep even though he has substantial resistance to these status effects.
Multiplayer and Summons: You can summon multiplayer allies for this boss fight.

You can call on your Spirit Summons to assist you during this boss fight.
You can call on NPC Iron First Alexander to help you during this boss fight if he is still alive.

You can fight this boss horseback on Torrent.
Fire Giant's Moveset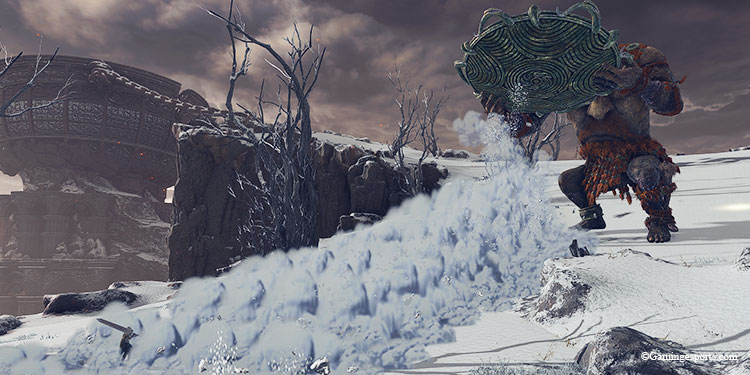 PHASE 1
The giant will stand on its two feet and hold a giant metallic lid during this phase.
He will have a bracelet on his right leg and hair wrapping around his left leg. You can attack this hair and break it to expose the weakness in that injured left leg.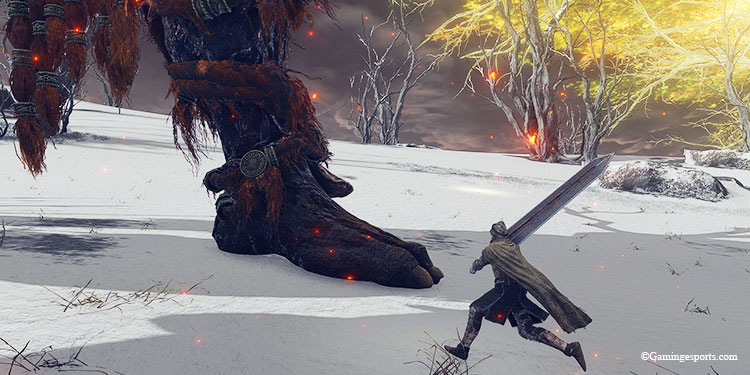 Snowy Wave: Uses his lid to whip up a wave of avalanche towards you. (Loses this attack in phase 2)
Giant Smash: The giant jumps up in the air and uses his lid to smash at you. (Loses this attack in phase 2)
Giant Stomp: Fire Giant raises his giant feet and stomps at your location. (Loses this attack in phase 2)
Lid Smash: He uses the metallic lid to smash at you. (Loses this attack in phase 2)
Rolling Giant: The giant proceeds to lower the lid on the ground and rolls away from you. Getting in his way will damage you. (Loses this attack in phase 2)
Giantsflame Take Thee (Only uses this move once you break the hair bandage on his leg and expose his weakness): Throws a large quick fireball at you that explodes on contact.
Flame of the Fell God (Only uses this move once you break the hair bandage on his leg and expose his weakness): Creates a slow-moving fireball that chases you. Once it gets close to you, it will explode and burn the vicinity.
Burn O Flame: Burns his hands and then smashes them on the ground raising pillars of fire.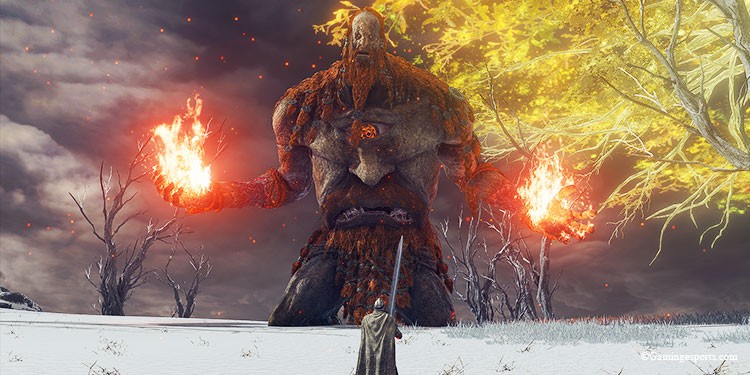 PHASE 2
He will tear out his leg and open the eye of the Fell god on his chest and the mouth on his stomach. He will be on his knees and will usually stay stationary in one place and use AOE attacks. But he can still roll around on his back if he needs to move to another location.
Also, in Phase 2, he will lose some of his Phase 1 moves, but then he will modify some of his existing moves, making them more powerful. He will also gain some additional moves.
Flame Fall Upon Them: Fire Giant opens the mouth on his belly and shoots out a bunch of burning rocks all over the battlefield.
Fell God's Flames: The boss breathes fire from the mouth on his belly to burn you.
Rolling Giant: Will roll around on his back rather than his lid during the second phase.
Hand Swipe: The giant uses his hands to swipe and squash at you.
Upgraded Giantsflame Take Thee: He throws two fireballs instead of one.
Upgraded Flame of the Fell God: He creates two chasing balls of fire.
Tips and Tricks to Beat the Fire Giant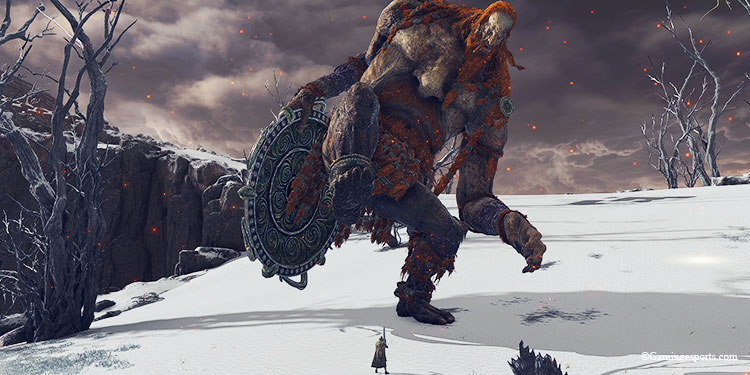 This is a huge boss, and the battlefield you fight him on is also massive. In case you need to gain distance away from him or pursue him, then try to use Torrent. But as soon as you get a bit close, get off Torrent, as you will need to roll and get the invincibility frames in order to survive his attacks.
Do not lock on when retreating. Only lock on before you attack. This is a big enemy, so if you lock onto one part of his body, his other parts won't be visible, making it almost impossible to see what attack he is going to throw at you.
Know where to attack.

During Phase 1: Attack his left leg and expose his weakness.
During Phase 2: Even though his left arm is his weakness, stay behind him and attack his stumpy legs even if you do less damage, as most of his attacks are directed forwards in this phase; staying behind him is much safer.

Be wary of the slow-moving fireball. This is one of his most annoying attacks. You might forget it is chasing you in the heat of combat to all of a sudden have it explode behind you and cover everything around you in flames.
To avoid this, take care of these fireballs right away, go near them and trigger their explosion, and quickly run away, and then you can attack the giant in relative safety.
Stay under him and attack his legs in Phase 1. If he raises his leg, then get away. If he rolls away from you, get back on Torrent and chase him. But be careful; he will throw quick fireballs at you that hit a large area. So if you are chasing him, do so as you strafe sideways, or get off the horse and roll forwards if he throws fireballs at you.
Summons: Take advantage of the Spirit Summons or NPC Iron Fist Alexander Summon if you are having a hard time with this boss.
Black Knife Tiche is very good against him in Phase 2, but in Phase 1, she cannot decrease his health according to his max HP.
Your Mimic Tear can also be invaluable. If you are using a bleed build, you and Mimic combined should be able to shred the giant much quicker.
This battle is easier for sorcerers but dont stay in front of him. The snow avalanche attack is very hard to avoid. Keep trying to get behind him in the first phase as you attack his weak left foot.
The second phase is a bit easier as long as you can stay behind this boss.
Sorcery like Shard Spiral can be very effective against large bosses like this as it keeps damaging the boss like a drill as it travels through its path.
For faith build, incantation like Ekzykes's Decay and Rotten Breath is quite useful as you can use the Rot to take him down. Also, you can use Pest Threads, which is very effective against large bosses like this.
Below we have an awesome video that will help you grasp this boss fight better.