Strength with faith is the best build combination when you want to stagger enemies and perform explosive AOE damage. While Strength deals raw damage and builds as a tank, Faith uses incantation spells for crowd controlling and deals damage to packs of enemies. 
The amalgamation of both attributes can result in death to both small and giant foes. Below are the best Strength and Faith builds that we believe can help you achieve more but you can tweak or replace them according to your playstyle as it is a subjective list.
Without much further ado, Let's start.
Stat Allocation for Strength and Faith Build
Spending your Runes only on Strength and Faith does no benefit because every attribute works together to make a great build. Work your way to soft-level caps and the required level for weapons and you are good to go.
In case you need the exact number then here is the list with all attributes and their consecutive attribute points.
| | |
| --- | --- |
| Vigor | 54 |
| Mind | 25 |
| Endurance | 45 |
| Strength | 35 |
| Dexterity | 15 |
| Intelligence | 10 |
| Faith | 38 |
| Arcane | 9 |
You can always re-spec your attribute points with the help of Rennala, the Queen of Full Moon after defeating her. Make sure to have Larval Tear to Rebirth your points. 
Best Weapons For Strength and Faith Build
Clawmark Seal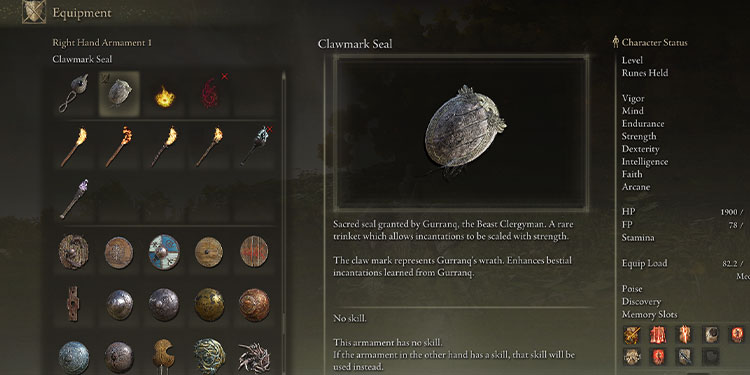 Clawmark seal ranks the highest in Faith scaling and also has scaling in strength. You will receive this sacred seal after giving Gurranq, Beast Clergyman the first Deathroot. You can upgrade the Clawmark seal by using Smithing Stones. 
Clawmark Seal can be wielded early as it requires four Strength points and then Faith points. If you want to focus just on Faith build then Erdtree Seal is the one for you. Make sure you have Faith up to level forty to use the Erdtree seal.
Blasphemous Blade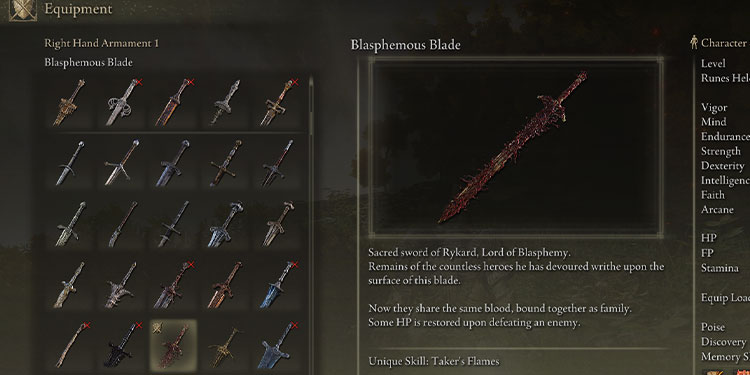 The most badass-looking Greatsword in Elden ring is only obtained by defeating Rykard, Lord of Blasphemy at Volcano Manor.
You will get the Remembrance of the Blasphemous after defeating him and you can go to Enia at roundtable hold to retrieve the Blasphemous Blade with it.
Below are the attributes of the Blasphemous Blade. 
The weapon scales up with Strength and Faith.
The weapon has an ingrained weapon skill called Taker's Flames and cannot be replaced with other Ashes of War.
Taker's Flames Cost thirty FP and heal ten percent of total HP and hundred fifty HP flat on hit.
Taker's Flames also heals Mimic Tears Ashes when held by the Spirit Ashes.
Cannot be infused with Incantations.
You need Somber Smithing Stones to upgrade Blasphemous Blade.
Best Incantation for Strength and Faith Build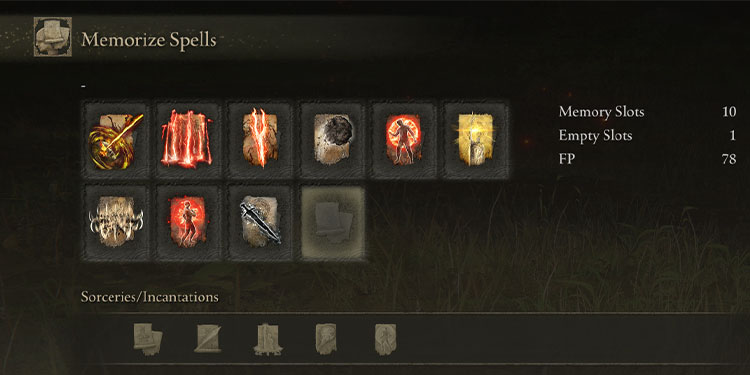 We can have a total of nine memory slots but to efficiently use the Focus Points(FP) these enchantments are all we need for Faith build. You can also use Flame, Cleanse Me Incantation to cure poison and rot, depending on where you are. 
Ancient Dragons' Lightning Spear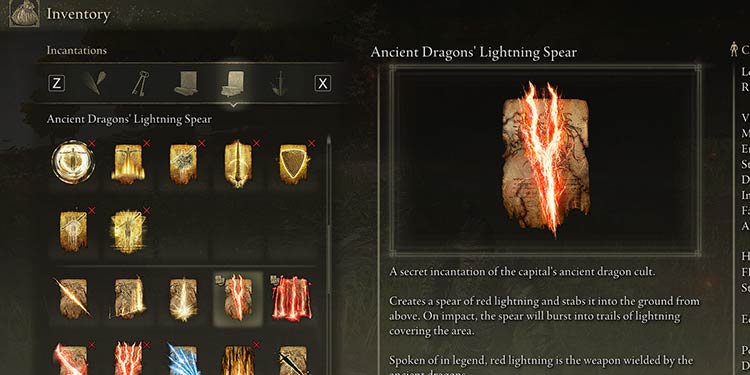 The Dragon Cult Incantation summons two red lightning spears and throws them on the ground or on enemies to do AOE damage. You can buy this spell from Miriel, Pastor of Vows after giving the Ancient Dragon Prayerbook.
It Costs eighty-five hundred Runes to purchase. You can find this book close to Crumbling Beast Grave Depths Site of Grace at Crumbling Farum Azula. 
Below are the characteristics of Ancient Dragons' Lightning Spear.
Costs thirty-one stamina and twenty-five FP.
Deals Lightning damage.
Requires thirty-two faith to use this spell.
Boost your poise during the cast.
Ancient Dragons' Lightning Strike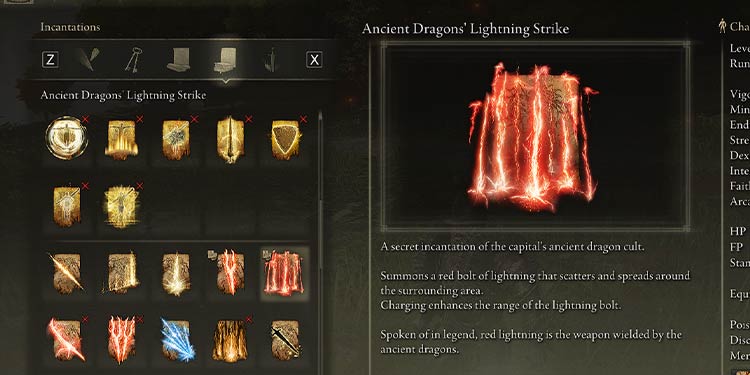 The Dragon Cult Incantation is used for controlling the crowd of enemies as it does Area of effect damage.
Just like the Ancient Dragons' Lightning Spear, you can purchase this spell from Miriel, Pastor of Vows after giving the Ancient Dragon Prayerbook. The spell costs ten thousand Runes. 
Deals Lightning damage.
Requires twenty-six Faith to use this spell.
Can be charged to boost the attack and area of effect.
Cost thirty-one Stamina and thirty-six FP.
Stone of Gurraq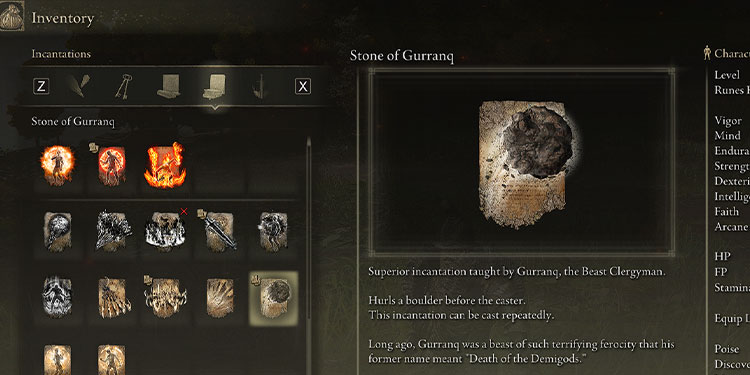 The Bestial Incantation that can be obtained during Beast Clergyman questline. Give him the sixth Deathroot at Bestial Sanctum and you will receive the Stone of Gurranq as a reward.
Below are the attributes of the Stone of Gurraq's incantation.
Cost thirty-seven stamina per use.
Cost fifteen FP.
Deals physical damage.
Requires thirteen Faith to use this spell.
Can be used repeatedly as long as the user has FP to spend.
Flame, Grant Me Strength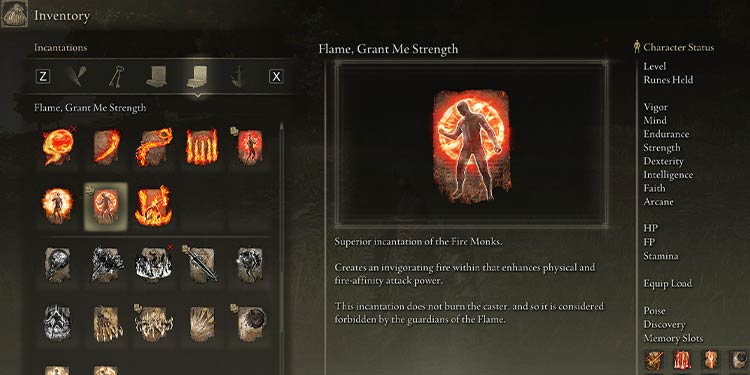 It's one of the Fire Monk incantations that boost fire-based attacks and also prevent users from burning.
This goes extremely well with Blasphemous Blade ash of war; Taker's Flames. Along with fire damage, it also increases physical damage.
Below are the attributes of Flame, Grant me strength spell.
Requires 15 Faith to use this spell.
Cost sixteen stamina and twenty-eight FP.
Does extra twenty percent physical damage and twenty percent fire damage.
Stamina recovery speed is increased by eleven percent for five seconds.
Last up to thirty seconds once activated. You can use the Old Lord's Talisman to increase the duration.
The spell is stackable with buffs such as Golden Vow.
Golden Vow (Spell)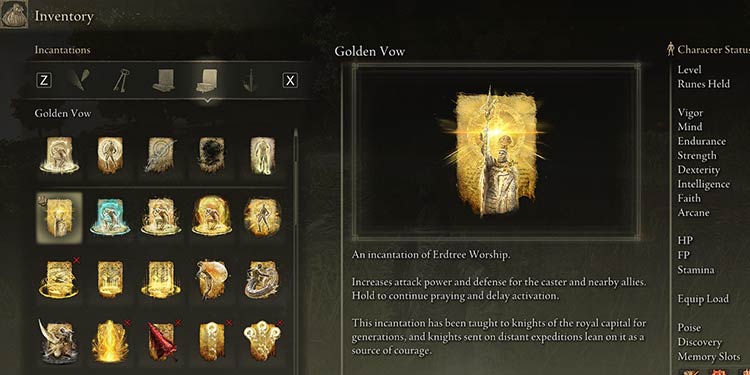 Golden Vow is the stat-boosting incantation that increases both attack and defense of the caster and allies. You can find the Golden Vow in the Corpse Stench Shack of Mt Gelmir.
Cost fifty stamina and forty-seven FP to activate the spell.
Requires twenty-five Faith to use this spell.
The buff lasts up to eighty seconds and hundred-four seconds if you are using Old Lord's Talisman.
Damage is stacked with Flame, Grant me strength, and defense is increased with food such as Boiled Crab.
The spell does not stack with the same type of spell.
Does fifteen percent more damage in PvE and 7.5% in PvP.
Frenzied Burst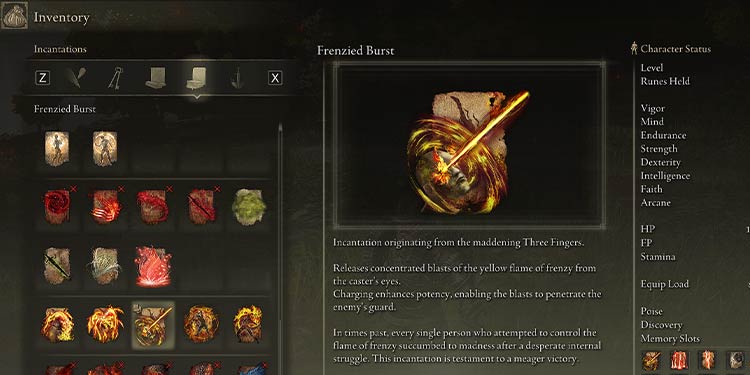 Friendied Burst shoots a powerful yellow laser from an eye that can penetrate enemies if charged to the fullest. It does increase the madness effect a little causing self harm if the madness status goes to a hundred percent.
Frenzied Burst is obtained from Teardrop Scarab between the Church of Inhibition and Frenzied Flame Village. 
The spell cost thirty-three stamina and twenty-four FP.
Requires twenty-two faith to use this spell.
Charged attack deals twenty-three percent more damage and penetrates enemies.
Madness is built with ninety more on normal and a hundred-five when charged.
Best Armor Set for Strength and Faith Build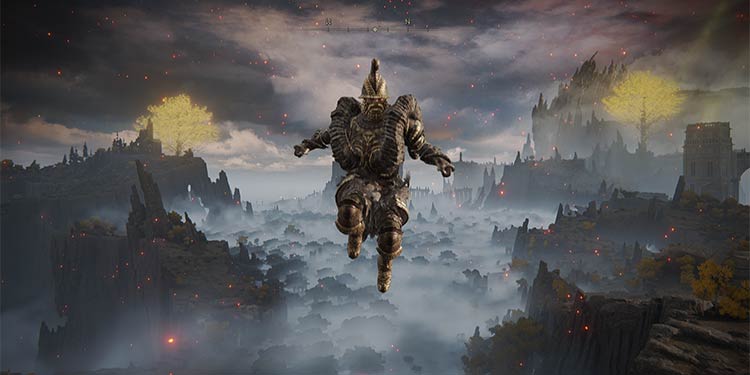 The best armor set that does justice to both Strength and Faith is the Bull-Goat armor set. The Bull-Goat armor set is an absolute piece of unit. You can see that the armor is built like a tank, looking at the horn coming out of its chest.
The armor set is dropped by the Great Horned Tragoth at Ruin-Strewn Precipice after accepting Patches' quest. We have four armor piece for the Bull Goat armor set and they are.
Bull-Goat Helm
Bull-Goat Armor
Bull-Goat Gauntlets
Bull-Goat Greaves
If you want to get down to the nitty gritty then below is the stat for the Bull-Goat Armor Set.
Damage Negation
Resistance
Physical
38.5
Immunity
170
Versus Strike
38.2
Robustness
197
Versus Slash
35.0
Focus
110
Versus Pierce
35.0
Vitality
130
Versus Magic
26.2
Poise
100
Versus Lightning
29.0
Versus Holy
25.4
Versus Fire
26.5
Best  Talisman to Buff Strength and Faith Build
Every talisman has its specific use during combat but they all work together to lift the attack, defense and equip load. Below is the best Talisman to greatly boost your attack damage and also raise the effect of your spell. 
Shard of Alexander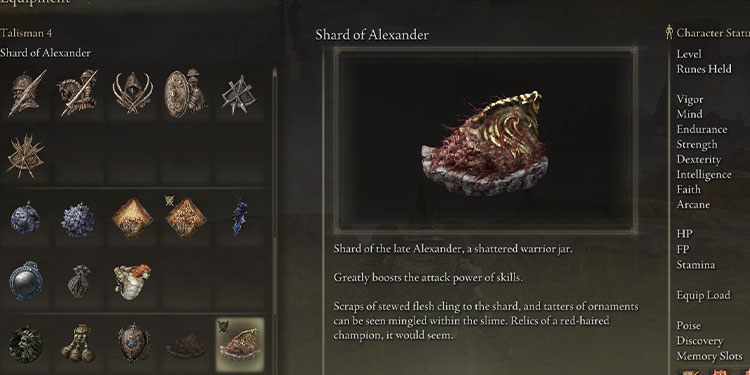 The talisman vastly increases the attack power of skills by fifteen percent. You can obtain the Shard of Alexander by defeating Alexander, Warrior Jar at the end of the questline.
Great Jar Arsenal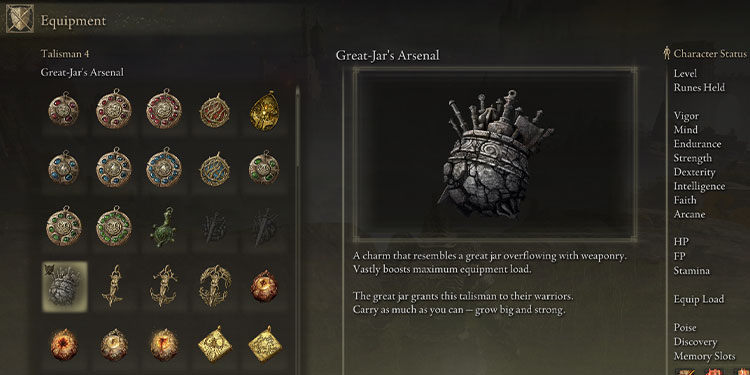 This Talisman is a must if you don't want to fat roll around your enemies wearing the Bull-Goat armor set because Great Jar Arsenal greatly increases the Equip Load by nineteen percent.
You can obtain the Great-Jar's Arsenal after defeating the three NPC duelists in Dragonbarrow. The Great jar's challenge requires you to defeat the three NPC in one take. If you die between the third or second fight, you will have to fight all three again.
DragonCrest Greatshield Talisman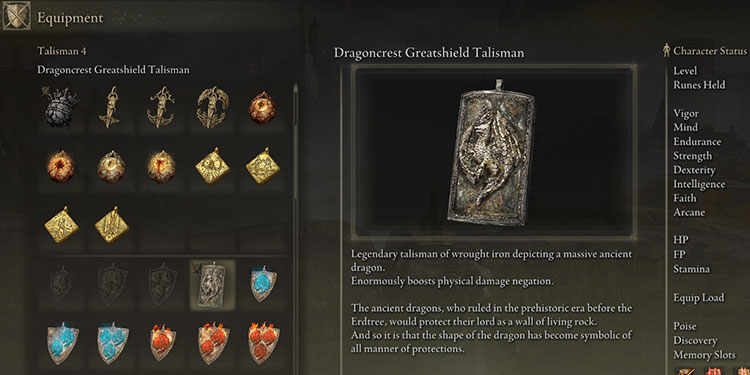 The Dragoncrest Greatshield Talisman works as an absolute tank reducing physical damage taken by twenty percent.
To get this talisman, you first need to have access to Elphael, Brace of the Haligtree area, the boss fight area of Malenia. From the Drainage Channel Site of Grace, go outside the branch of Haligtree and look for the roof with a hole.
Carefully fall down to the beam and you can see the chest that contains the talisman.  Watch out for Pests enemies. 
Flock's Canvas Talisman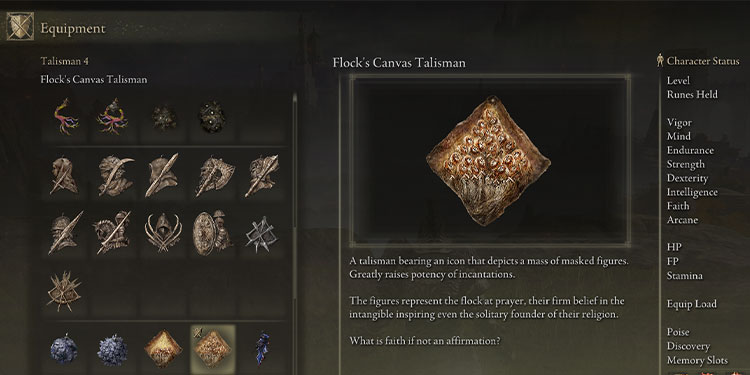 Flock's Canvas Talisman increases incantation power by eight percent. This might not seem as much but it is more than enough for incantation that does a great amount of damage.
You can obtain this talisman by killing the NPC, Gowry. You can find him at Gowry's Shack, north of Sellia Gateway.