Primogems are one of the most valuable items in Genshin Impact. It is a premium currency that can be used to replenish your Original Resin, purchase Battle Pass levels and most importantly, buy the Acquaint Fate or the Intertwined Fate from the Wishes menu.
Players have a lot of ways to earn Primogems in Genshin Impact. Whether by simply playing or completing the quests, you can earn Primogems pretty quickly if you know how to get them. In this article, we have listed out all the possible ways you can earn Primogems in Genshin Impact. 
How to Get Primogems in Genshin Impact
Whether you're a free-to-play player who doesn't like spending money on video games, or a pay-to-win player who likes spending cash, there are lots of ways you can get your hands on these Primogems.
For Both Free-To-Play Players and Pay-To-Win Players
Here's how you can collect Primogems for players who both like and do not like to spend on Genshin Impact.
Play the Game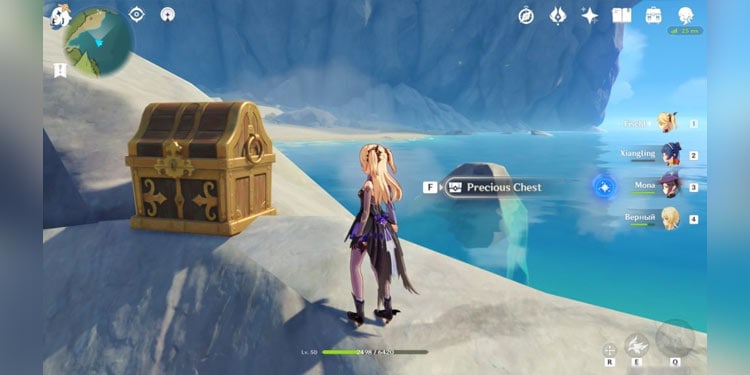 Genshin Impact rewards the players with its most valuable currency for simply playing the game. There are a lot of ways to earn these Primogems inside the game, and if you're new to Genshin Impact, you can literally rack them up everywhere you go.
However, if you've been playing for quite some time, then you might have already collected some(if not most) of them.
One of the best ways to earn Primogems is to explore the lands and collect chests. You can find these chests scattered around every part of the world, and opening these chests will reward you with items and Primogems.
This not only gives you a reason to explore the world, but it also helps you find many points of interest in the game, such as Waypoints which you can use to fast travel around different locations. Oh, and when you discover one of these Waypoints, you also earn some Primogems.
Another point of interest in this game is the discovery of the Statue of the Seven. There are 10 of these statues located around the map, and when you first discover them, you'll get five free Primogems. Upgrading these statues will reward you with 10 Primogems for each level and they can be upgraded to level 10.
The Primogems you earn through opening chests can vary according to the rarity of the chests. Opening some chests will reward you with as little as 0 primogems, while some reward you with 20.
Another way to quickly earn the currency is to complete the achievements. You can earn from five to 20 bucks for completing each achievement, but it might take some time before you can complete all of them.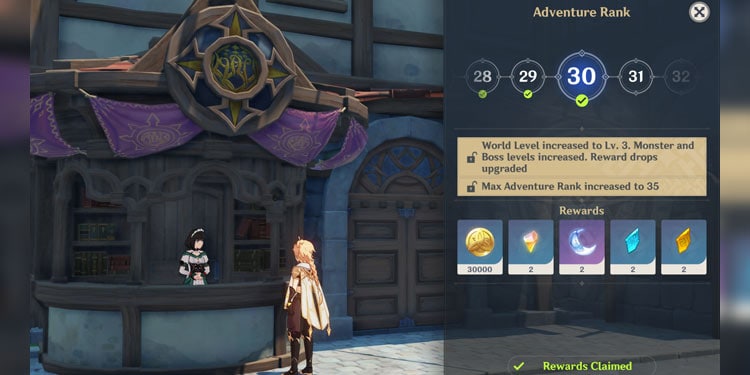 You can also get a fair amount of Primogems by simply leveling up your Adventure Rank. Although what you really want to aim for is to reach certain milestones for your Adventure Rank. For example, reaching level 20 in Adventure rank will reward you with 75 Primogems, reaching level 28 will give you 100, and so on.
Participate in In-Game Events and Complete Event Quests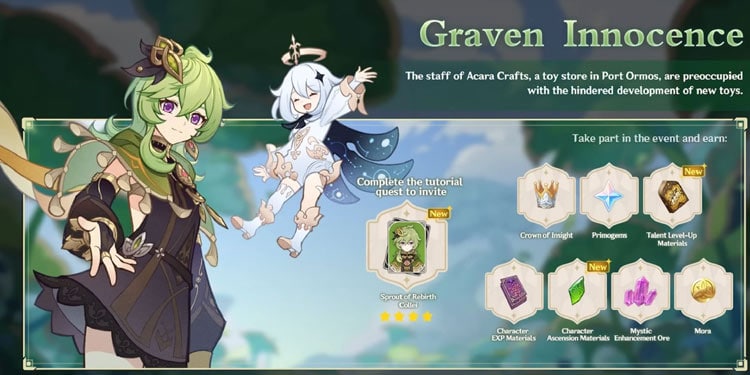 Another great way to earn these valuable Primogems is to participate in events and complete different quests. Events in Genshin Impact are common and offer a lot of useful rewards for players who participate in it and complete its quests.
Whether it is a Battle Pass or in-game events, you can earn quite a lot by participating in it. Although you need to purchase Battle Pass to actually get the Primogems reward, free rewards are valuable as well.
At the time of posting this article, there are two ongoing events in Genshin Impact; Lost Riches and Graven Innocence. By completing the quests of these events, you can earn thousands of Primogems within a few days. You can get up to 420 of them in the Lost Riches event and up to 1040 in the Graven Innocence. However, keep in mind that you need to have an Adventure Rank of at least level 20 to participate in events.
The current Battle Pass event is known as Luxurious Woodlands, and it costs 10 USD to unlock its second tier, Gnostic Hymn. You'll be rewarded with 680 Primogems when you reach level 50 after purchasing the Battle Pass, along with many good items.
Battle Pass events last for about a month (or a few months), and it doesn't cost much, so you should definitely purchase it if you have some spare cash to spend. 
Play and Clear Spiral Abyss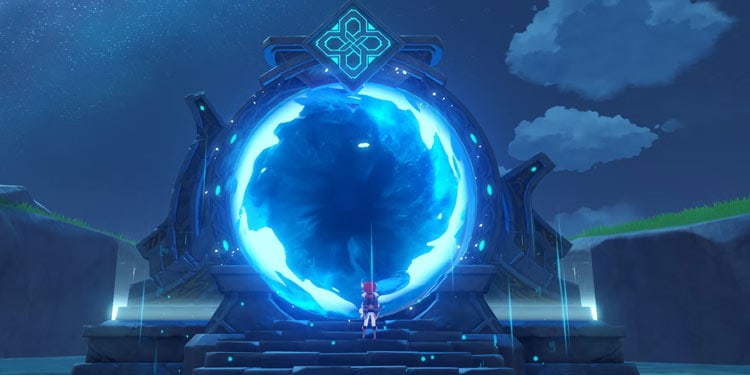 Spiral Abyss is a permanent event in Genshin Impact. It is basically a challenging arena for strong players where they can face strong foes for various rewards. One of these rewards is Primogems, and you can earn quite a lot of them if you manage to clear all of them. 
Spiral Abyss is made up of Spiral Corridors (with eight floors) and Spiral Moon Spire (with four floors). The difficulty of the enemies increases as you move up the floor. You can earn 100 Primogems for each Abyssal Star you get in the Spiral Corridor. You can get up to three of these stars per floor.
After you complete Spiral Corridor, you can move up to Spiral Moon Spire, which gives you 50 Primogems per Star. Unlike Spiral Corridor, the floors in Spiral Moon Spire reset twice a month so you can earn a fair bit of currency if you have a strong enough party. It also requires you to have an Adventure Rank of 20 to participate in this event.
Complete Quests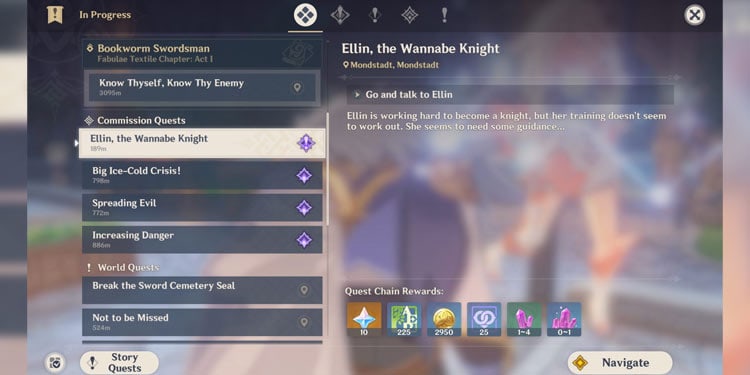 Playing Quests is the only way to progress through the storyline and learn about the background of each playable character. It is a lot of fun, and it also rewards you with the in-game currency when you complete the quests. You can get guaranteed Primogems when you complete the Story Quests and Archon Quests. However, you might not get as lucky when you complete the World Quests.
Apart from the quests, you can also complete daily missions to earn some bonus Primogems.
Login to Hoyolab Website for Extra Primogems
Apart from exploring the world and completing quests, the developer of Genshin Impact, Mi Ho Yo, also has a webpage known as HoYoLab, which is basically a forum for Genshin Impact and Honkai Impact players.
By checking in to the website daily, you can earn some rewards. You'll also get Primogems occasionally, which is not much, but you can accumulate quite a lot of them if you keep checking in daily. 
Unlock Chests in Shrines of Depths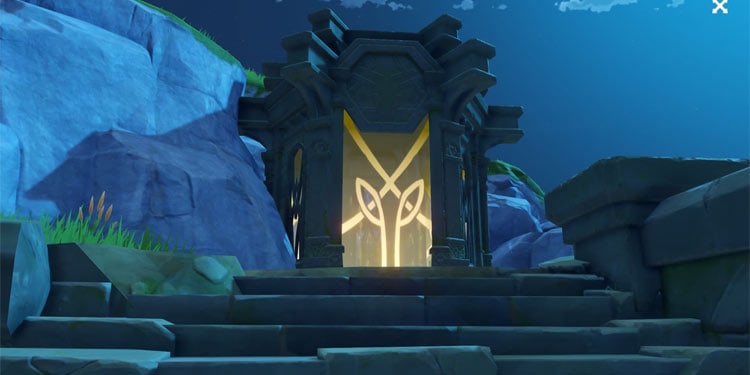 Shrines of Depths are locked regions that are found scattered all over the Teyvat. Each region in Teyvat consists of 10 Shrines of Depths which can be unlocked with Shrines of Depths keys for each region.
The keys are consumed when you use them once, so you'll need to find another key to open another Shrine. By unlocking the exquisite treasure chest inside each Shrine of Depth, you can earn 40 Primogems along with some other useful items. 
Activate Redemption Codes
When there is a new patch, the developers release three promotional codes in their Livestream which players can redeem and get 100 free Primogems per code. Mi Ho Yo also releases additional promotional codes as part of their social media events or reaching certain milestones. These codes don't last long so you need to be quick to redeem them before they expire.
For Pay-To-Win Players
If you are someone who doesn't mind spending a little cash every now and then, you can earn lots of Primogems with little to no effort. Here are the ways you can collect these items by spending some money on the developers.
Purchase Genesis Crystals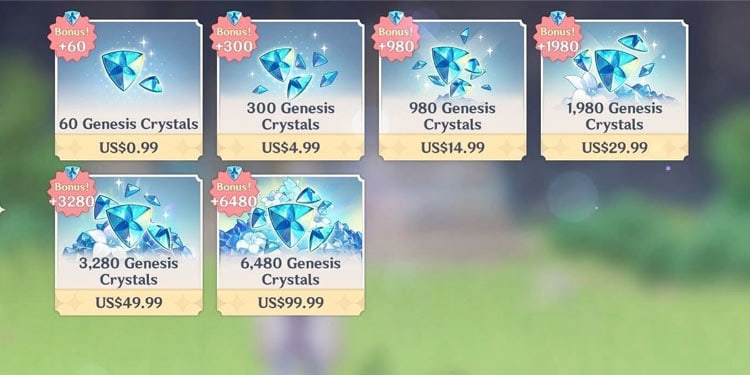 Like all free-to-play games, Genshin Impact also depends on microtransactions to make a profit and keep its servers running. The Genesis Crystals are the main currency of Genshin Impact, which can be purchased for real money.
Once purchased, you can convert these Genesis Crystals to Primogems in a 1:1 ratio. It is by far the most effective way of farming Primogems, but it might cost you a lot of money depending on how many Primogems you want to rack up.
Purchase Blessing of The Welkin Moon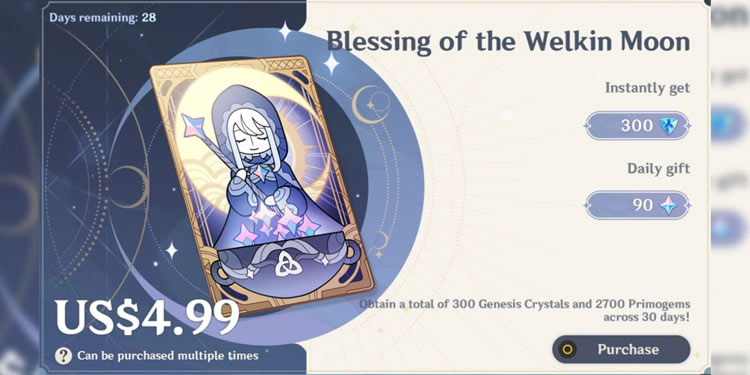 It is a 30-day subscription pack that offers Primogems for logging in to the game daily. It costs 4.99 USD to purchase, and you'll be rewarded with 300 Primogems just when you purchase it. Then, you'll earn 90 daily for the next 30 days, for each day you log in to the game. 
This subscription is not auto-renewal, so you'll need to renew it manually after its duration ends. You can also extend its duration by purchasing it multiple times (up to 180 days). Then, you'll need to renew it again.