Rivers of Blood is the most badass-looking weapon in all of Elden Ring. This katana releases grizzly blood-soaked slashes that cause your foes to hemorrhage blood till they die.
It is without debate the best weapon for a bleed-oriented build.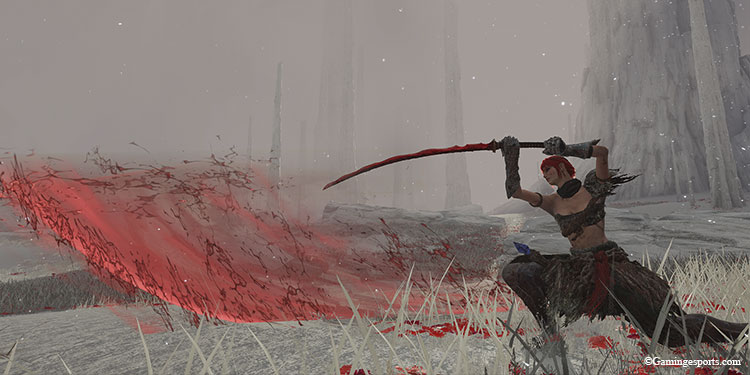 If you want this weapon early on, tough luck, as you will get it rather late in the game. To get Rivers of Blood Katana,
You will have to beat at least two shard-bearer bosses, i.e., choose any among Rennala, Godrick, Rykard, and Radahn.
Then you must beat some mandatory bosses like Elden Lord Godfrey and Morgott the Omen King.
Finally, you also need to access the Mountaintops of Giants.
Then you will get the Rivers of Blood Katana as a drop after killing Bloody Finger Okina at the Church of Repose located high atop the Mountaintops of Giants.
Let's discuss each steps from the very beginning, but first here's a map guide to make the job a bit easier for you.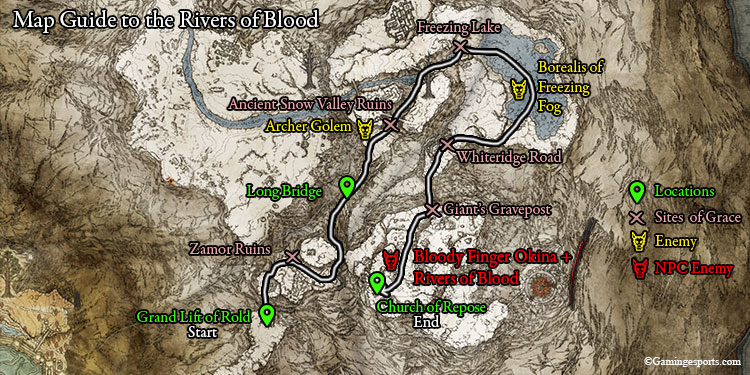 First, Clear the Leyndell Capital by beating Morgott, the Omen King, and get the Rold Medallion from Melina which lets you operate the Grand Lift of Rold.
Reach the Mountaintops of Giants, pick up the map fragment on your way to the Ruins of Zamor Site of Grace. Head east across the Ruins of Zamor till you reach the cliffs' edge, and from there, again head north to reach a long rock bridge.
Cross the long rock bridge and reach across the Ancient Snow Valley Ruins, be careful of the giant golem shooting missile-sized arrows at you.
Go north of the ruins till you reach a frozen river. Cross the frozen river while heading towards the east to reach the Freezing Lake Site of Grace.
Cross the large frozen lake as you head south. On the way, you will get attacked by a huge dragon called Borealis, the Freezing Fog. You can fight or skip the dragon.
Get to land from the southwest side of the Freezing lake and follow the path north. You will reach a Site of Grace called Whiteridge Road. Ahead is a military camp called Guardian's Garrison.
Cross the metal chain link bridge past the Garrison, and you will come across another Site of Grace called Giant's Gravepost.
If you read the name of the Site of Grace, you will see that ahead is a huge graveyard of Giants. Head uphill towards the south, you will see a battle being ensued between giant birds and a white fur troll in this graveyard.
After you pass the Graveyard, you will reach the Church of Repose. Once you get close to the church, you will be Invaded by the Bloody Finger Okina.
Defeat Bloody Finger Okina and obtain the Rivers of Blood Katana.
Additionally, here's a video guide to relive the journey.
How to Use Rivers of Blood Katana
Rivers of Blood needs 20 ARC, 18 DEX, and 12 STR to be wielded. This katana is infamous for its weapon art, the Corpse Piler.
This releases a combo of bloody slashes, the first pair of slashes use 17 FP, and the two successive slashes use 9 FP each resulting in 35 FP spent total for the whole combo.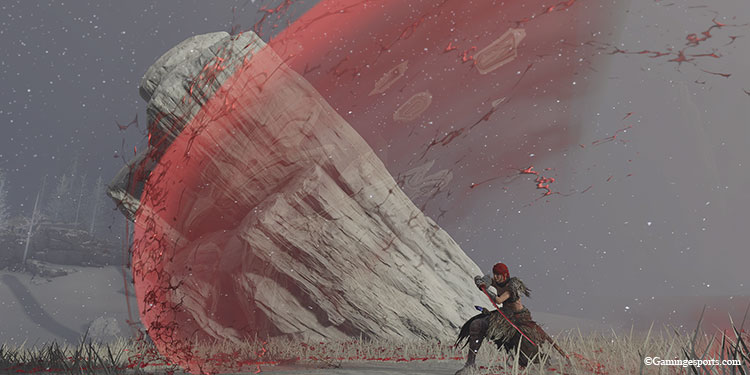 This weapon, in addition to causing Hemorrhage, deals Fire and Physical damage. It was an overpowered weapon that was nerfed in the 1.06 patch, even then, it is still a formidable Katana.
You can use Rivers of Blood with both the Dexterity(DEX) or Arcane(ARC) oriented build, as it scales really well with both stats.
If you upgrade Rivers of Blood to +10 level, the final level-up changes the DEX scaling from C to B, meaning you will deal more damage according to your Dexterity.
Rivers of Blood Katana Build Guide
Rivers of Blood Katana-focused build needs stat investment with a mix of Arcane(ARC) + Dexterity(DEX) and is used in a power stance with other katanas.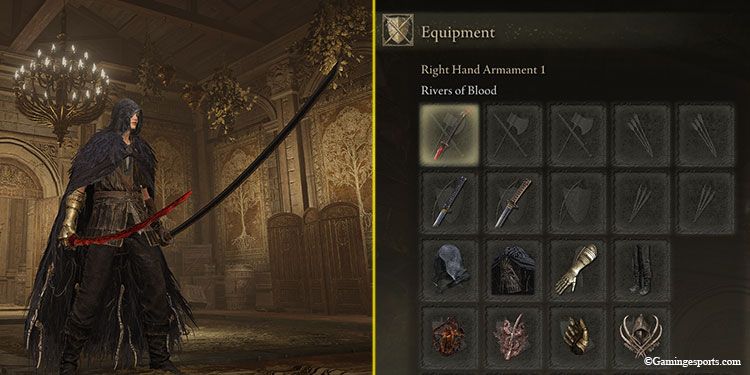 WEAPONS
Best to use in a power stance with a second Katana, like Uchigatana or Nagakiba.
Apply Ash of War: Seppuku on the second Katana and activate it before battle, then prepare to decimate your foes with power stance attacks or Corpse Piler.
You can also use a Wakizashi dagger with Bloodhound Step as another second weapon, as it can also power stance.
STATS
The main focus should be DEX and ARC, you can pump both of these stats to 40-50 levels each.
Then level up VIG to 40 levels and keep Mind and Endurance around 20-25 levels.
ARMOR
Every armor is up for style, but Raptor's Black Feather is a good chest piece to wear if you tend to use jump attacks often. But do try every armor you want to use.
TALISMANS
Lord of Blood's Exultation is the most vital Talisman for this build, as it goes very well with all bleed-oriented builds.
Rotten Winged Sword Insignia or Millicent Prosthesis also helps a lot by increasing the damage of your successive hits.
WONDROUS PHYSICK MIX
Boost your DEX and damage with a combo of Dexterity Knot Crystal Tear and Thorny Cracked Tear.
You can even use a Cerulean Hidden Tear Mixture if you want to go on a Corpse Piler Rampage for 15 whole seconds at no FP cost.