When you are traveling through the underground region of the Nokron and Siofra River area, far off in the distance, you will see a building that looks exactly like the Parthenon of Greece. That building there is the Mohgwyn Palace, the residence of Mohg.
The grand Mohgwyn Palace stands atop a desolated Acropolis, with rocks and hills poking out of blood-soaked rivers. It is the realm of Mohg, the Sanguinary Lord of Blood.
Everything from what you see to whom you meet in the lands of Mohgwyn is under Mohg's command.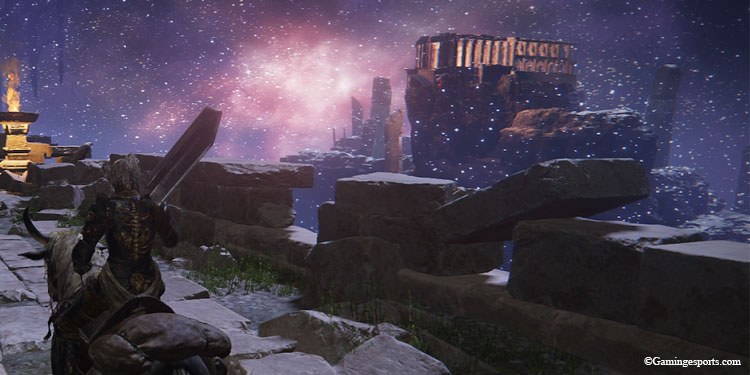 If you want to reach Mohgwyn Palace, there are two known ways. One is going all the way by yourself, and another is with the help of an NPC Varre during his questline. We will discuss both ways with a video guide, followed by a step-by-step guide.
Do Varre's Questline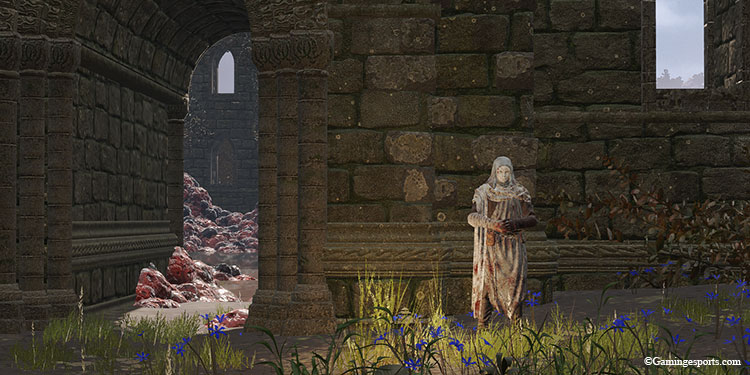 The fastest way to get to Mohgwyn Palace, possibly very early on in your playthrough, is by doing Varre's questline.
Varre is the NPC you will meet as soon as you set foot in Liurnia. The same white-masked guy who mocks you for being maidenless.
After progressing through a chunk of his quest line, you will get a trinket that will teleport you to the Mohgwyn Palace whenever you want. Let's find out exactly how.
Defeat any Shardbearer boss, i.e., Godrick, Rennala, or whoever is in your path first. Once you defeat them, get a shard of the Elden Ring and go to the Roundtable Hold.
Talk to Enia, the Finger Reader in the Round Table Hold. It is best to exhaust all her dialogues, as she is the one who turns bosses' Remembrance into weapons and sells you boss equipment.
Go to Rose Church, which is in Liurnia Lake a bit west of Lake Town, and find Varre there. Once you find him, select the "They didn't seem right" dialogue option when he asks your opinion about the Two Fingers.
He will see something special in you and will give you 5 Festering Bloody Fingers. These items can be used to invade other players' worlds during multiplayer.
There are two things you can choose from.

Either invade 3 worlds of other players in multiplayer using the Festering Bloody Fingers. You do not have to fight them, you can leave immediately after invading using Finger Severer.
Note: Other methods of invading do not work and won't be counted, you have to consume and use Festering Bloody Fingers.
Or go to the Writheblood Ruins in Atlus Plateau. There, you will see a Red Summon Sign among the ruins. Use this sign to invade the world of an NPC, Magnus the Beast Claw. Defeat him, and you will return to your own world afterward and will be rewarded with some items.
Note: This new method was added to the single-player mode in update v1.06 to make it possible for players to complete this quest without having to go online.

Head back to Varre at Rose Church, and he will applaud your exploits and will ask you if you want to join his cause. Ask him to anoint you, and he will give you one more task.
You will obtain an item called Lord's of Blood's Favor. It is a piece of white garb that you have to soak in a Maiden's blood. Since you are maidenless, you will have to find someone else's maiden blood to dip the rag in.
There are 3 maidens you can choose from. First is Irina, the blind girl you meet in the Weeping Peninsula. Next, if you can use the second belfry among the Four Belfries, you can return to the Chapel of Anticipation and soak the garb in a corpse there.
Personally, I recommend the third maiden. Her corpse is found in the Church of Inhibition. Go north and a tiny bit west from the Frenzied Flame Village.
You will be attacked by an NPC called Festering Fingerprint Vyke, who is an infamous Tarnished knight seen on the cover of Elden Ring. Defeat him and proceed toward the church.
Just aside from the Queen Marika Statue, you will find a dead maiden seated upon a chair. After you loot the items from her body, you can soak the garb and obtain blood-soaked cloth.
Take this blood-soaked cloth to Varre, and you will be inducted into the Order of Blood. He will ask you to give him one of your fingers, and once he cuts one of your fingers, you will obtain a reusable Bloody Finger.
Talk to Varre once more, and he will give you the Pureblood Knight's Medal.
Put the Pureblood Knight's Medal into your inventory and use it just like you use your flasks.
You will be teleported directly to Mohgwyn's Palace. Remember, this is a challenging end-game area with strong enemies. So, be prepared.
Head up the stairs directly in front of you when you teleport in, and take another staircase on the left to reach the Site of Grace called Dynasty Mausoleum Entrance.
Take a Teleporter from Consecrated Snowfield
An alternative way to reach Moghwyn Palace, without soaking your hands in the maiden's blood or losing one of your fingers, is to take a long way there.
For that, obtain the Haligree Medallion and head to the Consecrated Snowfield. We have a map guide for you.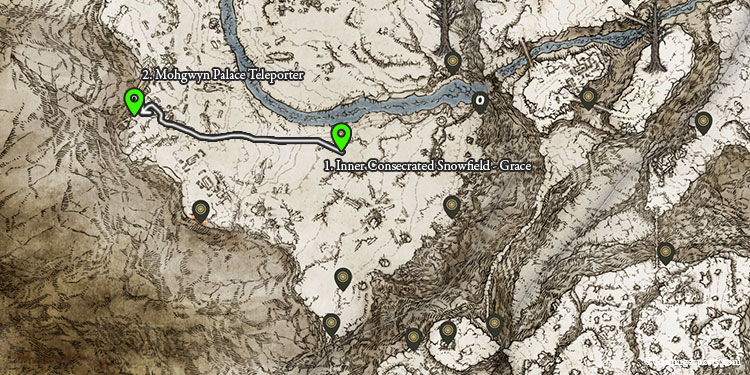 Once you reach the Inner Consecrated Snowfield, start heading west. There are enemies on the path, so be careful.
Find your way to an area that has red blossoms scattered on the ground and tall frozen trees among the snow. The area is marked on the map above.
You will be invaded by an NPC called the Sanguine Noble. You can either defeat him or somehow make him go away by going outside the area, as, as long as the invasion is active, you won't be able to use the teleporter.
Find the teleporter on the west edge of the cliff, guarded by a lone Albinauric Warrior.
Use the teleporter and get transported inside a dark cave. Simply exit the cave and you will be greeted with Mohgwyn Palace written on the screen.
Go left from the cave exit, and proceed to follow the narrow path along the cliff edge. Jump down when you see a large stone platform, and you should see a Site of Grace right in front of it.
Head to this Site of Grace called Palace Approach Ledge-Road and rest there. Now you can fast travel here whenever you wish.
Note: This Site of Grace is very close to an infamous Rune Farming area.