Call of Duty is one of the most loved and played FPS games globally. With high-paced action, phenomenal soundtracks, and immersive gameplay, no wonder it is everyone's favorite when it comes to shooting games.
The CoD franchise has a lot of games in its pockets. Although Vanguard is the latest addition to the Call of Duty franchise, the Black Ops Cold War still continues to be the fan-favorite.
Why Play Black Ops Cold War Zombies?
The fun multiplayer action game lets you relieve your boredom and stress by jumping straight into the action. The zombie mode will really put you to the test when it comes to testing your skills and patience. You will feel rage, disappointment, and thrill throughout the game.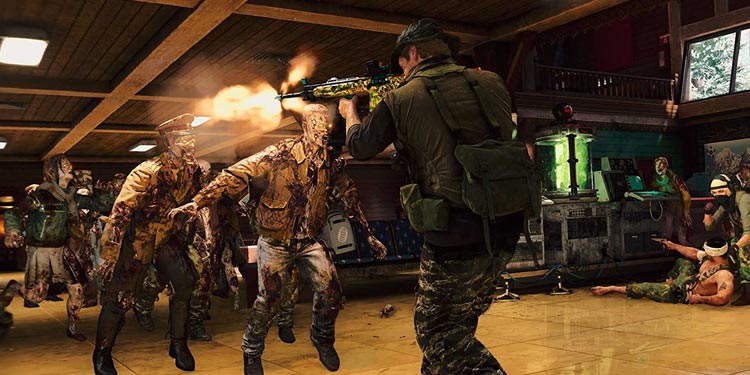 Basically, you and your teammates have to fight a horde of never-ending nazi zombie soldiers and hold on as long as you can. You fight off the undead soldiers on a round basis battle, get points for successfully surviving the round, and use those points to upgrade your weapons and open up the map.
The best part about the game is your progress from multiplayer mode will be transferred to the zombie mode as well. That means you will be able to use the firearms with all the upgrades you've done in multiplayer mode.
The Idea of Split-screen
Your friends might not always be in another room playing on another console. And sometimes, you might be having guests over at your house who want to join in on the fun too.
At such time, giving up on your game and letting him play might seem a fair answer. But you wouldn't want to give up the game that you're enjoying so much. The better option would be if the game supported split-screen, then you both would be able to enjoy the game without compromising. All you need is a spare controller.
So, have you been wondering if Black Ops Cold War: Zombies has a split-screen feature? If you have stumbled upon this article searching for that, then we have got you covered.
Does Cold War: Zombies have Split-screen?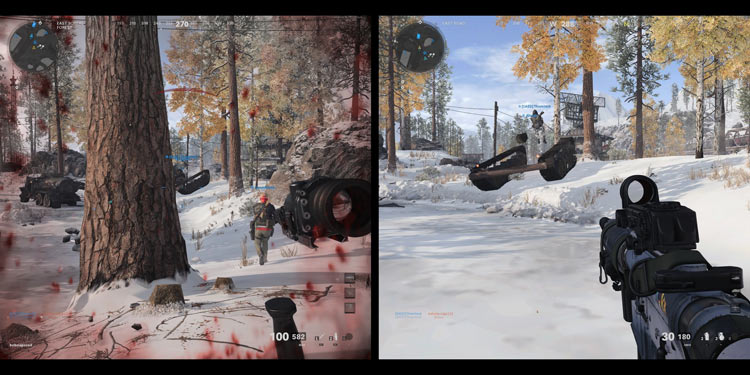 The answer is yes. The Call of Duty: Black Ops Cold War added a split-screen feature to its zombie mode after a month of the game's release. The one feature that the fans needed finally got added to the game, and they couldn't be any happier.
Note: This feature is only available for console players.
How to Enable Split-screen in Black Ops Cold War: Zombies?
Setting up split-screen is Cold War: Zombies is quite easy and only takes a couple of minutes to set up. Although, if you want to play co-op in online mode, you and your partner will both need a separate account for Xbox Live or PlayStation Network.
If you both have a separate account, then the rest of the process is quite simple. Just follow these steps, and you'll be good to go:
Plug in the second controller to your console.
Sign in to your account (Xbox Live or PlayStation Plus).
Press X/A to join in to your leader's lobby.
Voila, you now can play Cold War: Zombies in split-screen mode. Now, the party leader will be available to choose the multiplayer mode he intends to play.
Playing in the split-screen feature has some drawbacks, though. For example, both of your screens will be surrounded by a black bar. Also, there have been some cases where the game would freeze unexpectedly.
Also, note that the default view in split-screen is vertical, so if you want to play the game in side by side style, you need to change the display mode in settings.
Although the split-screen feature does have some issues, it is worth checking out. Most of the bugs are rumored to be fixed already, so by the time you are playing this game, there might not be any issues at all.
Does Black Ops Cold War: Zombies have a Cross Platform and Cross-progression?
Yes, like most Call of Duty games, the Black Ops Cold War continues with the tradition of cross-platform compatibility.
Whether you have friends playing on Xbox, PlayStation, or PC, you'll be able to enjoy gaming with them all you want.
Black Ops Cold War also supports cross-progression meaning your progress from Black Ops Cold War will be synced with all the platforms your Activision account is linked to, with all generations of consoles.