Battle Royale does not always have to be full of action and combats. For PUBG and Fortnite lovers, it might be hard to imagine that there are battle royale games that do not contain violence. Well, Fall Guys is here to prove them all wrong.
Most of the time, Fall Guys is a game that you can play while relaxing, grabbing a can of beer after a long day of work. But sometimes, it can get pretty stressful, especially when you're trying your best not to get eliminated.
Fall Guys' Gameplay
The games are really simple yet challenging, where running, jumping, grabbing and diving are your only arsenal to progress through the round. If you've watched shows like Takeshi's Castle and Wipeout, you'll understand what I mean. The jelly bean characters, along with silly physics, are the cherry on top to make your experience a memorable one.
Fall Guys consist of plenty of maps, each season bringing new maps, which ensures that you'll never get bored playing it. Some maps require you to pass through an obstacle course in a weird plane to qualify for the next round.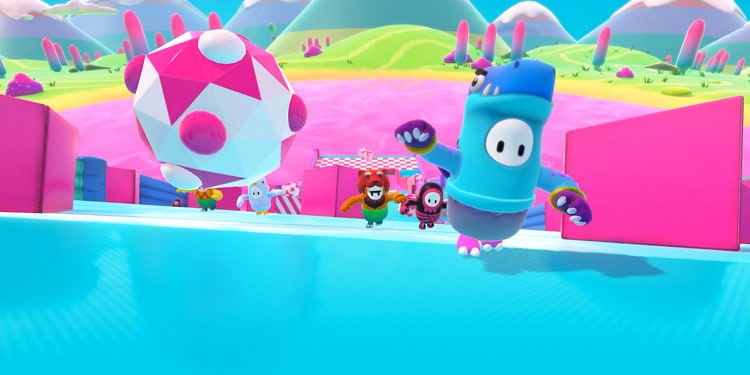 Whereas some require you to survive until the time is up or until enough people get knocked out, and some require collecting more points than your opponents in a team match. Whatever the case, every map is equally entertaining and challenging to play.
And the best feeling in the whole game is when you get that crown after winning the last round. Yep, nothing beats that feeling when you prove to everyone that you're worthy.
The game becomes even more entertaining when played with friends or squads, where you work together to collect as many points as possible. The lowest-scoring team gets eliminated. So it's hilarious to watch your friends trying desperately to earn those points while they fall on their faces over and over.
So, are you wondering if you can play this addicting game with your friend or siblings on a split-screen, sitting next to each other? If so, you don't have to worry because we've got all the answers related to Fall Guys.
Fall Guys is available on Xbox One, Xbox Series S|X, PlayStation4, Nintendo Switch, Windows PC, Android, and iOS.
Does Fall Guys Have a Split Screen?
Unfortunately, Fall Guys does not have a split-screen feature as of now. So you can't play the game with someone next to you.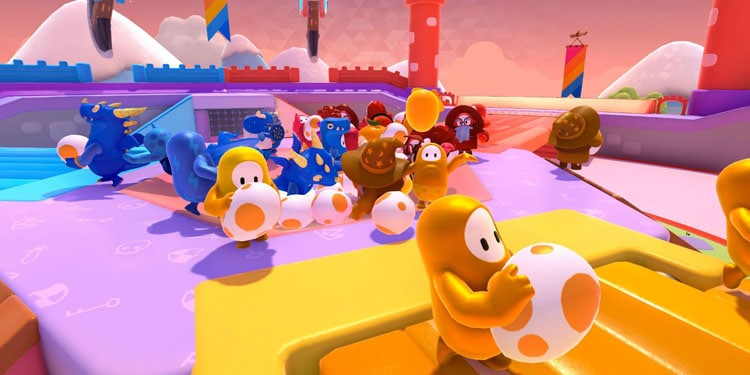 However, due to the overwhelmingly positive response received by the game, and the demands for split-screen, the developers of the game, Mediatonic, has definitely shown interest in making the game local multiplayer. So, we might be able to enjoy the couch co-op feature in Free Guys soon.
We will try our best to update this article when the feature gets added to the game.
For now, the only way you'll be able to enjoy Fall Guys with your friends is to buy a separate copy of the game.
Frequently Asked Questions
Does Fall Guys Have a Cross-Play?
If you've been playing Fall Guys since the beginning, you must know that there was no such thing as cross-play when you started. Well, those days are gone now. The new season, Season 6 of Fall Guys, brings cross-play between the PlayStation and PC.
So, if you're playing on a PC and want to invite friends who play on PlayStation and vice versa, you can do so without any restrictions.
Unfortunately, for other platforms, the game is not cross-platform yet. So you might have to wait for some time if you want to play with your buddies from other platforms.