Sea of Thieves is an action/adventure game that will let you experience a busy and adventurous life of a pirate. If you've watched The Pirates of the Caribbean and had a thought, "Well, It seems fun," you're in for a surprise.
Sea of Thieves takes the adventure to the next level by giving you the freedom to sail wherever you like. You and your friends take the role of a typical pirate, and each one carries out their duty to live and make a name as glorious pirates, sailing across the endless ocean.
However, it's not only about sailing through the seas. The number of adventures that await you while exploring the vast ocean is limitless. You'll be able to do anything a typical pirate does.
The Gameplay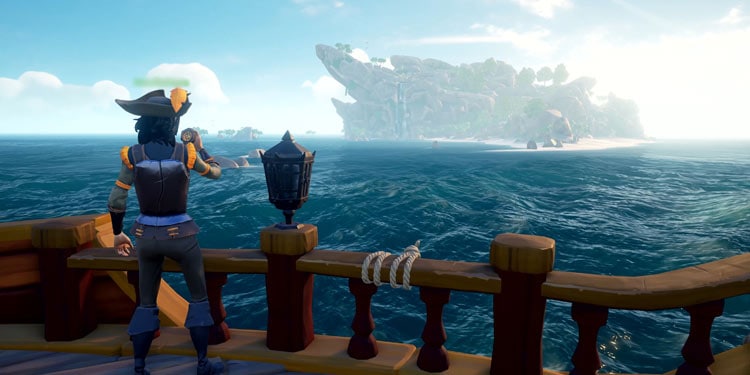 Tired of voyaging through the endless ocean? You can take a break and chill with your pet monkey, singing songs all night long. You're not having enough fun playing missions? You can set yourself a goal to find lost ships and treasures buried within them.
Not only that but the world in Sea of Thieves is also generated procedurally, making your adventure even more unpredictable. Every time you log in, you'll get a brand new boat. The supplies you worked so hard to collect, the treasures you found, will all be gone. The only thing that'll remain is your objective and progression.
While sailing in your own little boat is not an impossible feat, it is a very boring way to play the game as you're missing so many amusing adventures. Because all your time is spent running around, trying not to crash your boat.
On the other hand, playing with friends gives you the feeling of being an actual pirate crew. Just imagine all the things you could do if you had an actual crew to accompany you in your quest.
Running around up and down the stairs, singing pirate songs, steering the ship in the right direction, and firing cannons to destroy other ships; That is what pirates are meant to be. Those things are only possible to do if you have friends.
Now that you know, playing with friends is much more enjoyable, you might wonder if you can play it with your sibling or a friend locally, sitting next to each other and laughing along the way. If so, you don't need to worry because we have all the answers for you.
Does Sea of Thieves Have a Split-Screen?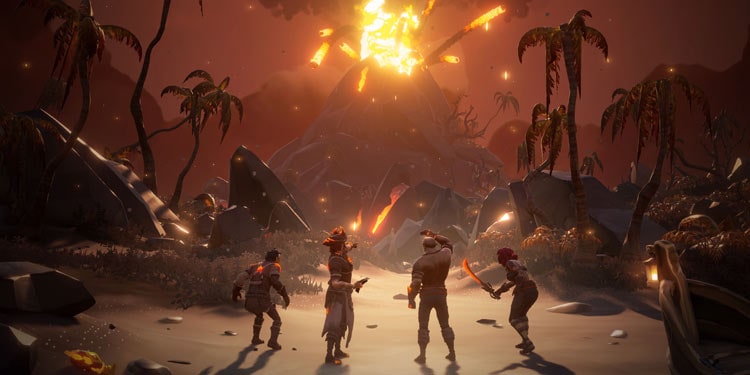 Unfortunately, Sea of Thieves does not have a local multiplayer option. So, it is quite disappointing if you were hoping to have some couch co-op action with your friends or siblings playing Sea of Thieves.
The game is quite heavy as it is and badly optimized even for a single screen, and rendering two screens at the same time would be a nightmare for consoles. So it is likely that Sea of Thieves will never get a split-screen feature.
Also, the world in Sea of Thieves is generated online, so it is impossible to play locally. However, if you and your friend both have a copy of Sea of Thieves, you can invite each other and play together via online multiplayer.
Frequently Asked Questions
Is Sea of Thieves Cross-Platform?
The answer is yes. You can play Sea of Thieves with your friends all you want, regardless of the platform they own, without any restrictions as long as you both have a copy of the game.
However, the game only runs on Microsoft Windows and Xbox Consoles, so cross-play is only possible between these platforms.
Is Sea of Thieves Cross-Progression?
Yes, Sea of Thieves allows you to easily transfer all your progress from one platform to another. However, if you wish to switch platforms, you need to buy the game on your second platform as well.