Stardew Valley is a fun survival game where you start with an old farm inherited from your grandfather. The idea of the game is to farm, mine, conquer dungeons, and so on and survive.
The fun game puts you on the spot to restore the Stardew valley to its glory days. Additionally, the game lets you play multiplayer so that you can invite your friends to help in the journey.
But what about playing multiplayer in split-screen? If you are someone who wants to know if the couch-multiplayer option is available in the game, read below to find out.
Is Stardew Valley Split-Screen?
The short answer is yes. The developer ConcernedApe added the split-screen feature in the 1.5 update of the game. You can now invite your friends over, give them a controller, and enjoy the game sitting on the couch.
Additionally, the update came out for both console and PC, so you do not have to worry if your system supports split-screen functionality. What's more, is that you can have up to four players playing in split-screen mode. So you can make the most out of the game, help, and enjoy everything the game has to offer together in the same world!
How To Play Split-Screen in Stardew Valley?
Playing split-screen in Stardew valley is as easy as playing co-op in online mode. You can either start a new farm in split-screen mode or have your friends join an existing farm.
Starting Split-Screen in an Old Farm
In summary, you have to ask Robin the Carpenter to build a new cabin for your player. You do need some resources; however, you do not need to wait for Robin to build the cabin, unlike her other projects since she makes the cabin instantly.
You have three options for building a cabin:
Log Cabin (You need 100g and 10 wood)
Rustic stone cabin (You need 100g and 10 stone)
Beach hut cabin (You need 100g, 5 wood, and 10 fiber)
Once you have the cabin built, follow the steps below to invite your friends to your farm.
Head to your Inventory menu.
Head to Options tab and scroll down to find the Multiplayer option.
Select Start Local Co-op. You can connect a controller and your friend can join the game by pressing start.
Starting New Farm in Split-Screen
You can go to the co-op option and turn on the split-screen mode so that your friend can join with a new cabin for them.
Head to the Co-op Option.
Select Split Screen.
Now, host a new farm. You can also set the profit margin for the game in this section to set a proper difficulty for the game.

Once you set the desired settings, load the farm.
Open your inventory menu.
Find the multiplayer option under Options tab.
Select Start Co-op. Your friend can then join using another controller and pressing the start button.
Now that you know how to play Stardew Valley in split-screen, you can start farming, mining, or even marrying other players.
Few Things To Remember When Playing Stardew Valley With Friends
You need to be aware of a few things while trying to play multiplayer. The first thing that is best to understand is that you need to be friends with everyone you are going to play the game with on Steam (if everyone is playing through Steam). Similarly, if everyone is playing on PS4, you need PlayStation plus subscription and add everyone in PSN.
If you are playing on PC and adding each other on Steam (or GOG Galaxy) does not work, you (the farm host) can give everyone the invite code found in the game options. Everyone else can use the code to join your farm.
Playing Stardew Valley on Xbox is the same as playing on PS4, such that everyone needs to be friends with each other on Xbox Live and have an Xbox Live Gold subscription. Nintendo Switch also functions in the same way since you need a Nintendo Switch Online membership and be friends with everyone.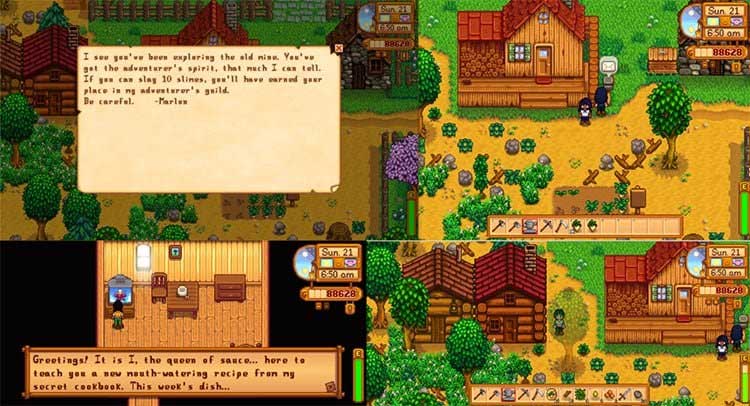 The last thing to remember is that only a total of four players can play on a farm at the same time, whether online or split-screen.
Keeping these things in mind, you can follow the steps above to start a farm and invite your friends to play the game. Hopefully, this guide served its purpose, and you can easily play the game with your friends and have a great time.