Mars, the deity of war, was released on March 5 of 2019 in patch 7.21c when Dota players were stuck in a Medusa meta for a long time. With high durability and burst, Mars is the best fit for an Initiator Offlane Role.
Ever since being added to Captains Mode in patch 7.22, experienced Dota 2 players tried the hero and dominated not only their own lane but also their game with his abilities.
In one of the recent games of ESL One Malaysia 2022, Mars was picked by OG against Team Secret for offlane which shows that the hero can still dominate the position.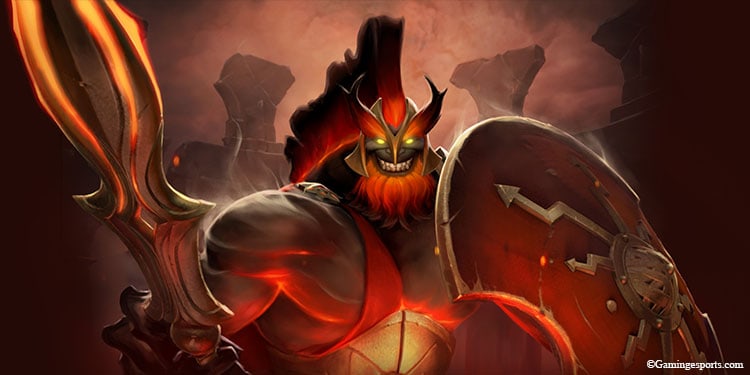 Skills and Abilities
Note: Exact damage values or stats are subject to change through patches, so I am only adding descriptive information about what the item or skill does.
Spear of Mars

Throw a spear in the targeted direction, which when it hits enemy heroes, deals damage + skewers and drags them a short distance.
It stuns them if the enemy gets impaled on physical obstacles like trees, terrain walls, or buildings within its max range.
This skill, after an upgrade with Aghanim's Shard, can stun 2 enemy heroes leaving a trail of fire, which also does DOT(damage over time) and slows.
Note: The stun effect does not work for obstacles created by Earthshaker's Fissure but it does for Tuskar's Ice Shard.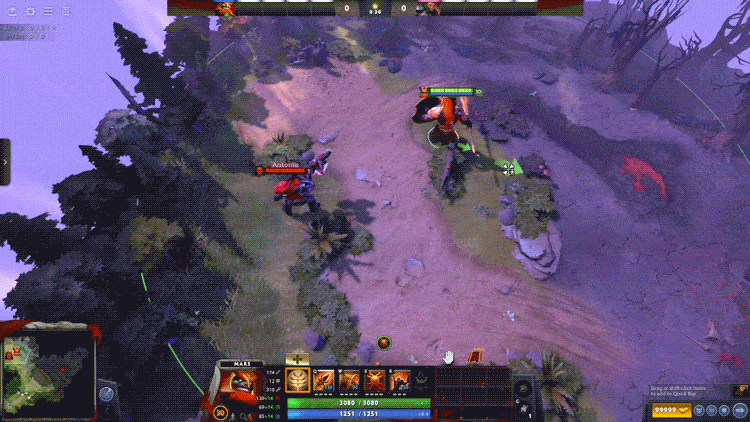 God's Rebuke

Use your shield to push enemies back a short distance and deal critical true strike damage.
Because this skill has a low cooldown and it scales with Mars' attack, God's Rebuke can be relied upon comfortably for late-game damage.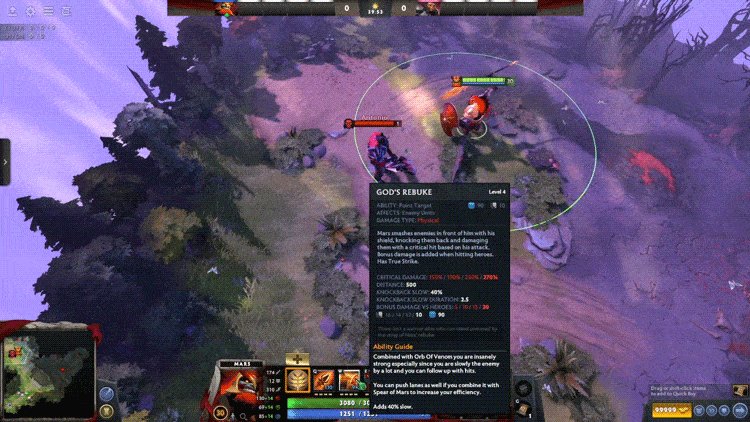 Bulwark

Bulwark passively adds protection from incoming attacks while actively redirects incoming projectiles to yourself.
Upon an Aghanim's Scepter upgrade, this skill adds mini soldiers in a semi-circle in front of Mars who deal damage between intervals. This upgrade can be considered for alternative playstyles.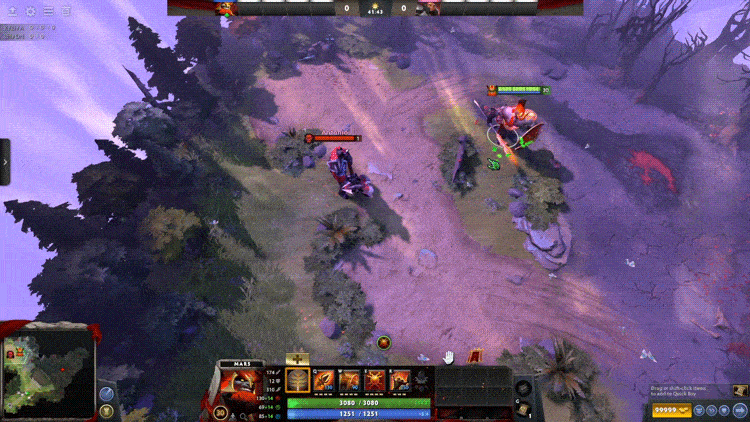 Arena of Blood

This is the ultimate ability of Mars, where he summons an arena to trap enemy heroes in his range.
The walls of the arena do not let the enemies escape and also gives Mars an opportunity to use his other abilities in tandem to do huge damage.
Even though it is best used offensively, the arena can also be used defensively to protect allies from enemy ranged attacks.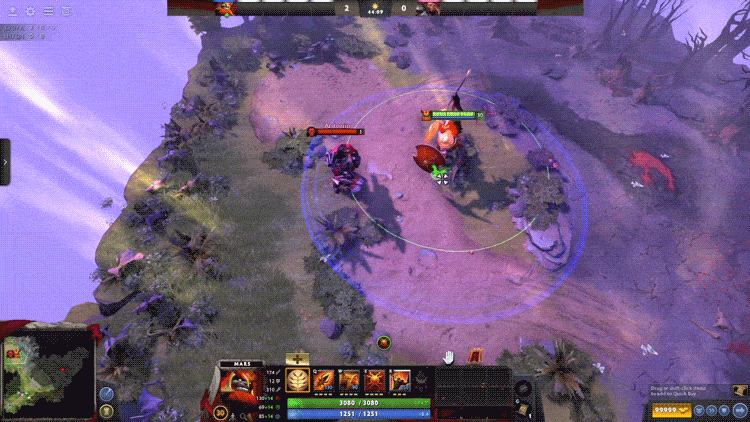 Offlane/Initiator Role
Dota 2 is a complicated and strategy-oriented game, so we must learn to adapt and make decisions based on the flow of the match.
The role of Offlaner is to go against an enemy hard carry along with their position 5 hard support. Basically, their role involves contesting the carry to slow down their initial advantage and stop them from having an easy time.
The initiator role relies on the skills and item builds of a hero. They are responsible for starting team fights and catching any enemy off guard. This role comes into effect once the game has reached its mid-game point, depending on the item build of the player.
Skill Build
There are distinct ways to build Mars, depending on whether you start from the Radiant or Dire side.
With decent MMR and over hundreds of matches playing this hero, I personally prefer to play offlane from the Radiant side rather than the Dire.
Take it as my preference, but if my games are Radiant side for offlane roles where enemy hard carry is already picked, I would not think twice about picking Mars to counter them.
Radiant Side

You will appreciate taking Spear of Mars in Level 1 compared to skilling other abilities.
The Spear does damage and has a stun which is superior to other abilities. The rest of his abilities will force you to play close to enemies, which enables enemy hard support to poke you often with their basic attacks.
Alternatively, taking God's Rebuke against a melee enemy carry like Spectre might be a better option.
If your position 4 support is a disabler like Shadow Shaman or Winter Wyvern, then take Spear of Mars in Level 1, which will give you an opportunity to push the enemy toward your base tower for an early-game kill potential.
Spear of Mars is also useful to secure bounty rune or first blood as everyone works together for early map warding before the creep wave spawns.
It is recommended to take Bulwark at level 3 to reduce incoming damage if you aren't getting enough openings to use the Spear of Mars and are taking lots of chip damage.
Dire Side

When you start on the Dire side, we recommend the tried and tested build style where God's Rebuke is taken in level 1, followed by two quick levels of Spear of Mars.
Take one skill point in Bulwark when reaching level 4.
Arena of Blood is taken when available, and we max out Spear of Mars and God's Rebuke before Bulwark.
Note: You can skip level 10 talent entirely as the talents are more accessibility oriented for easier gameplay, while leveling skills give a direct effect.
Talent Tree
Here is what Mars' talent selection looks like in the 7.32e patch. Let's analyze and decide which talent to take in each milestone.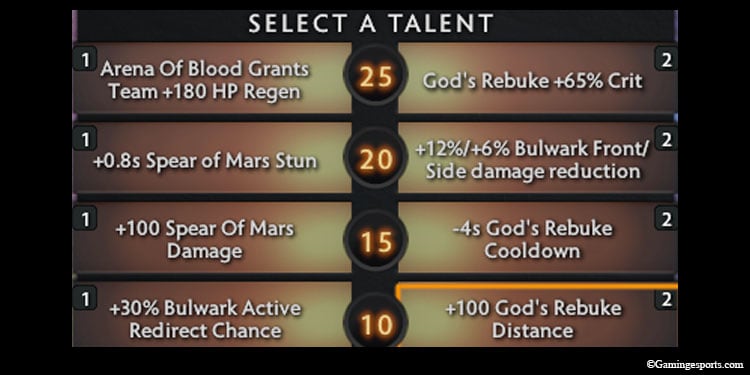 Level 10
Take "+100 God's Rebuke Distance" to start with, which works for any situation or any build, making it a better talent overall.
Since by level 10, Mars is not able to withstand all redirected incoming team damage by himself. "+30% Bulwark Active Redirect Chance" means more damage taken. So do not take this for an early game.
Note (Bulwark): Mars will have to move a lot in the early minutes of the game so having Bulwark toggled on might be detrimental during crucial moments. This skill slows Mars' movement speed and makes him unable to turn, which makes it harder to position better or run away.
The use of Bulwark is to resist damage and redirect enemy projectile auto attacks towards us once we are bulky.
Level 15
Both of these talents are really important but here is an easy condition to decide:
In case you need more damage for your combo of Arena of Blood and Spear of Mars to gain momentum during early to mid-game, take "+100 Spear of Mars Damage".
Take "-4s God's Rebuke Cooldown" if you plan to build more damage-dealing items for the late game.
Level 20
"+0.8s Spear of Mars Stun" is always better than its counterpart as it helps get a few more attacks on the stunned target.
This extra stun duration is crucial in situations when you attack an enemy carry who might survive the onslaught by a sliver of health. They can easily activate their Satanic and Black King Bar to turn the fight around.
"+12%/+6% Bulwark Front/Side damage reduction" is situational if Mars is leaning more towards a tanky build. This talent goes well with the level 10 talent that increases Bulwark's redirect chance.
Although, leveling both talents is not recommended for one important reason, ie. Mars is considered a core, and he is supposed to fill up the team's damage potential, making the solely defensive talents counterintuitive.
Level 25
Always take "God's Rebuke +65% Crit". Simple as it sounds, Arena Regen is never an option. When you reach level 25, you have usually built core items to be bulky enough and withstand enemy burst damage.
You can take "Arena of Blood Grants Team +180 HP Regen" talent at level 30, although not many games last till the heroes get to level 30. Since Mars is not a carry hero, this makes it much rarer for him to reach level 30 during most games.
Starting Item Build
In case of Mars, it's best you buy the starting items depending on which side you play on, as it determines the flow of your match. Here is a rundown on how and what is better.
Radiant Side

Quelling Blade: Quelling Blade isn't just for the extra creep damage to secure last hits but also to cut down trees to the right jungle of the top lane. This helps to keep vision on hiding enemy supports to make better decisions like early lane pressure. 
Below is an image with the trees that can be destroyed to give you an easier lane playing Radiant Offlane.
Gauntlets of Strength: Provides +3 strength for a higher HP pool.
Circlet: Gives +2 all stats.
Tangoes: Each charge can be used to consume a tree and regenerate HP over time.
Iron Branches: Gives +1 all stats and can be used in the environment to spawn a limited tree. The spawned tree can be consumed with a charge of tango to double the healing.
You buy a Gauntlets of Strength, which when combined with the Circlet will be upgraded to a Bracer giving more stats. 
Pro Tip# Be careful as the chip damage during the early game adds on and is counterproductive to your role as an Offlaner. Taking excessive damage means you'll end up sitting out an entire creep wave trying to recuperate the HP loss.
Dire Side

Ring Of Regen: You could opt to buy Ring of Regen instead of the Quelling Blade because an Offlane Mars is susceptible to more damage when playing on the Dire side.
The bottom lane(where the creep waves of both sides meet) tends to favor heroes from the Radiant side as the Dire heroes can be harassed from the treeline by the Radiant support hero.
Ring of Regen will be upgraded to Headdress later on, which adds to Mars' sustain. In most cases, an Offlane Mars who depends on levels early game might need to hide in the trees just to grab creep experience until he is ready to hop back in. 
Gauntlets of Strength: Gives +3 strength and upgrades into a Bracer.
Faerie Fire: Gives +2 attack. Instantly heal +75 HP on use.
This masterfully selected item build can later be upgraded to Headdress, and further upgraded into a Pipe of Insight for some much-needed Magic Resistance, which Mars lacks heavily.
Early Game Item Build
This is around the 5 minutes mark, before the first nightfall in a game of Dota. At this point, we'll need to complete our early-game items,

Phase Boots (phase): It passively provides damage, movement speed, and armor. It can also be used actively to temporarily gain bonus movement speed and collision-less movement which lets Mars pass through other heroes and creeps.
Headdress: This item produces an aura that grants passive health regeneration to all allies inside a range, including yourself.
Bracer: It primarily gives more strength and lower value to other stats. Double bonuses are given after 25 minutes if you still have this item in inventory.
Magic Stick (stick): This item gains a charge when visible enemy heroes within its range use a spell. It can store up to 10 charges at a time which, when used, instantly restores HP and mana depending on the number of stored charges.
Infused Raindrops: This item gives 6 charges, each charge blocks an instance of incoming magic damage. The item disappears when all charges are used. 
Raindrops are for early-game magic damage resistance because Mars is vulnerable to spells until you complete your Hood of Defiance or Pipe of Insight.
Healing Salve: Additionally, you might need to keep a Healing Salve handy so that you can heal back from the damage taken in failed early game ganks.
Mid-Game Item Build
Mid game starts when laning phase completes and this is when you start get involved in team fights. Buy these items to make a strong command over this phase,

Black King Bar (BKB): BKB provides complete magic immunity for a duration. Each time you use it, the duration decreases till the active duration reaches 4 seconds. It also provides bonus damage and strength to Mars.
Pipe of Insight (pipe): Pipe passively increases magic resistance and HP regeneration.
It also provides allies with an AoE aura that regens HP and half of the passive magic resistance it gives to you.
This item can be activated to apply a shield to all allies within a certain range. The shield blocks certain magic damage and lasts long enough for a team fight.
Mid-Game Situational Items
Here you have a couple of item choices that are situational, considering the pace of the match and the enemy heroes you are up against.
Lotus Orb (lotus): If the enemy team has lots of single target spells that stuns, disables, mutes, nukes or disrupts; Lotus Orb will be your choice of item.
Vladmir's Offering (Vlad's): A great utility item for yourself and your team. It provides a signature Vampiric health regeneration aura. The item works amazingly well with God's Rebuke as hitting enemies in an AoE with this skill will heal a large portion of your missing health.
Blink Dagger(blink/dagger): You also have a choice of building a blink during the mid-game. This enables you to initiate a fight and surprise your enemies, and can also get you out of dirty situations.
Assault Cuirass(assault): This item provides armor and extra attack speed. It also emits an aura that weakens the enemies by reducing their armor.
It can be useful in case you are up against more physical damage-reliant opponents.
Shiva's Guard (shiva): Shiva's Guard adds to the physical armor and tanking ability of Mars. It also gives you more crowd control ability against heroes who rely on creating illusions.
Shiva's Guard is also a counter to any enemy life-steal item like Vladmir's Offering.
Heaven's Halberd (halb): Considered a poor man's Tank item. It can be used to disarm enemy carry heroes that rely on bursts of basic attacks, such as Ursa, Phantom Assassin, or Wraith King.
Desolator (deso): You could argue that having a BKB, Pipe, and a Lotus Orb is much too defensive. An item like the Desolator can give you a much-needed damage boost by reducing enemy armor. This reduction also works with God's Rebuke.
Pro Tips#:
I would recommend Mars players to work towards Black King Bar(BKB) and a Hood of Defiance before saving for a Blink Dagger. 
The gold saved towards Blink Dagger is better used towards Tank and sustain items despite Blink Dagger being a very useful asset for an initiator like Mars. 
I would ask you to be more selfish before throwing your life to initiate a teamfight. Your phase boots will allow you enough chasing power, while having a BKB and a Hood will keep you alive after you expend your spells.
Late Game Item Build

Phase Boots, Assault Cuirass, Lotus Orb, Black King Bar, Pipe of Insight, and Vladmir's Offering are my go-to build in every match.
If your supports (Pos 4 and Pos 5) has farmed items such as Greaves, Vladimir's Offering, and Pipe Of Insight during the mid-game, you can drop these items and switch towards the following items for Mars.

Overwhelming Blink (overblink) (pronounced as OP blink to signify being OverPowered): It is an upgraded version of regular blink that adds strength to your hero. This item works really well with Mars in the late game.
Mars is a strength hero who directly benefits from everything this item offers, as he gets damage and the HP bonus due to added strength.
The slow effect and damage proportionate to your strength done by Blink's effect are a luxurious bonus.
Refresher Orb (refresher): Instantly reset all cooldowns of your items and skills, although it has a high mana cost and a lengthy cooldown.
This build offers a much-needed Blink on Mars for that mobility advantage in the late game, while Shiva's Guard and Assault Cuirass pushes our armor to 60+, giving more than 75% physical damage resistance without Bulwark active.
Note: With Bulwark active, it pushes damage resistance even further, but there is absolutely no player who would activate Bulwark and sit there Tanking. Go get dem' kills yo!
Ultra Late Game Item Build
This section covers the ultra late game of a Dota 2 match where every single hero is 6 slotted and has a couple of other items in their backpack (Not much the support but support life matters too yall). Mars has a very similar build with only a few upgrades.

Nullifier: Add huge damage and armor to your arsenal. Its active effect applies basic dispel on enemy heroes continuously for a duration that goes through magic immunity.
So in a sense, this item has value in dispelling enemy Glimmer Cape's or Ghost Scepter effects and debuffing on-field heroes. 
We remove Shiva's Guard to be built by our position 4 and add a Nullifier. This item helps push our damage to new heights, which might be needed to deal with enemies who move in and out of team fights.
We also upgrade our boots to Boots of Travel 2 to give us a lot of movement speed and the ability to teleport to our teammates (even heroes).
Aghanim's Upgrade for Mars
Aghanim's Shard, adds to our Spear of Mars ability to stun 2 heroes(instead of the typical 1 hero per cast) and leaves a trail of fire, which provides DoT and a 20% slow effect.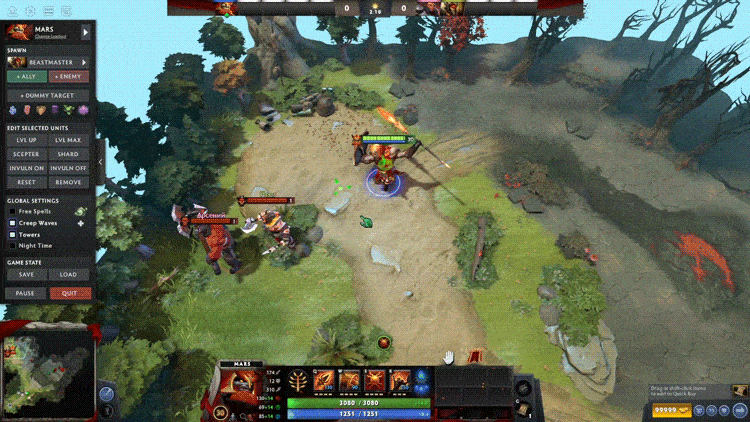 Killing Roshan the second time drops a Shard, which Mars should claim. In any other cases, Shard should be purchased anytime you need it after having built a BKB or before upgrading Hood. 
Aghanim's Scepter upgrade however, is entirely unnecessary for Mars as it doesn't add much to his kit, but you can have fun with it as a luxury item.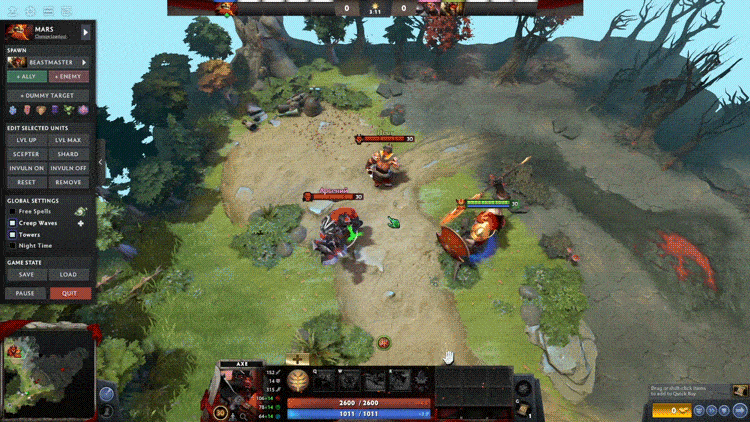 Teammates Synergy
Almost any hero can be utilized to increase efficiency according to their playstyle, some with their positioning ability while others with their damaging abilities. 
Here are some Ally heroes who work really well with Mars, just with their skills alone.
Dark Seer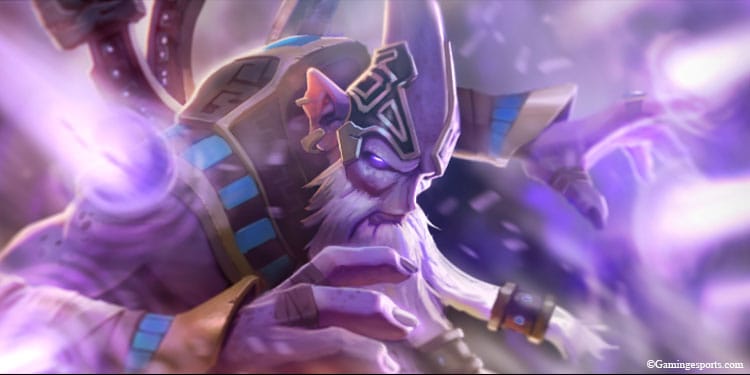 He is one of the off-meta heroes that work really well as a position 4 support using his skills and item builds.
Applying Ion Shell on Mars helps to take his fights close to enemy heroes. This makes enemy heroes take damage if in melee range which makes it super strong to trade hits and pressure tower.
Another good combo would be to use Surge which gives a lot of movement speed to any hero. Mars will be able to take position faster and cast his skills better with this buff applied.
Finally, Dark Seer and Mars combo that can potentially cause a team wipe starts with a well placed Vaccum trapping enemy team into the Arena of Blood and a Wall of Replica on the top.
Dark Willow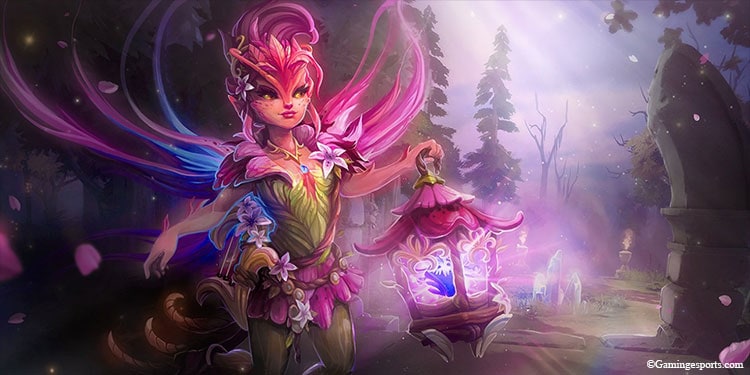 Another hero that works well with Mars, Dark Willow has useful skills like Bramble Maze and Terrorize that controls the battlefield.

Terrorize makes enemies flee in fear. When within Mars' Arena, it causes them to get pushed into wall and pushes them back again.
As long as fear debuff lasts within the arena the enemies keep getting pushed back and forth, creating a satisfactory visual that any Dota 2 player should get to experience.
Bramble Maze places traps which when activated, damages and roots enemies in place for a duration. Mars can always decimate trapped enemies by positioning himself better to abuse the stun from his Spear.
Shadow Fiend(SF)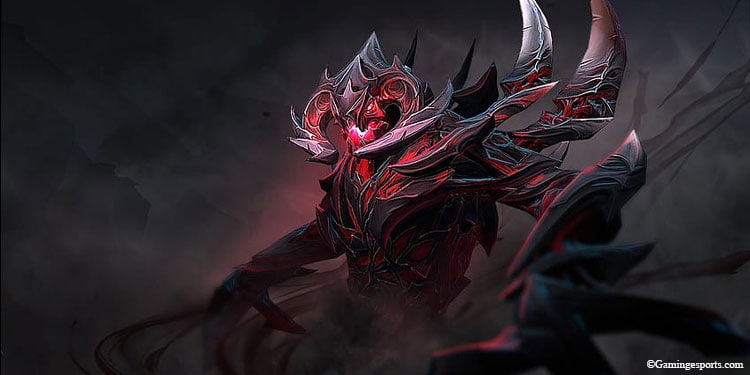 Shadow Fiend synergizes with Mars with his abilities and AoE aura.

SF's ultimate, Requiem of Souls does massive AoE damage after a small cast time and also terrorizes enemies outward, which when used within Mars's arena can be devastating.
This hero works really well with Arena of Blood making any heroes caught inside to wanna die by banging themselves on the Arena walls.
Heroes Mars is Strong Against
Here is a list of heroes Mars is strong in both laning phase and team fights. So the next time you see enemies pick these heroes, you should be comfortable picking Mars yourself and have a good game.
Drow Ranger

Having low HP pool herself during Laning, she must be careful with her positioning or Drow is an easy food for Mars.
Her reliance on auto attacks late game can be blocked by Arena of Blood and Bulwark making Mars quite the counter for Drow.
Shadow Fiend (SF)

Shadow Fiend players love to jump into a fight, melt a hero and try to escape. Mars can counter SF by not letting "it" escape using Arena.
Using Spear of Mars can disrupt, re-position or stun SF, which is great for your allies to pick up on the opportunity to kill.
Wraith King

During laning, Wraith King has really slow movement and turning rate.
Being a Melee hero, this hero needs to stay in close contact with creep waves to farm up. Take advantage of this to deal damage.
No effective escape abilities makes him an easy target.
Heaven's Halberd counters Wraith King massively. It disarms him making him an easy target. Even if he revives for the second time, the Halberd cools down and is ready to be used again.
Gyrocopter

Gyrocopter relies on massive burst damage of magical skills. Surviving this is easy as a tank and with a Pipe/BKB.
Flak Cannon is used to deal another wave of massive physical damage which can be countered to save your allies by activating Arena of Blood.
Medusa

Medusa is not much of a threat early to mid game.
She relies on staying behind her allies to deal ranged damage which can once again be dealt with the Arena. (Just be careful of her Medusa's Gaze)
In more mid to late game scenarios, Medusa is the only hero who can stumble back to her base because of her shields. Stay on top of her with Mars' God's Rebuke(knockback and slow). Use Spear of Mars for stun and then Arena to keep her trapped. 
Mars' Bulwark works by redirecting 70% of ranged projectile damage towards Mars. This helps your allies tremendously while they Manfight(A term that is defined as fighting head on to deal as much damage without running away).
Heroes Mars has a Hard Time Against
There are no ally heroes that Mars struggles with in a team. But there are a few enemy heroes who are a nightmare to go against. Here is a list of heroes that counter Mars.
Bane

Speaking of nightmares, the hero itself is a nightmare.
Can put the target to sleep which is bad as Mars needs to be active in the map. The sleep makes it easier for enemies to follow up and finish off Mars.
Has skills that go through BKB and deal pure damage.
Bane has sleep and disable skills for days so a longer teamfight favors the enemy team.
Silencer

Laning against Silencer in the early game is another troublesome matchup.
Mars who relies on auto attack and skills in early game to deal damage now cannot use skills as Silencer does extended damage with his abilities. He also has a huge auto attack range so Mars cannot take this early fight close and personal.
Mars, who relies on teammates and combos to perform well in a team fight, is completely thrown off by the use of Global Silence.
Lifestealer

Lifestealer is a melee damage dealer that also heals with each attack.
Has a Rage ability that cancels out Mars' Arena to Spear combo. Instead Lifestealer just turns back to hit and heal by activating Rage.
Lifestealer's damage scales with enemy's max HP and it goes through Mars's tank item. So the more HP anyone has, Lifestealer deals more damage and heals more.
Faceless Void (FV)

Faceless Void can just timewalk out of any single burst damage in early game. So if you cannot kill FV during the Spear of Mars stun duration, he can counter our damage by going back in time before he was damaged.
Has Chronosphere that goes through all immunity to stop anyone caught inside which is a counter to Mars.
Faceless Void players have a choice to jump inside the Arena with Timewalk which might cause some issues.
Juggernaut

Like Lifestealer, Juggernaut has Blade Fury that makes them immune to Spear of Mars and can walk out of Arena of Blood.
He can take trade hits with Mars comfortably being an agility hero. Juggernaut can also keep his healing ward to negate any damage taken during the timeframe.
Omnislash lets Juggernaut do rapid and huge damage to enemies while being invulnerable himself. This can also throw off damage calculations in a teamfight. 
How to Use Mars Effectively (Few Tips and Tricks)
Parting away from this guide is a few tips and tricks that are collected after 10 thousand plus hours of Dota experience. These are all situational but reading through might help you beautiful readers not to struggle when odds are against yourself.
Every damage counts in late game fights and each player is supposed to be doing something.

Mars is also an initiator who leads the team into battles so it's important he catches enemies offguard. He is also an impressive tank who can take all the beating and still guide his team to victory.
Mars' role is to position himself to threaten enemy supports and not let them inch closer to a fight, by using his 1st and 2nd ability in tandem and slowing/stunning them. 
Dota 2 is not just a game of items but also your wits, the better you can make a judgment and take initiative, the better you'll be at Dota.
Tip #1: Better way to use Spear Of Mars
It might not be necessary to stun enemies every time. Use your Spear to catch wrong position enemy heroes to push them towards your tower for extra damage.
If not for the kill potential, that damage takes the enemy out of lane for a couple of minutes giving you ample safe space.
Tip #2: Take time to use your skills.
It might be better to take your time in positioning and landing a skill which helps you be on top of enemies longer than to just use a skill and miss a chance to kill your opponents.
Refer the tips and tricks video for an example.
Tip #3: Advantage with God's Rebuke
Use God's Rebuke in the laning phase to secure enemy ranged creep and also deal damage to any enemy heroes.
Achieving multiple advantages in Dota 2 from the early game sets your team up for more opportunity to win in the late game.
Tip #4: Master your laning
Rarely does a game of Dota 2 leave an Offlane to solo now. So you must also learn what Skills your support hero has and how it works. 
Do they have a slow? Maybe a Stun? Can they reposition enemy or allied heroes? Are they great at pushing a lane? Or are they simply there to heal in your lane?
If you have the answers to these questions, You are doing great in learning the game. The possibilities of making a play are endless to talk about in the writing.
Lane equilibrium: Paying attention to the lane equilibrium might be "oof" uncomfortable for new players. 
Note: Lane equilibrium is a state of control in creep wave where each enemy creep is the same as ally creep in terms of number and hit points(HP)
Make sure the battle doesn't reach a position where you are vulnerable early on. Also, try to ensure that the lane favors you by putting enemy in uncomfortable position.
Battling near your tower or the enemy tower both can be detrimental. The enemy tower can zone you out whereas your tower can last hit the creeps making you lose out on gold. So keep the battle in a comfortable position from the towers.
Tip #5: Using spells to save your support in lane
Harass the enemy heroes more if you have a healer in your team. Communicate with your support if they have a stun or nuke you want them to use.
Sometimes the best way to grab attention would be to just ping in map(using alt+left click) but try not to spam.
Tip #6: Best way to use Refresher Orb
Keep this item inside your inventory in place of your least used item like Shiva's Guard or Boots which you might not need in an emergency. Since we have a blink to get out of bad situations, keep Refresher in your inventory to bring down the cooldown until ready to use. 
When Refresher has no cooldown, you can transfer it to your backpack. Remember to transfer it back to inventory when resetting skills before teamfights.
Note: Remember, unlike other items, the Refresher Orb does not cooldown when it is put in the backpack.
Tip #7: Adapt and Overcome
Dying to enemy heroes is a way of the game. Sometimes the enemy team might have more experienced players who can combine their spells and timing so well that you end up dying and losing momentum.
However, it is to be noted that having 0-3 (0 kills 3 Deaths) in the laning phase before the 10 minutes mark is not the end of all. You should try to adjust and prioritize places where you can gain exp and gold to catch up.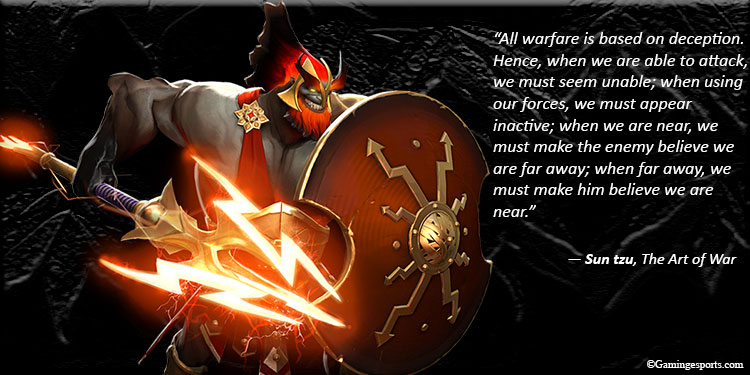 Final Tip: Watch and Learn
There are several players who stream on Twitch or Youtube daily. Much of Dota 2 can be learned by watching these highly rated games.
Some of the more notable streamers like Gorgc, Zai , Wagamama or Collapse (you can find his offlane matches as highlights in Youtube) can and should be watched if you are planning to take your games to the next level. 
Catch top Dota 2 players streaming and you could get to learn how each of these players adapt according to the game and pace of the match.
Streamers change their build or even how certain heroes are played to experiment and that is how a meta is born. Be the first person to catch a meta live and apply it to your games for some easy MMR. 
Playing Mars as a Offlaner (Author's Experience)
In one of my recent games with Mars in the Dire side against a Juggernaut and Silencer who were extra troublesome to say the least.
They cost me my first 4 deaths of the game despite having a support and I was caught off guard on multiple occasions.
However, slowly but surely, we made a comeback because of our smart and safe play. Our team communicated well on whether we should fight, or should fall back to our T3 towers (yes, we lost all our outer towers before 20 minutes). We were also discussing if we should push a certain lane or find spaces ourselves. 
Eventually, we capitalized on the wrong positions of 2-3 enemy heroes (their pos 1, 4 and 5 were huddled together) and I caught them all inside my arena where my team followed up with their spells to quickly deal with those pesky supports.
Without supports, their offlaner and hard carry, who had more net worth, could not take a proper fight and slowly we regained momentum to eventually take the lead and win the match. 

Here is my build by the 25 minute mark where I was able to complete my BKB which became a crucial change in our team-fight potential. 
I Followed it up with a Pipe of Insight for my team and myself to negate enemy magic damage and made a comeback worthy of a Dota 2 Match.
Check out the match here. GGWP !!!