Skyrim has a vast selection of weaponry that complements almost any play style. There are swords, hammers, crossbows, mace, bows, great axe, and staves made up of materials like iron, steel, dwarven, ebony, etc.
However, a few weapons stand out from the rest as they often have a unique appearance, enchantments, exceptional damage-dealing capability, and synergies.
These weapons can also have single or multiple questlines tied to them that you must complete in order to acquire them.
We've compiled a few of the best unique weapons that the game has to offer, along with their unique perks and the proper ways of their acquisition.
Starting our list with the best unique bows,
Zephyr
Zephyr is one of the fan-favorite weapon in the game that previously belonged to Katria.
Visually, it's just a simple Dwarven bow. But where this weapon really shines is its unique enchantment effect.
This bow offers one of the fastest draw speeds among other bows. More specifically, it increases the draw speed by around 30%.
As you'll be firing arrows in short intervals, using this weapon will greatly increase your total damage output.
To get your hands on this weapon, you'll have to start The Lost to Ages questline. Do so by either reading the Aetherium Wars book or traveling to Arkngthamz Dwemer ruin. Inside the ruin, you'll find the bow hanging on the edge of a fallen tree.
Nightingale Bow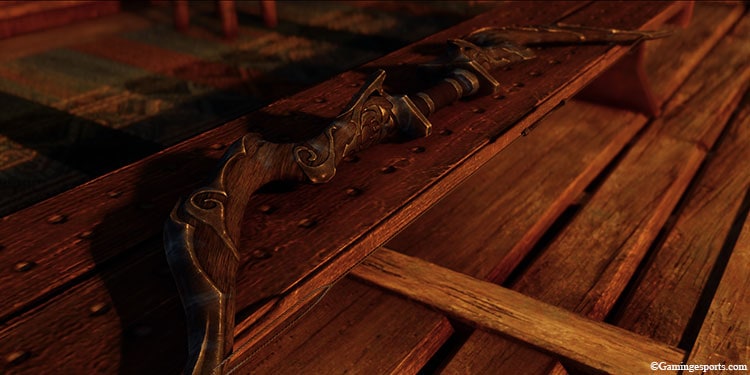 The Nightingale Bow is no doubt one of the best bows in the game. This weapon deals the Frost and Shock elemental damage and also slows the target for 3 seconds.
It's also a leveled weapon. Meaning when you pick up the weapon, the damage will scale according to your character's level. To get the maximum damage output from this weapon, wait until you reach level 46 before acquiring this bow.
You'll have to join the Thieves Guild and progress far into its campaign to get your hand on this bow. After completing the Blindsighted questline, you'll receive this bow from Karliah.
Sanguine Rose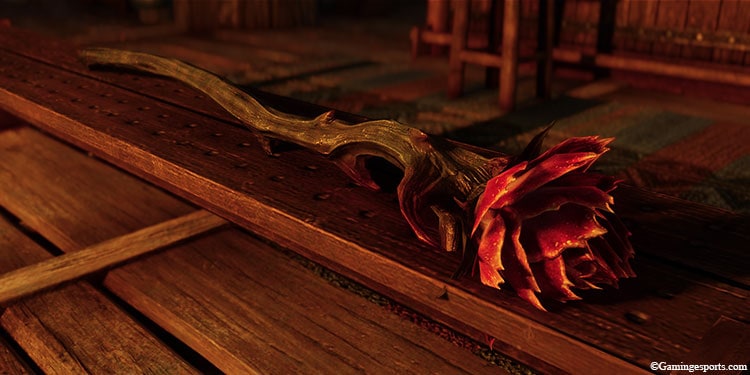 The name of this artifact is well fitting to its design as it resembles the shape of a rose. Sanguine Rose is not the typical weapon like any other weapons on the list. Rather, it's a staff with conjuration capabilities.
You can use this artifact to summon a powerful Dremora to aid you in combat for a minute. As this conjuration does not rely on Magicka, getting this staff at an early level can be very helpful.
To get this weapon, you'll have to complete the A Night to Remember quest. To start this quest, you must have a drinking contest with Sam Guevenne. You can encounter him at any inn after your character has reached level 14.
Mehrunes' Razor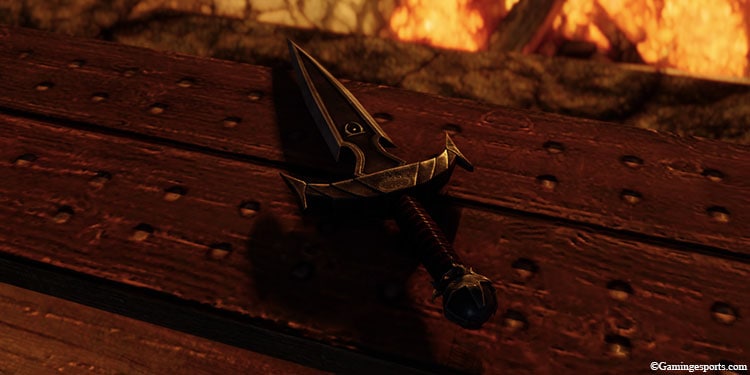 Crafted by the Daedric prince Mehrune Dagon, the Mehrunes' Dagger is one of a kind both visually and functionality-wise. The design of this dagger is nothing but menacing, befitting a Daedra.
Although the unique enchantment of this weapon is its insta-kill ability. But every strike you land on the enemy has a small chance of finishing them instantly.
Although the chances are minimal, still, triggering this effect on enemies with a large health pool can be very handy.
To get this weapon, you'll have to finish the Pieces of the Past questline, where you'll need to collect all the parts of this weapon. To start this quest, head to Dawnstar and speak with Silus Vesuius.
Blade Of Woe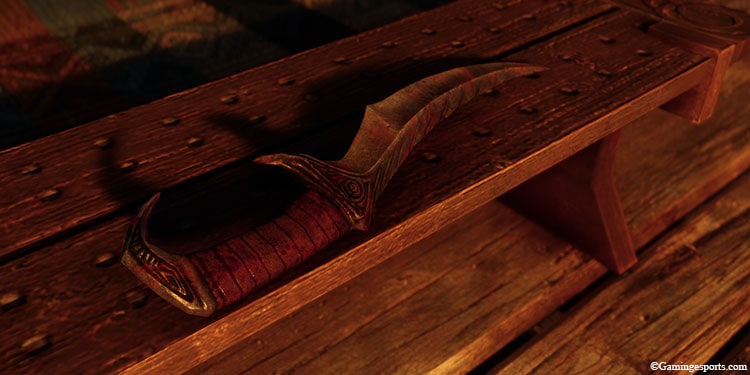 This weapon boasts the highest base damage among all daggers in the game. That is why this weapon is often used by many players who prefer stealth-based gameplay.
Besides its damage-dealing potential, Blade of Woe has an enchantment that steals 10 health points from your enemies.
There are a couple of different ways to obtain this weapon. But first, you'll need to join the Dark Brotherhood guild.
Then, either kill Astrid in With Friends Like These quest or complete the Death Incarnate to receive the weapon.
Dawnbreaker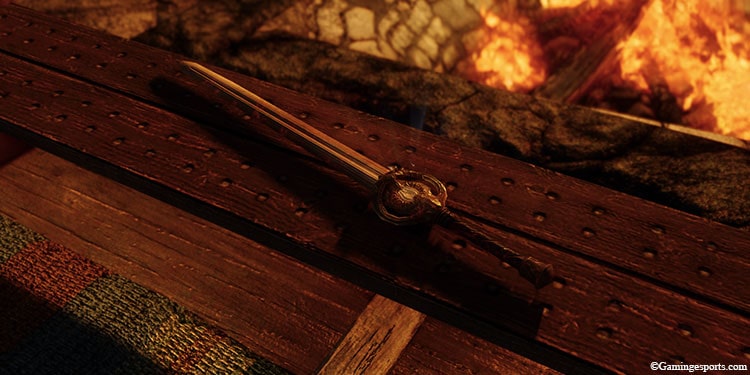 If you're among players who enjoy exploring ancient Nordic ruins and dungeons, then you should pick up Dawnbreaker.
This unique one-handed Daedric sword has a glowing celestial design that encapsulates the power of the sun.
Every hit you land on your enemy will deal additional fire damage. This makes it exceptionally good against the undead as well as against vampires.
Every time you kill an enemy, there is also a chance to cause a fiery explosion dealing massive AOE damage to the nearby enemies.
You can get this weapon after completing The Break of Dawn quest. Here, you'll have to find Meridia's Beacon and return it to the Statue of Meridia.
Note: You should note that there isn't a designated Beacon spawn location. Rather, the spawn is random and can appear in any boss room chest inside dungeons.
Nightingale Blade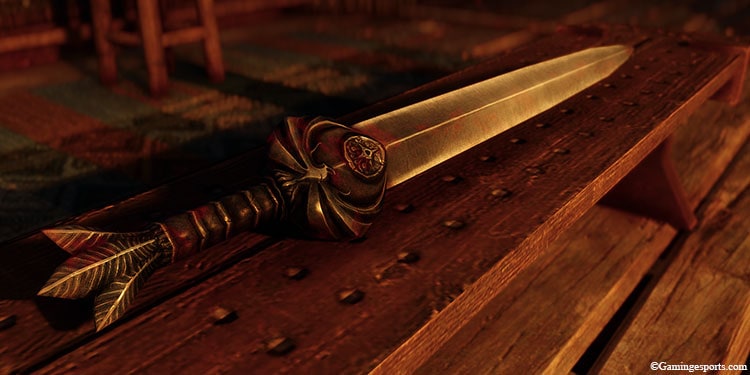 The Nightingale Blade is part of the Nightingale weaponry set. The design of the bow and blade are pretty similar to one another.
The reason why this weapon is great is because of its enchantment. Every hit you land on the enemy will absorb their Health and Stamina.
Like the bow, this is also a leveled item, so it's best to get this weapon once you've reached level 46+.
After completing the Hard Answer questline in the thieves guild, you'll get this blade from Karliah.
Chillrend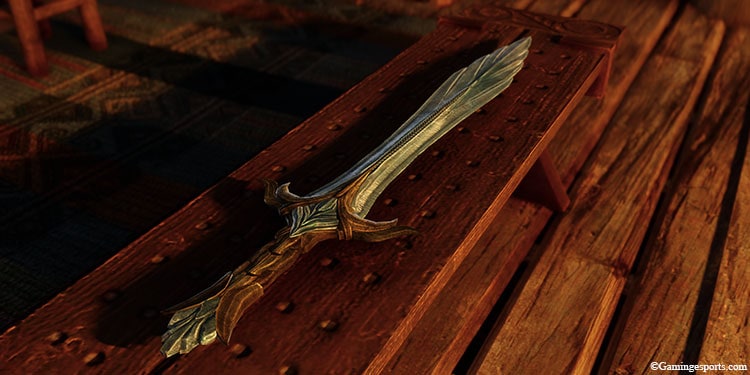 It's easy to mistake this weapon for a normal glass sword, as visually, they look pretty similar. But that's where the similarities end because Chillrend boasts the highest damage out of all one-handed weapons in the game.
Furthermore, the enchantment on this weapon also synergizes well with its damage potential. The frost damage slows down the enemies while the paralyze enchantments render the enemies useless for a couple of seconds.
Applying either of these effects on an enemy allows you to land multiple hits on them, thus finishing them off quickly.
This weapon is also a leveled weapon whose damage output will depend on your character's level while picking up this weapon. So wait till you're level 46+ before getting Chillrend.
You can get this sword inside a locked display case in Mercer Frey's (a member of the thieves guild) house. To access his house, you'll have to start The Pursuit questline in the Thieves Guild.
Windshear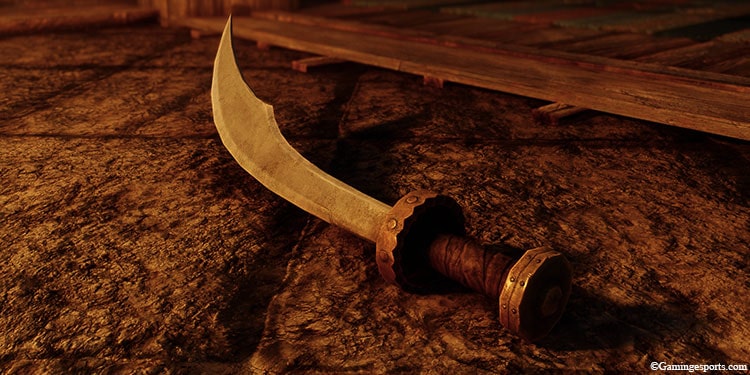 Visually, this weapon looks very similar to the standard Scimitar. But don't be fooled, as no other weapon comes close to this overpowered sword. This is by far the best unique one-handed sword in the game.
The reason why this weapon is so strong is not because of its damage potential, neither of the enchantment but its ability to stagger any type of enemy on every single hit.
So as long as you're hitting enemies with Windshear, you can permanently stun-lock them, essentially making them a target practice dummy.
To get your hands on this sword, you'll have to complete the entire Dark Brotherhood questline. Ultimately, you'll find this sword embedded on the ship, The Katariah.
Wuuthrad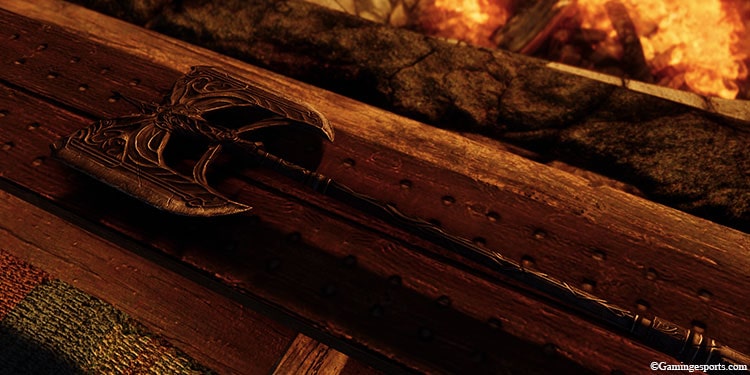 If you've joined the Companion in Jorrvaskr, you must've heard the stories of Ysgramor, the Harbinger. The man wielded the legendary Wuuthrad and led the Five Hundred Companions to the battle against the elves.
This great two-handed axe is also known as the bane of the elven race.
Unlike other unique weapons, Wuuthrad has a permanent enchantment that deals additional damage to all elf races, including High Elves, Wood Elves, Dark Elves, and Snow Elves.
This weapon can be obtained during the Glory of the Dead quest in the Companion Arc.
During the questline, Eorlund Gray-mane will hand over Wuuthrad to you, and you'll have to use it at Ysgramor's Tomb to access the ruin. Retrieve the weapon after using it to claim it for yourself.
Longhammer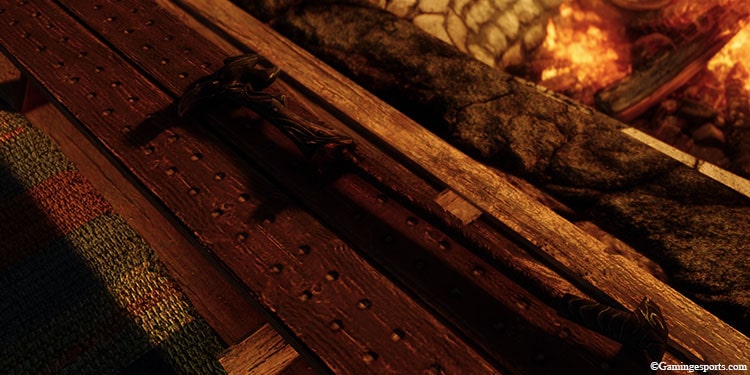 Generally, Warhammers in Skyrim are slow and feel very clunky to use in combat. However, the Longhammer is one exceptional weapon you might consider using on your playthrough.
Visually, it looks like a normal orcish war-hammer. But what makes this weapon unique is its swing speed.
This weapon has the fastest swing speed among all the two-handed weapons in the game. Furthermore, you can even apply enchantment on this weapon, thus boosting its total damage output potential.
To get this weapon, you'll have to finish the Liar's Retreat quest. At the end of the mission, you'll get this hammer as a quest reward.
Ebony Blade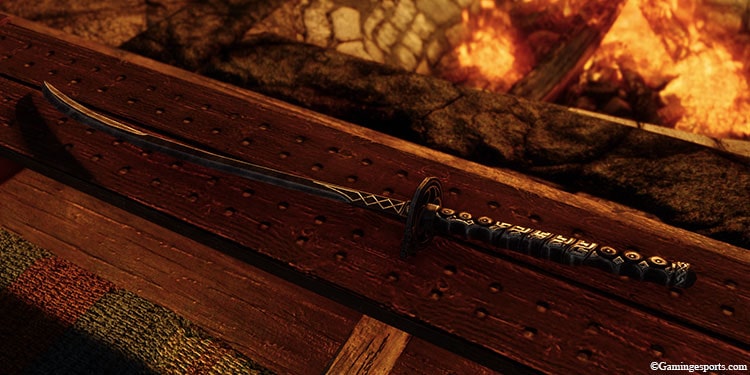 This Daedric weapon once belonged to the Daedric Prince Mephala, the god of murder and deception.
Not only does this weapon have the coolest-looking visual aesthetics, but it is also a good contender for the strongest weapon in the game.
It's a two-handed nodachi sword that has the Absorb Health enchantment applied to it.
However, to fully unlock the potential of this weapon, you'll have to kill 10 of your closest allies using this blade. In return, the blade will grow stronger, absorbing more health points on every hit.
You must complete the Whispering Door quest to unlock this weapon. To start this quest, speak with Jarl Balgruuf in Whiterun about his troubled child, Nelkir.
Bloodskal Blade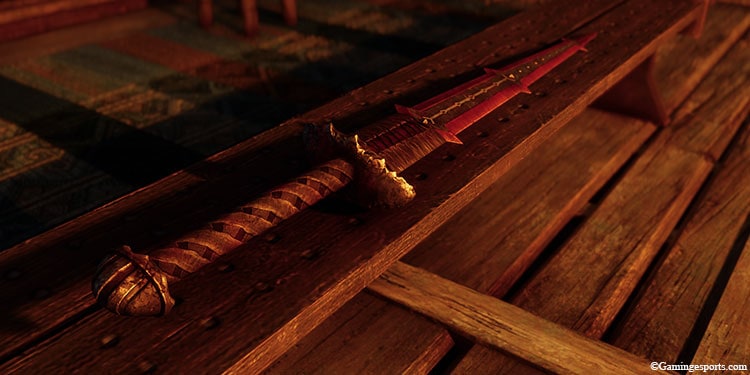 When you first encounter this Greatsword, you'll know that there is something special about this weapon.
The Bloodskal Blade is a two-handed Greatsword that can shoot projectiles while performing a power attack.
In fact, this is the only weapon in the game that has this unique mechanic. You can use this projectile to hit enemies that are out of reach.
Furthermore, the enchantment on this weapon is permanent, so you don't have to recharge it with soul gems.
To get this weapon, you'll have to travel to Solstheim and speak with Crescius Caerellius. He'll give you the task of retrieving the sword from the Raven Rock Mine.
Mace of Molag Bal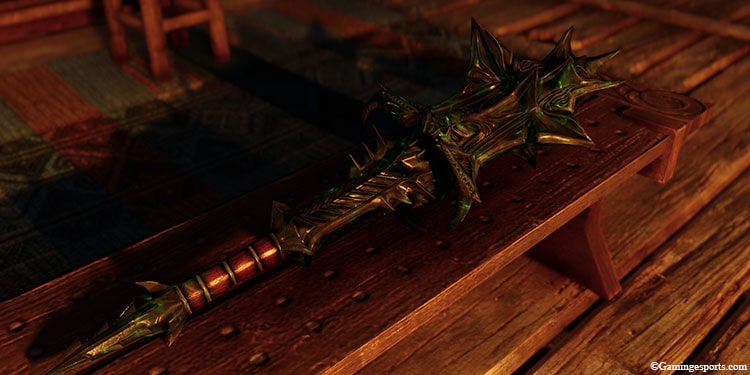 This weapon is perhaps the most sinister-looking weapon on this list. It's a Daedric artifact crafted by none other than the Daedric prince, Molag Bal.
This weapon has a couple of enchanted spells applied to it. First, every time you hit an enemy, it deals 25 points of Stamina and Magicka damage to them.
Secondly, if you manage to finish them off within 3 seconds of striking them, you will also capture their soul in a soul gem, making this an excellent weapon to fill soul gems.
You must finish the House of Horror quest in Markarth to get this weapon. If you're having trouble initiating this questline, head inside the Abandoned House in Markath, and the rest will unfold.
Steel Battleaxe of Fiery Souls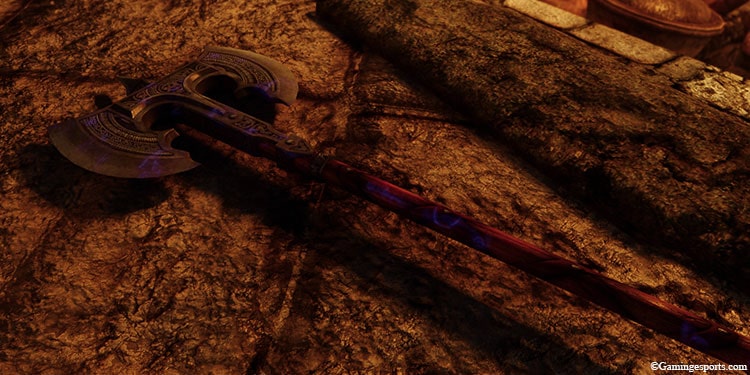 By the look of it, this weapon resembles the normal two-handed Steel Battleaxe. But we've included this weapon in the list because of its unique enchantment.
This is the only weapon in the game that has Fiery Soul Trap enchantment applied to it. Simply put, Fiery Soul Trap enchantment is a better version of Soul Trap enchantment that deals additional fire damage on every hit.
You can either use this weapon as it is or disenchant it to learn its enchantment and apply it to other weapons.
To get this weapon, you'll have to clear the Nordic Ruin, Ironbind Barrow. You can find the weapon in the room with Warlord Gathrik.