Malenia easily is the hardest boss created in the modern gaming history. Defeating her needs mastery of many skills and unwavering determination.
On top of that, there are three undeniable headaches you will encounter while fighting Malenia,
She heals back her HP when landing an attack on you.
Waterfowl Dance, we will discuss about it later, and
Her ultra-aggressive second phase, i.e., the Goddess of Rot.
One slight misstep, and you are dead. Malenia even marks her each triumph with a bold phrase, "I am Malenia, the blade of Miquella" .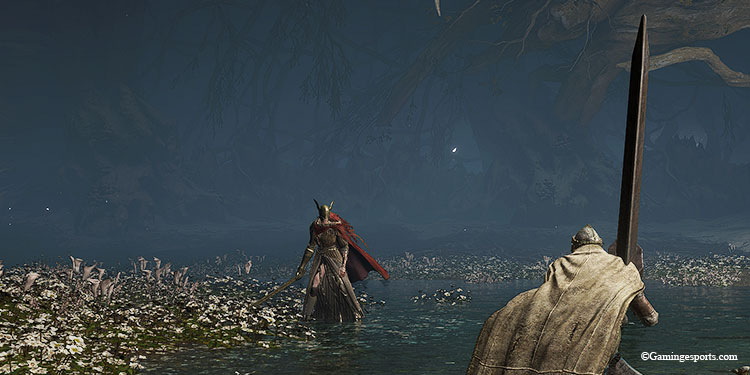 It took us a lot of attempts to beat Malenia at her own game, and we hope to help you achieve the same feat with few tips and tricks.
Malenia—Bossfight Information
So, if you have reached the base of Haligtree and have found Malenia, we have some useful facts and stats you need to know while fighting her,
She has two phases. Her first phase Malenia, the Blade of Miquella, has 18,473 HP, and her second phase, The goddess of Rot, has 14778 HP making a grand total of 33251 HP. (New Game)
Once you defeat Malenia's both phases, you will obtain 480,000 Runes (in the New Game) and the Remembrance of the Rot Goddess along with her Great Rune (a shard of Elden Ring).
She is an optional boss for story progression, and is also one of the demigod children of Queen Marika.
You can use Spirit Summons, or you can also summon multiplayer allies to fight against her.
She deals physical damage with her katana, and in the second phase, she uses attacks that inflict Scarlet Rot.
Her attacks can be parried, but you can only counterattack her every three parries you perform on her.
She can be stance broken once you deplete her 80 stance health with your attacks. Note that stance health regenerates just like stamina does if you do not land a hit on the enemy.
Even though you can stagger her easily, she has hyper armor in some of her attacks. These attacks can be interrupted by a bleed proc or frostbite proc.
She is highly resistant to Poison and Scarlet Rot. She is also resistant to Holy damage.
She is weak to Frostbite, Fire, and Bleed. But the portions of the arena with water will boost her defense against Fire attacks.
Her AI will dodge most projectiles you throw at her. This includes arrows, spells, and consumables. Only Night Shard and Night Comet are two projectile sorceries that can be used on her without triggering her dodges. An uncharged Lightning Spear can also hit her.
During the second phase, her defense is boosted when she comes out of her Scarlet Aeonia dive by around 50%.
Malenia's Movesets
FIRST PHASE
She takes up her helmet and her sword-wielding prosthetic arm to duel with you. During this phase, she uses physical attacks only. Each attack is listed below.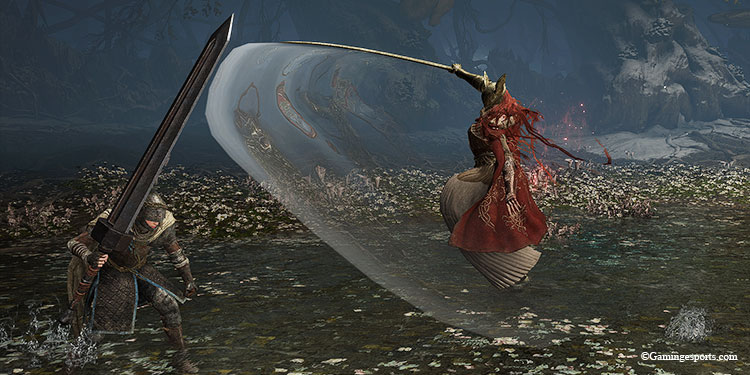 Katana Attacks
She uses her Katana attached to her prosthetic arm to perform a variety of attacks.
Katana Charge Swipes– With a clanking sound and a red spark, her katana shortens and does a flurry of swipes while lunging in your direction. After the flurry, the katana clanks again, and she follows up with a charged swipe.
Katana Charge Stab– With a clanking sound, she brandishes her katana and stabs you like a missile.
Katana Charge Jump Slam– Jumps up in the air and, with a clanking sound, descends at you with a chop. This can follow up after her other attacks.
Katana Swipes– An unrelenting Katana attack combo, and can end up in other attacks once she finishes her initial swipes.
Dual Swipes– Swipes forwards and then swipes again while leaping backward.
Melee Attacks
Super Kick– Jumps up in the air and comes down at you with a quick kick.
Grab and Stab– Charges a grab and lunges at you. If you get caught, she will toss you up in the air, and will raise her sword upwards, impaling it through you. This attack does 2225 Thursting damage.
Special Attacks
Waterfowl Dance– Launches herself in the air and lunges at you with a flurry of slashes. This will follow up with two more flurries that will again be directed toward you. Once the third flurry ends, the wind will shred, causing damage.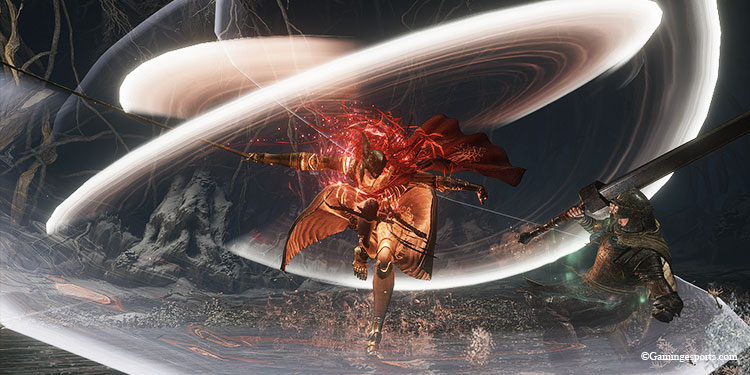 SECOND PHASE
Once you defeat her the first time, she will revive as the Goddess of Rot. As soon as this phase starts, she launches herself into the air to perform a Scarlet Aeonia attack.
She starts this phase with missing health, which can regenerate if she lands her attacks on you. The attacks she performs are,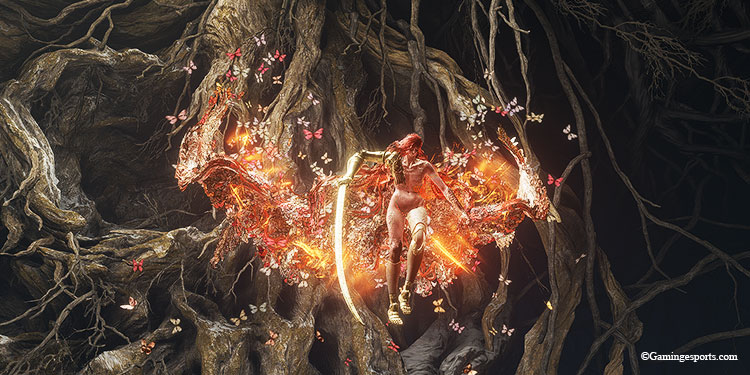 Katana Attacks
Gliding Swipe– Does a side gliding swipe at you and follows up with another swipe.
Melee Attacks
Counter Kick– Counters your slashes with a kick and staggers you.
Scarlet Rot Attacks
Scarlet Aeonia– Flies up in the air and launches herself at you. Forms a Scarlet Aeonia flower where she lands which explodes after a few seconds. She will take a brief time to recover once she does this attack.
Flutterfly Blast– Her attacks, especially the jumping chops, will be followed up by a blast from the ground. These blasts will cause Scarlet Rot.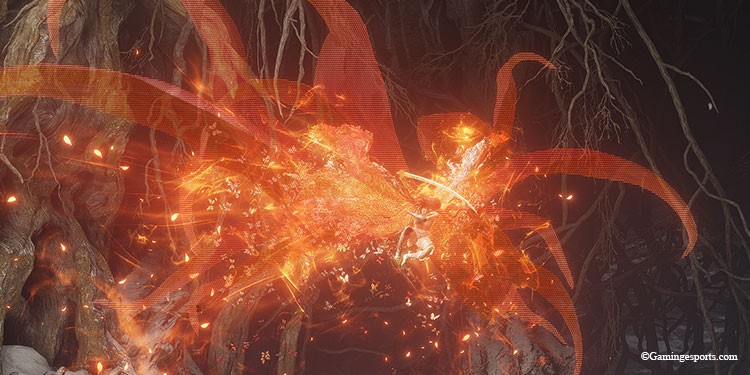 Special Attacks
Spirit Rush – Creates a Scarlet Rot circle on the ground, flies up in the air, and launches four spirits that stab, swing, and slam at you. In the end, Malenia will launch herself at you.
Rotting Waterfowl Dance– Modifies the waterfowl dance with Scarlet Rot-inducing slashes.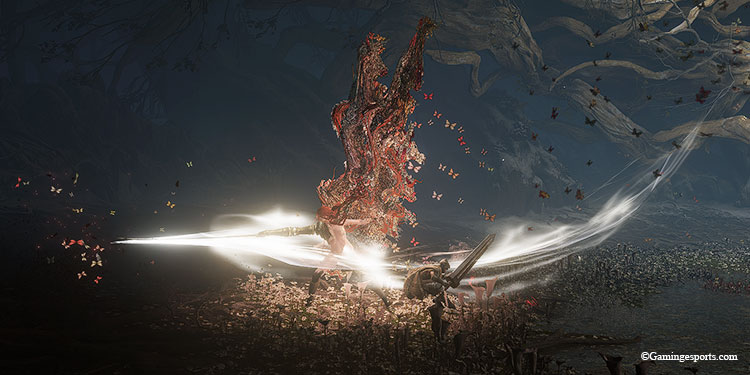 Tips and Tricks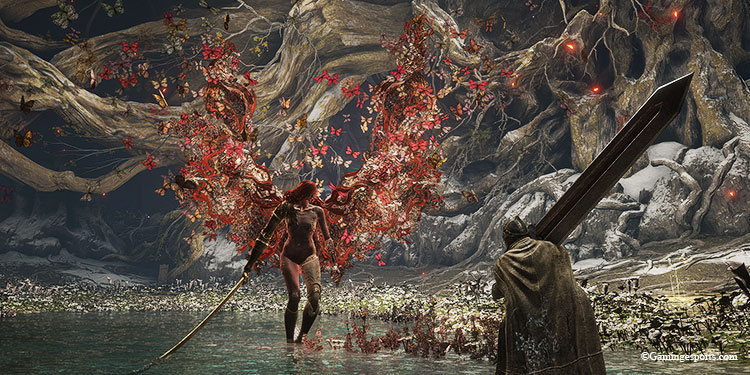 She is not a boss you can bully easily, but there are ways. The best way I know is using a Mimic Tear with decent heavy armor and a Blasphemous Blade build. Mimic Tear with this build will usually assist you to make quick work of Malenia.
The Mimic Tear heals itself when used with the Blasphemous Blade, and as we are already aware of how tanky the max level Mimic is, it can easily sustain throughout both phases of Malenia.  
Alternatively, the best Spirit Ashes against her are the Redmane Knight Ogha and Omenkiller Rollo. These two bad boys can assist you in killing Malenia like she is just another boss. But the Blasphemous Blade Mimic Tear is still the most reliable, in my opinion.
Black Knife Tiche is also a good summon as she dodges a lot and also deals a lot of damage. Lhutel the Headless is also recommended for the same reason but does not deal as much damage as Tiche.
If you insist on fighting her without any help, sooner or later, you will have to learn how to dodge the Waterfowl Dance. This can only be done if you start preparing to dodge as soon as she leaps up in the air.
Start by running away from her to dodge the first flurry, then roll into her a bit to the right to dodge the second flurry, and make a similar roll as the previous one into her to dodge the third one. Once you dodge the third, you usually avoid the final blast automatically.
During the first phase, a great shield can also easily withstand the waterfowl dance attack.
But be careful blocking the waterfowl dance in the second phase, as you might not get damaged, but you will still get the Scarlet Rot.
It might help to take items like Preserving Boluses or incantations like Flame Cleanse Me that can heal the Scarlet Rot, although you might not get a chance to use them.
Most of the time, getting Scarlet Rot along with the aggressive pace of the second phase means you have a ticking time bomb on your hands that is most likely to end with you dying.
If you battle her with a sword and want to learn when to punish her, the best attack to punish her is after the Katana Charged Jump Slam. This is the only attack that gives you enough time to retaliate.
During the second phase, she will produce the Flutterfly Blasts at the end of her jump chop. The attacks that these blasts are the best to punish as she takes a while to recover from these attacks.
You can also punish her after the Scarlet Aeonia attack when the rotting flower subsides.
High-poise damaging attacks like Lion's Claw Ash of War are perfect to punish her after she makes the above-mentioned moves.
Ranged attackers will have a more challenging time fighting against her as her AI will dodge most projectiles. It's best to use the Spirit Summons to keep Malenia busy as you use your spells at her. You can use spells like Night Shard and Night Comet that cannot be seen by enemies. We have a guide on how to use the Night sorcery build.
It's okay to use ranged attacks once she lands on the ground after making the Scarlet Aeonia attack. She will be immobile for a few seconds after landing. At this moment, you can use your highly damaging long-range spells to capitalize on the situation.
You can also use quick-releasing spells to punish her after she does her charged jumping chops, as it will take a while before she can resume her normal actions.
How Did We Beat Malenia?
We tried all methods to beat her: the cheesy and try-hard. Without any debate, she was the hardest boss we ever faced in any Souls game, period.
Successfully defeating her the try-hard way is one of the most satisfying feelings you can experience through gaming.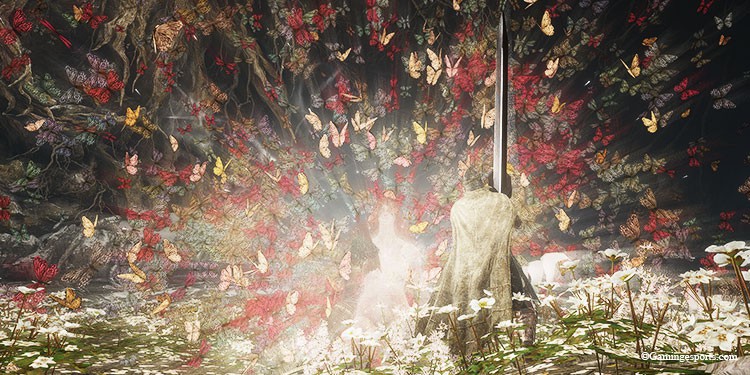 You can check the video below to see how we defeated her easily without her getting a single chance to stab us with her katana when using the Blasphemous Blade Mimic Tear.
You can also see how much of a struggle it was to defeat her using the traditional method.
Good luck !!!