Your home in Minecraft can be as basic or as complex as you'd like. It can range from a wooden cabin with basic crafting blocks to castles, cities, massive underground bases, and fancy houses.
Complex structures are okay for people who already know how to build a house. You may need some further guidance—and we've already created a Minecraft beginner's guide.
For now, let's go through what your house needs, building materials, decorative blocks, and other tips.
What Counts as a House in Minecraft?
A house is a space where you live, and it can be a house as long as you can sleep in it and as long as mobs can't get in.
To ensure that mobs can't get it, it needs to cover all of its entries with building materials. That accounts for walls and a roof, although floor, windows, and a door would be nice.
Also, consider that some mobs may damage your blocks with explosions, so building your house with materials like dirt and grass should be out of the question.
Still, mobs won't attack you when you're outside of your house, even if they see you. They will only attack you when you're outside, which is when an explosion or an arrow may damage a block.
Secondly, you need a bed so you can sleep. Sleeping allows you to bypass thunderstorms and the night.
Additionally, you may want to pack your house with crafting blocks to create other things and chests to store materials. The typical crafting blocks are a Crafting Table and the Furnace.
A more advanced crafting block is the Enchanting Table, which we're skipping for this tutorial. Additional non-essential crafting blocks include a Blast Furnace, a Smoker, a Cartography Table, and others.
So, here's what we're looking at:
You need a Crafting Table, a Furnace, and an Enchanting Table (the latter is more advanced). You require these crafting blocks to make building tools and materials. Then, you'd want to place them at home for your convenience.
You need building materials for your walls, floor, and roof.

You need building materials for your windows and doors (optional)

, as well as your bed (nonoptional).
Find a nice area and build your home.
You need to place torches within and outside of your house to keep Creepers away. Creepers can explode if they see you, and their explosion may damage the building blocks.
Build wooden fences or stone walls to further protect your area from mobs (optional).
Don't worry too much, though. The main items you need are wood planks and cobblestones.
Step 1: Craft the Crafting Table and the Furnace
The most important block in the game is the Crafting Table, as it allows you to create most items Minecraft has to offer. If you don't have it, the recipe is quite simple, even if you're starting.
Find trees
Chop wood from trees with your bare hands or an ax (like a wooden pickaxe). It takes about five seconds to chop trees with your bare
Put a wood log on your crafting grid by opening the inventory, and then put the four resulting wood planks on your inventory.
Open your inventory again, and put four wood planks on the 2×2 Crafting Grid
Finally, place the Crafting Table anywhere, as it's where you'll be working most of the time. You can craft as many as you like.
Now, make some sticks with your wood logs like so: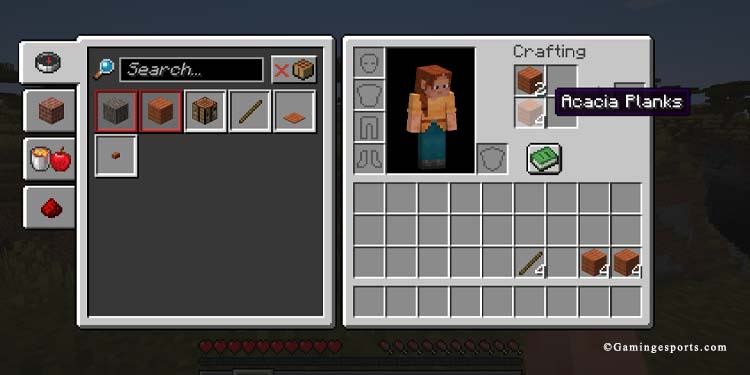 And keep gathering wood. Eventually, you'll have the ingredients for a wooden pickaxe and a wooden ax:
The wooden pickaxe requires three wood planks and two sticks. Put the ingredients on the Crafting Table like so:
The wooden ax requires three wood planks and two sticks as well. However, you have to put the ingredients on the Crafting Table like so:
Next, we need to find Cobblestone to craft the Furnace. Cobblestone is a rock—you can recognize it as the gray-looking blocks you'd find in mountains, caves, or digging.
Luckily, there's a Ravine close to the starting location on the Minecraft Realm I opened for this tutorial. If you care about it, the Seed is 3606022626109459641 (Java Edition).
A Ravine is an entrance to the surface's underworld, so it became easy to find Cobblestones. You may find it digging through mountains with your pickaxe.
Once you find it, use your pickaxe to gather as many as you like, as it's a building material you can use. Remember that you need to press and hold the Mine/attack button to chop trees or mine rocks. On PC, that would be the left click.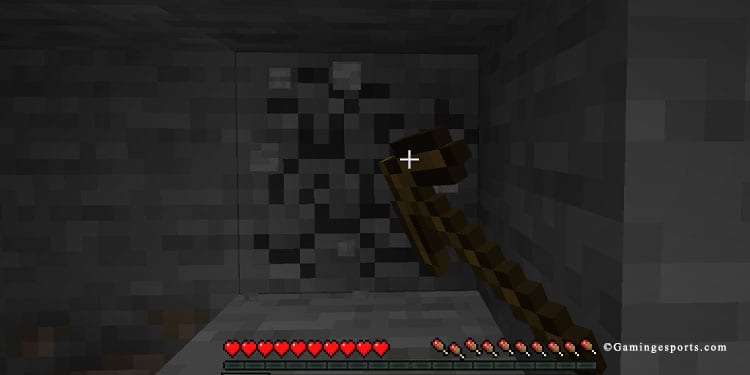 I gathered Cobblestones until I broke my pickaxe, and then I gathered plenty of wood as well. Later on, I had to find more Cobblestones and more Wood to build a house, though, so you may want to mine for longer.
Anyhow, go back to your Crafting Table, and put 8 Cobblestones like so: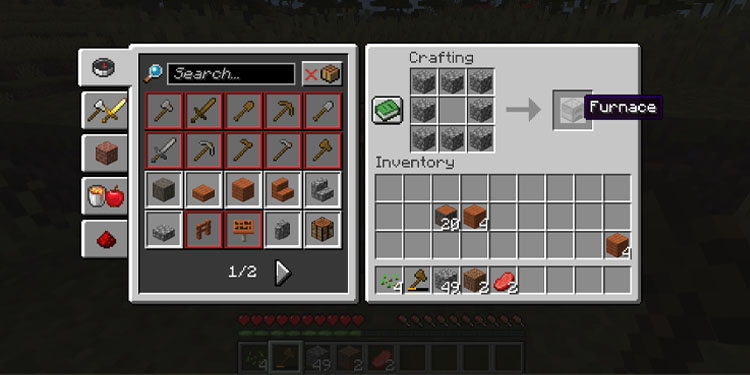 Then, put the Furnace next to the Crafting Table.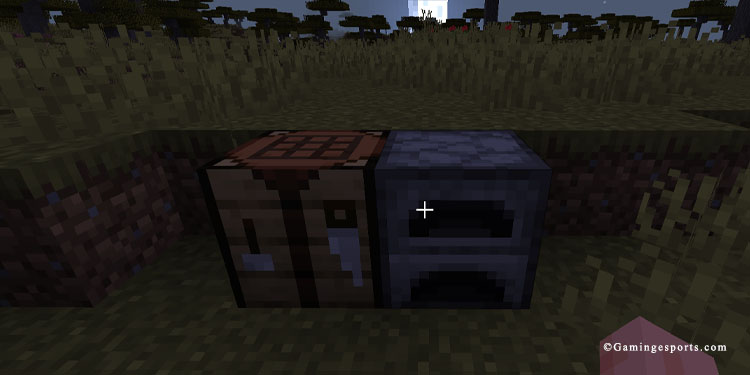 If you need to hide from mobs at this point as I do, you can dig down, and then cover the way you used to dig. Then, wait for about seven minutes for sunrise.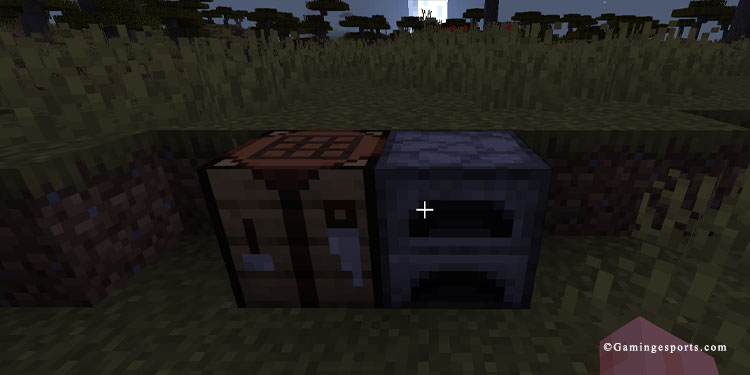 We're searching for building materials the next day.
Step 2: Find Building Materials
The next activity is finding the materials you can use to build a house, but you'd want to find the ones that offer some resistance to explosion and flames. However, there's no material decay or weather damage in Minecraft.
That said, the building materials you'd like are the ones easier to find. These are grass, Cobblestones, wood logs, and wood planks.
You can also process some building materials on the Furnace to get better-looking building blocks. You can use wood planks as fuel on the Furnace (the bottom spot), or you can create charcoal with wood.
In any case, you can use the items you already have to make:
Stone by smelting cobblestone in the Furnace
Smooth Stone by smelting Stone in the Furnace
You can make Stone Bricks by placing four Stones on the crafting table. However, the types of stone I have described (Cobblestone, Stone, Smooth Stone, and Stone Brick) have the same blast resistance (6 points), so making these items would be for aesthetic reasons. Any of these can resist a Creeper explosion.
Also, make loads of wood planks, as it's the easiest and cheapest building material available.
Finally, remember to eat if you're on Survival! Hit some cows for raw meat (cows are easy to find), and put the raw meat alongside planks on the furnace to cook it.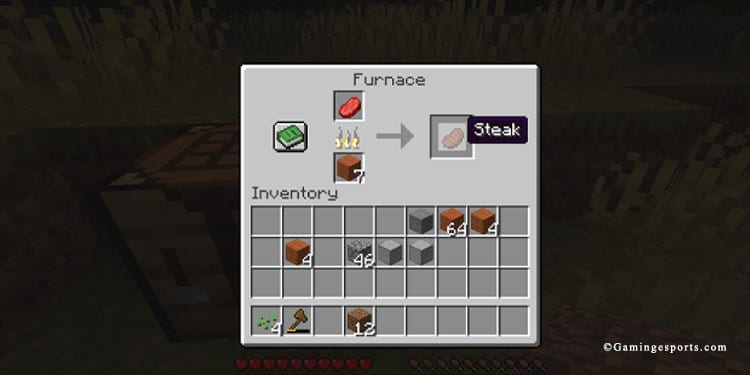 More complex building materials will come around as you explore the world. Just remember that you can use anything, and that includes blocks you craft and blocks you find.
For example, you may find Clay, which spawns in deserts and badlands biomes, as well as underwater.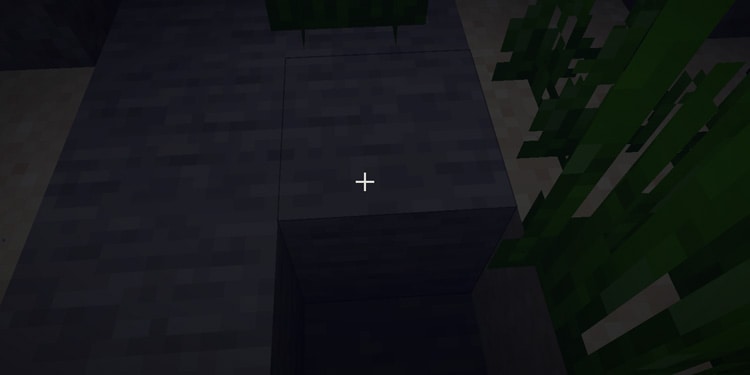 You can dig clay with a shovel, and each block will give you four Clay Balls (if your tool doesn't have Silk Touch). Then, if you put Clay Balls in the Furnace alongside a fuel source, you get a brick.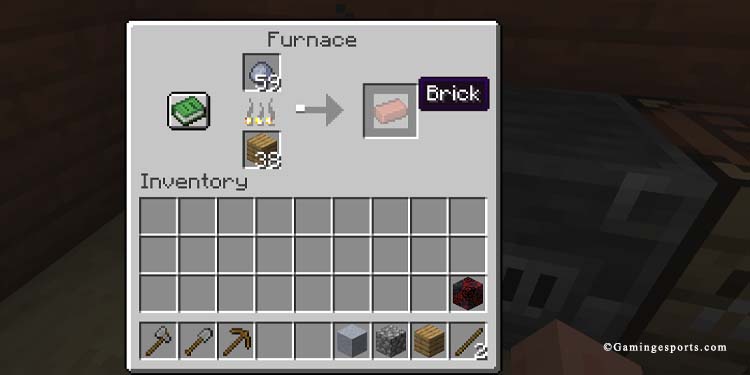 And if you put four bricks in the Crafting Table, you can get a Brick Block to build.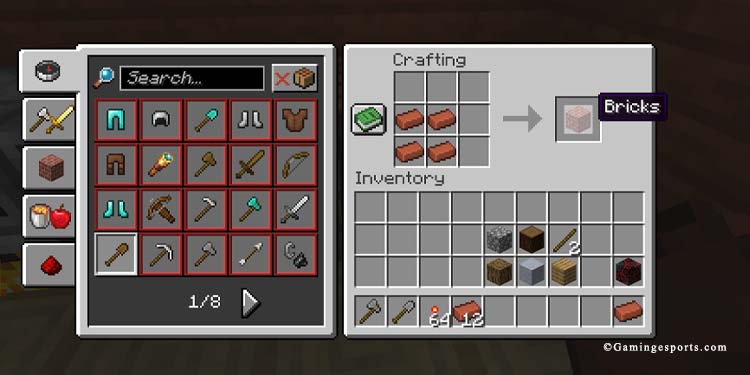 Similarly, you can put four Clay Balls on the Crafting Table to make a Clay Block.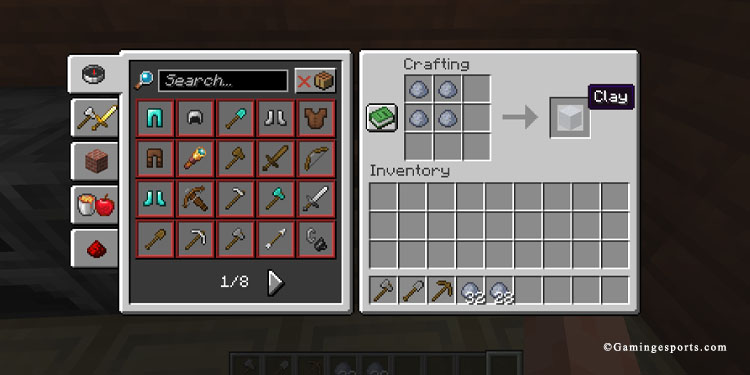 You can then use Clay to build or put the Clay on the Furnace (alongside fuel) to make Terracotta.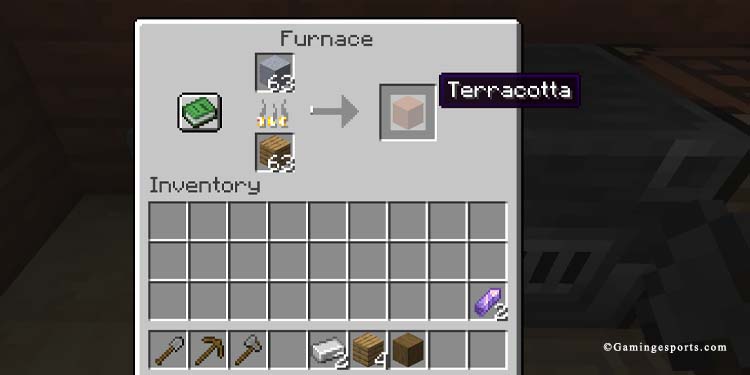 Bricks and Terracotta are expensive, and clay can be hard to find. Materials like these should be part of your mid-game rather than your beginnings.
If you're starting, stick to Cobblestones, Stones, Smooth Stones, Wood Logs, and Wood Planks.
Speaking of blast resistance, stones are at the top of the list. The only materials that top it are End Stone and its variants (9 points), Lava and Water (1000 points), and Obsidian (1200 points).
Step 3: Building Materials for Windows and Doors
Windows and doors are optional but nice. Windows in Minecraft are "glass panes," so you need glass. To make glass, smelt sand in the Furnace.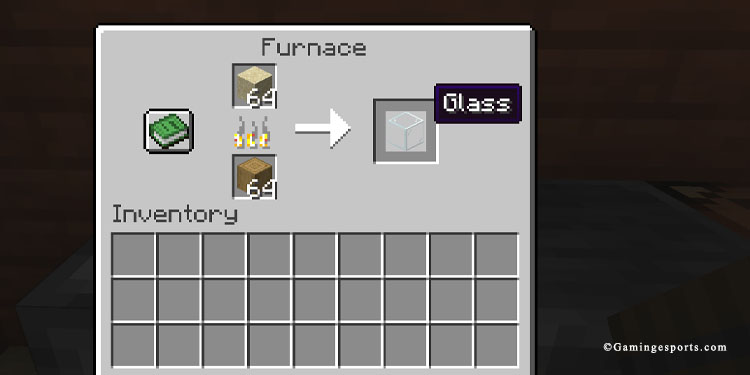 (You'd have to find sand on a desert or a beach).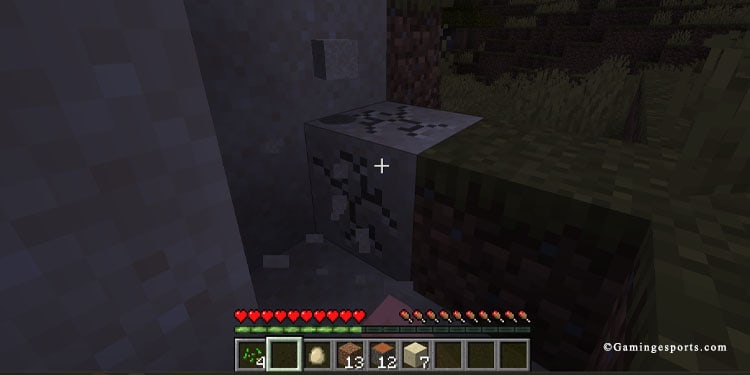 Then, you can split six Glass Blocks on the Crafting Table to get 16 Glass Panes for your windows.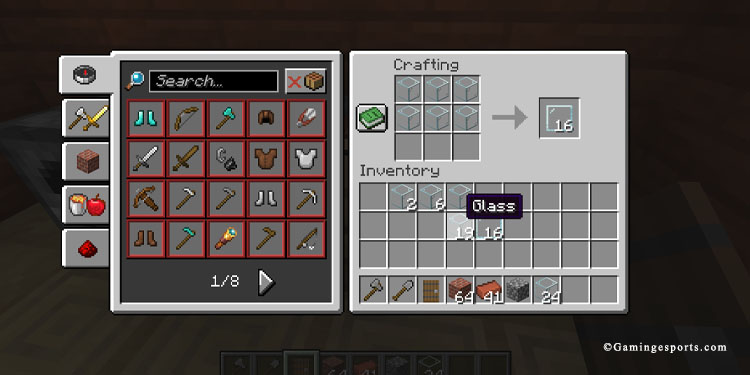 Finally, you can craft:
A door with six wooden planks
Stairs with five wooden planks
Slabs (for your roof) with three planks
Finally, perhaps you have found sheep by now, which are plentiful in every green biome. If you see one, punch it for the wool.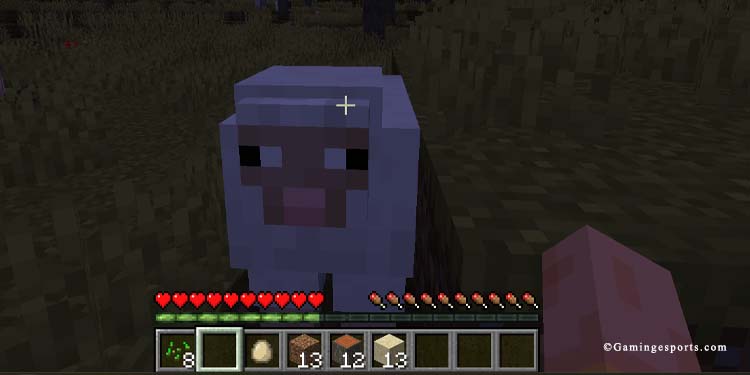 Then, craft your bed with three wool and three wood planks.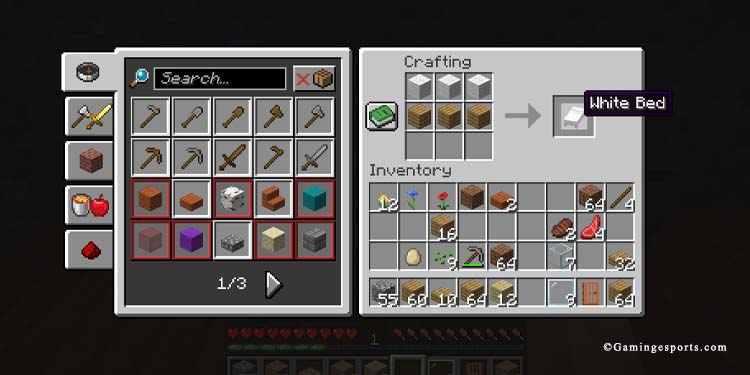 Step 4: Build Your House
It's time to build, but finding the space to build is up to you. What do you prefer? A mountain? A cave? A plain? I prefer a mountain close to important resources such as trees, animals, cave entrances, villages, and similar.
So, once you choose the location, put all of your materials on your action bar, and start building. Here's what I did:
I choose a place near a river and began "terraforming" the area with my hands. In other words, I created a flat surface.
By this point, I also made a shovel to dig faster. It requires a wood plank and two sticks.
I dug the area where I wanted to build with the shovel, and then I place wooden planks on the floor.
I placed Cobblestones around the foundation to make the walls. Cobblestones have a nice blast resistance, and they are easy to find, so I'd say they are the best type of building material. Also, the walls need to be 3 blocks tall.
You may need three stacks of Cobblestone to build a medium-sized house. When you do, leave some empty spaces on the walls for the windows.
Place the door and the stairs at the entrance as well!
Then, equip your Glass Panes to put the windows
Use the wooden slabs to make the roof
Lastly, place your essential crafting blocks inside your home
Place your bed within your walls
Finally, craft various chests, and place them. You will use them to store your crafting and building material and other items you may not be using at the moment.
How to Secure Your House?
Mobs spawn at night, and, to keep them at bay, you should place torches within and outside your wall, as well as make fences.
To make torches, you will need charcoal, which you can make in the furnace. Put a wooden log at the top, and a wooden plank at the bottom (or any other fuel source you have).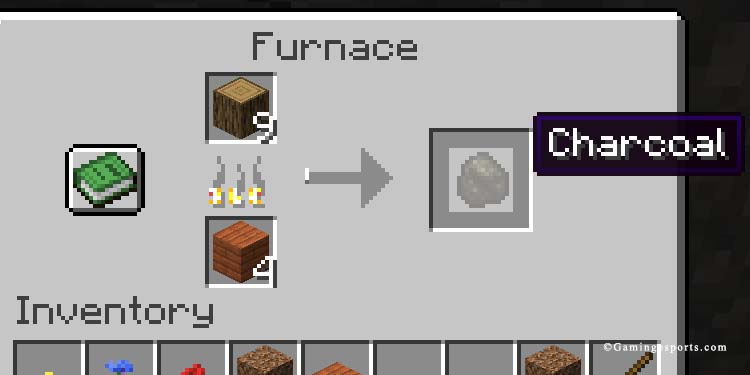 Then, combine the charcoal with a stick to make four torches.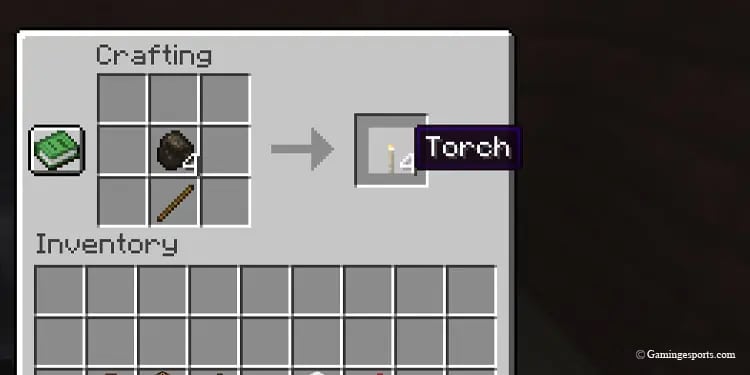 Then, place torches inside your home: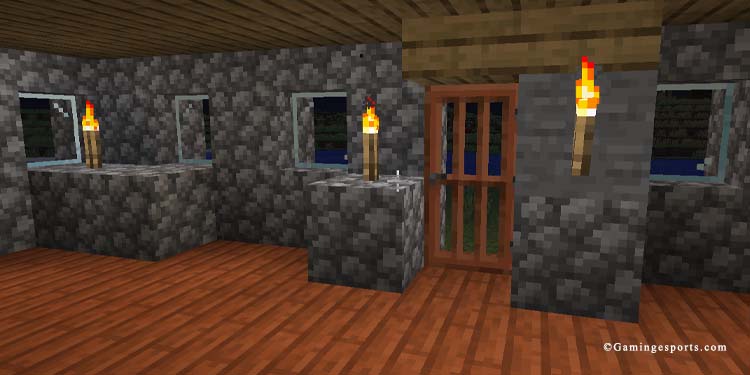 And on your house's walls and roof (the roof, if possible).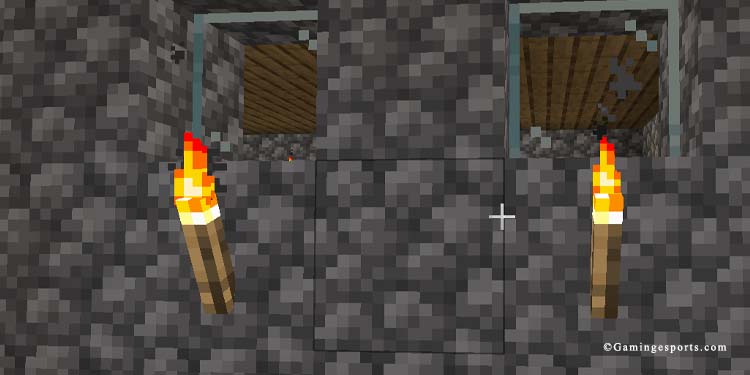 You will also craft some fences. You need two sticks and four wooden planks.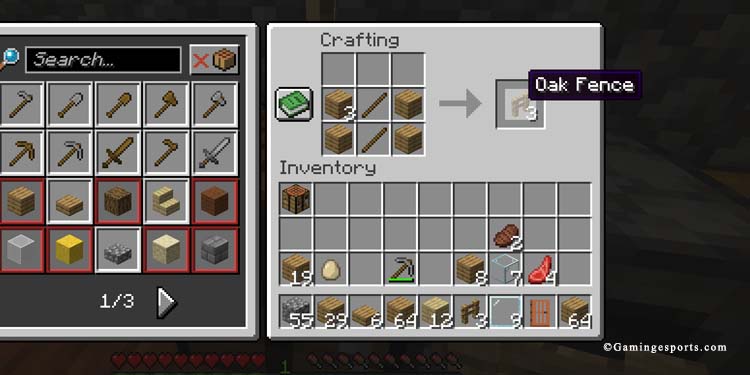 Then, place these fences all around your house as a sort of barrier. Alternatively, you can use Cobblestone to build a medieval wall (it can be 2-blocks tall).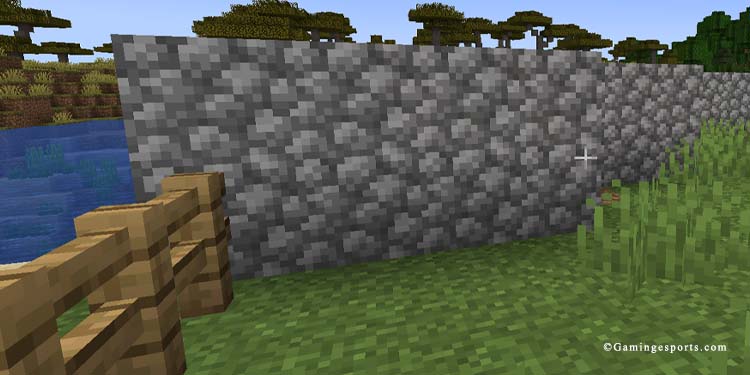 Finally, you can put more torches on the wall, which will further protect you from mobs spawning near your house or approaching your house. You can expand the wall area as you see fit.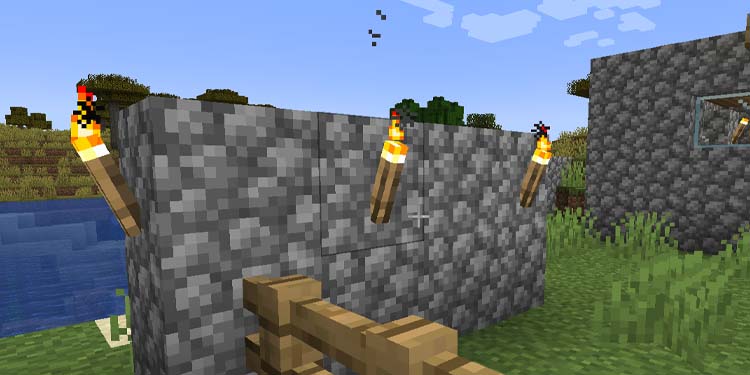 That's as far as we need to go on this tutorial. We created a house where you have basic crafting blocks. It also has a chest to keep your loot safe, and a bed to sleep which can be your spawn point.