Idle games may seem really simple and boring at first. They don't have realistic graphics like other AAA games out there, nor do they have engaging storylines and intense action sequences.
The only thing that makes you feel engaged is, you have to click on the screen to collect resources.
But when you actually play these games and give them a go, they can be very addicting. These games even play by themselves after you've done enough upgrades, so you'll be checking them every time to see how many points you've accumulated when you were gone.
Best Idle Games on Steam
If you are searching for a perfect idle game to pass your time, you need not worry because we've got a lot of them. Here are the best idle games that you can find on Steam.
Cookie Clicker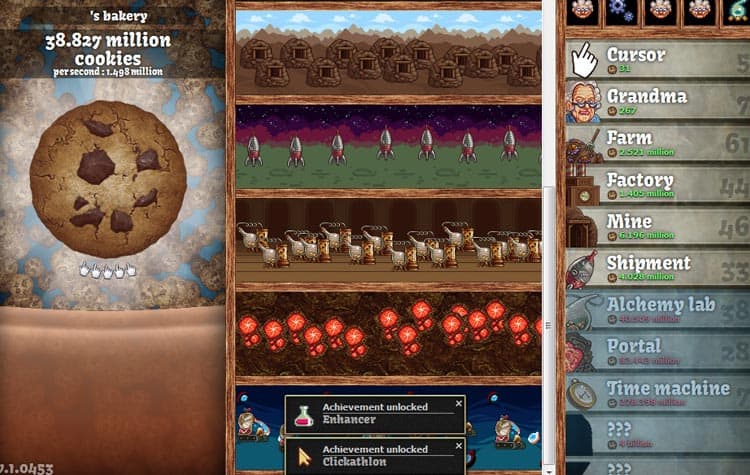 Cookie Clicker is one of the best idle games on steam where cookies are the dominating factor in the world. Your job is to farm cookies, ascend to another world and be reborn to start all over again.
At the start of the game, you're given a large cookie to click. You start collecting cookies by clicking on it. Clicking on it once gives you one cookie.
After you've accumulated enough cookies, you can purchase power-ups that will do your job, and you don't have to click anymore. Then you'll just be sitting and watching your empire of cookies grow.
Power-ups include assets from the cursor, which will click the cookie in place of you, to grandmas who will bake cookies and make them famous throughout the neighborhood.
Later on, you'll be able to build a wizard tower and alchemy lab that will summon hundreds of thousands of cookies in an instant.
You don't really need to stay in front of your PC to collect cookies anymore. You can put games on your background, and it will automatically collect them for you.
When you think you've accumulated enough cookies, you can ascend to another world, leaving behind everything and be reborn into another. There you start your cookie revolution from scratch while keeping the prestige levels of the previous world.
Legends of IdleOn – The Idle MMO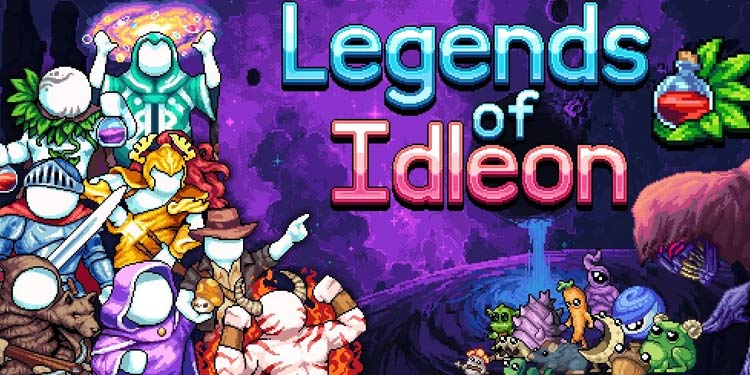 Legends of IdleOn is an RPG game that has features similar to typical RPG games. Now, you might be wondering why the game is in the idle genre. Well, that's because you can gain loots and level up even when you're not playing the game.
Like all RPG games, it features grinding and leveling. You play as a character, explore the world, hunt monsters, and accumulate loots.
You can collect resources to level up and spend those resources on upgrades to perform even better. There are also talent trees that make your progression many times faster.
As you keep moving forward, you'll gain various skills and abilities. You'll also be able to craft different equipment which will aid you throughout the game. As you need a lot of different materials to craft these equipment, grinding them is even more entertaining and fruitful.
Tap Ninja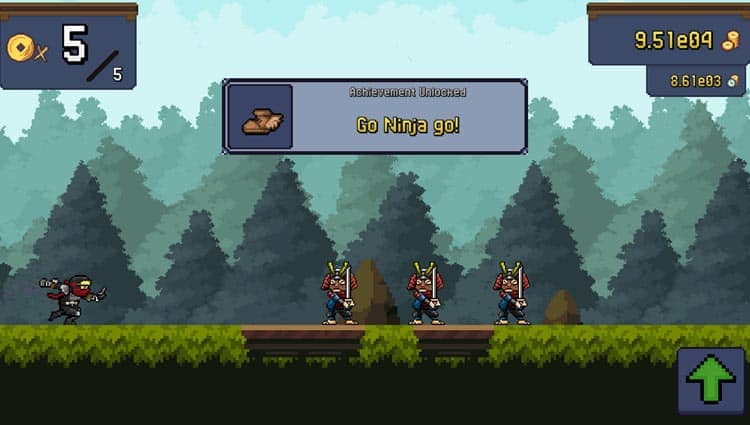 Tap Ninja is an incremental platform game where your goal is to make a village and become a ninja master. After spending some time and purchasing some power-ups, you can collect the resources even when you are AFK (Away From Keyboard).
The game is simple and straightforward. You play as a ninja continuously moving forward. You'll meet enemy samurais on the way, and killing them gives you gold.
Earn enough gold, and you can buy upgrades, which will increase your earnings per samurai. When you spend a lot of time in the game, you can earn millions within seconds.
You can learn various skills and abilities to earn more gold. The gold can be spent to build your village and earn passive incomes that'll generate gold even when you're not online.
Later on in the game, you can perform various upgrades to become much stronger and become a true ninja warrior.
Melvor Idle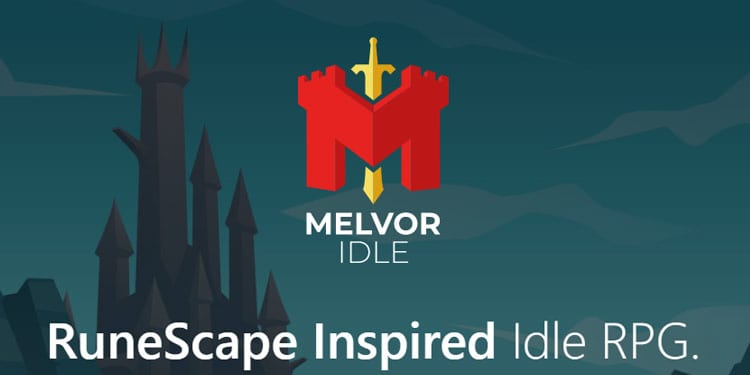 Melvor Idle is an adventure RPG game where you collect different types of resources by clicking on them and performing upgrades to master your skills.
When you reach a certain level, you don't need to play the game physically; it automatically accumulates even when you're away. You can just collect the resources when you get back to the game.
The game is pretty simple and has a good UI. You start by creating a character and performing different activities to collect resources. The activities may range from woodcutting and fishing to mining and farming.
You can equip various items and go into battle to fight dangerous monsters.
There are lots of skills to master in this game, and not one skill is useless. As you progress forward in the game, you can enter dungeons, fight boss monsters and get loads of rewards. There are also many items to discover that give you bonus stats and effects.
Cell to Singularity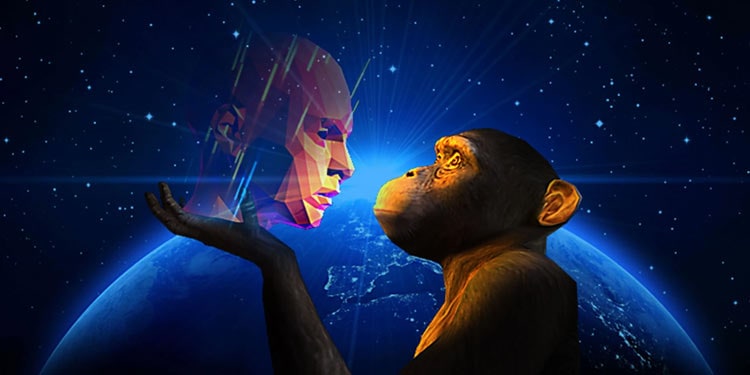 Cell to Singularity is an incremental game where you get to witness the evolution of the Earth, from the time of its birth to millions of years in the future, firsthand. And you alone are responsible for its evolution.
You start from the beginning, where there was no life on Earth, and it was just a ball of fire. You'll collect points by tapping on the screen to get the ball moving. You can slowly perform upgrades using the points and give shape to your Earth.
You'll witness different eras of the Earth and major events that happened in that era.
The game contains beautiful visual aesthetics and an upgrade system. You can see how different animals and plants from the prehistoric eras evolved to their present state.
The game ends when you reach the singularity in the civilization tree. Then you'll need to start from the beginning with new upgrades and research areas.
Idle Slayer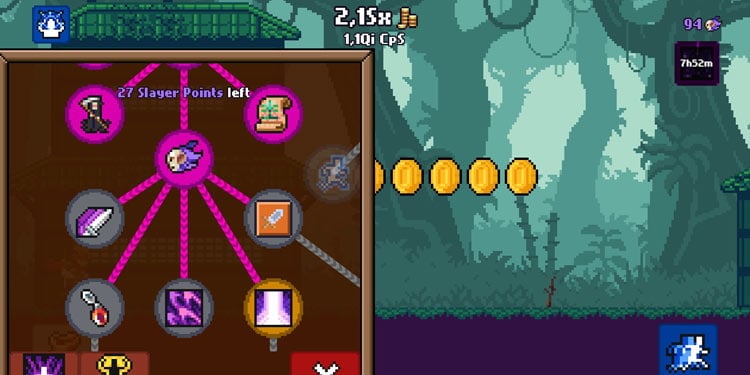 Idle Slayer is an incremental platform game where you collect coins and kill monsters by clicking. It is an idle game and doesn't require you to be online to collect resources later on in the game.
When you first start the game, you have nothing. You collect gold by jumping and purchasing items that will generate passive gold. After collecting certain gold, you can perform upgrades on your items that, in turn, generate more gold.
You need gold to do every single thing in this thing. From purchasing weapons to upgrading them, you need gold in everything. There are various weapons and equipment for you to purchase.
As you move forward, you can unlock better weapons that give better rewards and more gold per second. You can earn millions of gold per second in the later portion of the game.
Realm Grinder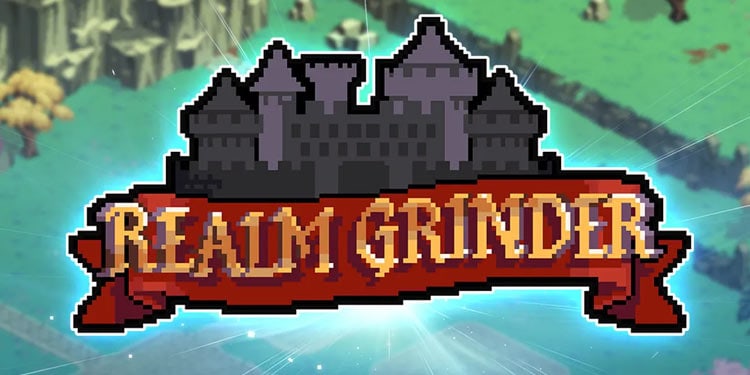 Realm Grinder is an incremental RPG game where you'll be playing the role of a monarch, and your objective is to create a powerful and prosperous Realm. Like all idle games, you start the game by clicking on the screen to collect resources needed for upgrades.
It has very deep customization with tons of upgrades on items, weapons, and spells. You can choose to align with different factions, and these factions will help you grow even further.
There are various goals for you to pursue, and there is a new goal waiting for you after the completion of each goal.
The game feels like a real RPG where you grind your way to the top by collecting resources, performing upgrades, learning various spells, and doing research to unlock different things.
The Perfect Tower II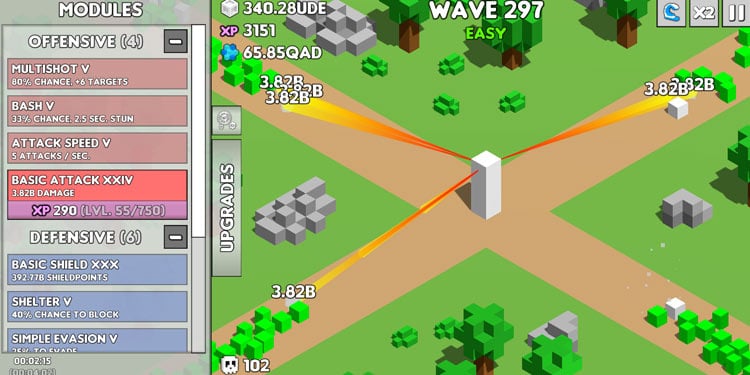 Perfect Tower II has a mix of incremental and tower defense mechanisms. In this game, you manage a town and defend a tower from the waves of enemies.
The tower and town are located in different places. You collect resources by defeating the waves of enemies coming to destroy the tower and use those resources to unlock different buildings and upgrade them.
You can also earn modules to upgrade your tower with different offensive and defensive abilities.
As the game progresses, you can even unlock new modules to make your tower run easier. As you build new buildings and expand your town, you can explore various new regions to unlock different mini-games and perform various upgrades.
Soda Dungeon 2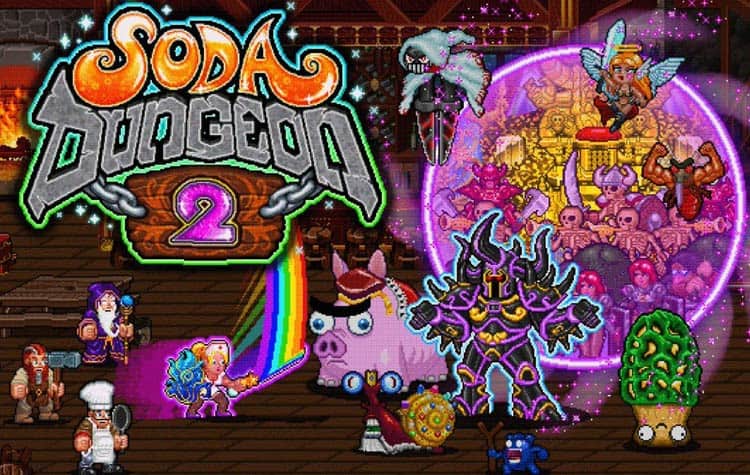 Soda Dungeon 2 is a dungeon crawling game where you hire a bunch of adventurers to go and explore the dungeon for you. You own a tavern that serves soda and attracts adventures who are attracted to it.
You can then hire them to go to dungeons and bring back stuff for you.
At the beginning of the game, you start by selling sodas to the customer and give them quests to raid dungeons. If you play long enough, you'll generate resources passively that you can collect when you return to the game.
The adventurers go into dungeons and engage in battles to defeat the dungeon monsters and boss. You can manually control the battle or put it on auto if you are not a fan of clicking buttons.
The battles are round-based, and the adventurers move up one floor after defeating the boss. When they can no longer fight and die, you get all the exp and rewards for that raid.
The rewards can be used to unlock different furniture for your tavern and upgrade them. You can also unlock different types of sodas and classes to attract more customers. There are also various weapons and crafting mechanics in the game.
Grim clicker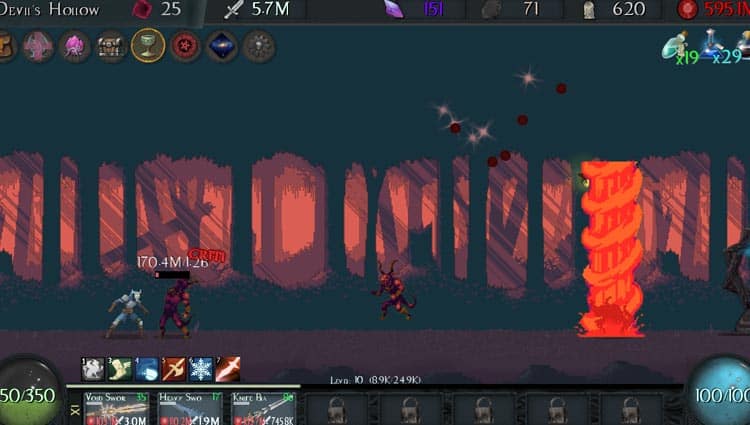 Grim clicker is an incremental platform game where you move forward by killing monsters while earning exp and points along the way. When you're just starting out, you need to kill enemies to collect points, but you start generating points passively when you perform upgrades.
The character can fight without you doing anything. But if you want to use an attack, you can click on the screen to do so. The speed of offense is based on how fast you click.
The points you earned can be used to upgrade your weapons and purchase new powerful weapons. You can also purchase various other items to make your run easier.
There are tons of skills to learn and master. You can open chests and find rare treasures, potions, and pets. The longer you play the game, the better it becomes, opening new opportunities.
Idle Wasteland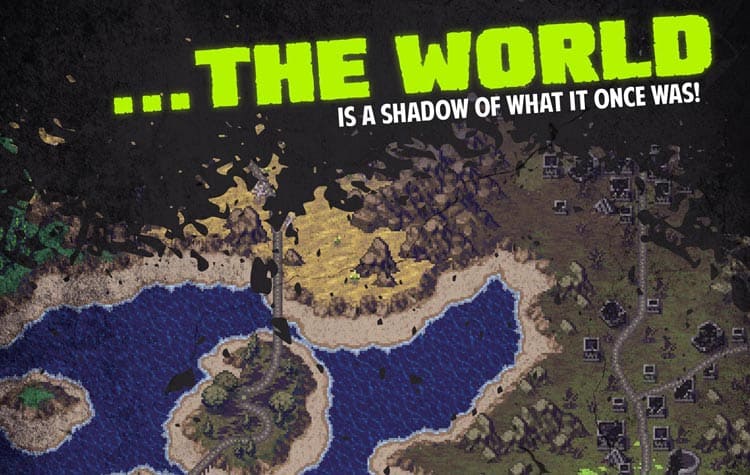 Idle Wasteland is an incremental game set in a post-apocalyptic world. The game is about killing monsters and mutants to collect resources that you can use to upgrade your weapons and purchase different items.
As you move forward in the game, you'll encounter various monsters and mutated creatures. Fighting these monsters and killing them gives you resources. The creatures will each drop different resources.
You can use these resources to craft rare items, suits, and power-ups.
You can even purchase pets and level them up to aid you in your quest. Once you start the game, you can only move forward. With many upgrades awaiting you, you'll soon turn into a power-hungry monster slayer.
Plantera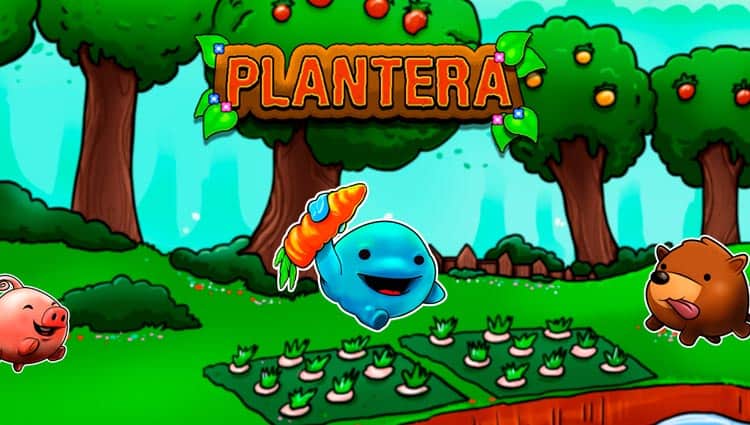 Plantera is an indie incremental game where you farm different fruits and crops and collect them to earn money. You start by harvesting small vegetables and work your way up to big trees containing various fruits.
As you progress forward, you can purchase helpers to do the work for you. At this point, you can leave everything to helpers. They'll collect money for you while you sit back and relax.
When you have enough money, you can plant different types of plants and upgrade them to increase your level and income.
But you also need to be careful as there are predators that will attack your garden and make a big mess. There are lots of upgrades available in this game, so it will be quite fun if you decide to play it.