Minecraft is a very popular sandbox world-building game. The game gets more exciting when your friends join in to share the fun experience.
The satisfaction of building the world, exploring different caves and regions to search for valuable resources, and hunting monsters together will certainly be a good memory to remember later on.
Minecraft Gameplay
You can play Minecraft from two major modes: Survival and Creative. In survival mode, you explore the vast unknown land of the Minecraft universe, hunting foods, collecting resources, and surviving from dangerous monsters.
This mode follows the day/night cycle where you search for resources and food in the daytime and hide from monsters in your hideout at night. This mode is perfect for players who enjoy exploring and facing difficult challenges.
The creative mode is for players who have lots of free time with incredible passion and patience. In this mode, you create your own little world, collecting the resources from nearby lands. There are no nighttime and no monsters to hunt you in this mode. Also, you don't have to search for food as you don't feel hungry in this mode.
You can play Minecraft in multiplayer mode, but is minecraft split screen ? Do you wish to play this amazing world-building game, sharing the same screen with your friend or family members?
If you have questions regarding whether Minecraft has the split-screen feature, you don't have to worry as we've got you covered.
Does Minecraft have a Split-Screen Feature?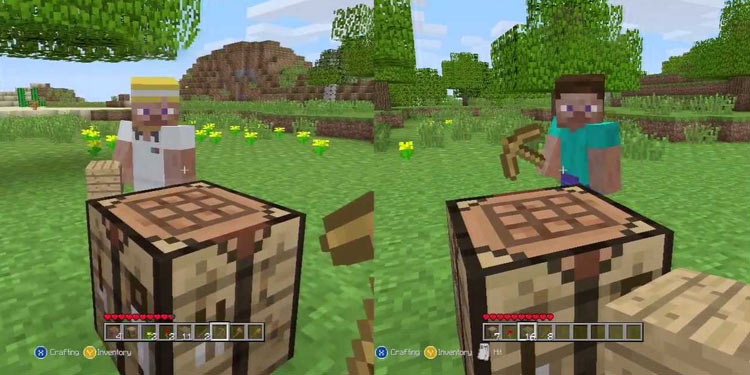 Yes, it does (but only on a Bedrock Edition). Also, it is only available for console versions. There are two ways you can play on the split-screen mode in Minecraft; via local split-screen or online split-screen.
Each mode supports up to four players on a single screen. However, you cannot play on both local and online split-screen simultaneously. (Two players on one console and the other two on different consoles)
Setting up the Split-Screen in Minecraft
Setting up a split-screen in Minecraft is quite easy and should not take more than a couple of minutes, depending on the type of split-screen you wish to play.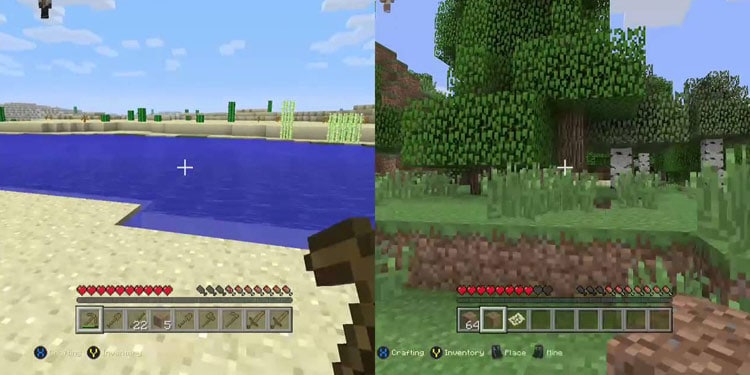 Note: First, you need to ensure that your screen resolution is more than 720p, as the split-screen feature is not available for screen sizes below that. Also, PlayStation Vita and WiiU do not support this feature because of the low screen resolution.
Local Split-Screen Mode
You can play Minecraft in local split-screen mode with your friends or family members by following these simple steps:
Launch Minecraft and create a New World. (You can also play in the existing world if you want)
Uncheck the Online Game option.
After you enter the world, plug in the new controller and press Start on it.
After pressing Start, you should be able to see the Sign-In screen. Sign in to other account, and you should be good to go.
You can also add other players using the same method.
Online Split-Screen Mode
Note: You'll need Xbox Live Gold, PlayStation Plus, or Nintendo Switch Online account to play online split-screen on Xbox, PlayStation, and Nintendo Switch, respectively.
You can follow these steps to play online split-screen in Minecraft:
Launch Minecraft and create a New World. (You can load the existing world as well)
Check the Online Game option.
After creating a world (or loading the existing one), go to the Multiplayer menu and turn on the Multiplayer Game option before starting the game.
After you enter the world, your friends can join in after they accept your invitation. (All players you invite must be playing on consoles)